Sri Lanka venue for Davis Cup
The International Tennis Federation has selected Sri Lanka as the venue for the 2000 Davis Cup competition Asia-Oceania Zone Group III from February 7 to 13, 2000.

Eight nations will play in two groups of 4 each on a round robin knock-out basis.

Group A - Bangladesh, Qatar, Kuwait, Pacific Oceania

Group B - Sri Lanka, Syria, Singapore, Tajikistan

A total of 20 ties will be played and the prize money of US$ 35,000.00 will be allocated in the following manner.

Final standing Prize money

1 - US$ 7000, 2 - 6000, 3 - 5000, 4 - 4500, 5 - 4000, 6 - 3500, 7 - 3000, 8 - 2000

In addition each nation will receive US$ 3000.00 as out-of-pocket expenses. The nations can send 4 players and 1 official and the official hotel is Galadari Hotel. Each Tie will consist of 2 singles and I doubles match. The ITF will also send 4 special scoreboards to be used on the four match courts. Of significance is that the " No Ad scoring system" will continue to be carried out in this Group III event. That is, if the score becomes deuce in any game, the winner of the next point will win that game, instead of it being his advantage. The first two nations will be promoted to Asia/ Oceania Group II in 2001 and the last two will be relegated to Group IV in 2001.
---
Lemonade Trophy cricket on October 9 & 10
The 7th Inter-School six-a-side cricket tournament played for the Lemonade Trophy conducted by the Old Wesleyites Sports Club will be held on October 9 and 10 (Saturday and Sunday) at Campbell Park.

Twenty four schools will vie for honours with the first match on Saturday October 9 to be played between Sri Rahula Kandy meeting Lumbini MV followed by the match between Prince of Wales vs Kingswood.

St. Benedicts, De Mazenod, S. Thomas' Mount Lavinia and Nalanda have drawn a bye in Group A with Siri Piyaratna MV Paddukka, S. Thomas Kotte, Thurstan and Wesley drawing a bye in Group B.

The participating schools are: St. Benedict's, Sri Rahula Kandy, Lumbini MV, St. Peters, De Mazenod, Sri Jayewardenepura MV, St. Joseph's, Prince of Wales, Kingswood, Nalanda, Siri Piyaratana MV Padukka, Dharmapala, Kalutara MV, St. Anthony's Wattala, Maris Stella Negombo, S. Thomas Kotte, Thurstan, Royal, St. Sebastian's, Joseph Vaz Wennappuwa, Ananda and Wesley.

Nalanda, the defending champions won the trophy in 1996, while Royal won it in 1993, Kalutara MV in 1994, Thurstan in 1995, Prince of Wales in 1997.

Other than the champions and runners-up trophies, awards will be made to the best batsman, best bowler, best fielder and the man of the tournament.

Ball by ball commentaries will be given on October 9 (Saturday) on the SLBC Sports Service from 9 a.m. while a live telecast will be given on the Rupavahini Channel 2 from 10 a.m. on Sunday.
---
International Club Golf C'ships today
The Johnnie Walker International Club Golf championships 1999 will tee off at the Royal Colombo Golf Club today, Sunday October 3 at 6.30 a.m.

Over 120 golfers will be seen in action in the 6th annual meet at the United Services Golf Club.

Finalists from Sri Lanka and Nepal will join India which will see the winners travel to the Johnnie Walker Classic with prize money of 1 million pounds in the European PGA tournament at Taipei in November and watch Tiger Woods, Ernie Els and Vijay Singh amongst the other world stars in action.

This championships is to be played on a double Peoria Handicap system which is an internationally accepted handicap adjustment system which gives golfers of different abilities a fair opportunity on their performance each day.

This international club championships will be played for two days commencing next year at the request of the Golf Club Captain Shiran de Soysa, in Sri Lanka.
---
Waterpolo title for Royal
After four years Royal regained the boys' under 19 Water-Polo interschool championships defeating their traditional rivals S. Thomas' by 3 goals to 2 in the tourney conducted by the Sri Lanka Schools' Aquatic Association at the Sugathadasa Indoor Stadium Pool.

For Royal, Prathish Seevaratnam, Jehan Mubarak and Nuwan Silva scored a goal each while Wayne Perera and Bandula Warnapura scored a goal each for S. Thomas'.

S. Thomas' beat Royal by 3 goals to 2 in the boys' under 15 final, while Ladies' College won both the under 15 and under 19 titles.

The Royal team was coached by Mahinda Liyanage.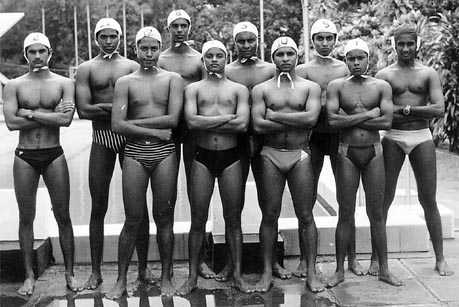 The victorious Royal College team.
Back Row (L-R): Ravi de Silva, Janith Peiris, Jehan Mubarak, Prathish Seevaratnam (Capt.), Yohan Rozairo, Sanjaya Fernando.
Front Row (L-R): M. Zarif, R. Chandrasekara, Gihan, Sohan
---
Cricket is a binding sport - K.B. Ratnayake
"Our former colonial masters (Britishers) taught us their English language and cricket. For this we are grateful to them. Today we are not only a force to be reckoned with (in cricket) but even better than them."

This was said by Mr. K.B. Ratnayake at a felicitation held by Bloomfield to honour their past cricketing heroes. The Speaker was the chief guest. K.B. is a staunch supporter of sports especially cricket, where he captained Hartley College team. "There is a bottomline in sport, it doesn't breed hatred and jealousy. It's a binding force that brings about peace and harmony even among your adversaries. Sri Lanka is grateful to the Britishers - especially the planting fraternity for introducing this great sport of character building. I am a fervent believer there should not be any form of politics in sport," he added.

He commended his predecessor, his good friend late V.A. Sugathadasa - the doyen of football, who was the Minister of Nationalised Services and Sport. He did much for its development. K.B, who believes in friendship and politeness, plus fairplay and justice has won great admiration in whatever walk of life. He also paid a glowing tribute to late President R. Premadasa for converting a marshyland into an international stadium - the Khettarama.

Meaningful

It was a meanigful speech by the former Minister of Sports (the first) appointed by the then Prime Minister Srimavo Bandaranaike, in 1971.

As Minister of Sports he acted without fear or favour. He never took action on mere hearsay. But acted for the future betterment of the sport. He appointed men of standing, who had the game at heart. He mentioned Shelley Wickremasinghe, as one of them, who helped him in many ways.

Speaking to The Sunday Times, he said his first love was cricket. In 1973 with his good friend - the late Robert Senanayake - the duo went to the ICC to make a strong plea to get full Test status. Neighbours, India and Pakistan supported us. Robert made a strong case.

Sri Lanka gained affiliated status. As an affiliated member we were invited to take part in the first World Cup in 1975. There was a toss up over the election of the captain between Tissera and Anura Tennakoon. But I gave my nod to Tennakoon for the longer run and for the future of cricket. I explained this to Mike Tissera.

He agreed to the suggestion. Without doubt Tissera is a fine gentleman. He is not only a gentleman, but also a competent administrator.

Todate I have much understanding with him - no harbouring hatred or jealousy. That's what sport is all about. The past is forgotten, K.B. added.

In the first World Cup, the little Lankans gave a gritty performance despite a bumper barrage coming from Australia's Lillee and Thomson. Lankan batsmen Sunil Wettimuny, Duleep Mendis, Ranjit Fernando, Tissera and Anura Tennakoon were battered and bruised, but raised many an eyebrow with their gallant efforts. In 1979 Sri Lanka won the ICC Trophy under Bandula Warnapura. Sri Lanka also defeated India and came closer to gain Test status, which we achieved in 1981, where late Gamini Dissanayake put the finishing touches with an epoch-making speech at the ICC in 1981. Finally the crowning glory came in 1996 when we won the World Cup one day championship.

Speaker Ratnayake, a politician, who belongs to the Old Brigade is an administrator par excellence. His sense of humour, tact and politeness to tackle any issue, be it sport or otherwise, is to be admired. He is a glowing example for others to emulate.(B.W)
---
S.S. Perera honoured
Sri Lanka cricket created another milestone with the launching of the first book on cricket spanning over 165 years (1832) todate, by S.S. Perera at the Trans Asia Hotel on Sept 28.

The presentation turned out to be - one to be remembered. It was a great honour to "Chandra"- a diehard follower of the game, who compiled this 600-page book.

People from all walks of life were there in their numbers.

Past cricketing legends like C.I. Gunasekera, D.D. Jayasinghe, Gerry Gooneratne, Vernon Prins, Bertie Wijesinghe, Mike Tissera, Dr. H.I.K. Fernando, Tita Nathanielsz, Anura Tennakoon, Bandula Warnapura, Neil Chanmugain the former Warden, S. Thomas, Neville de Alwis, Principal Royal College and Gomes, Shelley Wickremasinghe, R.J. de Silva were among the gathering. Senior politicians, sportsmen who were outstanding during their era namely - Lakshman Jayakody, former President of the Cricket Board; former Royal and CR&FC flanker C.V. Gooneratne, Lakshman Kiriella, an Old Royalist cricketer, presently the president of the Umpires' Association were also present.

Kiriella, who spoke at this happy get-together commended Perera's immense contribution to cricket and for the first time Sri Lankans young and old will have an opportunity of reading a book spanning over 165 years.

He also congratulated Janashakti's hierarchy, in embarking on this book and in helping Perera with a sponsorship package, to give a background to Sri Lanka's cricketing heritage.

There were foreign greats in the midst, who made their presence felt:- Former Indian captain, Ajit Wadekar, who led India with distinction. In 1971, he led India to the Carribean. For the first time India won a Test series against the Windies 1-0 away from home. Ajit who was present with his wife, was interviewed by The Sunday Times. "It's a fantastic effort by Perera to give Sri Lanka's cricketing background - past and present while Chandra Schaffter has taken personal interest to make it a reality. I am proud to say I have close links with Sri Lanka on and off the field since I came here in the '60s. It's like my second home."

Former Pakistan's star opener Zaheer Abbas too paid a glowing tribute to Perera and the sponsors, for compiling this Heritage on Cricket - a longfelt need. He said, it will serve well for the future generations.

Steve Bernard, the Aussie Cricket Manager and some members of the visiting media, were there too to add much flavour to mark the launching ceremony. Some members of the Sri Lankan team headed by skipper Sanath Jayasuriya, Arjuna Ranatunga, Aravinda and Mrs. de Silva, Romesh Kaluwitharane, too were there, to honour "S.S" in the autumn of his career.

Former Sunday Times Features Editor S. Muttiah edited the book. Tryphon Mirando, Director Janashakthi, proposed the vote of thanks.

Special awards were made to oldest Sri Lankan cricketers:- D.D. Jayasinghe, Gerry Gooneratne, C.I. Gunasekera, Bertie Wijesinghe.

The ceremony was compered by Laddie Hettiarachchi.(B.W)
---
Visually handicapped cricket starts today
The School of Blind Ratmalana will take on the President's Xl of the Sri Lanka federation of the Visually Handicapped in the curtain raiser match of the inaugural visually handicapped all-Island cricket tournament which will get underway at Ratmalana today.

A week later the second match will be played between the School of Blind Tangalle and the President's X1 of the national cricket association of the blind in Tangalle. Gampaha and Galle will also play in the tournament.

This tournament is been held in connection with the silver jubilee celebrations of the Sri Lanka Federation of the Visually Handicapped which will be held on November ninth.

This tournament is sponsored by Ceylon Hardware merchants. The president of the Association S.T.S.Arulanathan said they came forward to sponsor this tournament as they felt that is was the obligation of society and encourage persons with disabilities to be provided with equal opportunities to participate.
---
Nalanda Juniors to honour Roshan, Asanka
The Nalanda Junior OBA has arranged a felicitation ceremony at Hotel Lanka Oberoi on October 9 (Saturday) in honour of Roshan Mahanama who recently announced his retirement from international cricket after an illustrious career spanning 13 years.

They will also confer honours on Asanka Gurusinghe who quit the international arena after settling down to play club cricket in Australia, at the same function.

Sri Lanka's first Test captain Bandula Warnapura will be the Guest of Honour on this occasion and all cricketers from Nalanda who played for Sri Lanka and coaches and Masters-in-Charge who nurtured them will also be present.
---
Sri Lanka in Asia Pacific for 1st time
Sri Lanka will participate in the Asia Pacific Region Golf team event for the first time played for the Nomura Cup in Lahore, Pakistan from October 6 to 10.

Sri Lanka will be represented by Caddies, Tissa Chandradasa, Anura Rohana and Lalith Kumara managed by Nimal de Silva.

The countries participating in this championships will be New Zealand, India, Pakistan, Bangladesh, Malaysia, Singapore, Thailand, Taiwan, Indonesia, Philippines, Mynamar, Hong Kong, Japan, China and Australia,

The Sri Lanka team will leave for Lahore today Sunday October 3.

Nandasena, Tissa and Prabakaran for World Cup Golf.

Nandasena Perera, P. Prabakaran and Tissa Chandrasena will participate in the World Cup Golf championships qualifying round in Kuala Lumpur, Malaysia on October 8 and 9.

In the World Cup qualifying round held in Thailand in 1995/96 Sri Lanka finished among the first 4 and played in the final round in China and finished one before the last from 32 countries.

In 1996 Sri Lanka played in the qualifying round in Jamaica and entered the final round being sixth and in the final round in South Africa finished in 26th place out of 32.
---
HSBC CEO in excellent debut
Nick Cherill the new CEO of the Hongkong and Shanghai Banking Corporation made an excellent debut at the annual golf competition sponsored by the Bank and at the end of the day opinion goes that he will run parallel to Tim Henderson in popularity and that's a helluwa standard.

18 flights of 5 each took off at a shotgun start and entries were so great that 3 more flights of 5 each followed soon afterwards without a gunshot. 105 competitors carrying 5 clubs each of their own choosing gave the course a severe battering from dawn till mid-day. The weather was kind but towards the end of play a thin shower descended to slow up the game a trifle and help those who were battling for the wooden spoon.

In that area Channa Gunasinghe was unmatchable and he received a sitting ovation when he strolled to receive his award of a classic gift and a booklet of 4 recipes on how to avoid winning a booby prize with a pauper score. Gunasinghe credited with a great sense of homour acknowledged the applause in style.

De Saram Shines

Jehan de Saram won handsomely and took the 'A' Division award beating Arsha Ahamed by 3 points. Lalin Senadhira a steadily improving enthusiast collected a well compiled 40 points to tie with an equally clever collection of points by J.R.A. Robinson and unfortunately for Robinson his back nine was marred with inadequate points and Senadhira took the 'B' title and beamed all the way to collect the award.

Rajendran Excels

J.K. Rajendran a positive rookie went quite delirious when his winning score of 39 points was announced. He rushed at the Award Ceremony, embraced his award and accelerated his intake. D. Hewawasam limped behind Rajendran then saw water and ruined his chances to be content with 2nd position.

Hammer & Sickle

Siri de Silva of senior vintage strolled to victory with his hammer and sickle swing beating his arch rival Manualpillai by 2 points.

Anouk Again

Anouk Chanmugan came back to form during the early stages of her game, then went loose and came back again to scrape 33 points to beat Suweneetha Selvaratnam and take the ladies event.

Senadhira the Champ

Podgy carries a nice little weight with absolute balance. His swing is neat and compact and he putts with confidence and certainty. With 4 Clubs, a putter and a degree of good fortune he played an excellent well calculated round to be the overall winner and collect a superb trophy and much more.

Gymkhana Events

Surangani Gunasinghe identified as a tremendously happy person on the course contributed more to her pleasure when she hit the green and inched herself to win the award for settling nearest to the pin on the 9th. Mohan Alles was nearest in the men's event and Akbar Khan collected the award for the longest drive with a massive shot off the 8th tee.

19th Hole

The camaraderie was terrific with the fellowship much enjoyed. Nick Cherril, Sarah Piyaratne, Arjun Fernando and Trevine Fernandopulle to name a few played super hosts assisted socially by a bevy of absolute crackers.

The award ceremony was slick and the speech craft exhibited by Shiran de Soysa and Nick Cherill was easy on the ears. The elastic happy hour was quite intoxicating with the pride of Scotland dominating and Carlsberg and Lion Lager adding to the immense pleasure. It was great to re-welcome Trevine Fernandopulle after a 36 month stint in the middle of the East.

Much accustomed to desert sands and dunes he took the Ridgeways quite spritely and degrassed the fairways in style.

I understand the bank will get a debit for the destruction caused. The competition was superbly organized and magnificently sponsored. The flight took off to schedule and much credit goes to 'Boura Sera' Serasinghe and Kumar Borelassa.

The Oriental buffet lunch was exquisite and the hospitality warm and friendly and as we left the scene for the delayed afternoon siesta the chorus rang 'When do we see you again Cherill and Piyaratne'.
---
Rover pinpoints....
Exchanging of money
The story doing the rounds in sporting circles is that Rs. 70,000/- has been paid by someone to someone to feature the proposed Dambulla Grounds during the live telecasting of the Second Test in Galle. Any truth in it?
Given a mouthful
The former President of the Board of Control for Cricket in Sri Lanka, told off Tony Greig on his unwanted comments on the Dambulla project, at the second Test at Galle.
Presenters turned Coaches?
A former Test captain ticked off the Bootlicker and his Sinhala counterpart, asking them to pick two Sri Lanka teams and for them to coach them.
Honeymoon is over?
A leading cricket writer from abroad whilst faxing his copy, is said to have stated that Tony Greig's honeymoon in Sri Lanka is over. How true with the vast number of posters and handouts being distributed at the SSC grounds on the first day of the Third Test?
Who did it?
The overall captain of the Sri Lanka SAF Games team was given to Damayanthi Darsha by whom? Rover wants to know whether the AAA did this or the Minister of Sports or other officials close to this athlete made the appointment. Sriyani Kulawansa went as overall captain to the World Championships.
Prevention is better
Rover learns that a leading athlete who skipped the SAF Games was in a very embarrassed situation since he had got to know that drug testing was on the cards in Kathmandu. He had suspected that someone was trying to frame him and so he said he was injured.
Hang the media!
Rover learns a member of the Interim Committee running the cricket establishment is not all that interested in developing Press-Board relations.

The member has remarked that it can do without the media. Rover also learns the man has scorned on the media manager's post fearing that it could bring players into contact with reporters thereby running the risk of "secrets" being let out. It's a classic case of using the media for one's advantage and then rejecting it when the top-of-the-world feeling sets in. Rover also learns that the Interim Committee has slammed a total ban on players talking to reporters for reasons best known to them (Interim Committee).
Settling scores?
Rover learns that a top businessman now in charge of a popular sports controlling body has stopped giving advertisements from the company he works for to a certain newspaper which has been critical of its activities.