Like father, like son
By Ravi Nagahawatte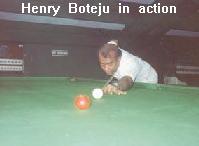 For former national Billiards champion Henry Botheju being associated in the sport with his son is enough of a satisfaction when looking at his empty pockets .
Surprisingly though being associated with the sport which gives the opportunity to earn the world's third highest amount in prize money , the game has failed to provide a way of living for this legendary player.
He states that he has earned nothing from the sport . However his eyes begin to sparkle when he becomes the talking point relating to a recent achievement in the sport. A father and son winning two national titles in similar games would definitely arouse the interest of even the average individual. The duo created history in Sri Lanka when Henry with exploits in Billiards and Susantha , his son, reaching the pinnacle in Snooker walked away with the two national titles a few months back . They also await the official confirmation from the authorities of the Guinness Book of World Records whether this feat can be recorded and given recognition.
World records apart Henry today fights for survival , something which he is not used to when playing Billiards.
He was the national coach till a few months back. But any possibility of earning from the appointment vanished into thin air when he was forced to resign from the post since he wanted to make a comeback as player.
An opportunity arose again for Henry to make something from the sport following his comeback. He was the second best in Snooker , the sport which his son dominates , after a trial was held to choose a partner for Susantha for the forthcoming World Championship.But Henry decided to present this opportunity to an up and coming player who finished behind him. Had he gone with his son their participation as a team would have been good enough for another shot at the Guinness Book Of World Records.
He was just like any other revolutionary kid who was mad over sports and had little time for sorts.
He tried his hand at football , gymnasitics and table tennis at a community centre close to his home in Grandpass.
After participating in these strenuous sports it was not time to go home till he dabbléd in carrom or billiards.
The billiard table however drew his attention like a lad would go nuts over a damsel. There began an interest which probably even put back thoughts of marriage .¨ I thought of trying it .I was hooked to it the moment I saw it" says Henry as he recalls the beginning of his long career.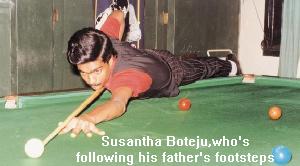 ¨Only a selected few got to play Billiards those days. My brother though being a serious Billiards and snooker player never really encouraged me . I had to play on the sly and always vanished at the sight of my brother coming to the Billiards room. I feared him and respected him. Then I got a rare opportunity to play on a good table and that day I beat one of the best players in the country. Even with this win I had to slip away from the room when my brother came in. Then as I continued my winning streak and began creating a name for myself in my club my brother gave his blessings. He told me that I could become a national champion" recalled Henry as he dwelled into his small beginnings in the sport. Henry was not all that focused on the real competitiveness on the game .Players taking part in tournaments never caught his eye as he was more inclined towards playing for bets which amounted to five or six rupees. ¨ Five rupees was enough to eat and drink for one day during those times ¨ said Henry.
Then he joined the Colombo YMCA , a place where the sport was practiced in a serious manner.¨I was introduced to the tournament temperament there and that is where I met the legendary M.J.M Lafir who won the World Title. I always looked at his shots and learned from him. He was a real artist . A genius¨said Henry while describing Lafir¨s unmatchable skills in the sport.
His moment of glory in the sport came in 1987 when he crowned himself champ in the Bangladesh President's Cup by beating Mohamed Usoof of Pakistan. He recieved 500 US Dollars . But he was given a comment which was worth more than gold when he beat Thailand's James Wattana a seventeen-year-old in the Second Asian Championship in 1985.
The inspiring comment made by Indian Geeth Seety was ¨Old is gold¨. Henry was 42 then .
As much as there is a lot of happiness which generates from his ahievements in the sport there is a dark cloud which hover over his memory in the form of his first national crown declared null and void.
"The Nationals which I won in 1974 went in the record books as a tournament which was abandoned . It happned when the player I had to meet in my last game did not turn up . He even accused me of having him kidnapped.
There were a few problems in the earlier game when my opponent in the penultimate game made a complaint against the judge.
These problems provoked the authorities to abandon the game . These were efforts to put me down . But I continued strongly and emerged as national champion in 1978¨said Henry.
Fifty six today Henry thinks that there is still more left in him as a player.
His burning ambition to continue as a player is enough to create a few sparks in the sport. But to keep the family fires burning needs a bigger effort for which he struggles without a steady job and shelter.
---
Premier Dudley at Cup Final
Twenty sixth of August 1967 was a red letter day for the Ceylon Police. This was the day the unbeaten Police rugger team, having dethroned the reigning champions CR & FC the previous week at Havelock Park in the semi-final in one of the biggest sensational upsets in local rugby entered its first ever Clifford Cup Final creating history. The other team in the Final was Havelocks S.C. who had beaten Dimbulla in the other semi-final the previous week at the Army Grounds at Galle Face by a big margin. But Havelock's record sheet was blotted by defeats by CR & FC and Kandy Lake Club in the league championship.
The pre Cup-Final week took a carnival atmosphere and the talk of the town was the Police entering the Clifford Cup Finals for the first time and Colombo went agog about the clash between the unbeaten "B" Division Police and the "A" Division Havelocks who had won the Clifford Cup five times before and 1964 being the last year they laid their hands on the coveted Clifford Cup.
Writers of various hues were seen putting their pen to paper singing praises of the police, the outsiders to the Cup. "The Times of Ceylon" in its special eight page supplement on the Clifford Cup Final had the headline "Best in leagues clash today. Thrilling game assured." "Third Row" writing in the supplement lead story said "A thrilling game is in store for rugby fans when the Havelocks meet the Police in the Clifford Cup Final at Longdon Place today".
"During the league tournament both teams finished on top of their Divisions - Havelocks in the "A" group and the Police in Group "B" to making it an ideal final. And the big question is who will perform the double of winning the league championships and the Clifford Cup".
N.E. Thangarajah writing for the "Daily News" as "Penalty Kick" had the headlines "It will be Police power Vs. Havelocks skill. But there can be still a surprise. Today is the biggest day in Ceylon's rugger irrespective of clubs and irrespective of names, the winners of the Clifford Cup will be champions of Ceylon for one year - and there's will be the most talked about club in the Island. Though rugger is only a seasonal sport, it is still the glamour sport of Ceylon, and irrespective of anything it is the sport of the day".
T.M.K. Samat reporting in the 'Observer' wrote "Gauder misses his boat to Canada for Cup Final" "A dozen bottles of whiskey to one, wagers Police supporter", "Cup Final madness has hit the town again........the scramble for tickets, the chatter about the chances at Club Bars, there's even betting going on. At Havelock Park last evening, I picked this one up. A Police supporter wagered a dozen bottles of whiskey to just one "FOR A POLICE WIN". It's all a part of Cup Final, the things that go to build-up excitement and glamour. As for the players, there's hardly a chance to forget this "Big Day".......the event that makes their palms clammy and sends their hearts palpitating. During this last week before Cup Final it had been an unending ritual of posing for press photographers and listening to the coaches' instructions. The most wanted men by the press today are skippers Gamini Fernando and S.I. Sivendran.
"But look at what Tyronne Gauder had done - for the sake of the Cup Final. He isn't quite certain of making the team. Yet even if it means he is going to be just a spectator for the Cup Final, he had decided to miss the boat to Canada. On the day after the match he leaves by plane to meet the Canada-bound ship at Aden. Gauder will have to fight out with experienced Frankie David for the hooker's berth in the Havelocks team. Ranjit Vethacan writing in the 'Sun' headlined "Police all out for honours. The Policemen have taken the rugby fans by surprise following their great win over Dickoya and the CR to enter the Final." How many of them have played rugby at school? Skipper Sivendran hooked for St. Peter's. Majeed and Hamid donned Zahira colours. Benedict learned his elementary of the game at St. Joseph's and prop forward Wijewardena represented Thurstan College. Besides them the others are freshers. It is hard work that has brought the Police XV to the top". Another headline in the 'Sun' read Policemen charge Havies at Longdon Place - Clifford Cup showdown.
Eustace Rulach wrote in the 'Observer' under the headline "HAVIES, NO MISTAKE IN YOUR HALF or Sourjah will kick Cup into laps of the Police" "Havelocks have a big problem in their bid for the Clifford Cup tomorrow, not to make mistakes in their own half, for full back Sourjah with his terrific in-step kicking from anywhere in the opponent's half can kick the Clifford Cup into the laps of the Police".
It was a hectic week of preparations for the Police team under the disciplined coaching of Summa Navaratnam who in addition to the game of rugby is a physical fitness fanatic from his sprinting days when he was the "fastest human in Asia". I was inundated with calls of congrutulations and best wishes for the Cup Finals, from all Police well-wishers. There were also interviews by the Press. Eustace Rulach of the "Observer", a Trinitian and married to Jean Reid - who was staying down Peterson Lane before her marriage, where I too stayed when I was attending St. Peter's College interviewed me at their home over dinner. T.M.K. Samat who also writes for the "Observer" and who is married to the sister of Shaffie Jainudeen, the Trinity College, Havelocks, and Ceylon full back, hosted me for dinner at the Akase Kade on top of the Ceylinco Building and did his interview on the Cup Finals. Austin Daniel who played rugger for the Air-Force and was writing for the "Daily Mirror" too interviewed me at the Inspectors' Mess.
The Havelocks team was captained by Gamini Fernando, a Trinitian flanker whilst I captained the Police team. The unique thing is that we both have been blessed with twin daughters. His team had Cholomondeley Henricus, a Thomian as full back, Maurice Fairweather, another Thomian and Gorgi Tillekeratne of Trinity on the wings. Centres were brothers Jeff and Dan Rutnam, both from Thurstan College. Fly half was Glen Vanlangenberg, fresh from Trinity, scrum half was Jupana Jayawardena, also of Trinity, prop forwards were Jayer Rodriguez, a Peterite and Tyronne Holdenbottle, a Josephian, hooker was Trylonny Gauder from Wesley College, locks were Royden de Silva of St. Peter's College and L. Chelliah of St. Thomas' College, flankers were Skipper Gamini Fernando and Ifthikar Hamid from Trinity and No:8 was Noel Brohier, another Trinitian.
The Police team was Bagoos Sourjah as full back, wingers were T.S. Pieris and Bandula Wijesinghe, centres were M.A. Majeed and S.I. Samaraweera, fly half was D.V. Buddhadasa and scrum half was T. Samath. Prop forwards were T.M.I. Hamid and E.K.R. Wijewardena, hooker was Skipper S. Sivendran, locks were Anton Sheddon and K. Banda, flankers were A. Thirumani and S. Ratnasingham. No:8 was Anton Benedict.
To be continued nextweek
---
Mind your business Greig
Tony Greig has no right to interfere in our cricket affairs
This has been a topic of considerable concern amongst the circle of cricket lovers in which I move. Greig's sponsorship of the various 'causes' advocated and pursued by Sumathipala and the Ranatunga gang. In the course of his commentaries as well as during a disgraceful interview conducted by Brian Thomas last Sunday on Sirasa TV, leave an inescapable impression that he has been suborned by the bookmaker and his cohort.
I refer not only to the controversial issue of the proposed Dambulla Stadium, but also to Greig's criticism of team selections and his advocacy of certain individuals in respect of our cricket management. Peiris in his letter correctly lauds the achievement to date of the Interim Committee, in reversing the slide in Sri Lankan cricket. There are other points also to be made.
If any Sri Lankan commentator had spoken thus concerning matters of team selection and internal cricket administration in England or Australia, he would have had his contract cancelled, his visa revoked and been subjected not just to criticism but calumny, in the cricket media of those countries. The cricket authorities in those countries would also have made unequivocal representations to our cricket authorities in the matter. Here due to the poor quality of our cricket press and, even more to the most regrettable Sri Lankan reluctance to confront boorish behaviour by white foreigners, the latter are allowed to get away with it.
- Jayantha Rajapakse
---
Greg should not delve into unwanted areas
The Former Cricket Board President, Upali Dharmadasa in a statement to The Sunday Times said that his name has been unnecessarily dragged into a controversial TV programme by Tony Greig.
Greig, is a friend of mine but he should not criticise the Interim Committee, who are doing an excellent job, in a business-like manner, true, I am a businessman as mentioned by Greig. But the members of the Interim Committee too are knowledgeable, holding responsible posts in the private sector.
If Mr. Greig, wants to advice how an administration should be run in a cricket controlling body, then he should at this juncture, be in England and help them to restructure it. At present England's cricketing image has hit a low ebb.
Greig, should not delve into areas which he is not wanted - especially when away from home. He should confine himself to his commentaries rather try to advice the host nation how to run its affairs off the field.
Taking a cue from this I hope even the local commentators (including print/ electronic) also should not delve into areas by holding candles to build the ego of personalities.
Constructive criticism is most welcome, for the greater good of the game, Dharmadasa added.