Natural instincts
Interior design is a field where in addition to professional qualifications, one must possess a degree of flair. Hemani Jayewardene is fortunate that she has both. Having been awarded a scholarship to the EDI campus in Ahmedabad, where she qualified as an entrepreneur, she also worked with Habitat, London. Now established as an interior designer, with her own company Hemdecor Interiors (Pvt) Ltd, she undertakes the whole gamut of interior design activities from curtaining, carpeting, design and manufacture of furniture to paintings and murals, flower arrangements etc. Here Hemani answers some frequently asked interior design queries.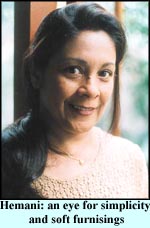 Q: How does one know which colours and styles to choose?
A: Through study and experience the interior decorator has developed his or her instincts for handling the elements of design (live colour, form, texture Pattern, light and space etc) by applying the principles of design (balance, scale, emphasis and unity). Most people have natural instincts for good design. Some are able to appreciate good design, when they see it. The interior designer uses them as tools in creating a design.
Q: What has nature got to do with interior design?
A: If you look at the shapes, textures, patterns and colours in man's artificial environment, you will realize that man has surrounded himself with imitations of the most natural elements in the world.
Q. Is there any way of visually changing the proportion of a room?
A: There are many ways, to change the appearance of a room's proportions. Suppose you have a very large bedroom that you want to make cosier, the ''visual'' treatment would not be appropriate.
You could divide the room into smaller areas with screens, railings, room dividers etc. A bright wall makes a long, narrow room look shorter. A mirrored wall, on the contrary makes a narrow room look wider.
Q: What is your approach to designing?
A: Soft furnishings, simplicity and serenity. I like natural interiors and I find them easier to live with. I'm comfortable with straight lines, grids etc. But it is the client who is most important. There's no point going in for expensive materials if they do not fit in with the client's aspirations.
Q: What sort of problems do you face when designing interiors?
A: As a designer, satisfying the customer is a major problem. He or she will have different ideas and even a tendency to change the design frequently while work is going on. If I can satisfy the customer it is a major achievement. It takes time, patience and practice. At times, a customer can come out with a great idea so I learn from them as well.
Q: A few tips in decorating?
A: There are many elements in decorating. A successfully decorated room, always stands out as both beautiful and functional. No matter how small the profit is, first decide on a budget, then identify how you need to decorate, write down all the information about the project: measurements, samples, (fabric, carpets etc.) borrow bits and pieces from various rooms and apply them to satisfy your taste. Colour is very personal; what appeals to one person may not to another. You have to play safe.
When choosing lighting, consider the activities that take place in the room. Finishing touches such as pictures, plants and accessories, look attractive with a few select pieces, rather than being overpowered, by so many.
Q: Can interior design be taught?
A: It is not like learning history or geography. One learns through experience, once you know the basics of designing. Now with computers one can have a good idea of what an entire area will look like (including, hall, porches, bed rooms etc.).