---
Raising a loan for a telephone call
Lanka Bell is engaged in a major project financing effort to raise more than US$ 120 mn from international lending institutions to finance its expansion programmes.
Equipment vendor Nortel, has expressed willingness to contribute around US$ 60 mn for the expansion.
The rest would be funded through debt, Lanka Bell CEO, Vijay Watson said.
"We hope to place debt abroad, and we are talking to number of investors," he said.
Lanka Bell has invested US$ 140 mn todate, but have been on the look out for additional funding.
Funding has been hard to come by due to the East Asian financial crisis and the unstable regulatory environment in Sri Lanka, he said.
Several funding agencies including the International Finance Corporation (IFC) have conducted a study on the company but have not taken a decision yet to commit funds.
Meanwhile, Lanka Bell is also looking out for a strategic partner and have retained the services of a leading investment bank.
The company is hopeful of securing the finance within the next few months to enable it to roll out the second phase of its expansion programmes.
Lanka Bell has so far provided 33,000 connections while its rival Suntel has provided nearly 50,000 connections. Lanka Bell hopes to touch the 50,000 subscriber mark by end 1999. Both companies are required to provide 100,000 connections (including rural areas) by year 2000, or face a penalty fee.
However, the telecom watchdog recently appealed to the minister to consider one telephone in the rural areas as being equivalent to ten telephones for the measurement of specified good performance.
With SLT monopolising the international gateway until 2002, IDD call charges will remain high. Opening up a second gateway would have immediately reduced the IDD call rates, he said.
We are an island economy heavily depending on international trade and the mode of conducting business is through telephone calls, he says.
"It costs around Rs. 70 for overseas calls, who is losing? The government took a short- sighted decision when it licensed two fixed operators and did not allow them to provide a full service. A level playing field is not what we have here," Watson said.
He said Lanka Bell intends setting up its own gateway in 2003, provided the company can secure investment on time. Tenders have already been called for and suppliers have been shortlisted.
The second phase will include a combination of a gateway and a VSAT network, Watson says.
VSAT's can cover small areas, and will be used in rural areas.
We have a modern up to date technology which is good for Internet and e-mail, he says.
Watson predicts future innovations will be market-driven and data based". The two most revolutionary products were data base- fax and the Internet. The next in line would also essentially be data based.
Lanka Bell shareholders include: Transmarco (60%), AIDEC (30%), Nortel (7%), and minority (3%).
---
Quality men for unit trust industry
By Mel Gunasekera
The Unit Trust Association is to streamline its investment advisors under proposed Securities and Exchange Commission (SEC) guidelines.
The proposals include a minimum education qualification and minimum training programme which would be necessary for investment advisors to qualify to work in the Unit Trust industry, President Unit Trust Association of Sri Lanka (UTASL), S Jeyavarman said.
The guidelines will be issued in the coming months, but will be effective from June 30 next year, SEC Head of Marketing, Malik Cader said.
The SEC will give technical assistance for the training module, which in turn will be conducted by the UTASL. At present, there is no yardstick in recruiting people to sell units. Though most companies have in-house training programmes, there are a number of part time and free lance people working as advisors selling units to the public. From a layman's point of view, unit trust is a complicated financial product. To sell it, you need a basic background. Some people mistakenly believe they are buying shares, as some investment advisors are also canvassing insurance, or shares. The bottom line is that they are canvassing public funds and it's not doing good for the industry. "As a regulator we want to ensure it's professionally done. So, we want to bring in certain standards as we have to protect the investor as well. It's a matter of urgency and it has to be done soon," Cader said.
The minimum education requirement would be a university degree. However, the industry is unable to employ graduates, as the industry cannot give them a sufficient income at present. In the interim, UTASL intends to conduct examinations for those within the industry. The exams will be on similar lines like the stockbrokers exams.
---
Debt paid, don goes back to teaching
The man who came into the industry during a crucial time, to introduce the relatively new concept of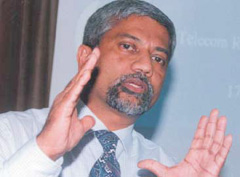 regulation, will bid goodbye at the end of this month.
Mostly known as Sri Lanka's only effective industrial regulator (so far), Prof. Rohan Samarajiva, Director General of the Telecommunications Regulatory Commission will return to his family in the United States and his career as Professor at the Ohio State University.
He said the hectic 18-month stint was the longest he could stay on, personally and financially. "My family and I made the decision, and this was the limit".
Prof. Samarajiva took a financial hit and a long stay away from his family to repay his country of birth and the country in which he got his education.
The Sri Lankan government invited him to take over as regulator and to build a commission with his expertise.
He was instrumental in making many decisions (sometimes taking flak from the operators) including the interconnection agreement and tariff restructuring to name a few.
"The test of my success would depend on how the Commission would perform after I leave," he added.
---
Bank to foreclose Interbatch loan
Bank of Ceylon (BOC) is threatening to foreclose on Interbatch Porcelain Ltd for failure to repay loans, The Sunday Times Business learns.
BOC officials say the loan totalling around Rs. 700 mn was granted without collateral to the company to import plant and machinery several years ago. However, the company is unable to repay the loan as they do not have working capital for the operation of the plant, sources said.
Interbatch also borrowed around Rs. 100 mn from three leading financial institutions, but has not repaid them yet, shareholders said.
Two shareholders, CDIC and Vanik Inc. sought an EGM with company officials last month. The meeting was fixed for June 21 in London, but was subsequently cancelled without a proper reason.
Interbatch an unlisted BOI company, is a joint venture between Interkiln Incorporation USA and Carsons Cumberbatch. The company was incorporated in July 1996 to produce porcelain tiles for the export market.
Shareholders include Interkiln USA, Carsons Cumberbatch, Asian Finance and Investment Corporation , Capital Development Finance Corporation, Vanik Incorporation and others. Total investments todate amount to Rs. 1.6 bn or US$ 25.5 mn.
---
TRC rules on phone directories
The telecom watchdog has ordered Sri Lanka Telecom (SLT) to issue free copies of the business and residential directory to the greater Colombo customers on request.
SLT's residential customers who require a business directory are also eligible for one directory. SLT was also ordered to publish two directories (white pages and yellow pages separately) next year; and to issue free copies to all their customers, Telecommunications Regulatory Commission (TRC) Director Economics, Palitha Gunawardena said.
TRC directive came following a public outcry when SLT decided to change the new directory format by separating residential customers from business customers. SLT didn't obtain TRC consent on their decision.
"Failiure to obtain TRC's consent is a violation of licence granted to the SLT," he added.
---
Mind your business
By Business Bug
Over to big boss
The good professor who regulated the telephones is leaving, but that has nothing to do with his performance- he has just finished his contract. The boss is on the look-out for a tough man for the job but is also under pressure from the networks to select someone who may be more amenable to their point of view. Now, it seems the final choice will lie with the big boss.
How sure?
Some Indian boys were here to discuss bilateral trade recently but they were hesitant to agree to anything specific. Finally, unable to make any headway, the local boys asked them why. We have our doubts, they said, because we don't know whether you would be in power around this time, next year. Of course, we would be, the local boys said but pat came the reply, but that may be in tandem with the reds and then you will have to dump free trade policies. Big Brother is watching us very, very closely, it seems.
Fall from grace
And then there is the story of the cricketer who wanted to know what would happen to his advertising contract. We are very sorry; he was told very politely, our marketing people have advised us against using cricketers for promotional purposes. So there is apparently something more to advertising than simply munching chocolates!
---
Focus on economy imperative
Another election bout is over. The leaders were preoccupied with ensuring electoral success in the South. Now that the election spell is over for the time being and the big bout will begin in the year 2000, it is imperative that the government focusses on the economic issues as the millennium year may prove a crisis year for the Sri Lankan economy. The signs of the crisis are very much with us already and unless the government plays a pro-active role the slide in the economy could spell disastrous political repercussions as well.
Last week we pointed out that our exports have decreased by nearly 10 per cent. In the last two decades exports have grown each year at different rates but total exports never decreased. If the first three months of our export record is an indication of a trend, then we will indeed end up with our export revenues declining. This is not a mere statistic for the record, it has direct impacts on the lives of our people. Decreased industrial exports mean less incomes for our people. Employees will at first lose over-time and such additional payments, then production would be curtailed to an extent that retrenchment would occur. Some industries may close altogether.
Much of the immediate impact would depend on the perception whether the crisis in each industry is a short-term event or a long term phenomenon. Are there adjustments which industrialists themselves could make to increase their productivity and reduce production costs in order to be competitive in international markets? The hitch is that most of the problems arise from lower prices. A depreciation of the currency could increase rupee earnings of exporters, but will it improve the country's export earnings in foreign currency terms ? Most unlikely. We could even depress our foreign exchange earnings further if we are unable to increase the volume of our exports with the depreciation of the rupee.
The decreased export earnings will mean reduced incomes for a large number of our small holder tea and rubber cultivators. It will affect the incomes of corporates and increase defaults in banks and decrease earnings of financial institutions. Poor corporate performance will influence the stock market and shake investor confidence. All these to the detriment of the economy as a whole and especially the country's public finances. Lower export earnings will sooner or later result in lower government revenues and increase the budget deficit as the government's expenditure is quite inelastic in the face of such adverse impacts on the economy.
Already there are signs of an increasing budget deficit for 1999, this may widen further. The impending election year may also contribute to increased expenditures. All these could undermine our budgetary out- turn. This would in turn indicate that our economic fundamentals are flawed and give poor signals to investors, evoke expectations of higher inflation rates and induce the depreciation of the currency.
There are, however, a few silver linings in the cloudy economic atmosphere. The first of these is that our trade gap is not likely to be as adversely affected as much as our export performance owing to a fall in import prices. Since we are even more import dependent than export dependent, the fall in prices of many of our imports like petroleum, sugar, wheat grain and rice results in our trade gap being manageable. In other words, although our export prices have dropped drastically, our terms of trade have not deteriorated owing to a compensatory fall in import prices.
Our external balance is also somewhat cushioned by the large volume of foreign remittances. This inflow has in fact increased by 8 per cent in the first quarter, though outflows have increased faster. Another favourable factor is that tourist arrivals have increased by about 25 per cent in the first quarter. This would mean a substantial increase in foreign exchange earnings from tourism. No doubt it is these favourable factors which have ensured that our foreign exchange resources have not fallen much. It is at a fairly comfortable U.S. Dollars 2818 million, about five months of import requirements. The fact that the global crisis was cushioned by a few factors may have made us complacent. It may have lulled us into thinking that the economy was resilient to by-pass the crisis. Not so it now appears. Remedial action is indeed needed to stave off a disaster. The favourable factors noted should also not blind us to the need to strengthen our export performance and improve our budgetary position. The government must now focus on economic affairs, which tend to ultimately impact heavily on a people's perception of a government's right to rule. The best election strategy would no doubt be the strengthening of the country's economic fundamentals.
---
Ad ban - govt. tries new tactic
By Feizal Samath
Dogged by industrial protests over the proposed ban on the advertising of tobacco and alcohol products, Sri Lankan policymakers are now trying a new tact - enlisting public support to enforce the ban.
On Tuesday, the government launched a new campaign seeking public support for proposed laws against advertising of alcohol and tobacco, a move stalled by protests from local producers and fundamental rights implications.
A controversial advertising ban due to have been enforced from January this year has been delayed due to the legal snags.
"Support the legislation against tobacco and alcohol advertising," said a full-page advertisement in the local newspaper on Tuesday.
Pro-ban activists said this was the start of a six-month campaign to enlist public support for the state campaign.
"You are the only one with plans for his future. Remember it's your child they're talking to," the advertisement, showing a large picture of a baby, said in an apparent reference to tobacco and alcohol producers targeting youngsters in their campaigns.
It asked readers to respond in writing if they felt tobacco and alcohol advertising was an unhealthy influence on their children.
On the same day of the public appeal, the government said it had issued a directive prohibiting state organisations from accepting tobacco or alcohol related advertisements and sponsorships.
A national policy on alcohol, tobacco and illicit drugs was formulated by a government committee appointed by President Chandrika Kumaratunga in early 1997. Included in that policy was the ban on advertising on these products
Kumaratunga appointed the Presidential Task Force on Tobacco, Alcohol and Illicit drugs in an effort to reduce the consumption of alcohol and tobacco use in Sri Lanka. The goal of the policy is to gradually reduce the consumption of tobacco and alcohol.
Last month, the Sri Lankan president was given the World Health Organisation Tobacco Free World Award for outstanding contribution to public health. The award was presented in Colombo on the eve of WHO's World No Tobacco Day, which fell on May 31. Previous winners include South African President Nelson Mandela.
The government has undertaken several public health programmes in the past few years but the president's initiative to ban the advertising of tobacco and liquor products in the media has stirred a lot of controversy and protest from tobacco and liquor manufacturers.
Sri Lanka's tobacco and alcohol industry is against the ban on the grounds that they were not consulted before the national policy was drafted. "We were never consulted on this issue," says Gottfried Thoma, Managing Director of Ceylon Tobacco Co. (CTC), Sri Lanka's main cigarette maker and a subsidiary of British-American Tobacco Co.
"Before any policy is formulated, it is only right and reasonable that you hear the views of the other side as well," Thoma told The Sunday Times Business in an interview last September.
Officials from Sri Lanka's Alcohol and Drug Information Centre (ADIC), a non-governmental agency heading a community campaign against alcohol and drug abuse believe industrial pressure against the ban may have also contributed to delays in implementing the legislation.
But while the government is now seeking public support for its legislation, other measures are being taken to implement its national policy.
Some months ago, smoking and the sale of cigarettes were banned in government institutions and plans are afoot to enforce the ban in other public places. Smoking is already not permitted inside cinemas but implementation of this law is weak.
The government has also asked the Treasury to allocate Rs. 30 mn (US$ 428,000) to the Sports Ministry to be disbursed among sports organisations that relied on sponsorship from tobacco and alcohol firms.
A ban on sponsorship of sporting events by the tobacco and alcohol trade has also been simultaneously held up by the legislation.
According to earlier plans, this ban was to be effective from July 1999.
In February this year, Justice Minister Prof Gamini Lakshman Peiris told The Sunday Times Business that draft legislation to enforce the ban was too wide in scope and had some implications with regard to fundamental rights.
He said government lawyers were taking another look at the legislation and clearing doubtful clauses before presenting it in parliament. Peiris denied suggestions that the government was having second thoughts on the ban because of opposition from the industry.
"I think the bottlenecks have been cleared as far as the legislation is concerned," said Olcott Gunasekera, member of the Presidential Task Force. But he admitted that industry pressure had delayed the ban. Gunasekera said the legislation was likely to be presented to parliament by August or at least before the government budget in November.
A spokesperson at Masters Advertising, which is handling the public awareness programme, said the campaign was aimed at ascertaining the public viewpoint with regard to the ban.
She said the six-month campaign, in newspapers, television and radio, would deal with various aspects of tobacco and alcohol and its impact on society. "We would be citing statistics and data in our public awareness advertisements."
Nishan De Mel, an economist and member of the Presidential Task Force, said the campaign was also intended to help people understand why legislation against the advertising of tobacco and alcohol was necessary.
"There seems to be some misconception that the national policy aims at banning consumption of alcohol and tobacco. This is not so. It is banning the advertising of these products because of their harmful effects on people," he said.
Earlier this week, industry officials said they believed the ban would not be enforced until their representations are heard. Vijaya Malalasekera, legal affairs director at CTC, was quoted as saying in a television interview that they had received assurances from the president's office that the ban would not be implemented until they were heard.
A government statement, this week, quoted a World Bank report on "Government and the Economics of Tobacco Control" as saying about 500 mn people alive today would, on current smoking patterns, eventually die by tobacco use.
It said more than half of these would be children and teenagers.
The government statement said that the WHO and the World Bank had pledged support to Sri Lanka's national policy on tobacco, alcohol and illicit drugs.
---
Front Page| News/Comment| Editorial/Opinion| Plus | Sports | Mirror Magazine