St. Sebastian's hold Sylvester's
By S.M.D.Sirisena
Only three innings were completed in drawn inter school cricket match between St.Sebastian's Moratuwa and St.Sylvester's Kandy at Moratuwa yesterday.
St.Sylvester's Kandy continuing from their overnight score of 59 for 3 were only able to make 188.The Kandy school's innings was built around well compiled knocks from Ranga Dissanayake 42, K.Konara 28, V.Ranaweera 19 and Suranga Prematillake 18.This was in reply to St.Sebastian's score of 226 for 9 dec
For St.Sebastian's Suranga de Silva 3 for 17, Dilip Fernando 3 for 44 and Taraka de Mel 2 for 25 bowled a nagging line and length which Kandy schools batsmen couldn't come to terms and were bowled out for 188.
St. Sebastian's in their second turn were 89 for 5.Kanchana Cooray 23, Jude Fernando 16n.o helped them to reach the score.Ranga Dias 2 for 27 and C.Wijesinghe 2 for 27 bowled well for St.Sylvester's.
St.Sebastian's - 226 for 9dec and 89 for 5 in 27 overs(K. Cooray 23, J. Fernando 16 n.o; R. Dias 2 for 27, C.Wijesinghe 2 for 27)
St.Sylvester's Kandy - (59 for 3 overnight) 188 in 77 overs( R. Dissanayake 42, K.Konara 28, V.Ranaweera 19, S. Prematillake 18; S.de Silva 3 for 17, D. Fernando 3 for 44, T.de Mel 2 for 25)
---
Hair guilty of two charges
Bernie Wijesekera - reporting from the MCG
The hearing into 4 charges laid by the International Cricket Council (ICC) under its Code of Conduct against Umpire Darrell Hair was held last night (Thursday 11 February 1999). Mr. Hair was charged by the ICC with 4 breaches of clause 8 of the Code following publication of his book. "The Decision Maker."
Clause 8 of the ICC Code of Conduct refers to conduct detrimental to the game.
ACB Code of Conduct Commissoner, Judge Gordon Lewis, conducted the hearing in Melbourne. Judge Lewis is a Judge in the Victorian Country Court.
Mr. Hair represented himself.
ICC Chief Executive David Richards represented the ICC.
Judge Lewis found Mr. Hair guilty of 2 charges, the other 2 were dismissed.
Judge Lewis found he was unable to identify a penalty process in the ICC Code of Conduct that applied to umpires.
Accordingly, no penalty was applied to Mr. Hair.
"We will take careful note of Judge Lewis" views about the inability of the Code of Conduct to adequately deal with any penalty for an umpire and refer his detailed reasons to our solicitors for their advice in regard to the Code," said David Richards, ICC Chief Executive.
---
Is our team ageing?
By M. Ismeth
Let's face the reality, let's face the truth. We don't have to be boot lickers or anything of anyone, but let's examine what happened in Australia
Sri Lanka lost seven of the ten matches in the Carlton and United series. Three were lost before the controversy over Muttiah Muralitharan's bowling action and the consequent finger-pointing clash between Captain Arjuna Ranatunga and highly stressed umpire Ross Emerson. We do not have to gloat about what Ranatunga did on the field on that day but let's examine what we could do for the future.
On the return of the team, Ranatunga is reported to have said that 'we do not have back-up players to replace injured senior players.' Many veteran cricketers would see that as tongue in cheek talk.
Ever since we won the World Cup in 1996, has the BCCSL or the selection committee done everything possible to groom youngsters for the national side, No, even if they had done it? Youngesters were kept on the sidelines.
Sri Lanka have played many matches since then — Tests, one dayers and side matches. How many of our youngsters were given an opportunity to prove themselves. Precious few. Even some of those who did well in one or two matches have not been heard of since.
Even warm-up matches were played with the team that won the World Cup in 1996.Why did we not use youngsters at least for these matches to build them up for the future?
Do those who played in '96 still think they have not aged with the times? Some have lost their reflexes, agility and youthfulness on the field.
No wonder, we saw so many fielding lapses, dropped catches and bad throws at stumps and relatively slow running between the wickets. While Australians like Michael Bevan converted ones into two and twos into threes regualrly, some of our senior batsmen were often satisfied with one when they could have taken two.
The brilliant performance of young opener Avishka Gunawardena in the final match, which unfortunately was only of academic interest, has raised questions as to whether we made a colossal mistake in not playing him in earlier matches.
Ranatunga also has said that some seniors getting injured was a blessing so that some youngsters got a break. Does it mean that if seniors don't get injured, then our young players can't come in? Commentator Tony Greig, known to be a great lover of Sri Lankan cricket, also commented that the Sri Lankan team is ageing. Ranatunga is 34, Aravinda de Silva 33 and several others have reached or are bordering on 30 while it is acknowledged that the peak time for the energy-sapping international cricket is between the ages of 18 and 30. Experience also matters but the balance must not be lost.
As for the future, we will be facing a battery of powerful fast bowlers during the World Cup in England, where pitches are as fast as in Australia.
Remember it will not be the tail end of the cricket season in England when the World Cup starts. It's just the beginning. It was at the tail end of the season that we were in England last year to win the triangular and the Test.
The Sri Lanka team must not forget that they had to face Darren Gough (at 150 kph), Allan Mullaly and the likes in the curtain raiser. Then we have to have face the lightning pace of Alan Donald, Shaun Pollock and the likes in the match against South Africa.
Remember, many players other than from our country have been playing county cricket and many of the bowlers know the pitches over there like the palm of their hands.
What I would propose is to give Avishka Gunewardena the role of opening either with Sanath Jayasuriya or Romesh Kaluwitharana and one of them could come one down. Don't bring in senior players for warm-up matches but give the young ones a break. Try a young player, let him play at least three Test matches and five one-dayers. He needs exposure of that nature to prove himself.
People, often ask what happened to Sajeewa de Silva, who opened the attack with Chaminda Vaas. Let Gunewardena, Mahela Jayawardena, Upul Chandana, Ruchira Perera, Thilan Samaraweera be all included in the matches against India and Pakistan in the triangular series both in the Test and one dayers.
Give the much needed rest to Jaysuriya and de Silva before the World Cup. Take a gamble with youth and experience. Look at India, how they brought in two new opening batsmen for the recent Test series against arch rivals Pakistan. Both came off with flying colours as replacements for Ajay Jadeja and Navjot Sidhu.
Will our selectors make bold changes like that? They must if we are to sustain our position as world champions. Otherwise, it might be a fight more to avoid the last place than to get the first place again.
We have learnt not to select horses for courses but run the race with old ones.
---
W. Cup Panel of Umpires
Malcolm Speed, Australian Cricket Board CEO, announced today that the Board had nominated Umpire Darrel Hair as its representative on the World Cup Panel of Umpires.
The World Cup programme for umpires commences on May 7, 1999 with a number of warm-up matches. The World Cup begins on May 14, 1999 and Australia's first game is on May 16, 1999.
---
Lanka has not capitalised after winning World Cup
Bernie Wijesekera reporting from Australia
The Reids who have a special place in the annals of S. Thomas' club and Sri Lanka cricket are now domiciled in Australia. All four brothers Ronnie, Claude, Dr. Buddy and the youngest Barney excelled at cricket
Ronnie opened batting for the NCC and for Sri Lanka, while the other three played for the BRC. But Dr. Buddy, was the most outstanding. He played for the University and won the 'Sara' Trophy under Dr. Carlyle Perera who is also living in Australia. Buddy, now a general surgeon led Sri Lanka and is a source of inspiration and of great assistance to the Lankan cricketers whenever they are on tour here.
Buddy and Barney, were seen at the MCG, watching the last game, Sri Lanka played against Australia, which provided thrills and spills aplenty and were unlucky not to win after a great opening stand between A. Gunawardena and Kaluwitharane, chasing 311.
This scribe was destined to meet Barney after a long, long lay-off and was privileged to have an exclusive and meaningful interview for The Sunday Times.
Though away from home, he was still involved in cricket in Victoria and in the Lancashire league (London). An outstanding left-arm spinner, he has helped his school S. Thomas' in a big way as a match winning bowler. He played as a professional in the Durham league and was also a member of the Durham representative XI, which team included Wasim Raja and Derek Perry (W. Indies). In Melbourne he captained the Melbourne University in the Vic. 'A' grade championship.
Q. Are you still involved in cricket?
A. Yes, now I am seeing cricket from a different angle, as an umpire in 'A' grade level. Well, I am giving back to the game something which helped me to go places in life, though away from home.
I was selected to be a Victorian rep. to umpire the Aussie Under-17 championships. Besides I am a qualified coach and continue to coach clubs during the week and don the white cloak at weekends.
Q. Are you aspiring to be a Sheffield Shield umpire?
A. You have to wait and see. if one is dedicated nothing is impossible.
Q. Any comments about Sri Lanka cricket and on its further development?
A. Sri Lanka has not capitalised (after winning the World Cup in 1996), by bringing on new players from time to time, unlike in other countries. This would not only have unearthed new talent, but also kept the current squad on their toes. As a result the regulars have got complacent and appear to have lost the spring in their steps. It's sad to note the only changes made, because of injuries, the new players coming up trumps.
Very true! Mahela Jayawardena and Avishka Gunawardena. The first named scored his first one-day 'ton' against England - 120, chasing a massive 303, at the Adelaide Oval. Sri Lanka won in the last over.
Jayawardena, came in as a replacement to injured Aravinda de Silva. Barney, further said, the bowlers do not appear to have a plan of attack, more often than not letting the beaters overrule their brains. It's still not too late to get the boys on track, but time is running out with the World Cup around the corner.Reid says, that he had a short stint of coaching at Matugama. There is immense talent. What they need is encouragement to improve their skills, he added. This scribe was fortunate to see how the game is run and administered here be it in Brisbane, Adelaide, Sydney or at the MCG, etc.
They work to a plan and have a proper infrastructure and the men that matter with experience and administrative skills run its affairs. Apparently it's not happening in Sri Lanka, due to politics in short. If there isn't a change of heart the game is heading for disaster, before long. We can't live on the World Cup for life. 'One Swallow does not make a Summer'.
Let's rally around the lion flag sans petty politics for the greater good of the game is the candid opinion among all Sri Lankan supporters domiciled here.
---
Premier Championship Trophy Cricket
Arnold, Kalpage putNCC in winning way
By Marlon Fernandopulle
A 92 ball century from Russell Arnold and five wickets from Ruwan Kalpage helped NCC to be in contention for an outright victory against BRC in their Premier Championship match at Havelock Park yesterday.
Kalpage claimed 5 for 28 and was instrumental in bowling BRC out for a paltry 116 to give NCC a commanding 281 run first innings lead. Opener Russell Arnold then thumped five fours and three sixes to reach 100 in just 92 deliveries and help NCC to 213/3 in only 33 overs as the Maitland Crescent club were heading for their first outright victory this season.
Mahela Jayawardene stroked an elegant double century as SSC reached a mammoth 440/ 6 declared against Colts SC at Maitland Place.
Jayawardene's 357 ball knock was spiced with 24 boundaries and three sixes as the right hander laced the visitors bowling attack to all parts of the ground with some exquisite strokes.
SSC's opening bowlers Suresh Perera and Ruchira Perera then reduced the visitors to 50 for 3 before Chaminda Mendis (50 n.o) and Indika de Saram (51 n.o) added 115 for the fourth wicket and help Colts finish the day on 165 for 3 at the close.
Kumar Dhrmasena claimed his second successive five wicket haul as Bloomfield fought back to take first innings points from Tamil Union.
After being bowled out for 116 Bloomfield skittled out Tamil Union for 105 and ended their second innings on 196/8 at the close.
Middle order batsmen Sanjeewa Silva scored an elegant 81 as Sebastianites hit up 274/7 declared and take first innings points against Police at Police Park.
At Havelock Park:BRC vs NCC
NCC-403/8 decl.(Ruwan Kalpage 49 L Hanibal 22 I Baddegama 2/101 C Mudalige 2/94 S Rajapakse 3/56) & 213/3-(Russell Arnold 100 n o Pradeep Hewage 33 C Jayasinghe 17 A Riddigammanagedara 31 C Mudalige 2/82)
BRC: 116 (D Perera 23 I Baddegama 23 n o S Rajapakse 3/56)
At Maitland Place:SSC vs Colts SC
SSC:440/6 decl.(Mahela Jayawardene 217 n o Thilan Samaraweera 47 n o Eric Upashantha 2/87 Ishan Amarasinghe 2/86)
Colts SC: 165/3 (Sajith Fernando 24 Chaminda Mendis 50 n o Indika de Saram 51 n o Suresh Perera 2/32)
At Braybrooke Place:Moors SC vs CCC
Moors SC:99 & 15/1
CCC:335 (Damitha Hunukkumbura 81 A Polonowita 55 n o Lanka de Silva 18 Duncan Arnolda 62 Hemantha Boteju 61 Rasika Priyadarshana 2/35 Ashan Ranaweera 3/46 C Bandaratileke 2/27)
At the P Sara Stadium:Tamil Union vs Bloomfield
Bloomfieild:116 & 196/8(S Abeynayake 67 D Perera 36 Niroshan Bandaratileke 2/94 Upul Chandana 2/85)
Tamil Union:105 (Kumar Dhrmasena 5/28 Priyankara Wickremasinghe 2/34)
At Police Park:Police SC vs Sebestianites
Police:121 & 60/2(R Janaka 18 n o R Wimalasiri 24 n o)
SebestianitesSC:274/7 decl.(T M Dilshan 42 S K Silva 45 RangaYasalal 28 Sanjeewa Silva 81 Chamara Liyanage 42 N Zoysa 2/63 P K Serasinghe 2/65)
Jayawardena: 133
By Marcus Joseph
A fine century by opener Sarath Jayawardene helped Panadura to 330 all out and take first innings points against Antonians SC at Panadura.
Antonians SC:250
Panadura SC: 332 (S.Jayawardene 133, M.Silva 38, K.Silva 51, S. Liyanage 23; K Dharmasena 5/84, U. Hettiarachchi 2/31, N Jayalath 2/60)
---

For Asian Test championship
Arnold, Kalpage and Hathurusinghe return
By Callistus Davy
Opener Russel Arnold is set to make his return to Test cricket in the inaugural Asian championship after being sidelined for more than a year.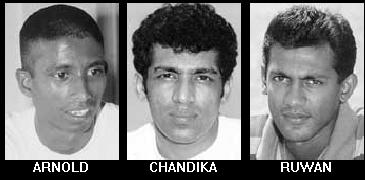 The 24-year old left-hand batsman last played in a Test on a tour of the West Indies in July 1997 and then fell into a spare-part role in one-day cricket without any extended opportunities.
He is strongly tipped to open the batting in Sri Lanka's first match against India at the Premadasa Stadium in Colombo beginning February 24.
Also recalled is allrounder Ruwan Kalpage and batsman Chandika Hathurusinghe. Arnold's re-entry co-incides with the sidelining of Sanath Jayasuriya due to injury and a sparkling 122 made against Sinhalese Sports Club (SSC) in a First Class domestic game the previous week.
Sri Lanka has picked its 16-member squad for the Asian Test series but did not make any official announcement.
Chairman of selectors Duleep Mendis declined to name the players saying it was against Sports Ministry ethics, but a Ministry official told The Sunday Times that the lineup of the squad had not been received. Mendis in turn clarified that he was certain the names of those on the squad had reached the Ministry.
Hathurusinghe was a member of Sri Lanka's tour to England last August and Kalpage's last match for his country was in a home Test against New Zealand last May. Also retained in the Sri Lanka squad is belligerent opener Avishka Gunawardena.
The Asian Test championship opens next Wednesday in Delhi where India will play Pakistan.After Sri Lanka plays India, the team will fly out to Lahore the following week to confront Pakistan.
The top two teams at the end of the qualifying round will battle for the title in the final scheduled to be worked off in the Bangladeshi capital of Dhaka beginning March 12.
The Asian Test Championship is thought to be a prelude to a World Cup involving the traditional five-day contest.
---
Paranawithana dazzles for St. Mary's College Kegalle
By Marcus Joseph
A dazzling 118 by T.Paranavithana was the highlight in the drawn Elephant Brand Lemonade Cup inter-school cricket match between St.Mary's Kegalle and Royal Panadura at Panadura yesterday.
St.Mary's taking first lease of the wicket piled on 265 thanks to pleasing knocks from T.Paranawithana 118.He was given ample support from P.Guna-wardena 74. S.Thishara (2 for 47) and L.Prageeth (2 for 31) bowled well for Royal Panadura.
Royal Panadura replying to St. Mary's somwhat formidable score of 265 took Kegalle school's bowling attack apart to smash 360 while losing eight wickets.
Panadura school's innings was built around two pleasing half centuries from Anjala Perera (91) and M.Buddika (63), W.Hemal (37), T.Chaturanga (35) and S. Deshabandu (27) gave Perera and Buddika good support.
T.Jayewardena (3 for 62) bowled well for St.Mary's.
St.Mary's Kegalle - 265 ( T.Paranawithana 118, P.Gunawardena 74; S.Thishara 2 for 47, L.Prageeth 2 for 31)
Royal Panadura - 360 for 8(A. Perera 91, M.Buddika 63, W.Hemal 37, T.Chaturanga 35, S. Deshabandu(27); T.Jayewardena 3 for 62)
---
Rover pinpoints...
Wishes to come true?
If any cricketer wishes to play for Sri Lanka he should join the leading club at Maitland Place and if any footballer wishes to play for Sri Lanka he should join the club at Price Park.
Wrong information
The Board of Control for Cricket in Sri Lanka, for the first time, has printed a calendar with this year's match schedule with pictures of 12 leading cricketers at quite a cost.It gives the dates of the match schedules of the Asian Test Championships as four-day games and with wrong venues!It also states that Sri Lanka will be touring Australia to play a Test and three limited over games when in fact Australia will be touring Sri Lanka. What a waste of money simply to give wrong information!
Another cricket record
Sri Lanka's cricketers break and concede records as well. Fine. But those who run the game's affairs also create records. Rover learns that the minutes (True and official recording of procedings of meetings) of seven Executive Committee meetings of the Board of Control for Cricket had not been prepared since last May. A record indeed. It was expected to be finalised last Friday. Is the Sports Ministry aware of this serious lapse?
Private property
A media man wanted to know if he could have the contact numbers of some Sri Lankan cricketers for official purposes. He called the Cricket Board and a sweet voice told the media man: "I am sorry, my boss told me not to give out any telephone numbers of cricketers". Have Sri Lankan cricket and cricketers become the private property of some individual in the Board?
Money for playing
Rugby is professional indeed. The vintage player or fan may frown on the concept. But Rover has learnt that some young players have asked for as much as Rs. 300,000/- for the league season from clubs that are interested in them.
Unfit players
Ian Botham and Dean Jones say, there are, too many unfit players in the Sri Lanka team and add they have deteriorated all-round. This was the opinion at the MCG Media box.
On holiday
How many cricket followers know that pace bowler Suresh Perera, who was selected ahead of some other players, never played a single game during Sri Lanka's disastrous tour of Australia? There were ten games and Perera never played in any. Was he selected because he belonged to the elite SSC team or was he picked so he could see the continent of Australia? Over to you Mr. Sports Minister. You appoint and control the selectors.
---
Four Seasons win cricket series 2/1
Four Seasons beat Agro Mart 2-1 in their limited overs cricket series played at the Parliament playground.
Rasika Sampath with an unbeaten 78 was picked as the best batsman, Suraj Perera who captured 4 for 11 was chosen as the best bowler while Laksimi Rodrigo was selected as the best fielder. H.Rizan was named the man of the series.
---
Arpico Bartleets disqualified
Bartleets Group and Arpico have been disqualified from participation in the on -going Mercantile A division hockey tournament conducted by the Mercantile Hockey Association. Metroplitan Group have been disqualified from participation in the D division.
Meanwhile the Mercantile C division knock -out semi-finals will be played on February 18 and 19 with the finals fixed for February 24 at the Malay grounds Slave Island. Ceylon Tobacco will meet Hayleys in the first semi-final on February 18 with Hatton National Bank B meeting Upali Group in the second semi-final on February 18.
---
Moratu Vidyalaya win again
By Marcus Joseph
Moratuwa Vidyalaya who scored an outright victory in their previous match with St. Thomas' Matale, followed it up with another superb victory when they beat Piliyandala Central by six wickets in their Under-19 Inter-school Cricket match.
Moratuwa Vidyalaya 225 and 49 for 4 (O.C. Warnapura 25, C. Dharshana 3 for 23).
Piliyandala Central 76 all out and 196 (N. Liyanage 93, N. Weerasinghe 7; D. Mendis 5 for 49).