End of Shalika
By Ravi Nagahawatte
One of Sri Lanka' s popular cricket venues, Shalika ground, which is often sought after by employees of most mercantile firms for their sports functions , is certain of losing it's rights as a sporting ground.

A directive issued by the President to hand over the premises immediately to the Colombo Municipal Council has left the ground authorities high and dry. The Sunday Times learns, the directive also reveals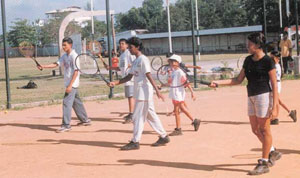 that the ground will later be transferred to the Divisional Secreteriat.
It is known that the cause for all this turmoil is the government's desire to construct a Cultural Triangle at yet another popular cricket ground, Nomads, which has led to the aggrieved party (the Nomads Sports Club) being compensated with the ownership of Shalika grounds.
The government has meanwhile made aware to the authorities of Shalika grounds that the only option open is to look for a ground outside Colombo. Currently the Shalika ground is run by the Sri Lanka Transport Board who have the rights to the ground as tenants. The officials of Shalika have been paying rent to the owners of the ground, The Divisional Secretariat, during the past years.
Recent reports reveal that an effort made through the Minister of Transport and Highways to pursuade the president to bring relief on the authorities of Shalika grounds had failed. "There is no deadline. We have to move out immedietly, " said a worried official of the ground when contacted by The Sunday Times.
History reveals that the ground was brought to a usable state by the employees of the Ceylon Transport Board who had contributed a days wage back in 1967 to commence its construction. Today the ground is blessed with a turf wicket , a tennis court , a billiards room , and a well equipped dormitory. The club's popularity which has led to continued bookings by interested parties, has guaranteed an average monthly income of Rs. 75,000 from cricket alone. The club's tennis court too seems to be in demand and is reported to bring in around Rs 7000 per month .The money earning assets of the sports club also include a parapet wall which is open to advertising activities. The ground is also used by reputed cricket coaches who conduct their private cricket classes, which mainly caters to lads who are not that affluent. Dooland Buultjens , a retired international umpire and presently a cricket coach , poured out his heart in disgust over the take-over of the grounds: " I do not know whether the President is aware of what she is doing. It seems that she is just backing certain individuals who have cultivated a special interest towards obtaining the ground.
It (the ground) looks like going into the hands of vultures. All I can say is that poor schoolboys who cannot afford to spend a lot of money in obtaining the services of the ground will be deprived a lot.
I am not afraid to say this . The most someone can do is come and shoot me" said Buultjens, who runs a private cricket class at the Shalika grounds.
When The Sunday Times visited the Shalika grounds recently the entire premises was buzzing with the activities of children who as usual were enjoying themselves in this picturesque ground. The football players were lost in a mock game which was both tough and exhausting and the tennis courts seemed to generate enough interest to have a second look. But what was interesting was that they did not seem to show any signs of alarm -about the take over - or were never bothered by the cameras which were rolling off pictures of the ground. Or is it that they were not aware of what's going to hit them?.
A senior member of the Shalika ground , who did not want his name to be revealed , went on to state that they do not at all agree with the taking-over of the ground.
When asked why the ground is being taken over he had this to say. " It's ( the ground) a cake which is fully iced. They just want to eat the cake. Another reason which has contributed towards the taking-over of this ground is it's location".
It is also known that the authorities of Nomads are also not happy in handing over their grounds to the government. In the midst of this sad situation speculation is whether the Shalika grounds will be handed over to the Divisional Secretariat by the CMC as in the directive.
Meanwhile the officials of the Shalika grounds have made aware that if the CMC is not willing to take-over the ground, to revert it back to the present tenants (SLCTB).

---
Amarasinghe gives 'life' to Colts CC
By Saif Izzadeen
Premier Inter-Club one day champions Colts Cricket Club recorded a fine ten wicket win over BRC which was the only match to produce a result from the seven Premier Trophy matches played over the weekend.

Colts who were having a lean period got their act together enabling them to outsmart their neighbours.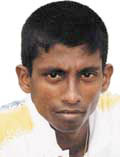 The architect behind this victory was Ishan Amarasinghe who with his good spin bowling ran through the BRC batting line-up in both innings.
BRC taking first lease of the wicket could only make 124. Ishan Amarasinghe took 5 for 28.
Colts in reply made 251. BRC batting a second time 27 runs behind gave a better display and made sure that they will not lose the match by an innings. They made 180 which left Colts with a victory target of 54 runs, which score they knocked off without losing a wicket.
In what turned out be a low scoring game CCC were deprived of talking full points against Bloomfield due to bad weather.
CCC batting first made a modest 142. Bloomfield in reply gave a shocking batting display which saw them being bowled out for 121.
CCC batting a second time with a lead of 21 runs could only muster 159. Bloomfield set 181 to win again gave a pathetic batting display which saw them reeling at 132 for 9 at which stage the weather gods smiled at the Reid Avenue Club.
In another key fixture between NCC and SSC NCC were deprived of a morale boosting win due to a determined and dogged batting display by the SSC's last pair.
Batting first NCC piled up 443 for 9 thanks to a fine 122 by left hander and Sri Lanka cap Russel Arnold. SSC in reply were bowled out for 200.
SSC forced to follow on struggled to survive and were 194 for 9 when stumps were drawn.
The weeked produced six centuries. They were from Sanjeeva Silva (Sebastianites), Russel Arnold (NCC), Manoj Mendis (Sebastianites), Nimesh Perera (Sebastianites), Asela Jayasinghe (Moors) and Manjula Silva (Panadura SC).
This week's batting honours goes to former Sebastianite Manoj Mendis who made a pleasing unbeaten 139 for Sebastianites against Antonian SC at Moratuwa.
This week's bowling honours goes to Sri Lanka discard Kumar Dharmasena who claimed 5 for 22 against CCC and showed signs of a revival which could bring him back to the Sri Lanka cricket team before the forthcoming Asian Test championship and three nation cricket tournament to be held held in India in late March.
Former Sri Lanka player Sajeewa de Silva too has shown good form by claiming five wicket s against SSC.
Results of matches played on February 5, 6 and 7
Moors - 245 and 208 for 7 vs Tamil Union - 270 - draw.
BRC - 124 and 180 lost to Colts - 251 and 54 for no loss by 10 wickets.
CCC- 142 and 159 vs Bloomfield - 121 and 132 for 9 - draw .
NCC - 443 for 9 dec vs SSC- 200 and 194 for 9 - draw.
Panadura SC - 249 and 281 for 6 vs Police SC - 139 and 103 for 4 - draw.
Sebastianites - 485 for 4 dec vs Wattala Antonians - 264 and 197 for 7 - draw.
Galle CC - 212 and 175 for 5 vs Matara SC - 190 - draw.

---
Emirates to sponsor Australian cricket team
Emirates, the international airline of the UAE, will be the official sponsor of the Australian cricket team at the ICC Cricket World Cup in England, which starts on May 14.

The sponsorship was announced in Sydney recently at a joint media conference by Emirates' Group Managing Director, Maurice Flanagan and Chairman of the Australian Cricket Board Dennis Rogers.

Under the sponsorship agreement, the Australian team will carry the "Fly Emirates" logo on all its playing and training outfits for the Cricket World Cup.

Emirates is a Global Partner and Official Carrier for the event, which is expected to attract an audience of 500 million viewers in 80 to 100 countries.

Mr. Flanagan said: "Emirates is very pleased to sponsor the Australian cricket team for the world's premier one-day event."

He continued: "As the strongest Test-playing nation at present, we expect the Australians, who were runners-up in the last World Cup, to make a very strong showing again."

"We are also very pleased, through this sponsorship, to acknowledge further our commitment to the relationship we have established with Australia and the promotion of Australia as a destination through our daily services to Melbourne".

Since Emirates commenced operations in 1985, the airline has made a major contribution as a strong supporter of sports and non-sports events around the world.

In Australia, Emirates is premier sponsor of the famous Collingwood Football Club, one of the oldest and best-known in the Australian Football League (AFL). Since 1997, Emirates has also been a sponsor of the Melbourne Cup Carnival, extending its involvement in 1998 to include Emirates Stakes Day as well as the Emirates Classic on Oaks Day.

Other Emirates sponsorships include the world's richest horse race, the US$5 million Dubai World Cup, the Dubai Champion Stakes at Newmarket, the Dubai shopping Festival, the Singapore Derby, the Dubai Rugby Sevens, the Emirates Grand Prix Offshore Powerboat Race and the Dubai Desert Golf Classic.

Emirates operated its first services to Melbourne in June 1996 and commenced daily services to Melbourne in October last year. All flights are operated with the brand new Boeing 777 aircraft and are routed via Singapore. Emirates which has won more than 160 major international awards now serve 47 destinations in 37 countries with a fleet of Boeing 777s and Airbus aircraft.

Batting (over 50 runs)

139* - Manoj Mendis (Sebastianites) vs Wattala Antonian SC
131 - S. Silva (Sebastianites) vs Wattala Antonian SC
122 - R. Arnold (NCC) vs SSC
109* - A. Jayasinghe (Moors SC) vs Tamil Union
100* - N.Perera (Sebastianites) vs Wattala Antonian SC
100 - M.Silva (Panadura SC) vs Police SC
85 - G.Wijekoon(Tamil Union) vs Moors SC
84 - P.Hewage (NCC) vs SSC
83* - K.Silva (Panadura SC) vs Police SC
83 - N.Nawaz (NCC) vs SSC
80 - H.Wickremaratne (SSC) vs NCC
77 - N.Amarakoon (Kurunegala YCC) vs Singha SC
71 - H.Wickremaratne (SSC) vs NCC
65 - W.Hwawmana (Galle CC) vs Matara SC
61 - R.Galapathy (SSC) vs NCC
57 - A.Ekanayake (Antonian SC) vs Sebastianites
57 - B.Ediriweera (CCC) vs Bloomfield
56* - R.Wimalasiri (Police SC) vs Panadura SC
55 - B.Ekanayake (Antonian SC) vs Sebastianites
51* - C.Silva (Panadura SC) vs Police SC
51 - R.Yasalal (Sebastianites) vs Wattala Antonian SC
50* - J.Nandakumara (Matara SC) vs Galle CC
50 - R.Kalpage (NCC) vs SSC

Bowling (over 4 wickets)

5 for 22 - K.Dharmasena(Bloomfield) vs CCC
5 for 28 - I.Amarasinghe(Colts) vs BRC
5 for 40 - P.Hewage(NCC) vs SSC
5 for 44 - S.de.Silva(NCC) vs SSC
5 for 45 - I.Gallage(CCC) vs Bloomfield
5 for 56 - I.Amarasinghe(Colts) vs BRC
5 for 91 - N.Perera(Sebastianites) vs Wattala Antonian SC
4 for 41 - L.Hannibal(NCC) vs SSC
4 for 43 - P.Wickremasinghe (Bloomfield) vs CCC
4 for 51 - S. Ranatunga (SSC) vs NCC

---
Chintaka does well on debut
Chintaka Ratnayake, a left hander just 16 years of age scored 110 on his debut for Sri Rahula Kandy in their drawn inter-school cricket match against Harischandra MV Negombo played at Katugastota.

Chintaka with Upul Samankumar put on 110 for the first wicket.

Harischandra MV- 195 all out (Lloyd Victor 83, A. Padmakumara 30, D. Umayanga 22, D. Senal 19; Senarath Bandara 5 for 63, Indika Ranaweera 3 for 29, Chintika Ratnayake 2 for 28) and 143 for 7 (Lloyd Victor 39, A. Ratnasiri 44, A. Padmakumara 34; Nuwan Peiris 2 for 10, Manjula Kumara 2 for 49).

Sri Rahula - 301 for 7 declared (U. Samankumara 60, C. Ratnayake 110, S.Bandara 73, P.Lucian 3 for 86).

---
Arrogance and umpire abuse rule domestic cricket
By Callistus Davy
Chucking, cheating and arrogance are ruling the field of cricket in Sri Lanka's on-going Sara Trophy First Class championship on an unprecedented scale.

The incidents have left umpires with virtually no solution on the field other than to call for an emergency meeting scheduled for next Wednesday in a bid to stamp out the menace.

"This is a serious problem, the first time such things are happening. I have to meet the umpires and get suggestions on what course of action has to be taken", said Chairman of the Umpires Committee A.R. M. Aroos.

In one match, a leading allrounder who has been sidelined by the selectors, pushed an umpire while another player aimed the ball at a match official in a sign of intimidation. At least one player questioned the umpire when he was ruled out leg-before and used abusive language to vent his anger.

"In all my life I have not seen anything like this before. Cricket is no more a sport. It has become a war", said one member of a Club in Colombo. In another episode a player of past Test recognition called a budding fast bowler a chucker when he plucked three wickets to send the opposition reeling.

In a move to bring about sanity and avert a worse tragedy, Aroos has written to the Board of Control for Cricket in Sri Lanka to direct clubs to refrain from deploying bowlers who have been listed as chuckers.

Aroos has not named any bowler booked for chucking, but The Sunday Times learns that at least four bowlers have been put on the list of illegal bowlers. "We recommend that these bowlers (chuckers) be videoed and if any bowler has a suspect bowling action the Club which the bowler represents should be requested not to play him as a bowler until his action has been corrected", Aroos had stated in his letter addressed to the Cricket Board's President.

A leading official of a Colombo Club alleged that chucking on the part of a rival bowler cost his team a match last week. "It's a matter of opinion from umpire to umpire on how they look at throwing (chucking). But this has become the joke of the day. You keep a player away from international cricket because of a suspect bowling action but then allow him to play on the home scene. We lost a match", said A. J. M. Muzamil who is the president of Moors Sports Club.

Muzamil said it was up to the Board to take a firm decision to hold back players until they are cleared.

---
Our rugby needs revamping
The present state of Sri Lankan rugby needs urgent revamping so that our Rugby and our players will reach a high standard as during past years of 60s, 70s and 80s.

For this to happen our rugby adminnistrators must meticulously plan out our rugby development as in the years gone by. Today what we are doing is to take rugby into the provinces by sending coaches to spread rugby among the Royal Schools which is good, but first and foremost the standard of rugby in the presently playing schools in the urban areas, such as Colombo and Kandy must be of a high standard so that our club standards too will rise instead of waiting for foreign players from Fiji and Samoa to come to improve our club standards. By spreading rugby in the provinces we will only have quantity in numbers but not the quality with proper techniques, ploys and all basics.

Today you don't see players bringing of a good tackle, falling on the ball, dribbling with the ball in control at their feet, kicking with either feet leave alone kicking with one foot, then the back division indulging in scissor passes, reverse passes, the dummy pass, which were the hallmark of players such as Archiebald Perera. Ago Paiva, Kavan Rambukwella, Nimal Maralande and Maurice de Silva to name a few.

Our administrators too during those days were dedicated to rugby and rugby players and the rugby clubs became the elite in Sri Lanka long before cricket.

The rugby clubs too were very affluent but today the standards have dropped and the rugby clubs are reported to be in the red due to payments made to foreign players.

Speaking of administrators of yesteryear we had presidents of the calibre of V.C. Kelart, E.F.N. Gratien, A.R. Loos, J.W. Serasinghe, W. Ratnavale, Dr. K.B. Sangakkara, Comdr Eutace Matheysz, Capt William Molagoda, E.L. Vanlanganberg, M.C. Bostock, Summa Navaratnam, S.B. Pilapitiya, Kavan Rambukwella, Lt. Col. M.C. Ratwatte, N.H. Omar, Y.C. Chang, Lionel Almeida, Malik Samarawickrema, Rudra Rajasingham, Gamini Fernando and presently Dr. Maiya Gunasekara. They were all great personalities who contributed immensely for the good of rugby. What the future administrators should do is to emulate them and bring rugby back to its old glory.

It has been reported that Anton Benedict will be the next president for the Sri Lanka rugby football union and knowing him as a fellow player in the police and later as member of Sri Lanka Referees Society and the Rugby Union committee he should do well as president. I wish him well!

---
Briefly
Desha to referee at World Championship
For the third year in succession the Strength Building Federation of Sri Lanka will participate in the World Strength Building Championship in India which commenced on Friday February 12.
Sri Lanka will be represented by 10 males and ten females. Sri Lanka's Chef-de-mission, Desha Liyanage will also referee in this championships. The Sri Lanka team will be represented by:
Women - Sujara Jayasinghe, A.P.C.K Abeysekera, C.R Ariyaratne, N.K. Abeyratne, Dinusha Kumari, C.T Dharmasena, Indika Kumari Ekanayake, T.K.U.K. Fernando, J.D.R Silva, J.M.M.S Jayasundera.
Men - Bernard Fernandez, Damian Balthazar, P.K.N. Dayan, Kithsiri Udaya Kumar, U.S. Sendanayake, T.P.S.P. Wijesinghe, Dinuk Anthony, K.C. SIlva, K.H. Ananda Sarath Wijewickrema, D.E Weerasinghe, Desha Liyanage, D.U.M. Jayatilleka.
Chintaka does well on debut
Chintika Ratnayake, a left hander just 16 years of age scored 110 on his debut for Sri Rahula Kandy in their drawn inter-school cricket match against Harischandra MV Negombo played at Katugastota.
Chintika with Upul Samankumar put on 110 for the first wicket. Also contributing in Sri Rahula's total of 301 for 7 declared was left hander Senarath Bandara who scored 73 in 40 balls comprising of 4 sixes and 9 fours.
Harischandra MV 195 all out (Lloyd Victor 83, A. Padmakumara 30, D. Umayanga 22, D. Senal 19; Senarath Bandara 5 for 63, Indika Ranaweera 3 for 29, Chintika Ratnayake 2 for 28) and 143 for 7 (Lloyd Victor 39, A. Ratnasiri 44, A. Padmakumara 34; Nuwan Peiris 2 for 10, Manjula Kumara 2 for 49).
Sri Rahula 301 for 7 declared (Upul Samankumara 60, Chintika Ratnayake 110, Senarath Bandara 73; P. Lucian 3 for 86).
Super sprint
The Ceylon Motor Sports Club will conduct a novel event at Katukurunda today, February 14 for its members known as the 'Super Sprint' which is a hybrid of a hill climb and circuit meet.
The Super Sprint is run on a circuit where cars are classed as per general of the Ceylon Motor Sports Club and Sri Lanka Association of Motor Sports regulations.
Each class of car will be sent out on the circuit one by one with a set time interval between them. These cars will race around the circuit for ten minutes. Then the lap timing of all competitors will be recorded and the winners will be selected based on the fastest lap on average of the two fastest laps.
Overtaking will be only permitted on the main straight and back straight.
The aim of this event is to give the competitors the experience of a circuit meet without much pressure of having to overtake the car in front.
Competitors should be over 16 years of age including novices which will no doubt give them a blessing in learning the art of tough competition.
Cricket Festival
The annual Cricket Festival organised by the Sri Lanka Insurance Institute and sponsored by Willis Faber & Dumas jointly with Industrial & Commercial Insurance Brokers (Pte) Limited will be held at the BRC grounds at Havelock Park today, Sunday February 14.
Seven teams will play in a round robin basis with the two top teams meeting in the final.
The teams participating are, combined Brokers, Ceylinco, CTC Eagle, Janashakthi, National Insurance Corporation, Sri Lanka Insurance Corporation and Union Assurance. Other than the champions and runners-up trophies, special awards will be made to the best batsman, best bowler, man of the final, man of the tournament and the best batsman scoring the highest number of sixes and the best decorated tent.
The reigning champions are Union Assurance and Janashakthi who emerged joint champions.
The President of the Sri Lanka Insurance Institute, M. Poopalanathan said the funds donated by the sponsors will be credited to a Benevolent Trust Fund for the benefit of the student membership of the Institute.
Easy win for Susanthika
Susanthika Jayasinghe presently in training at USA has silenced all her critics by winning two 60 metres events at the two International Indoor meets in Hungary and Germany.
Susanthika won the event in Budapest, Hungary in 7.16 seconds in a photo finish but sailed away in the next in Germany in an improved timing of 7.09 seconds defeating Philomena Mensah of Canada who clocked 7.12 seconds and Petya Pendareva of Bulgaria who crossed the finishing in 7.16 seconds.
Golden Oldies Six a Side
A golden oldies Six-a-Side cricket tournament will be conducted by the Old Wesleyites Sports Club on Sunday February 21st at Campbell Park commencing at 8. a.m.
Ten schools will participate in this tournament organised by the Old Wesleyites Sports Club to celebrate its 125th anniversary of Wesley College.
Several former Sri Lankan cricketers will be seen in action in this over-40 tournament.

---
Trinity's forgotten stars: Nimal and Christy
By Rangi Akbar
To carry on a friendship which first blossomed in school for nearly half a century is no mean feat. This is exactly what A.N.P.Fernando (Nimal) and Christy Wijeratne have been doing.

They first came together at Trinity College, Kandy where both of them excelled in sports. Nimal, better known as 'ANP' to his friends, was a rugby player of repute and a hockey player of class while Christy chose to stick to the deft stick work of a hockey player and reached dizzy heights before giving it up for studies.

Now in their mid-fifties the two Trinity stalwarts still have time to catch upon the glorious days at 'the best school of all'. Christy more or less enjoys a retired life and takes great pleasure in watching his three-year-old grandson Perry, who is a picture of himself, grow.

It is perhaps appropriate that The Sunday Times feature these two Trinity sports greats of the 60s as they had their prize giving under their new Principal Prof.W.R.Breckendridge at the Trinity College Hall yesterday. No doubt Old Boys in their thousands would have gathered to wish this Professor of Zoology all success in the new field he has undertaken.

I had the opportunity of meeting Prof. W.R.Breckendridge, who has vowed to put Trinity back on the pedestal of past glory, at the Trinity Old Boys Sports Pavilion adorned by a large photo of the late Denzil Kobbekaduwa, during the 50-over match between Trinity and St. Anthony's at the Asgiriya Stadium. Kenneth Boteju did the introductions.

Since then 'Breck' has been keeping in touch with occasional articles to The Sunday Times one of which was about an old colleague Douglas Senaratne, who passed away a few months back.

Getting back to ANP and Christy, my first memories of them was as a junior at Alison. ANP was quite a champion athlete and a fine rugby player. He was also a perfect gentleman and appropriately joined the Army after leaving school.

He occupied the stand-off's berth in the team led by the giant Eric Roles. Those days we would watch in awe as tall and powerful Roles led the Trinity team in 1960 holding the ball in the palm of one of his massive hands, as if he would hold a cricket ball! That year the team bristled with classy players such as Kodituwakku, who was the scrum half to Nimal Fernando, Jayantissa Ratwatte, Tony Buultjens, the Madugalle brothers, Noel Brohier and Jayantha Jayawardena to name a few. Of course to watch the Trinity team trot out to take positions in the centre of the Bogambara Grounds, was a sight no rugby fan would want to miss. The majestic moves of Jayantissa Ratwatte and Tony Buultjens at centre was a treat to watch. The Trinity teams in 1960 and 1961 was coached by the great Philip Buultjens and Percy Madugalle respectively. In later years Eric Roles captained the CR&FC and was a regular member of the Ceylon team.
Mercurial Nimal
Nimal Fernando's place as the pivotal stand off in later years was taken over by the mercurial Nimal Maralande, Mohan Sahayam and Glen Vanlangenberg.

As for Nimal, after signing up with the Sri Lanka Army he continued his sporting career and turned out for the Sri Lanka Army, captaining it in 1969 when players of the calibre of Neville Sheddon, C.S.Fernando, S.P.de Silva, Kularatne, Ananda Piyasena, M.F. Fernando and Anderson donned the 'all yellow' Army jersey. Nimal was also selected to the Combined Services rugby team in due course.

Needless to say Nimal was an outstanding officer in the Army and was awarded the sword of honour for being the best officer in the batch.

Presently Brigadier Nimal Fernando, to give his full title, is now the Marshall at the Supreme Courts Complex in Hulftsdorp. For a brief spell Nimal was the co-ordinating officer in the Ratnapura District and left the Army in 1989 and joined Mahaweli Authority as the Director of Security. Nimal has two sons: Prashan and Dhanuska. Prashan is in the United States while latter is a computer buff
Halcyon days
Christy Wijeratne, after leaving Trinity played hockey for Park SC Matale, where the sport is almost a religion there, and his bouncy stick-work, positioning and overall knowledge of the game paved him a place in the Combined Schools team in 1962. Christy's hockey was so finely tuned that he rubbed shoulders with greats such as Douglas and Ranjith Wijekoon. Its a well known fact that Ranjith was even selected to represent the Asian XI in those halcyon days of hockey.

Christy represented Kandy Schools at hockey as a centre forward but he recalls that perhaps he missed a golden opportunity to further his studies when a letter addressed to the Head of the Leading English School in Sri Lanka came to Principal Cedric Oorloff during 1959 offering a Fullbright scholarship to the brightest student at Trinity from the Canadian Embassy. "Mr. Oorloff summoned me to his room to break the good news that he would be putting forward my name. But unfortunately I had to decline the offer as I was the only child in the family and, my family did not want me to leave the shores."

Christy, after being a teacher in short-hand for some time continued his law studies and passed out and is now an attorney-at-law, Notary Public, Justice of Peace and unofficial magistrate dealing in out of court operating from his residence in Templars Road, Mt. Lavinia. Whilst in Law College he had the distinction of leading the Law College cricket team during the golden jubilee encounter. Christy is married to Priyadarshani and had two daughters: Erandathi and Sandamali.

When Christy and Nimal both played hockey for Trinity, they were coached by Paul Jeyraj, who was the acting-principal at Trinity until Prof. Breckendridge took over. Paul Jeyraj still serves the Tutorial Staff at Trinity.

Recalling his hockey days Christy said that when he played the Trinity side was led by N.C.Molligoda in 1960/61 and Molligoda went on to win the coveted hockey Lion awarded for outstanding achievement in the field. This also brought out memories of Bhaskaran Sahayam, considered one of the greatest hockey products from Trinity and of course M.H.M.Navavi from Puttalam who also led Trinity and won the hockey Lion being a goalie.

---
Teaatral runs away with Tote Sandown Hurdle
By Ismail Khan
As the tempo of National Hunt racing gathers momentum in preparation for the big meets ahead of us added value races are creeping in, in fashionable centres in the North, South and Central parts of England. One such meet was concluded Saturday last (6/2) at Southern course of Sandown where even the dampening weather couldn't hold off the avid punters who mustered in their strength.

At this most fashionable racecourse beside the river Tyne the Tote Sandown Hurdle, a Handicap event for 4-year-olds and upwards was put through its fullest course of 22 furlongs along which there existed 11 most difficult flights to negotiate.

As the horses got off to a perfect start Melody Maid, Teaatral, World Express, Montroe and Moondigua were seen hellbent on bowling along with the others just trying to find their feet under severe ground conditions. At the fifth flight and 1 mile and 6 furlongs traversed surprisingly the horses were still upright and now with Teaatral as usual having taken up the running with jockey Darren Gallagher sitting pretty. Next in contention was Out Ranking having pegged back a host of front runners. But Out Ranking did not last long crashing through the 9th flight and making a mess of it. Still at the helm of affairs was Teaatral now nearly five lengths ahead of Melody Maid and Just Nip in closer order.

At the last jump Teaatral went over the timber like a ballet dancer and behind him now lay Just Nip and Melody Maid .

On the flat it was Teaatral doing the solo run to the winning post careering away by nearly 10 lengths bar the shouting. Just Nip just lasted home from Melody Maid.

It was one of the easiest finishes of the race for a decade. And Teaatral now is sure of going over to better things. Follow this Charlie Egerton trained 5 year old Timber Topper. He looks good enough for Cheltenham.

Sandown Saturday last opened out most inauspiciously as Zapateado at 8/1 downed the 100/30 favourite Mothers Help from Tommy Carson. Even the next event saw the favoured Mandys Mantino being beaten Edredon getting the day at 9/4.

The third event the February Novices Hurdle went to Simon Sherwood's Door To Door who knocked down Russel Road and Eltigri. Horse to follow from this event - Russell Road who with better handling could go a long way.

The Scilly Isles Novices Chase a Grade one event for 5 year olds and upwards over 20 furlongs went the way of Hoh Express at 11/4 from No Retreat and Bank Avenue.

Horse to follow from this event the winner Hoh Express who is already in one of the Cheltenham plums for next month.

The £30,000 Agfa Diamond Handicap Chase went to Jimmy Old's Clever Remark who was cutting down his fourth win-in-a- row with T.J. Murphy all smiles on board. It was an easy pillar to post win for this duo. Follow the winner for more handouts.

The principal event, the Tote Sandown Handicap Hurdle as I told you earlier went to C. Egerton's Teaatral from Just Nip and Melody Maid. Teaatral's win at 8/1 was much sought after by our local punters where some bookies in Colombo and Kandy, it is reported have lost a tidy sum punters having gone to town on the inform 5-year-old hurdler who won his last race at Kempton by 20 lengths. Follow Teaatral for more laurels. That's all for today. See you next week for more insight on the hindsight of horses taking part every Saturday.

---
The selector and the cricketer
The relationship between a selector and a cricketer is a bit like a fancy brochure. You very rarely get what you see and the truth is rather finely glossed over by a pretty facade. You might see them smile, for example, when their paths cross, most often the morning after an unpopular decision has been made, but you can recognise in it the overwhelming flavour of necessity rather than the more widely believed taste of respect.

The cricketer believes he is the dutiful daughter-in-law; meek, comely, right and yet always wrong. And the selector is the spitting incarnation of the hostile mother-in-law prowling around for the scent of the inadequate and finding a flaw even in the most brilliant of successes. The selectors say they are irritated, though they are secretly delighted, that cricketers who rarely acknowledged their presence now slide up to them and ask for advice.

It is a relationship that is inevitable and doomed but unlike more modern marriages the daughter-in-law here can never stay sufficiently out of reach of the mother-in-law. It remains a marriage of convenience and there are more than just a few cricketers across the country who keep tabs on the tenure of particular selectors.

The way out, and we are talking about where justice is administered fairly and without malice, is for selectors to be completely honest. And to be seen to be so. Their decisions, if they are wrong, have to be seen to be errors of judgement rather than proof that they were biased in the first place. If there is a man who is a brilliant judge of the game but whose personal integrity is questionable, he should be kept away.

It is not difficult to insist on honesty and transparency as being the two pillars of conduct for a selector. And that he has to sign a contract that makes it mandatory for him to be sacked in the event of inappropriate behaviour in public. - Ramesh Joseph

---
Media culpability in the branding of Murali
By Michael Roberts
All representations have a measure of partisanship. It is from a partisan position in the opposite camp that I read the lead article "Straighten Murali or law" and the carefully-chosen pictures that accompanied it on page 25 of the Australian of 25 January 1999. I argue here that the slant etched into this set of representations are pedantic, flawed and misleading. Malcolm Conn's position, moreover, is marked by that form of fundamentalist purism that has been one of the roots of the contretemps from the very beginning.

I contend further that a number of Australian media persons developed a climate of opinion that was favourable to the type of action taken by Ross Emerson on that fateful day at Adelaide Oval, though it is quite conceivable that he would have taken such a step irrespective of the voices in the background.

Today, the support on air and in print for Emerson's decision alleges that "as long as (Law) 24.2 remains then.... every umpire (has) the right, in fact a duty, to call a bowler every time they suspect the legitimacy of a delivery" (Conn in Australian 25 January). Such reasoning, of course, caters to the emphasis on personal autonomy in a country that is at the leading edge of Western individualism. The several Australian men on Radio 5AN provided continuous reminders during the 23rd January reportage of the depth of this philosophy (though perhaps unaware of this grounding).

Such reasoning seems remarkably oblivious - is this convenient blindness? to the fact that Law 24.2 is poorly drafted and construes suspicion to be proof of guilt. These flaws in the law are manifest. If my affirmative statement on this point is not adequate, however, let me cite Franck Tyson, Allan Border, Peter Roebuck and J. Neville Turner as my authorities.

Given such a defective rule and in the desire to avoid the sort of incident that took place at the MCG on December 26, 1995, the ICC created a process of evaluation by experts. That process cleared Muralitharan in late 1997. Kumara Dharmasena remains under a cloud however. The Sri Lankan authorities recently responded to these ICC concerns by omitting Dharmasena from the team to Australia and from the initial World Cup Squad of thirty selected early in January. That Muralitharan was in the team to Australia, therefore, marked a reliance on the good faith of the ICC and ACB; and the confidence derived from his acceptance by a range of umpires all over the world.

The ICC process necessarily qualifies the discretion of umpires on this issue, without removing their powers altogether. Once this scheme was in place it was a matter of common sense for umpires to realise that any suspicions should be conveyed to the ICC for evaluation through video evidence. The importance of "Common sense" has also been underlined by Kim Hughes (in an article in the Australian January 28, 1999 that nevertheless presents Emerson in favourable ways).

It is for this reason that Lawry, Botham and Roebuck reacted in such a hostile fashion during the course of the game to Emerson's action. Botham was explicit: Emerson was being "ludicrous" and taking an ego trip. Peter Roebuck put it in a nutshell. To quote him from perhaps defective memory; "the ICC put a system in place and one man has decided to buck the system".

In such circumstances it seems pedantic and disingenuous for Conn (and Mark Taylor) to claim that Emerson was merely applying the law as it stands. It is also erroneous for Conn to claim that the ICC process "takes nothing away from the power of umpires to rule on every delivery as they see fit." If the ICC holds to such a position it has set up a contradiction and is not holding to the common sense interpretation of the situation essayed by Roebuck, Hughes, Botham et al. What we have here, then, is a major difference of interpretation: an emphasis on equity and modernised form by Roebuck et al on the one hand and the pedantic literalism and rigidity of Conn and associates on the other.

Conn's misleading reading of the process of arbitration is compounded by a set of three Still Pictures of Muralitharan's action from side-on under the caption: "a legitimate delivery, or not? You can be the judge."

This Type Of Representation is truly gross - when presented within a context where one has access to video evidence.

Such video evidence, it appears, reveals that the appearance of chucking is "an optical illusion." It has been video evidence plus doctor's reports on Murali's peculiar arm that led the ICC committee to deem Murali's action legitimate. That any writer could review the case without reference to these facts is more peculiar than Murali's arm.

That Malcolm Conn should adopt the position displayed in the article under review is not surprising. He revealed his hand in an article in the Australian of the 4th December 1998 which treated Darrell Hair as a hero. "If more umpires around the world had taken a stronger stand sooner," he says, "then bowlers throwing may not be the issue it is today."

Now, on January 25, 1999, he reiterates his position of moral righteousness. The cricketing world has to be cleansed of all chuckers. Suspicions and visual evidence resting on the power of the human eye are adequate grounds for action in the light of Law 24.2

I have little doubt that Conn thinks that his position will serve the interests of Cricket - as, indeed, Hair and Emerson surely believe. My opposing position is that the pedantic and fundamentalist stance that they have assumed has sullied the field of cricket. Nay, more: it has been extremely damaging. The ACB and the ICC have had to bear the consequences.

The ICC has been everyone's carpet to beat on. In this instance, I claim, the main culprits have been Darrell Hair and Ross Emerson. But they are not alone. From the safety of their offices several Australian media personnel have encouraged firm action in the 'trenches'. This was illustrated in the 'campaign' from circa January 11, 1999 which claimed that several Australian umpires officiating at the limited-over games had presented concern over Muralitharan's action to the ICC referee, Pieter Van der Merwe. This was explicitly denied by the ICC in a statement issued around January 17, 1999.