Have you heard...
IOC to press 12 members to quit
San Antonio, Texas, (Reuters) - The International Olympic Committee plans to press up to 12 of its members to resign over the bribery scandal surrounding the 2002 Winter Games in Salt Lake City, US newspapers reported.
The San Antonio Expres-News and the Los Angeles Times quoted Anita Defrantz, the highest-ranking US member of the 105-delegate IOC, as making the comments in a speech on Monday to the National Collegiate Athletic Association (NCAA) convention in San Antonio, Texas.
"I assure you that the IOC itself will take action. No question there will be fewer members of the IOC before we come to our next meeting," she said, according to the San Antonio paper.
The newspaper said she predicted that upto a dozen members could be forced out over charges they accepted bribes in exchange for their vote to give Salt Lake City the games.
The Los Angeles Times quoted DeFrantz as saying "fewer than a dozen" would be pressured to resign. The newspaper said the IOC had concluded its investigation and members receiving letters about suspected bribe-taking would have 10 days to respond.
The Times said the names would be made public at a news conference at IOC headquarters in Switzerland. "By that time, we believe that we will have those who need to resign clearly identified and I hope, resignations in hand," she said, according to the newspaper.
According to the Texas newspaper, DeFrantz, who won a bronze medal in rowing in the 1976 Olympics in Montreal, said: "It saddens me that people have abused their responsibility. There will be some IOC members whose lives will be forever changed."
The US Justice Department and other authorities investigating charges said that some IOC members accepted gifts, jobs and amounts of money upto $70,000 from Salt Lake City boosters trying to get the games for their City.
DeFrant said she never saw the reported wrongdoing.
The head of the Salt Lake Organising Committee (SLOC) announced last week that he and another top executive resigned because of the scandal. Other resignations were expected.
Tobacco win 2-0
Christopher Tissera and Asela de Soysa scored a goal each for Ceylon Tobacco in their 2-nil win over Upali Group in their Mercantile C Division league encounter at the Malay Grounds, Slave Island.
In a B division game, AirLanka beat Sampath Bank by 3 goals to nil in a game played at the P. Sara Stadium.
As Chef-de-Mission
Commander H.M. Silva, Secretary General of the National Olympic Committee is tipped to go as Chef-de-Mission for the 7th South Asian Games in Nepal from September 21 to October 5 this year.
This was disclosed by Hemasiri Fernando, President of the NOC.
England barely better than Zimbabwe
England's Ashes failure has left them unchanged in seventh position out of nine nations, marginally above Test new boys Zimbabwe, in the world order of cricket.
That is the assessment of Wisden in their world championship table, which gives two points for a Test win and one for a draw, following England's 3-1 defeat by Australia this winter.
Australia (1.79 points on average from their last 14 Test series) have a huge lead at the top of the list over South Africa (1.27), while England are cast adrift on 0.71 only just above Zimbabwe (0.70).
England also have bottom of the pile New Zealand below them and have good prospects of improving their rating next summer when they face the Kiwis in a home Test series after the World Cup.
But above Alec Stewart's team are the likes of the improving Sri Lanka and West Indies, who remain third in the world despite their 4-0 hammering at the hands of South Africa in a series that is still ongoing
---
Young champ offers full blown challenge
• No rival is too big for the 17-year-old Sri Lankan schoolboy who has hit international newspaper headlines
By Channaka de Silva
At the age of 15, most of the Sri Lankan boys would still be admiring the international sports heroes and would have a passion to read about them in the newspapers. Beyond going to school or taking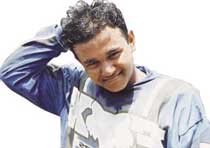 part in junior level sports competitions, their imagination wouldn't stretch far.
But how many of us know about the fantastic exploitations of a 15 year old Sri Lankan schoolboy who took India by storm just two years ago with his sporting heroics ? Rakitha Wijetunge, still 17, is already an acclaimed motocross champion in the country but many would be unwilling to accommodate the idea that he is still so young. He is a magnificent performer on his bike which he manoeuvres with a stunning accuracy and he has the class of a champion which gives him that aura of maturity. But despite his fame in Sri Lanka, little is known about his famous victory in India two years ago when he captured the headline of almost all Indian newspapers.
When the Sri Lankan team went to India in 1997 to take part in the star studded MRF-International Motocross at the Hoskote stadium in Bangalore, little were the expectations for a victory to young Wijetunge as the Indian authorities had taken steps to field their strongest possible team to counter the Lankans.
Wijetunge had everything to gain and nothing to lose. He did not have fancy goals but he simply went there and gave off his best. The rest is history. We could get an idea of his achievement by going through the report in the "Sportstar" magazine of May 24, 1997. It goes as this ...
"There were some doubts about the overall quality of the Indian participation in the Class I race as three of the top riders, Ashok Raja, Zubin Patel and Pratap Bhagawath were under suspension for racing in Sri Lanka last month without the prior clearance from the Association. But the Indian Federation did well to lift the ban after accepting an apology from the riders.
The star of the Sri Lankan contingent, of course, was the 15-year-old Rakitha Wijetunge, who pulled off a stunning triumph in the race of the meet - the Class I solo, which featured bikes up to 250 cc.
Rakitha had won four races at home recently, including an international motocross at Pannala, where he beat a loaded field which included a few Indian riders.
"I guess I gained a lot of confidence with that win and I went all out for victory here, which was my maiden overseas one" said the Lankan youngster, who is a junior college student.
The victory did not come that easily as Jagat Veer Singh, the Indian ace, who had won the Servo-Motocross in Chennai only a week ago, was in total command winning the first moto and the sprint race. Rakitha, who trailed in the fifth slot midway through the first moto, raced strongly to finish third in the event, behind Jagat Veer Singh and Zubin Patel.
In the all important second moto, Rakitha overtook Zubin Patel (on a Yamaha YZ 125) by the end of the third lap and then ensued a tremendous contest for superiority. The others fell behind as the two waged a great battle for supremacy, tearing away the turns and humps and clearing the table tops in spectacular fashion.
Zubin, trailing Rakitha by about 20 metres did his best to make up lost ground till the last lap. But, Rakitha swooped down the last curve, hit the table top at blinding speed and took off like a missile on the last one to signal victory. The delighted youngster did not stop there. He kept going, waving to the delirious crowd as he did his victory lap in inimitable style.
The overall placing in Class I saw Rakitha top with 35 points, just one ahead of Zubin Patel on 34, while Udesh Wedisinghe was placed with 26 points."
That victory in India is something he cherishes among the best moments of his life. Encouraged by the feat he proved that success breeds success by surging to the top of local motocross competitions winning events since then with a convincing regularity. The accomplishment went unnoticed by many mainly due to the lukewarm interest showed by the local media about the event but that did not take the gloss off the superlative performance which ranks right up there with Sri Lanka's recent international successes in the field of sports.
The fresh-faced handsome youngster Rakitha Anthony Wijetunge who is today an year 12 student of Wesley College started riding at the age of seven when he naturally developed a love for motor cycles, importing and selling of which was his father's business.
Within an unbelievably short time, Wijetunge mastered the art of riding, showing that his genius was not all natural talent, but a love for perfection and a dedicated persuasion of a goal.
With the young fellow oozing with talent, the parents had little hesitation in giving the okay for him to pit his dexterity against the seasoned riders of the country in top level competition at the age of nine.
His first taste of contest came at Nuwara Eliya when he rode a bike of his father's friend in a motocross.
Asked what type of bikes he liked most, Wijetunge said "I liked anything and everything as long as it was a bike."
"I thought riding motocross was more entertaining because it is naturally spectacular than the other kinds of racing such as road races and rallying" he reasoned for his attraction to motocross.
He said he did not want to adopt road racing as it was "dangerous" though his steely eyes reflected little fear when he talked about it. He said it was anyway, impossible to get involved in road racing as he was underage and did not possess the license to race. "Next year I will be getting the license and might sometimes get into road races." he said.
However he does not have to indulge in practicing all the time because it is in his blood. "I usually start practicing for an event only a month before the actual competition. I don't require to practice more than that." Wijetunge said. He usually practices at Pannala and Ragama on his parents' land. His first major motocross victory came when he was just 14 at the Ragama track in 1994. Then in 1995 he sent his first warning to the established giants of the sport clinching five events at the Ragama motocross in dominating style. This achievement earned him instant recognition and he was never to look back again.
Then at Pannala next year, Wijetunge created another big upset when he defeated the renowned motocross champion Ananda Wedisinghe into second place, which was the first instance that Wedisinghe was beaten by a Sri Lankan in competition.
Today, at the pinnacle of local motocross, Wijetunge has only a few close rivals among whom Wedisinghe is prominent. However nobody is big enough for the 17-year-old to instill a chill into his heart.
Still, Wijetunge has no monopoly over the field. It is very evenly competed and he knows that he could offer a decent challenge to anyone on fair terms. The Sri Lankan circuit has sort of a friendly environment with all the riders knit close together off the track. But on it, the rivalry is fierce.
Wijetunge however, detests the unsporty tactics used by his opponents to deprive him of victory. He knows his skills and told "The Sunday Times" he would have won most of the motocross events lately, had not his rivals marked him during competition. "They have a definite plan to stall me. They are an organised bunch. Their best riders would carry on with their race while the others who are not so good, but are supporting them, keep blocking me so that I can't overtake the best riders. It is so frustrating when you encounter such things, but I make sure that those things would not deter me. I will fight on as hard as I can" Wijetunge promised with grit. But in addition to being a motocross rider which is his first love, Wijetunge is an immensely gifted cricketer. He is a class batsman and has been the Wesley College opening batsman for the past three years. His talent as a cricketer is seen by many as a highly noticeable one but unfortunately he himself has failed to see it because his sights are entirely occupied by motorcycles.
He captained his school's under 15 side in 1996 and that same year was adjudged the most outstanding batsman of the all island inter-district under 15 tournament a feat of which he speaks lightly.
His highest score in the maiden first XI cricket season was 65 against St. Joseph's as a 13 year old. Since then he has scored loads of runs for Wesley including several centuries but his absence of interest in the game has resulted in him forgetting what those good scores are.
Despite being in possession of talent, of which any young cricketer would be proud, Wijetunge shows little interest in speaking about his cricket career. But a sparkle would return to his eyes when the topic turns to motocross.
His first ambition is to become the number one ranked motocross rider in Sri Lanka, and the way things are, it is not a distant goal for the youngster. But first, the country should have a standardised circuit of motocross which features several events at different locations where the winners would get points that can be counted together at the end of the year to decide on the ranking of each rider.
He is currently sponsored by Caltex for a three-year period which helps him to pursue the sport. His mechanic Prasad Gunasekara of the Yamaha company is another person Wijetunge holds dearly because he knows it is he who fashions his victory on the track.
Wijetunge has plans of going to Australia next year to follow a course to become a pilot for which he is prepared to sacrifice his two favourite sports Motocross and cricket. To become a pilot one day is his life's dream, which justifies to a certain extent his passion to fly on the bike. But as Rakitha says plans are not yet cemented.
Wijetunge will be getting a more powerful bike - an Italian made brand new KTM 125 from Dubai in April this year to replace his beloved Yamaha YZ 125's on which he competed so far during his eight years in racing. This will no doubt infuse more power into his performance helping him to achieve that number one slot quickly.
---
Lanka-England clash first
By M. Ismeth
World champions Sri Lanka will clash with England in the curtain raiser for the World Cup 1999 at the Lord's on May 14. The 1999 World Cup will be played in England from May 14 to June 20.
On May 15 India will clash with South Africa in a Group A league tie at Hove, while Zimbabwe take on Kenya in another Group A contest at Taunton.
Pakistan will play against West Indies at Bristol on May 16 while Australia will play new entrant Scotland in a Group B match at Worcester on the same day.
New Zealand will meet Bangladesh in another Group A match at Chelmsford on May 17.
After the league stage, the top three teams from each Group will enter the super-six stage where the teams would play the teams from rival Group (Group A topper vs Group B topper) on league basis before the four semi-finalists would be spotted.
The semi-finals are slated for June 16 and 17 at Old Trafford and Headingley respectively while the final would be played at Lords on June 20.
Following are the groupings: Group A: Sri Lanka, India, England, South Africa, Kenya and Zimbabwe.
Group B: Australia, Scotland, West Indies, Pakistan, New Zealand and Bangladesh.
Following is the schedule:
May 14: England vs Sri Lanka at Lord's
May 15: India vs South Africa at Hove and Zimbabwe vs Kenya at Taunton.
May 16: Australia vs Scotland at Worcester and West Indies vs Pakistan at Bristol.
May 17: New Zealand vs Bangladesh at Chelmsford.
May 18: England vs Kenya at Canterbury.
May 19: Sri Lanka vs South Africa at Northampton and India vs Zimbabwe at Leicester.
May 20: Australia vs New Zealand at Cardiff and Pakistan vs Scotland at Chester-le-Street.
May 21: West Indies vs Bangladesh at Ireland.
May 22: England vs South Africa at the Oval and Zimbabwe vs Sri Lanka at Worcester.
May 23: Kenya vs India at Bristol and Australia vs Pakistan at Headingley.
May 24: West Indies vs New Zealand at Southampton and Scotland vs Bangladesh at Edinburgh.
May 25: England vs Zimbabwe at Trent Bridge.
May 26: Sri Lanka vs India at Taunton and South Africa vs Kenya at Amstelveen.
May 27: West Indies vs Scotland at Leicester and Australia vs Bangladesh at Chester-le-Street.
May 28: New Zealand vs Pakistan at Derby.
May 29: England vs India at Edgbaston and Zimbabwe vs South Africa at Chelmsford.
May 30: Sri Lanka vs Kenya at Southampton and West Indies vs Australia at Old Trafford.
May 31: Scotland vs New Zealand at Edinburgh and Pakistan vs Bangladesh at Northampton.
Super Six Stage: June 4: Group-A second team vs Group-B second team at the Oval.
June 5: Group-A winner vs Group-B winner at Trent Bridge.
June 6: Group-A third team vs Group-B third team at Headingley.
June 8: Group-A second team vs Group-B winner at Old Trafford.
June 9: Group-A third team vs Group-B second team at Lord's.
June 10: Group-A winner vs Group-B third team at Edgbaston.
June 11: Group-A third team vs Group-B winner at the Oval.
June 12: Group-A second team vs Group-B third team at Trent Bridge.
June 13: Group-A winner vs Group-B second team at Headingley.
June 16: First semi-final (team 1 vs team 4) at Old Trafford.
June 17: Second semi-finals (team 2 vs team 3) at Edgbaston.
June 20: Final at Lord's.
---
The kicking wizard
By Ravi Nagahawatte
Tony Wimalasuriya may not possess the required weight to fit the description of an ideal ruggerite . But come match day, his place kicks have carried ample 'weight' to tilt the scales in his teams favour.The kicking wizard was among the main contributors in his team when Air Force once held it's own among top rung teams in the 80's. Today he is forty two years old and has still not lost that passion for rugby which was born twenty years ago.
His arrow sharp kicks have often been like guided misiles which , after striking it's object, have often left the opposition in total dismay.And looking into the effort which goes into those spot kicks ,Tony vows that his deep concentration and the hour a day that he puts into improve kicking is what makes the ball just sail through the uprights.
Tony had initialy not had much ambitions or a burning desire when he took to rugby while in the Airforce ."It was just like an ordinary sport" says the Warrant Officer who had earlier dabbled in soccer and athletics.However, as he settled in the field of rugby and began making a name as a player of high standard ,the doors gradually opened to obtain the prestigious white jersey .His moment of glory came in 1985 when the national team toured Hong Kong and Taiwan."I initially made the team as a wing three quarter ,but got the opportunity to play in several positions".
Tony had always had a desire to occupy the last line of defence.He also saw the nessessity to cultivate oneself into a technical player ."If you play according to the rules and regulations of the sport you will not injure yourself. Even when you tackle you should know to protect yourself" says the veteran player who has only suffered minor injuries during a long and successful career.Spe-aking further in his interview with "The Sunday Times " he added that physical size was immaterial even though the traditional thinking pattern is that the game holds favour for hulking brutes.
Wimalasuriya ,who has had little opportunities to be in teams with the services of foreigners, does not see much of a change in our rugby standard even though our local clubs were blended with the talents of exp-atriots.The money earning opportunities which have arisen for our locals - a direct result of the influence of foreign players on our rugby set up - leaves us wondering what money Wima-lasuriya could have earned in his hey day had he played for a non forces team. Wimalasuriya indirectly showed his disapproval relating to obtaining the services of non nationals by saying that it could discourage schoolboys from continuing their rugby into club level.
"The foreigner is brought down for money.So he has to be played .A talented school boy who also plays in the same position as the foreigner will be left out.
Tony brought into remembrance his glorious past last year when he booted a forty metre penalty in Air Force's match against Kandy.Wim-alasuriya was elated and so was the crowd who cheered him on for 'Tony's Special'. "I thought for a moment that I still could do it" reflected Wimalasuriya who plans to play this coming season for Air Force before retiring .
Is there a secret for his continuity in the sport I asked him?. "I sleep early ,eat at the proper time and do my training wholeheartedly" said the evergreen Wimalasuriya while revealing his recipe for success. "I simply do not feel the process of ageing" .
Like all his fellow forces personnel who who are engaged in the on-going war ,Tony too was stationed up in the battlefront at Morawewa in the early 90s. The ageless Wimalasuriya not only answered the call of duty but managed to do his duty in the rugby field as well. "There were times when I went back to the operational areas right after the match". Tony who is married with one daughter is not decided as to what he will do after retiring from the Air Force .But he is more than certain that there is a long way to go before he calls it quits as a sportsman .
---
Eudipe wins 'Cazalet' and qualifies for Cheltenham
By Ismail Khan
With only 2 1/2 months to go for the Festival blocbuster at Cheltenham, the all conquering spectacular jump showpiece of the National Hunt season 1998/1999, some of the hopefuls from all parts of Britain, Ireland, France, Norway, Australia and even the United States are having their preparatory runs now and I will be giving you an insight into the probables from now on. These are strictly for the Cheltenham Festival and mostly from the United Kingdom and Ireland. Others too may come in from different States as they appear only in England. So keep a tab on these hopefuls and the wagering is all yours whether Ante-post or otherwise.
Now then Sandown Saturday last 9/1/99 had as its showpiece, the Anthony Mildmay Peter Cazalet Handicap Chase, named after the trainer, who churned out a multitude of winners from the 1950's to mid-1960's with his dare-devil riders William Rees and Stan Mellor. Many of those who ventured out on this super combination during their heyday will hark bark on their nostalgic memories their winning streak which helped our punters too immensely.
Now this good year of 1999 saw another prolific combination of Martin Pipe and A.P. McCoy wrap the corresponding event for themselves this time with their useful staying chaser Eudipe who won his sixth chase in 20 starts earning another £30,000 to his already bulging kitty of £77,782 making it a grand £107,782 as his present bank balance for his owner Mr. D.A. Johnson, an attorney-at-law.
The race run at a leisurely pace had nine starters, none of whom was keen to take up the running over the 29 furlongs and 110 yards course run having 24 fences to negotiate. Finally it fell to Flaked Oats to do the donkey work and he did or shall we say, he overdid it coming a cropper halfway round allowing Glitter Isle the opportunity to take command of the field. As the field settled down to real business with a couple of fences to go McCoy brought in Eudipe with a sustained challenge and over the last fence with an immaculate jump he went on to beat P. Hide ridden Glitter Isle a length with Callisoe Bay behind 1 1/2 lengths further away. The winner was let off at 6/1 which I thought was a relishing bet indeed as he eased from 7/2 to 6/1 at the off. That is to show the competitiveness of the event for which almost all the nine horses were on good betting terms.
The Sandown proceedings began with the Fairlawn Juvenile Novices Hurdle run over 2 miles and 110 yards which went to odds-on favourite Norski Lad from Blue Royal and Hit And Run. Norski Lad could go the way of Cheltenham as his trainer thinks very highly of him. So watch out for P. Nichols's hopeful.
The next race Burton Handicap Chase over the minimum distance went to Dave Nicholson's Hurricane Lamp ridden by Richard Thornton where Green Green Desert finished runner-up depriving young rider John Tizzard of an early double.
Race number three went to Richard Dunwoody ridden Kurakka from Act In Time. Josh Gifford's Kurakka is sure to take his chances at Cheltenham but before that there are more races to be won by this stylish novice chaser. Also make a note of Green Green Desert runner-up to Hurricane Lamp in the second event. He also has more races to win though he had to be satisfied with a consolation berth this time.
The Sun King Of The Punters Tolworth Hurdle worth £25,000 went to Behrajan ridden by Richard Dunwoody who incidentally booted home a good double. Second in this Grade One Hurdle was Elouis. Behrajan has been pencilled out for a big event at Leopardstown (Ireland) next month. So follow him before Cheltenham.
The principal event went to, as I said earlier, to Martin Pipe's Eudipe who is already in for Cheltenham's Foxhunters Steeplechase over gruelling long distance and as Pipe has a good record in the corresponding events over the years, have him in your short list of Cheltenham hopefuls. Of the others Josh Gifford's Glitter Isle needs watching.
The last race the Bill Rees Novices Hurdle named after the famous jump rider William Rees, I mentioned earlier, run over 22 furlongs was won by the 33/1 outsider, Slipmatic ridden by C. Maude from Uphan Lord and Ezanak
---
Chrys Abrahams back in town
Chrys Abrahams, a Sri Lankan domiciled in Australia, is presently going places as both a cricket umpire instructor and trainer of a side taking part in Australian Rules Football.
Abrahams is the Umpires Appointment Secretary of the YCW Cricket Association of Melbourne and is now on a holiday in the land of his birth. A product of St. Joseph's College, Abra-hams migrated to Australia at the age of 20 in 1972 after representing his school in athletics.
Abrahams told The Sunday Times he was very much interested in returning to Sri Lanka for good and offering his services for the enhancement of umpiring and promotion of cricket coaching.
He began to train a team in Australian Rules football while being involved in martial arts and physiotherapy.
Speaking on the Sri Lankan cric-ket team's chances of winning the upcoming three-nation series in Australia, Abrahams said that one factor that will be favourable to Sri Lanka is the mental approach to the game.
"Australian cricketers play the game very tough both mentally and physically. This is something that the Sri Lankans must not take personal. It must be replied in the same way", he said.
Abrahams said he had contested parliamentary elections as a member of the Labour Party in 1992 and in 1996 and hopes to try his hand once more in the Year 2000.
---
Kontouri magic
He is a young but experienced and a scientifically qualified physiotherapist
By Marlon Fernandopulle
You will not find his name in the scorecard of the Sri Lanka team but his contribution to Sri Lanka cricket is much more than runs and wickets.More often than not he has been mistaken for a player and that is not a surprise. He is always with the players whether at a physical training session at the gymnasiums or at a swim in the pool. or at a social gathering of the team or even at the nets having a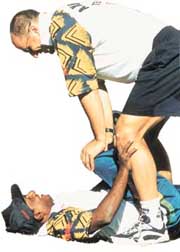 bowl at the world champs..
Strongly built, resembling an athlete like physique and proudly displaying a shaven head is Sri Lanka's team Physiotherapist Alex Kontouri.He may first give you the impressions of an actor in a Western action movie.Take a closer look, with the bald head,tight chest and tough look you could equate him to a boxer in the ring raring to deliver a knockout punch to his opponent.
But make no mistake Alex Kontouri is a young but experienced and a scientifically qualifed Physiotherapist who is simple, very unassuming and a cheerful character with a good sense of humour.Alex loves to share his thoughts and experiences with his friends in Sri Lanka and was only too happy when the Sunday Times caught up with him a few days before he accompanied the Sri Lanka team to Ausrtalia for the Triangular tournament.
After taking over the reins as Sri Lanka team Physiotherapist Alex brought about a new dimension in Physical Training,Excercise and even Diet to ensure that players are at their peak fitness level during a tour or a match and will be able to perform 100 percent or more.A daunting and challenging task for the Physio.But the young Australian who has just turned 30 has stuck to his task prescribing the diet and the excercises for each player and tailor made according to the individual needs to get the maximum from each player.
His carefully planned scientific approach to Physical fitness has already succeded and Sri Lanka cricket began to reap the benefits earler than expected.No wonder he is easily the most loved character today not only by the players but even by the cricket administrators and the cricket loving public of Sri Lanka.
Not surprisingly Alex was a very keen sporstman during his schooldays." I played a lot of soccer while at school and played at a reasonably high level when I was around 16 -17 years and was exposed to sports physiotherapy during this time.When it came to choosing my career I wanted to be a Doctor or a Physioherapist and chose the later because of the love I have for sports and for my sporting background".
Alex is the youngest in his family and has two sisters who are married and in Australia.His parents who have retired were born in Cyprus and emigrated to Australia when Alex was a toddler.Educated throughout in Australia, Kontouri has a Bachelors degree in Physiotherapy from the Lincoln School of Health Science (now a part of he Melbourne University) and also specialised in Applied Science and Physics.
Soon after his graduation Alex worked as a Physiotherapist in a hospital in Victoria and later moved on to a sports clinic in the same state.It was here that Alex first began to treat sports related injuries and developed a love for his profession."Having been a keen sportsman myself and experiencing various injuries during my playing days ,I enjoyed treating the players for various injuries".
Alex also worked as the Physio for the Victorian State soccer team and the National league soccer team of Australia while working at the sports clinic in Victoria. It was during his tenure at the sports clinic that Alex secured his contract with the Sri Lanka cricket team after coach Dav Whatmore requested for a Physio. "Dav had contacted a doctor at the sports clinic I was working and requested him to recommend a physio for the National team.The doctor had no hesitation to recomended me and the rest is history now".
When asked whether he was known to Dav at that time,Alex replied saying Yes,Dav used to send his fast bowlers to me when he required specialized physical training and for the treatment of injuries".After not seeing eye to eye with the hierarchy of the Cricket Board,Dav Whatmore was forced to relinqish his position as coach. However Alex Kontouri continued undisturbed and today enjoys every minute with the world champs." They are a wonderful set of cricketers and a pleasure to work with", lamented the Physio.
His love for the players and commitment to his job is simply great that he had to cut short his last holiday to attend to Muralitharan's and Aravinda's injuries." Murali and Ari were fighting for time to be fit for the tour and my presence here was very important and so I had to cut short my holiday"However the Physio said that he was planning to visit his parents while in Australia and also has plans to host the world champions for a barbecue at his residence in Victoria."Yes I have planned a surprise party for the boys and I only hope time will permit me to entertain the guys at my home",concluded a gleaming Kontouri.
---
Rebel rugby referees demand: Fair or foul
By Callistus Davy
A glimmer of hope is in sight for senior rugby referees who have decided to put an end to a stalemate crisis and accept a call for talks which they will attend next Wednesday.
The meeting, convened by the newly elected president of the Referees Society Brigadier Japuna Jayawardena, is expected to give the dissenting referees a chance to air their views on what decisions they want implemented to settle a crisis which has threatened to cause problems in the forthcoming new season.
"Let's hope the talks will be positive", a spokesman for the senior referees told The Sunday Times.
An initial call for talks was ignored last week..
The crisis began when senior referees contemplated quitting the season in opposition to the re-election of Sam Samaraskera whom they allege is poised to work against them with the connivance of the junior or lower ranking referees.
Samaraskera has already denied he was mobilising the support of the junior referees by saying his only intention is to promote fair-play.
The senior referees fear they will be shoved out of important domestic matches or be unjustly deprived of foreign assignments.
"We are not against referees of lower rank coming up. But they must prove it. Some of them are trying to run before they can walk. We came to this stage because we proved our ability", said one senior referee.
He said some lower ranking referees have "got too big for their boots" and have even blown school games wearing fancy dark glasses.
They also accuse the junior referees of coaching which is contrary to the ethics.
But one lower ranked referee who wanted his name held back told The Sunday Times that the senior referees are opposing Samaraskera as they are no longer in a position to have a dominating say and promote themselves for numerous foreign assignments.
Meanwhile an official of the Referees Society, who said he wanted his identity kept a secret for sensitive reasons, told The Sunday Times that a senior referee had misled the Society about a seminar in Bangkok which was never held.
He said that the junior referees (numbering over 20) were sent to Bangkok after a sub-committee, on an assurance given by the senior referee, recommended that they (junior referees) seek sponsorship money and prepare their passages.
Constitutionally, referees say they are unable to make public statements, but a close aide of the accused referee challenged the Society to show proof that they were cheated.