Questions arise as police are unable to crackdown on a spate of murder
and rape incidents
Reeling under rising crime
By Frederica Jansz
Murder and rape appears to be the order of the day as Colombo and her suburbs reel under a crime rate that is escalating and the Police finally admitting it is due to poor policing.

Though area Police hasten to add that the recent murders are few and far between, investigations by The Sunday Times found that within the space of a week there has been a range of incidents in Colombo and the outlying areas which has resulted in even an entire family being a target for gory assault.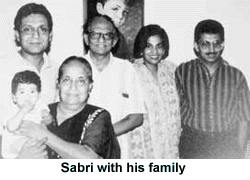 On the 7th of this month Priya Perera and his family, who live at Kandana, finished dinner and settled down for the night. Priya is the father of two children, a son (10) and daughter (6). At about 3 a.m. they were woken up by the sounds of some one breaking into the house. They saw a man who they were able to identify as a workman who had previously worked in their house, breaking in through the roof. The man then proceeded to steal some jewellery-three bracelets and a chain.
When the family raised cries, the man to everyone's horror, in a frenzy began to hit Priya, his wife, and his two little children with an axe. Priya's wife was grievously wounded by blows from the axe on the side of her eye and head, Priya was wounded in the head, his little daughter on her ear and his son on his head. The entire family was unconscious after the incident. Priya's wife was the first to regain consciousness and phone for help. The family was rushed to Colombo's accident ward and are still in hospital. One child has been discharged.
OIC Crimes, Kandana police SI Quintus Fernando, said no arrests have been made so far but that the police were hunting down the man who is supposed to have worked at the Perera house. He said the man was absconding from his usual places of work and home, while the police are not yet sure if there was more than one man involved in the assault and theft. At the time this edition went in to print no arrests had been made.
Two days later, at Mount Lavinia on January 9, Sabri Mohamed (40) was murdered while a gang of six attempted to rape his fiancee, Sashi (not real name). The Sunday Times cannot divulge Sashi's identity as she is the only witness to the crime and has agreed to assist the police in identifying her fiancee's killers. "I will give all my assistance to the police, this is the very least I can do for Sabri," she told The Sunday Times, her eyes still filled with shock and horror at the terrible scene she had been witness to.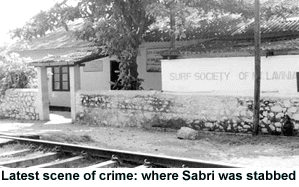 Sashi has big red bruises all over her body suffered at the hands of the gang who attempted to rape her. Sabri and Sashi were about to get into their car parked outside the Surf Club at Siripala Road, Mount Lavinia, at around10.00 p.m., when they were attacked. Sashi, recounting the details said as she was about to step into the car she felt something pull at her leg. To her horror she saw it was a man, and in the same instance she saw another man at the driving door holding a knife to Sabri's throat.
The other members of the gang then emerged from behind the car, ordered Sabri to get off, and then after removing their gold chains, bracelets and Sashi's watch, ordered Sashi to remove her clothes and get into the back seat of the car. Sabri yelled at Sashi, not to get into the back, but instead to move over to the driving seat, and cling onto the steering wheel. This she did, while another man then jumped into the passenger seat and began fondling Sashi. He pushed up her skirt, pulled at her blouse and even got on top of her while yet another man who had by this time got into the back of the car began pulling at Sashi from behind. They also pushed a gun into Sashi's rib cage and told her not to scream.
Sabri meanwhile was pleading with the attackers to leave Sashi alone and even went so far as to ask them to come to his house that he would give them more money if only they would let her go.
The gang were by now demanding the car keys from Sabri, who refused, saying he would give them the car, only if they released Sashi. They then shouted at him in Sinhalese to hand over the car keys and that he could collect Sashi from the top of the road. The gang began by this time to hit Sabri, and Sashi saw he was bleeding though she did not realize at the time, that he was being stabbed repeatedly. Sashi then begged the thugs to stop and told Sabri she would go with them, as she was desperate to stop them attacking him. Sabri screamed that if she did they would kill her.
During the commotion Sabri managed to break away and though bleeding profusely, had run towards the Surf Club. At this point the gang decided to make a getaway leaving a trembling Sashi in the car.
Limping with his stab injuries, with some help, Sabri was driven to Kalubowila Hospital, to the Accident Ward where he remained unattended for fifteen minutes, until a doctor was summoned. It was too late however, and Sabri died at 11.55pm. He had been stabbed repeatedly in the stomach and back, which had resulted in the arteries and lungs all being pierced. Sashi says she does not know if the gang was under the influence of any substance. "I did not get any smell of liquor on them," she said, adding she cannot tell if they were on drugs.
Chandana Athukorale, OIC, at the Mount Lavinia Police Station said no arrests have been made so far, but that Sashi would be a key witness. He maintained that while the Police did have an idea who the gang members were they could not arrest them until there was more evidence available. The OIC then made a ludicrous statement saying that in the event they were brought in on insufficient evidence they could file Fundamental Rights cases against the Police.
Mr. Athukorale added that the Police suspected these men were "drug addicts." He could not however provide an answer when asked why such gangs are now resorting to rape and murder as well, or why, if the police have an inkling who the suspects are, they are not remanded and questioned.
Mr. Athukorale was quick to maintain that such crime is out of the ordinary and does not happen on a regular scale. He was speechless when The Sunday Times pointed out to him that two cases of murder and attempted rape have taken place at almost the same spot in Mount Lavinia within the space of five days.
Just five days before, on Monday the 4th, yet another couple was attacked on the beach at Mount Lavinia at about the same time as Sabri Mohamed and his fiancee were attacked. This time too the man was stabbed, fortunately not fatally, and the girl was spared as her screams drew help. Mount Lavinia police say there has been no breakthrough in arresting suspects even in this case. A senior journalist living at St. Rita's Road, Mount Lavinia said his house had been burgled five times, once, by a gang dressed in police uniforms. Repeated statements and complaints to the Mount Lavinia police, he said has resulted in a total lack of action. The police, he said could not care less, and so far have not arrested even one suspect, despite this journalist offering to identify a member of the gang.
Evidence that this wave of crime is spreading is proved in yet another incident on Monday the 11th of this month at around 3 a.m. when a lorry travelling from Colombo to Weligama was stopped by an armed gang of about 8 to 10 persons who repeatedly and viciously stabbed the lorry driver and cleaner. The cleaner died as a result, and his body was dumped by his killers into the sea. The driver is in a critical condition at the Karapitiya hospital. The lorry was carrying a load of sugar, onions, potatoes and flour worth over Rs. five lakhs.
The incident had taken place at a point between Kosgama and Ambalangoda. The hijackers travelling in a white van had made their getaway taking the lorry with them. The lorry was found four days later on Thursday the 14th, abandoned at Maharagama minus its cargo. OIC, Ambalangoda police K.M.D. Premathilake told The Sunday Times they have so far failed to make any arrests and have no inkling who the gang could be. Meanwhile The Sunday Times learns that no arrests have been made with regard to the murder and attempted rape of Sabri Mohamed and his fiancee and an incident involving another couple days earlier.
When this newspaper again contacted the Mount Lavinia police station to find out if any arrests had been made, OIC Mr. Athukorale said two people had been brought in for questioning but he could not say if they would be held. Mr. Athukorale made this assertion after The Sunday Times had spoken with the IGP's Personal Assistant, Gamini Karunatilleke who maintained that two have been arrested in the Sabri Mohamed murder case while four others remain at large.

---
No manpower to patrol beaches -DIG
Senior DIG H M G B Kotakadeniya, Crimes and Intelligence, told The Sunday Times that at one time there were foot and mobile patrols which prevented such organised gangs from operating.

"Sabri Mohamed's death would not have occurred if the police patrol the beaches like before," he said. Mr. Kotakadeniya maintains that this is the main problem for the increase in crime. The murder of Sabri Mohamed, Kotakadeniya claimed, was obviously done by an organised gang which are operating along the beaches.

There is a massive lack of resources and manpower in the Police force today, he said, adding that at present the police are involved in too many other unconventional duties.

At present he claimed thousands of policemen are not only involved in the north and east but have also been deployed to curb growing violence in the Wayamba electorate and carry out other election duties. "All these men are being siphoned from doing main police work," Kotakadeniya said, maintaining that this only allows organised gangs and criminals to commit acts of plunder, murder and rape at will.

Asked if the use of drugs could be a contributory factor, Kotakadeniya asserted that it is possible. However to even curb this problem which has international dimensions, "we need a large amount of men and other resources," he said.

Mr. Kotakadeniya claimed that to tackle all this, police patrolling is required, but the need to deploy men for security and other non-traditional things like guarding some of the country's large reservoirs, hamper the police force from carrying out their normal duties.

He said the Crimes division is working on introducing a new system for crime prevention with a view of getting the people involved. He said the new plan would probably entail the OIC of each police station to liaise with a people's vigilant group of each respective area.

This will entail a more systematic approach to the problem. "We want some system where the police and some members of the public function together. These are new challenges which we are working on," he said.

---
THE NEWSMAKER
He cuts down gods, real and imaginary
Every now and then someone comes along who can move or shake the establishment but it's not often that somebody comes along who can move something as staid as the Buddhist establishment.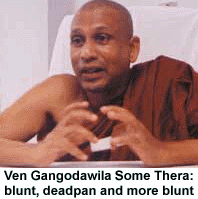 Venerable Gangodawila Soma Thera has shaken it quite hard in the last few months, so hard there have been moves afoot (now abandoned) to ban him from the television channels. One thing characteristic of the Venerable Soma Thera is that he is blunt, deadpan and more blunt. Asked why there has been some sentiment that he may be racist because he says that Sinhalese practise family planning while the Muslims and the Tamils do not , he replies that "there must be cowdung in the brains of the Sinhala Buddhists who think I'm racist when I say this."
The Venerable monk is on the move like some Minister; and to get some time sandwiched between his daval dane and the next TV appearance for this interview was a mammoth task. So I meet him at a house, where he partakes of the noonday alms and gets back to the business of being blunt. "The Tamils and the Muslims essentially do not practise family planning, and they are therefore working towards the advancement of their race," he says and I asked him whether practising family planning is something therefore negative, in that case. ( Or wasn't family planning supposed to be progressive, something that helps human advancement?) The answer is emphatic. "The Hindus and the Muslims in Sri Lanka do not practise family planning. The argument trotted out by the Sinhala race is that family planning is an economic imperative. But if families cut down on smoking and unnecessary consumption , they can survive on what they earn; a labourer earns upto three hundred rupees a day tilling the soil. So why can't they survive; you see that this economic imperative is a total fallacy." But does the monk know the financial rigours of life among the laity. "For example, the cost it takes to admit children to schools, to fork out donations, for example?"
Part of the 'ban the monk' mania Venerable Soma Thera attracted came from the fact that he had been a highly vocal critic of the gods, the Hindu gods particularly such as the god Kataragama who he says the Buddhists have taken over , contrary to the Buddha's express teaching. Venerabe Soma Thera calls the Kataragama god, (a divine icon of most Buddhists) an "imaginary deity." And its best to hear him say it in his own words. "Whenever a great son is born to humankind in India, it's a practise of the Hindu's to call him a reincarnation of Vishnu — it's a tradition. For example they say that Sai Baba is a reincarnation of Vishnu. Now we know that Sai Baba is not an avatharaya (apparition or incarnation) and that he is a good man. We know that well. The Hindus say that the Buddha is a reincarnation of Vishnu. Are we prepared to accept Buddha as a reincarnation of Vishnu? Not me. I know that the Buddha descended from a clan of Indian kings, he is no apparition or incarnation. Even Sai Baba, if you touch him nicely, would not feel to the touch like an apparition because he is a good man.
"The Hindus know their religion is the polar opposite of the Buddhist philosophy. The Buddha says the world is a result of a causal phenomenon, but the Hindus say that Brahma created the world. So they don't try to match their religion with ours. In which case, why do the Buddhists try to match Buddhism with theirs?
"If the Buddha said 'DO NOT DO SOMETHING" the Buddhists do just that and then say buddhang saranang gacchami!! The person who says buddhang saranang gacchammi (I seek the refuge of the Buddha ) has accepted the Buddhist teachings of annithya dukka anathma. Can such persons say Vishnu saranang gacchami, Luxshmi saranang gacchami, Sai Baba saranang gacchami, saraswathi saranang gacchami etc.,?" Does this mean that there are no higher beings or deities (deva's) in Buddhism?"
"The Buddhist devas," the Venerable Thera says, "are not those born out of supernatural circumstances . The Buddhist deva's are born out of causal circumstances; of acquiring merit through a process of seeking the ultimate salvation of nirvana. The most sacred of the Buddhist devas are the sakkra, and the sakkra says if any human being takes refuge in the Buddha, the Dhamma and the Sangha, that he, the sakra, will worship any such human being. So that shows that the Buddhists cannot say Sakra saranang gacchami or satharavarang saranang gacchami let alone Sai Baba saranang gacchami. When a Buddhist worships various imaginary gods and other gods, he must seem to be suffering from some mental condition (oluwe amaruwa.)." If you think that's vintage Soma hamuduruwo, that's not all. "Most Buddhist monks," says the Venerable "don't seem to understand this. They don't like this type of thing being said. Why, do they want Buddhism or Hinduism?"
But, Buddhist piety notwithstanding, the Venerable Soma Thera doesn't quite mince words when he wants to be brutally critical. Saying that Mr Ashraff of the Muslim Congress had claimed he never wanted a separate Muslim enclave in the Northeast, the Venerable says "if the President carved out such an enclave of her own accord, she had no business to do so. Not in a democratic country. But asked whether it is Buddhistic to think in terms of race, he shoots back that he has not yet attained any sainthood (rahathpalaya) and that he has a race. "If I'm born a Tamil in my next birth, I will be a Tamil. But the world advances because people advance collectively as races. Look at the Tamils and the Muslims. They learn English but even the good students of Royal and Vishaka don't seem to know English among the Sinhalese.'
More questions as a result. If we are Sinhalese, do we have to chase after the alien English? And as humans, shouldn't we strive to advance collectively and not in terms of races? There are more curt answers ("Even the Japanese want to learn English.
Talk about the reality; we can't develop collectively. We have to forge ahead as separate races. I wish Tamils well. But I don't want to see the Sinhalese come crashing down in the process. About 70 per cent of the Sinhalese smoke. There are brothels all over the place. So when Mr. Ashraff says the Sinhalese are Buddhists only by name, I think we have asked for it. We can't challenge it") Venerable Soma Thera is on a role here. Ban this juggernaut? That will certainly be of a tall order.
Interviewed by Rajpal Abeyanayake