'I'm not one of those who sell their souls'
Upali may have been killed by his enemies. But I believe he died several times at the hands of the so-called 'gentlemen', who tried to crush his spirit- to make him compromise to subvert the truth -which he resisted to his dying day
By Hemantha Warnakulasuriya
Arambawalage Don Ranjith Upali Silva was shot dead on December 18. When hearing the news I had mixed feelings. Did I contribute in any way to the death of Soththi Upali? was the question that pricked my conscience.
On that fateful day when I walked into the Chief Magistrate's Court, Colombo to proceed to Mount Lavinia to appear in a case of child abuse, Upali saw me and came running up and pleaded with me to appear for him. He was distressed and looked worried. He told me that after two and a half years of investigations the CID had decided to file action against him for the killing of Ragunathan, the assassin of Lalith Athulathmudali.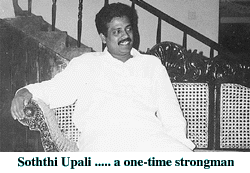 I was surprised by the turn of events. I appeared for Upali, and pleaded with the Chief Magistrate, M.A.Silva and explained to him that the first four accused had been released on bail by the Court of Appeal. The learned Magistrate accepted my explanation and decided not to remand the accused again. I heard later in the evening that Upali had been gunned down. The moment I heard this, what Upali told me in remand prison kept coming back. "When I am released on bail, they might kill me. But I am not like some Mahththayas who sell their souls for some benefit or the other."
I came to know Upali, after I decided to defend Janaka Priyankara Jaymanne before the Lalith Athulathmudali Commission. Janaka Priyankara Jayamanna was found to be the assassin of Lalith Athulathmudali by the Commission. When the news of the arrest of Jayamanne and how Ragunathan who resembled Jayamanne was killed and dumped near Mugalan Road, appeared in the newspapers I was convinced that it was not the LTTE but the UNP that killed Mr. Athulathmudali. The story that was published in the newspapers was so convincing that there was no reason for anyone to doubt the investigations that led to the arrest of these suspects.
A few days later two women and a man appeared in my chambers and wanted me to appear for Jayamanna. I burst out in anger and chased them out of the house. I was angry that these women could even think that they could retain me to appear for a criminal who had killed one of my favourite lecturers, teacher and politician.
A few days later these women appeared with another man who claimed he was Upali Ranjith's friend. Some years back I had appeared for Upali and his brother Indare. Indare had been referred to me by my friend the late Vijaya Kumaratunga. The friend of Upali Ranjith told me that Mrs. Jayamanna wanted to relate an important story with regard to the murder of Lalith Athulathmudali and wanted me at the least to give them a patient hearing.
Janaka Priyankara Jayamanna's mother began the discussion by showing me some newspaper reports on proceedings of the Lalith Athulathmudali Commission which were given prominence in a Sinhala newspaper. She told me according to these reports which gave the evidence of the bodyguard of Lalith Athulathmudali, the assassin should have had gunshot injuries on his body. The evidence of Tilak Shantha, the bodyguard led before the Commission established beyond doubt that the assassin was hit by the bullets fired by the bodyguard. The Commission had tried to draw a distinction from the gunshot injuries on Ragunathan by showing that Ragunathan had received gunshot injuries on the back, while the real assassin according to Tilak Shantha had received injuries on the abdomen.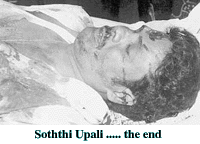 Jayamanna's mother told me her son did not have any injuries on his body as a result of the gunshot and that he was willing to submit himself for any examination by any forensic expert to prove this. I decided to meet Jayamanna then. I met him and I was convinced of his innocence and I decided to appear for him at the Lalith Athulathmudali Commission. Upali was the main suspect in the Athulathmudaii case. I thought if the Magistrate decided to remand Upali the assassins would have had to postpone their plans for a later date.
With the death of President Premadasa the demonisation of Soththi Upali began. Upali was made out to be the most powerful leader of the underworld and a ruthless killer employed by the UNP. Some powerful politicians who wanted to remove Mr. Cooray as General Secretary of the party planted fabricated reports purporting to show that Mr. Cooray had planned to kill President Wijetunga, when he arrived to declare open the statute of President Premadasa. The killer employed for this mission was supposed to be Upali Ranjith. Later Uplai was arrested in connection with the killing of Rasmara Hussain – a member of the Municipal Council, Matale.
When 'Soththi Upali' was in remand he was accused of planning with Mr. Sirisena Cooray to assassinate President Chandrika Bandaranaike Kumaratunga. In the Fundamental Rights application filed by Mr. Cooray these allegations were thrown overboard by the Supreme Court and compensation was awarded to him.
I met my client Janaka in the remand prisons where Upali was an inmate as a co-accused in the Lalith Athulathmudali assassination case. Some people in the Investigating Unit of a Commission, had allegedly approached Upali on several occasions and made overtures to him to co-operate with the investigating unit.
Upali would have been used as the key to open the door wide to rope in as many political opponents as possible. If Upali had co-operated many leaders in the main Opposition would have been behind bars.
The electronic media took the proceedings of the Commission to the sitting rooms of millions of houses. The sit com would have tarnished the image of the opposition. Many reports,- broadcast, connected Upali with the murders of every single important person who died either at the hands of the LTTE or the DJV. The allegations were so serious that even the few friends who knew the truth avoided Upali and his family like the black death. The family had no access even to take him meals to Mahara Prisons. It was an opportune moment for anyone to prey on the weakness and frailties associated with all human beings. Upali was diabetic and was taken to hospital several times. Every time he went to hospital Upali became a prime target of other gangs that wanted Upali under ground six feet deep. Upali did not have the money or resources to retain a lawyer to appear for him at the Commission. The evidence was led ex parte.
Many against them allegedly visited Upali and sympathised with him. He was told he wouldn't have to wait long in remand ; he would be released on bail and his family would be provided with a visa to travel to Canada or Australia with necessary foreign exchange, to live happily ever after . He was also told his cases would be withdrawn by the Attorney General's Department and the CID. For all these benefits Upali had to make only one small 'sacrifice'. He had to implicate leading political figures in the UNP in the murder of Lalith Athulathmudali. If he made this small sacrifice he could get out of this hell hole and join his family in Canada to start a new life all over again. No one would be hounding to kill him. He was offered all that was necessary to become a refugee in any western country. His life was under threat. But he did not want to believe these agents of the Lalith Athulathmudali Commission. He knew that treachery was the name of the game. No one could be trusted. Any time after the statement was made the perfidious agents like his associates would betray him. He could not be convinced. What guarantee would there have been for him after he co-operated with the agents of the commission? He had to lie with impunity and implicate others falsely.
One day I got a message to meet Upali at the Remand Prison, Mahara. He told me the Commission had honoured its obligations to his arch rival Chintaka Amarasinghe. Chintaka had made a statement earlier implicating him and Jayamanna in the murder of Lalith Athulathmudali. According to the statement by Chinthaka Amarasinghe, Jayamanna who was an inmate of Chinthaka's ward in the remand prisons had confessed to Chinthaka, that he killed Lalith Athulathmudali on a contract. Upali told me that Chinthaka had been promised that he would be released on bail if he made such a statement. Though there were a number of murder cases pending against him Chinthaka Amarasinghe had been released on bail due to the intervention of certain persons. I tried to impress upon Upali that these persons had nothing to do with the granting of bail for murder suspects. Upali told me "I am not interested in the niceties of law. Here I am in remand on an absolute false allegation that I killed Lalith Athulathmudali. I have no other cases pending against me, but Chinthaka has more than a dozen murder cases pending against him and dozens of other allegations of murder which are being investigated. But he is a free man on bail." The people who allegedly approached Upali had told him that it was they who got Chinthaka released on bail.
"I have no reason to disbelieve them and now they have told me they will send my wife and children abroad within a short time. My wife and children would go to Canada or Australia as political refugees. I have only to sign a statement implicating leaders of the UNP with the murder of Lalith Athulathmudali. They told me if I did not believe them I could sign the statement after my wife and children left the country. I would then know they had gone abroad and were being looked after. Once I am satisfied that my family was safe and abroad, I would have to testify in the manner they would want me to do. I would be a star witness in the Lalith Athulathmudali Commission of Inquiry. Then I would be released on bail, and made a Crown witness. I would be given money and arms for my protection. After the mission was fulfilled I could leave the country and join my family abroad,"concluded Upali.
I was nonplussed and had no answers. I asked Upali what kind of statement he had to make to get all these benefits. He told me "It is very simple Sir. I have to state the day before Lalith Athulathmudali was killed there was a secret meeting at Lake Drive – at the residence of Sirisena Cooray. Ranil Wickremesinghe, Weerasinghe Mallimarachchi and U.L. Seneviratne and some members of the Executive Committee of the UNP with DIG A.S. Seneviratne and other higher- ups of the Police met and discussed the plot to assassinate Lalith Athulathmudali. After the finer points were concluded these UNP stalwarts left the residence. I was in a corner listening to the plot. I will have to narrate the plot which had been prepared by the these persons who wanted me to make these statements. After the meeting was over Mr. Sirisena Cooray told me 'Wede Hari' - indicating that I should kill Lalith Athulathmudali according to the plan."
I felt a cold chill running down my spine. My throat became parched. Immediately I pictured the whole scenario on a wide screen like in a cinema- Upali narrating the plot and UNP leaders being escorted to the Commission for having conspired to kill Lalith Athulathmudali.
After he revealed these details to me, Upali asked me to give him one reason why he should not make this statement and get all these benefits and leave the country. I had no answer to give. "Sir, I come from a poor family. I am not a 'Mahaththaya' like those chaps who would sell their souls for crap. They would stoop to utter any lie to get some benefit. I am not a person who eats what I defecate. Even if I had to die in prison for want of medicine, or if my enemies poison me, or ultimately if I am released on bail some day, and I am killed, I would not be a party to this unpardonable crime. How can I implicate Mr. Wickremesinghe, when I have not spoken to him at all. I have suffered enough. How could I give this 'ginndara' to another family. I would not do so even If I had to die as a result of this," Upali said while I listened to him in disbelief.
Later he was taken to the Lalith Athulathmudali Commission office to record a statement. In spite of the pleas and threats and warnings of the officials he refused to get down from the prison vehicle.. When they tried to force him out he hit himself with the hand cuffs and injured his forehead. He did not want to get down from the bus apparently fearing they would get his signature by force on a document implicating innocent people.
Upali may have been killed by his enemies. But I believe he died several times at the hands of the so called 'gentlemen', who tried to crush his spirit to make him compromise to subvert the truth, which he resisted to his dying day.