---
Traditional man
By Wathsala Mendis
A couple of years ago Duminda Fernando struck it rich with the Richard Marx hit "Hold on to the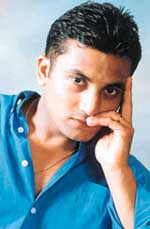 Night." From then on, there was no looking back for this rather outspoken and supremely confident singing sensation. Duminda considers women a "necessary evil" but is quick to add that they are the "embodiment of natural beauty."
The youngest in a family of four, 'Dumi' lists his career as the top priority at the moment. Well, once he makes up his mind to settle down in life, he'd go for a girl who's faithful, extremely caring and romantic, and reasonably good-looking with long black hair. "That's a must. I believe in the conventional feminine appearance."
Fantasy
My favourite fantasy is to fly a Kfir. Whoosh...just like that! I always wanted to be a pilot. (He even has this picture of a flight of Kfirs on the wall, in front of his desk at office.)
Meal
Buttered Naan with Chicken Khorma. It's a very basic meal, but it's very delicious.
Movie star
Tom Cruise. My ex-girlfriend used to say that I remind her of him. (This was during my school days, he insists.)
Song
"From This Moment" by Shania Twain and Brian White. I love the lyrics and when I listen really deeply to it, I get goose bumps. You see, that's when I know I like a song.
Colour
Blue. Why? Because it's blue!
Time of day
Night. It's very difficult for me to hit the bed before 11 or 12. I just hang around reading a book or listening to the radio. Basically, I find something to keep myself occupied. Maybe that's why my friends call me a "Nishacharaya" (night bird)
Pastime
Gardening, provided I'm in the mood for it. It keeps me close to nature. Otherwise, I just like to drive around the city.
Persons
My best friend. Wait, I know what your next question is going to be. Whether it's a male or a female, right? That's for me to know and you to find out! We've been and will always be there for each other through thick and thin.
TV programme
'Beyond 2000' on Discovery Channel. It's pure knowledge. And living is all about gaining knowledge, isn't it?
Possession
Dignity. One should never trade it for anything else.
Place
Nuwara Eliya. You see, I have this thing for greenery. And the climate...it's brilliant. When you get up in the morning, the first thing you notice is the mist. It's lovely! Of course, it's also nice to have someone with you.
Item of clothing
Denims. They project the man in you. They give you this rugged look and go with anything. I wish I could wear them to office as well.
Hideout
Down south. You want to hide yourself? Go down south, switch your cell phone off, and nobody knows where you are and who you are with.
---
Front Page| News/Comment| Editorial/Opinion| Business| Plus |Sports