---
Grand Gypsy Ball on New Year's Eve By Sanath Weerasuriya
"The Grand Gypsy Ball" on New Year's Eve will come alive this year too at the Sri Lanka Exhibition and Convention Centre on December 31. This is the very first time that Singer is sponsoring a New Year's Eve Dance and the Chairman, Hemaka Amarasuriya said we are doing so because of our long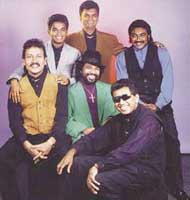 association with Sunil and the Gypsies and also because we feel it is an ideal platform for us to meet music lovers, who would obviously be interested in Audio equipment.' The Grand Gypsy Ball will feature the Gypsies with Corrine and band Ecstasy and promises to be a dance with a difference. The Convention Centre will take on the festive air of a musical carnival and Sunil has planned to have a food & beverage court so that the New Year's Eve revellers would be able to pick and choose the food and drinks of their choice.
This year the 'Grand Gypsy Ball" will be sponsored, by Singer and organised by the 'Gypsy Team'
---
CD-Cassette of Lankan Christmas songs
Still hasn't decided on what to buy as Christmas gifts for the near and dear ones. Then this is just the things for you. Three new Christmas Cassettes have now been released.

Christmas in Sri Lanka is the latest CD and Cassette to hit the market this season. It includes seventeen Christmas songs by top Sri Lankan artistes.
'Christmas in Sri Lanka' features Gypsies with Corrine, Rukantha, Chandralekha, Latha Walpola and Anil Bharathi.
The songs comprises the Gypsies version of "Kalakata Pera Bethleheme" Santa Claus is Coming to Town, White Christmas and a rally of melodies such as Jingle Bells, Rudolf the Red Nosed Reindeer, etc. The CD is priced at Rs. 850/- and the Cassette at Rs. 125/-. 'White Christmas' (Gypsies), "Re Tharu Babalanawa (Latha), 'Bethlehem Pure (Anil), 'Ma Mavuni' (Corrine), ' Adare Mage Jesune' (Rukantha), 'One day at a Time' (Mariazelle), ' Pulun Wage' (Gypsies) and "Kalakata Pera' (Gypsies) are some of the hits featured in this cassette.
---
What they say of Santa Claus By Daffy Duck
December is a month for "School Holidays" say children, " Santa is coming with our X'mas gifts" say kids, "Time to finish this year's annual leave" say working ladies, "Seeing Stars" say all gents for they know that all their hard earned money will be spent on shopping by their near and dear ones. "Time for family get-together's" say all grand/mums and dads.
But is this all what December means? Do we all only think of ourselves and what we get, or keeping up with the Jones's for appearance sake. Is the old traditional Christmas sparkle with us still. Do we care about our neighbour or our country.
TV Times spoke to many people and asked them two questions (a) If you are "Santa Claus", what would you do? (b) In the penultimate year of the 20th century, what kind of service do you plan to render for the upliftment of mankind in the next millennium? What everyone had to say to these questions is interesting but educative as well.
Read on. You will be a complete man or woman.
Ramzi Rahaman - Hairdresser & Beautician

I believe that December is a month set apart for seasonal celebrations irrespective of religion, I believe everyone joins in. The whole city is decorated accordingly, even my salon is.
(a) "Santa Claus" is more for kids. He is associated with distributing gifts, bringing children happiness and keeping them happy. Well! If I am given the chance, I'll teach people to be nice to each other. Put a smile on their faces, that'll make everybody cheerful and bring forth peace to our country.
(b) I take each day at a time. I believe in bringing out the best in me, and wish so for my staff too.
The output or the service provided we ensure is of quality and not of quantity, that would make our clients satisfied. Then there are no complaints, or bad days, etc. If every citizen feels and acts so, I believe there wouldn't be any problems coming your way.
Sangeetha Weeraratne - Popular actress

Though I am a Buddhist my father is a Christiain. Therefore we do celebrate Christian. My sister and her family is down for the season. Yes! I still belive in Santa.
(a) If I am the "Santa Claus", I will give all the neady children food & clothes. But what our country needs is Peace.
That's what I'll grant as Santa.
(b) Year 2000 is for our children. They are the country's future. I am totally against child abuse and using children as domestic servants. I plan to work with UNCIEF and all other such associations to stop and prevent such deplorable things happening to them.
And help children living in conflict areas in what ever form I can.
Duminda Fernando - Part-time Singer

Dumi is a Catholic. So he celebrates Christmas. (let's hope so.) I want the war to end, and eliminate birth of retarted children. This will make the world a happier place. Christmas is just a two day concept.
(a) No! I don't believe in Santa Claus, it's just for kids. There's no real Santa, and we all know it. Just to make children happy, dads become either Santa of the hour or leaves gifts under their pillow/bed.
(b) What else, wait and see. To move forward careerwise. Hope the world to be a better place. (How easy, isn't what we all do. folks?)
Piyal Perera - Singer/Musician of Gypsies

I am a Christian, and I celebrate Christmas. Back after a long trip overseas with Singnore. My brothers, so am I throughout the year. It is only in December we get a break, to spend some time with our families.Christmas is spent with a family get-together.
(a) Yes! I believe in Santa Claus. I have small kids. They like to enjoy.
But we must remember though Christmas is special to us, there are hundreds of people struggling to survive the day let alone Christmas. For us we have everything we need, and basically everyday is Christmas. So if I was Santa Claus I will give as much as possible.
Everything these people need, to make their lives more than comfortable.
(b) We must work towards peace in our country. That's the most important goal for us in Sri Lanka. We must educate people to put aside religion, caste, creed, and race. We all have a religion and it is important to follow its teachings, but we must remember that we are all born to it. Accept the fact that we are human beings and we need to respect the other.
Then we can all live in peace and harmony. We hope to do a couple of peace songs and some X'mas songs next year. For peace is needed all over the world.
DJ Magpie - SUN FM
I am a Christan. I do celebrate christmas.
(a) No! I don't believe in Santa. Why? One Christmas eve I was trying to sleep late at night so that Sanata could come, but sleep never came. So to my amazement I saw mother coming in and leaving gifts for me under the pillow. Santa only exists in one's imagination. No doubt about it.
(b) Let me think about that. Hm... I want to help alleviate poverty. I will do special programmes and help the people through charity. SUN FM is visiting children's hospitals on X'mas day, and we plan to give gifts to all babies born on the 25th.
Natasha - Front line singer of Dream Team
I am a Christian. My family celebrates Christmas. I used to, but not anymore. There's no mentioning

of Christmas day, or celebrating it in the Bible. Also there's no information at all that Jesus was born in December. I only go to prayer meetings.
(a) If I was the Santa Claus, I will give as much as possible to the poor, and ease their suffering.
(b) I will do the maximum I can. I can't stop the war. As a singer I'll do some shows but that's not enough. I'll pray to God.
If my faith is strong enough, may be it will happen.
But then everyone must join in. It'll never happen because human beings are so wicked.There's no compassion towards a fellow being. That's a shame.
Kumar De Silva - Presenter of Fan Club/ Bonsoir

Today is Kumar's B'day. I was a Christian but now a convert to Buddhism. Well, when I was small X'mas began on the 20th. I believed in Santa and left him cakes, etc. because he came from a cold country.
(a) No! I no longer believe in Santa. All grownup Christians no longer believe in him either. If I was Santa I'll give gifts to all little children in the world irrespective of age or religion. They are the most important people for the future. There's a kid in us all before we became adults. So make their life as happy as possible.
(b) I want to help people in need. The sick, poor, old, orphans, dying, etc. We wait for an excuse to celebrate birthdays and other events. Why can't we give every day. Why wait.
My wish is to help ease someone else's pain or need, and that would make my life worthwhile. God said " Love thy neighbour as thyself" but do we? I wish, wish and wish this would happen.
Grand Oriental Hotel, Colombo
Christmas Eve: 24th December 1998
Harbour Room: 5 Course Set Menu Candlelit Dinner Rs.550/- nett p.p.
Christmas Day: 25th December 1998
Harbour Room: Special A-La-Carte Menu Lunch
---
'Dharmaratne Brothers with Wonder Children'
'Dharmaratne Brothers with Wonder Children' is the other Christmas cassette released last week.
This Christmas cassette comprises Christmas songs sung by Maxwell and Milroy Dharmaratne with Wonder Children, who are from Kotahena.
'Kalakata Pera', Bethleheme', 'Seethala Sulanga', 'Re Meda,' Tintintin,' 'Jesuni,' are some of the hits from this cassette.
The Wonder Children comprises, Tharaka Rodrigo, Hirushika Rodrigo, Mali Sumali Fernando, Nissanka Chrishantha Fernando and Deepal Perera.
Maxwell and Milroy together with 'Wonder Children,' have released another cassette 'Lama Gee' comprising children's songs.
---
What and where Christmas fare
December is synonymous with celebrations. It is the month of Christmas in which Jesus Christ was born. Festivities are held world over. Sri Lanka is no exception. It is a time for sharing, time for laughter, time for giving. For a busy family, it is easier to go out and enjoy themselves.
So theTV Times on a roving mission went to find out what's happening at the hotels during this Christmas, and keep its readers informed of what's in store.
Trans Asia Hotel, Colombo
Christmas Eve : 24th December 1998
Noblesse: Dinner (Set-menu) Rs.1,500/- nett p.p.
Summerfields Coffee Shop: Dinner Buffet Rs. 1,100/- nett p.p.
Christmas Day: 25th December 1998
Summerfields Coffee Shop: Lunch Buffet Rs. 1,100/- nett p.p.
Noblesse: Lunch (Set-menu) Rs.1,500/- nett p.p.
Long Feng: Lunch ( Set Menu) Rs. 700/- nett p.p.
Noblesse: Dinner (Set-menu) Rs. 1,600/- nett p.p.
Summerfields Coffee Shop: Dinner Buffet Rs. 1,100/- nett p.p.
Taj Samudra Hotel, Colombo
Christmas Eve: 24th December 1998
Rendezvous: Dinner (Set Menu) Rs. 999/- nett p.p.
Ports of Call: Dinner Buffet Rs. 750/- nett p.p.
Navratna: Mohgul Dinner Buffet Rs. 750/- nett p.p.
Christmas Eve Dance: 24th December 1998
MKOP: With Friends Rs. 500/- nett p.p. Males, Ladies Free
Christmas Day: 25th December 1998
Rendezvous: Dinner (Set Menu) Rs. 999/- nett p.p.
Ports of Call: Lunch Buffet Rs. 650/- nett p.p.
Ports of Call: Dinner Buffet Rs. 750/- nett p.p.
Christmas Day Dance: 25th December 1998
MKOP: With Friends Rs. 500/- nett p.p. Males, Ladies Free
Holiday Inn, Colombo
Christmas Eve: 24th December 1998
Alhambra Resturant/Coffee Shop: Candlelit Dinner (Set Menu) Rs.675/-++
Christmas Day: 25th December 1998
Alhambra Resturant/Coffee Shop: Luncheon Buffet Rs.595/-++
Mahaweli Reach Hotel, Kandy
Christmas Eve: 24th December 1998
Main Resturant/Pool Side: Festive Buffet.
Christmas Day: 25th December 1998
Main Resturant/Pool Side: Chef's Special Buffet Lunch.
Ceylon Inter-Continental, Colombo
Christmas Eve: 24th December 1998
Cafe Emerald: Dinner (5 Course Set Menu) Rs. 700/- ++
Pearl Seafood Restaurant: Dinner (5 Course Set Menu) Rs. 1,200/- ++
Christmas Day: 25th December 1998
Cafe Emerald: Dinner (5 Course Set Menu) Rs. 700/- ++
Pearl Seafood Restaurant: Dinner (5 Course Set Menu) Rs. 1,200/- ++
Grand Hotel, Nuwara Eliya
Christmas Eve: 24th December 1998
Grand Dinner Hall: Buffet Dinner Dance Rs. 1,250/- nett p.p.
Supper Club: Chef's Special Gala Dinner Rs.1,500/- nett p.p.
Christmas Day: 25th December 1998
Grand Dinner Hall: Buffet Dinner Dance Rs. 800/- nett p.p.
Supper Club: Chef's Special Gala Dinner Rs. 800/- nett p.p.
---
One act X'Mas teledrama
'Asalwesi Premaya'(Love Thy Neighbour) is a one episode Christmas teledrama sponsored by People's Bank.It is scheduled to be telecast on National Rupavahini on December 25,at 7.00 p.m. The cast comprises Palitha Silva,Radha de Mel,Ramani Fonseka,Granville Rodrigo,Lakshita Fonseka,Chitra Warakagoda and Anton Jude. The teledrama is directed by E.D.Sriyapala.Harsha Makalanda is the music director.
---
International Children's Day
December 13th was International Children's Day of Broadcasting. Radio Sri Lanka broadcast special programmes for children presented by children.
The International Children's Day of Broadcasting, celebrated on the second Sunday every December, is a day when broadcasters around the world "Tune into Kids"
They air quality programming for and about children. But most of all, they allow children to be part of the programming process, to talk about their hopes and dreams, to share information and exchange views with other children around the world.
International Children's Day of Broadcasting was a joint initiative of UNICEF and the International Council of the National Academy of Television Arts and Sciences. Every year, thousands of broadcasters in more than a hundred countries take part in the Day, celebrating it in ways that are as special as children themselves. And the Day isn't just good for children. Every adult too will have an opportunity to be transported to his childhood.
Special programmes included kids making 'live' presentations of programmes throughout the day on the English Service. The Sinhala National Service was also taken over by children including a special 'live' programme from the Vajira Lama Nivasaya. A special Children's Concert was broadcast in the evening from Sathutu Uyana at Vihara Mahadevi Park in Colombo. Children from various schools in and around Colombo participated in the programmes on Radio Sri Lanka.
---
Naushad Ali chose music despite parental objections.
The music director who mesmerised millions of Hindi filmgoers,Naushad Ali was born on Christmas Day 89 years ago in Lucknow.The maestro will be devoting more time for religious observations to mark his birthday.
Even as a child he was deeply interested in music.He was in the habit of visiting the annual fair in Lucknow every year not to purchase anything but to hear qawwals rendered by musicians who are special invitees.It was here that he met a flute player whose tunes fascinated him."I used to sit by his feet and hear the melodies played by him every day"he once told the media in Bollywood.The flute player's music yet haunts this master even now.
As he belonged to an orthodox family he did not endorse young men joining the music field since they thought that the Muslim community would not appreciate him.
However it came to a crucial point when Naushad Ali had to choose music or the home.After much argument with his father he selected he music,first as a hobby.
He studied music at the feet of two famous musicians of that time,Ustad Baban Khan and Ustad Yusuf Khan.
The young Naushad Ali left his home town and visited Mumbai (Bombay) in 1937..Although it was a new place he was ready to meet any challenges as his one dream was to master the subject.
His first break was as an assistant to music director Jhande Khan who was in the peak at that time.He was paid a monthly salary of Rs40/- for the work he did.
Then he came to Ranjith Studio and worked under music director Khemchand.After assisting many more music directors Naushad Ali got the first break as a music director when he was assigned to provide music for'"Prem Nagar'.As the story was based in a village he had to provide folk music and fortunately folk music was his pet subject.Recounting those days Naushad Ali recently described how recordings were done in parks and gardens after midnight."Even in the early forties only one microphone was available both for the singer and musicians.
The microphone had to be heated over the fire before use" In a recent press interview Naushad Ali detailed how the recording was done. Naushad Ali said" the violinist played his piece before the mike first,then the singer would render the lines, and it will be followed by the tabla player and so on".
Naushad Ali hit the headlines in Asian newspapers when "Baiju Bawra" was released in 1953.It was a big hit.Among other factors his music contributed for its grand success.
It was Naushad Ali who gave 'Baiju Bawra' story theme and suggested Dilip Kumar and Meena Kumari should play the lead roles. Moreover it was a time that Prakash Pictures were to be closed due to lack of business when 'Baiju Bawra came to be produced.Its success made Prakash Pictures to continue in business.
He is also remembered as the first film music director to create and stage a symphony comprising 100 musicians.The final recording of this was done in London.The symphony was highly appreciated in Britain and played over BBC.He has provided music in about fifty films.
British film maker Orson Welles who was busy producing 'Othello' also had seen the rushes of 'Aan' and heard the music track seperately.
Naushad Ali is now dedicated doing research work in music in his own Music Academy in Mumbai. Once when he visited the States a famed western musician praised his music and expressed surprise that Asians plagarise thrown away western tunes when they can create their own melodies.
---
Anti-male 'Fire' causes stir
Feminist film maker Deepa Mehta's 'Fire' which was released in certain regions in India has caused a stir among a section of filmgoers.It turned worse when a crowd of people attacked theatre halls where 'Fire' was screened compelling cinema hall management to close them temporarily.
Versatile director actor Dilip Kumar has come forward to present matters against the Broadcasting Ministry's decision to re-censor the film.
'Fire ' was premiered at the International Film Festival of India (IFFI)at Thiruvanathapuram in 1997. Audience reaction after the screening was over was that the film was anti religious and anti male.
Deepa Mehta who directed the film writing its screenplay based on Ismat Chugtai's short story titled 'Lihaf',was upset on hearing remarks cast by those who saw it,it was reported."It's a film about emotion,tolerance and compassion and not against religion or men.Even men in our country are often victims of tradition"she said.She further said it was an insult to call 'Fire' a film on lesbianism in answer to some who said the film was based on such a theme. Deepa's teenaged daughter Devyani who has also made a brief appearance in 'Fire' is reported to have liked the film."I am not advocating lesbianism nor saying that every woman who fails to enjoy sex with her husband should turn to another woman for sex.'Fire' should be viewed as a film"she said.
Deepa Mehta who lives in Toronto visits Delhi often.She is quite satisfied of the audience who saw "Fire' when it was screened in America."Not only audiences between 30 - 45 saw it but even those in 20 -25 group appreciated it.'
'Fire' won the Silver Hugo for best film and Shabana Azmi won the Best Actress Award at the Chicago Film festival.
Deepa Mehta made her debut with 'Sam and Me' (1990).It received critics' acclain at the Cannes International Film Festival."Camilla' was her second film.It was a $11 million production with Jessica Tandy and Bridget Fonda playing the leading roles.'Earth' based on Bapsi Sidhwa's'Ice Candy Man' was her next film.It is a story set amidst the carnage of the partition seen through the eyes of an eight year old.'Earth' was to be followed by 'Water'.She started writing 'Water' but it was recently reported that she stopped writing it after hearing the troubles that have taken place when 'Fire' was screened.
---
Christmas festivities here and abroad
By Kumaradasa Wagista.
Christians all over the world celebrate Christmas on December 25.Film stars and technicians enjoy the X'Mas and New Year vacation of nearly ten days as film studios close early for the X'Mas vacation.As a custom several film studios in Asian countries work at least for a few hours on January 1.It's a tradition followed for many years as it is believed that working even for a few hours with the dawn of the New Year bestows fortune and blessings during New Year.
Film personalities here unlike during the hey days of the local film industry some three decades ago,will not celebrate this X'Mas or New Year on a grand note.Instead they will look on the less fortunate specially the disabled and the sick."We do not want publicity for charity and welfare work done on this all important day"several film artistes said.
K.Hugo Fernando actor since our first film 'Broken Promise',script writer,lyricist and music director says X'Mas is not only for merry making but also for religious observations which have to come first.He is now old and feeble.But he faintly remembers how active he was during X'Mas time."Playing the church organ for X'Mas Mass was one of my greatest enjoyments."he recounted.He was in the forefront organising X'Mas get togethers among film artistes and technicians, of all religious faiths. Many such parties were held at Vijaya Studios.
Although he is confined to the house many film personalities visit Hugo 'Master'either on X'Mas day or for the New Year.They wish him for better health and long life.
Another film actor associated with Hugo Master those days was Mark Samaranayake.He is also weak and feeble spending the evening of life in Veliweriya.Shanthi Lekha another prominent character actress jointly with Sandya Kumari,Dommie Jayawardena,Vijitha Mallika and others organised the New Year Dinner Dance on December 31 night.Eddie Jayamanne and the heroine in the first Sinhala film Rukmani Devi were chief guests on these occasions. Strict instructions were given by the organisers that not even a drop of water be served until the chief guests arrived.
In Montreal,X"Mas is celebrated mostly indoors. But the outside is also beautiful with snow all over like the milky ocean. The snow filled pine trees colourfully illuminated with multi coloured bulbs is a sight film actress Nita Fernando cannot forget."Crackers are not entertained nor is there New Year revelling there.New Year is enjoyed with dances in every hotel."she says.Nita had been in Montreal for 16 Christmas festivals.Although fireworks are not entertained either for X'Mas or New Year there is a special fireworks display in July every year."It's also a colourful event attended by thousands of spectators"she says.Nita is in her village for this festive season."We will be visiting our relatives and more time will be devoted for welfare work".
Sri Lankan population in Sydney celebrate X"mas with gala parties both indoors and outdoors,observed Jeevarani Kurukulasuriya who has been there for 24 Christmas's.Usually non Christian Sri Lankans are entertained in Christian homes and vice versa during Sinhala New Year festivals.These sing song sessions go on daily from X'Mas eve to New Year. There too fireworks displays are held.Celebrations are more and better organised as there are about 50,000 Sri Lankana in MelbourneShe too is in Sri Lanka for this X'Mas.She will also visit relatives and her film colleagues."I want to pay a visit to my colleague Ruby de Mel who is now living a lonely religious life"Jeevarani said.
Several local film personalities have decided not to enjoy this X'Mas on a grand note."With a war being waged and hundreds of men women and children living in refugee camps everything has to be done on a low key,they said.
---
Amadeus opens Sri Lanka office By Sanath Weerasuriya
Amadeus, the world's leading Global Distribution System (GDS) recently launched its Sri Lanka offices and operations in Colombo. Having initially entered the market in January 1997, the establishment of Amadeus Lanka further strengthens Amadeus's commitment to providing state-of-the-art technology and extended services to the travel community of Sri Lanka.
Amadeus was the first GDS to begin operations in Sri Lanka and has consistently provided a neutral and reliable system, as well as a user-friendly range of products and solutions .
Headquartered in new offices at the Galadari-Colombo, the Amadeus Lanka team headed by Dennis Fonseka as Country Manager is already setting the highest of standards in servicing the travel agents in Sri Lanka. Amadeus users can benefit from extensive and comprehensive training programmes free of cost at the Amadeus training centres, in addition to regular onsite training provided by the Amadeus experts. The Colombo Help Desk service is open six days a week with further support provided by the 24-hour a day Indian Subcontinent Help Desk in Delhi.
Speaking at a press conference in Colombo Miguel Vermehren, Director Corporate Communications, at Amadeus said, "Amadeus, is totally committed to servicing and offering the most advanced technology to agents and the travel industry in the Indian sub-continent. We are pleased to provide travel agents in Sri Lanka with instant desktop access to superior reservation tools that help them offer instant world class service to their clients", he added.
Ankur Bhatia, Director, Amadeus lndian sub-continent added, that "Our immediate plans for Amadeus Lanka focus on the introduction of the latest Amadeus productivity products which will further increase travel agencies automation and integration. This includes Power Office, a back office accounting package and + Zoom, an information management tool which will help them analyse data trends from their reservations."
Dennis Fonseka, Country Manager, Amadeus Lanka also said "This last year of operations in Sri Lanka have been intensive and rewarding, as we have seen our agency customers respond extremely positively to the Amadeus range of products. Pro Minim - which enables travel agents to improve their productivity by cutting down by 60 per cent the average time taken to make a booking has been very popular and is a clear sign of Amadeus's technological and competitive edge," he added.
Amadeus, began its operations in the Indian sub-continent in September 1994 with installations in Mumbai and New Delhi. Since then substantial inroads in different parts of the sub-continent have been made and today there are 19 offices servicing over 1400 travel agents with more than 2000 terminal installations. Amadeus India has also established country offices in Kathmandu-Nepal and Dacca- Bangladesh.
Amadeus Lanka was set up by Amadeus India to service travel agents' needs in Sri Lanka and Maldives. Today 58 travel agents in the region are using the Amadeus system.
Amadeus is the world's fastest growing Global Distribution System (GDS) and is used by more travel agencies than any other reservation system, with over 44,000 travel agency locations connected to its data processing centre as well as the sales office of over 100 airlines world-wide. Agents can make airline, car and hotel bookings with more than 490 airlines, 60 car rental companies and 50,000 hotel properties as well as a wide range of other travel services.
---
Tabu has a love problem
Film star Tabu has a problem. She is in love. Not with one person but with two.
Number one in her list is Sujith Nadiyatwala a producer and number two is the Malayalee macho star Naga Arjun.
News from the grapevine from Bollywood has it that Tabu is about to be betrothed to Sujith but on and off she runs off to Hyderabad to meet Naga Arjun who is on a 'shooting' assignment.
Tabu's diary is already full with film contracts and the talk of the town in Mumbai is how she is managing two love lives with limited time on her hands.
The big question is; whom will Tabu marry - Sujith or Naga Arjun?
---
Galaxy of musical talent
An extraordinary gathering of musical talent brings the voices of Christmas to Broadway's Shubert Theatre for an hour of song.
The multi-talented Ms. Williams, whose own albums have sold more than 4,000,000 worldwide, will be returning to a Broadway stage for the first time since starring earlier this year in "Kiss of the Spider Woman." For the special, she is hostess to star performers from a rich diversity of popular musical worlds including Phil Collins, Babyface, Shania Twain, Luther Vandross, Rosie O'Donnell, the Boys Choir of Harlem, Elmo (of "Sesame Street") and Savion Glover.
The concert, taped before a live audience, will be a benefit for City Harvest, a New York charity which provides food for the homeless. Highlights include: o Babyface: "The Day"; o Shania Twain and the Boys Choir of Harlem: "God Bless the Child"; o Rosie O'Donnell and Elmo:White Christmas"; o Vanessa Williams and Babyface: "Baby, It's Cold Outside"; o Luther Vandross: "With a Christmas Heart"; o Vanessa Williams: "Star Bright"; o Phil Collins: "The Same Moon"; o Vanessa, Luther, Shania, Rosie, Elmo, the Boys Choir, Savion: "Do You Hear What I Hear?" ; o Vanessa, Shania, Luther, the Boys Choir: "Hark, the Herald Angels Sing."
Ken Ehrlich, John Dukakis and Qadree El'Amin are the executive producers of the programme, which is directed by Louis J. Horvitz and written by Ehrlich for Ken Ehrlich Productions and Southpaw Entertainnent.
On Wednesday (23/12) at 9.30p.m. on Sirasa TV
---
TNL LITE: new addition
TNL Radio the station that gives you the most music, now introduces a distinctly different piece of real estate for you to park your radio dial. TNL LITE is now playing on 89.2 FM!
Mellow we are told is the key word that powers this new radio station for those of us who like to park ourselves in an easy chair, and just listen to music. Music that doesn't fray the nerves.
Custom designed for ages 25 and above, the Mama's and the Papa's, and those still young at heart, LITE FM, as its name very clearly suggests, is based on the theme of music that is foremost soothing and relaxing, and will feature modern adult contemporary, country, and the unforgettable classics of yesteryear.
There will also be specialized programs in the very near future for late evenings, and on weekends, hosted by some of Sri Lanka's finest broadcasters wallowing in " Nostalgic recollections of years gone by", as one of their station ID's proudly proclaim.
LITE FM has been specially formulated to cater to the Sri Lankan audience that prefers the music they grew up with. So the music aired will be solely centered on what mature audiences want to hear. Already test transmissions have commenced with veteran broadcaster, Jimmy Barucha who presents "Golden Memories".
Initially at their infancy, or in broadcasting parlance Test Transmission stage, you can catch their unique blend of music from 7.00 am - 11.00 am, and 5.00 pm - 10.00 pm daily.
Like father, like son they say, and so as with TNL Radio, LITE FM realizes the importance of keeping you abreast with the latest happenings in town, Thus 89.2 will play the dual role of giving you the best mix of memorable music while at the same time keeping you informed of the latest news headlines!
This will also include Business News and a comprehensive sports round up, together with regular briefs on health, entertainment, and Social action issues, to name but a few. All told, once you tune in, you'll never want to tune out. So cozy up to LITE FM, on 89.2 today!.
---
It's your kind of station with more than just music!
Touch of Dutch at Nooit Gedacht
Located at the foot of Rhumassala Kanda, Nooit Gedacht, (unthought), was once the country house of Dutch Governor, Dejong, resident in Sri Lanka in 1735.
Today it has been converted into a guest house by the owner who is a descendant of the family which occupied this place over the last two centuries.
Due to being hidden from the glare of modernisation the house has managed to retain its age old charm. The furniture consists of period pieces only seen in museums today. And even the swimming pool, which has been introduced in recent times, is functional and inconspicuous.
Taking a walk in the spacious garden can transport one to another world.
So remote and untouched. And three minutes away from the house one comes upon the Governor's Bath. A stone pool set amidst the greenery, in which one could be at one with nature.
A half an hour trek over the hill will take you to one of the most heavenly bathing spots in Sri Lanka, the jungle beach.
Mr. Parakrama Jayasundera, the owner of Nooit Gedacht, who has lived in the house since he was a child says, "I feel very relaxed here. We have got used to the time factor." He stresses "It's not a critical factor in life."Nooit Gedacht, Unawatuna, Tel. 09-23449.
---
Son takes over from father
Sarath Fernando, son of late M.S. Fernando released his maiden audio cassette last week.
'Mal Yahanawaki Loke' (The World is a Bed of flowers) is the title of this cassette and it contains twelve songs.
'Three of these are my original compositions and the rest are songs sung by my father, Sarath said. 'Mathalan', 'Mal Yahanawaki Loke' 'Sili Siliye', 'Sanda Madala', 'Hoiya Hoiya' are some of the popular tracks from this cassette.
Most of my father's songs are given a modern reggae touch and I think M.S. fans will definitely like the new beat' he said.
All songs are sung by Sarath Fernando himself. All music arrangements and new styles were also handled by Sarath. Sureshni Wanigasuriya and Shantha Fernando helped Sarath in additional vocal requirement.
'This is a tribute to late M.S. Fernando, who encouraged us always to come up in the field of music' Sarath said.
---
C&C and C&SC at AGH New Year bash
Airport Garden Hotel (AGH) will have their annual New Year's celebration at the Harbour Bar in grand stylethis year too.
The duo 'Chandani and Chaminda' with Don Sherman will be featured at this 'Good- bye '98' dinner dance on December 31.
'Chandimal & The Second Connection' will be the other major attraction at this new year celebrations.
Anil Bharathi will compere the show on New Year Eve and the dance only tickets are priced at Rs 600/= only.
"We have Hawker Street Style food stalls in and around the 'Harbour Bar'.
This way, the revellers have the choice of their own to select the food they like". said Ashok Fernando the sales manager of AGH and the man-behind this New Year's Dance.
"We started this style project last year and it was a success.' he added
Meanwhile the popular duo 'Chandani and Chaminda' released their first CD 'Christmas with C & C' last week.
This Christmas CD contains sixteen tracks-all originals. While some of the songs are brand new, others are remix versions.
The music and arrangements were done by Chaminda and Chandima.
For this CD they call themselves C & C and Chandani said they will be identified as C&C hereafter.
They have been together for over five years now and they are said to be very popular at weddings and in the lobbies of some of the better known hotels.
They are entertaining guests at the Airport Garden Hotel, Royal Oceanic, Trans Asia, Inter-Continental and Ceysands througout the week.
Chandani started out as a solo artiste, singing for SEAC Entertainments and also with Debbie Arnolda.
She was quiet popular in the oriental music scene and made several overseas tours.
Chaminda came into the limelight as a member of Dreamteam.
They had with them at that stage two very entertaining female vocalists in Ayesha and Evette.
His overseas tour was to the Maldives with Dreamteam.
As C & C, western music is now their forte. However, they say they can and do oblige those who love Sinhala, Hindi and even Tamil songs. Not long ago, Chandani even did a Malaysian song at a Malay concert held in Colombo.
"We love to oblige our audience and if we are told at a wedding that we have got to do only Sinhala songs, we do just that'', said.Chandani.
They have been playing at the Airport Garden Hotel for the past five years.
Tvt ends