How the angel came to be on top of the Christmas tree
There had been no snow during the entire month of December. The elves in the bicycle department had been on strike since October, and now there was the possibility that the elves in the doll department might join them.
Daily life at the North Pole was not pleasant, and Santa Claus was in a pretty foul mood. Mrs. Claus was suffering from arthritis and was very mad over the fact that her red velvet cake had fallen in the oven. Santa had tried to round up some extra helpers, but with no snow, they weren't able to make it by sleigh to the workshop.
Rudolph had a bad cold, and his nose wouldn't light up. Comet and Prancer were fighting over Vixen, who had just come into heat. Blitzen's right foreleg was still in a cast, and the vet said that they would have to wait until December 24 to decide if Blitzen would be able to pull the sleigh.
The electricity went off, and all the power tools came to a stop. There was nothing going right in Santa's workshops. The helpers were about three weeks behind in their work, and it didn't look asif all the toys would be ready by Christmas Eve. Santa's foul mood was exacerbated by a bad case of haemorrhoids, and he wasn't too happy about the possibility of having to ride so far on Christmas Eve.
Seeing the terrible state of affairs at the North Pole chez Santa, the angels took up an offering to buy a gift for the unhappy workers and the Clauses - something that would brighten their Christmas. They chose a Christmas tree, and they sent it down by an angel.
The angel burst into the workshop room and asked, "Hey, where do you want me to put this tree?
Based on an unoriginal earwig forwarded by Sue Sinclair, December 1995.
---
Buying a gift
Gifts for children
This is easy. You never have to figure out what to get for children, because they will tell you exactly what they want.
They spend months and months researching these kinds of things by watching Saturday- morning cartoon-show advertisements. If your child thinks he wants Murderous Bob, the Doll with the Face You Can Rip Right Off, you'd better get it.
You may be worried that it might help to encourage your child's anti-social tendencies, but believe me, you have not seen anti-social tendencies until you've seen a child who is convinced that he or she did not get the right gift.
Gifts for men
Men are amused by almost any idiot thing — that is why professional ice hockey is so popular — so buying gifts for them is easy. But you should never buy them clothes. Men believe they already have all the clothes they will ever need, and new ones make them nervous. For example, your average man has 84 ties, but he wears, at most, only three of them. He has learned, through humiliating trial and error, that if he wears any of the other 81 ties, his wife will probably laugh at him ("You're not going to wear THAT tie with that suit, are you?"). So he has narrowed it down to three safe ties, and has gone several years without being laughed at. If you give him a new tie, he will pretend to like it, but deep inside he will hate you.
If you want to give a man something practical, consider tyres. More than once, I would have gladly traded all the gifts I got for a new set of tyres.
Dave Barry, "Christmas Shopping: A Survivor's Guide"
---
"Merry Christmas" around the world
Merry Christmas is spoken in many languages around the world. In Rome, and throughout the greater part of Latin Christendom, it was "The Feast of the Nativity"; and in Greece Genethlia, had the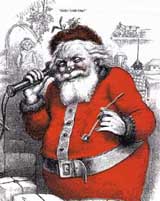 same meaning.
The French Noel offers a variety of explanations. Some say it came through the Provincal Nadal, from the Latin Natalis, with which the Italian Natale and the Welsh Nadolig (probably also Gaelic Nollaig) are compared. Others perceive it throughout the form Nowell to Novellas, which means news. Both could be right. Noel and Nowell may be words of distinct origin, almost identical in sound and meaning.
The Italians also give us Nativita, which is evidently the parent of the Spanish Navidad. Germany's Weihnacht means "the holy or consecrated night", though some interpret it to come from Wein-nacht or "wine night". Our own Christmas follows the pattern of adding the syllable - mas to the name of the person being celebrated. But opinions differ as to the origin of the syllable. Hebrew applies it to means "tribute" or "offering" (Deuteronomy 16:10). The French change "mass" messe and Latin missa.
Here is a list of just some of the names of Christmas:
o Belgium - Zalige Kertfeest
o Brazil - Feliz natal
o China - Sheng Tan Kuai Loh
o Denmark - Glaedelig Jul
o England - Happy Christmas
o Finland - Hauskaa Joulua
o France - Joyeux Noel
o Germany - Frohliche Weihnachten
o Greece - Eftihismena Christougenna
o Ireland - Nodlig mhaith chugnat
o Italy - Buon Natale
o Mexico - Feliz navidad
o Netherlands - Hartelijke Kerstroeten
o Norway - Gledelig Jul
o Poland - Boze Narodzenie
o Portugal - Boas Festas
o Romania - Sarbatori vesele
oRussia - Hristos Razdajetsja
o Serbo-Croatia - Sretan Bozic
o Slovenian - Srecen Bozic
o Spain - Felices Pascuas, Feliz Navidad
o Sweden - God Jul
o Wales - Nadolig Llawen
---
Peace is all Captain Sri wants
By Wathsala Mendis
Born a Hindu, but Christian by faith, Sri Kanda Kumar or "Captain Sri" as he's popularly known, is the Deputy Programme Manager at SUN FM. Extremely friendly and chatty, his one goal in life is to become one of the best in his chosen field. Patience, determination, and dedication count high among his priorities.
"You got to have that extra drive. Otherwise, you just cannot make it in this field or any other field for that matter." he says. Youngest in an orthodox Indian family of four, Sri's Christmas message to his listeners is, "Think about the destitute. Let's care for each other and let peace be among us."
Movie
"Face Off" starring John Travolta and Nicholas Cage. "A movie full of pure acting talent. It was brilliant. One of the best movies I've ever seen."
Food
All Indian dishes. You see, I've been there most of my life. They're spicy, tasty and pretty light. Some of the South Indian dishes are really easy on your stomach.
Place
England. I like the countryside. The climate is brilliant during summer. And the pollution is not as bad as in Sri Lanka.
Fantasy
Having all the beauty queens in the world on an island all to myself.(Oh, man!) Hey, it's just a fantasy, ok. I don't want it to happen in reality. You can emphasize that. (Yeah, right!)
Pastime
Going down south. Going to the beach in Hikkaduwa and Unawatuna.
Sportsman
Kapil Dev. I admire him for his lion-hearted spirit and street-fighting abilities. He can single-handedly win matches.
Memory
Getting this job in the media itself. You get a chance to be creative. I like talking to people and making them happy.
Hideout
My friend Dilshard's place in Nugegoda. That's where all my buddies get together. We talk about so many things. We have a lot of fun as well. Good clean fun, I should say. (You bet!)
Person
My friends. All my friends. They've always been there for me. You see, my parents never approved of my career. It was my friends who helped me out. Right throughout my career.
Animal
Dogs. They're faithful, lovable, and very obedient. They're there when you need them. I have two dogs named "Shiba" and "Chuli," the most reliable companions I have. (Not his friends?)
Colour
Blue. I like everything that's blue. It's an eased-out colour.
Time of day
Night. I like working at night. That's when my concentration is up to the mark. You see, I'm a nightbird. (Twit-too-hoo?)
Smell
The smell of "Safari." It brings out the man in you!
Song
"Wishlist" by Pearl Jam. It's a song about a man who's directionless. In a way it relates to our younger generation. They want to be either this or that. They lack direction. You have to have a goal in life.
---