Cheesed off passengers
I know a lot of letters have been written in the press about the inefficient (or deliberately arranged) booking arrangements of AirLanka.
My daughter-in-law and grand-daughter were booked to fly on the UL flight on the morning of August 16, and booking-in time was 1.00 am August 16. My wife and son accompanied them to the Airport and were there by 1.00 am. After my d-i-l and baby stood in the queue for well over 45 minutes, she was informed, together with about thirty odd other passengers, that there were no seats on that flight for them, although they all held tickets duly confirmed by Air Lanka office in Colombo. The Airport counter staff informed them that the flight was overbooked. There had been a buzz around the lounge that some AirLanka staff and families had wanted last minute seats, and therefore these thirty odd passengers were callously shutout.
I don't know whether that news is correct or just a rumour started off by some of the bumped off and naturally extremely cheesed off passengers, but what I would like my fellow citizens to know is that the counter staff employed by AirLanka in their Colombo offices, are unable to do a simple, job of matching the number of seats available on a particular aircraft, to the number of tickets they are issuing, even with sophisticated computers at their disposal. To be generous I would be inclined to excuse a lapse of one or two seats being overbooked, but thirty odd seats seem far too much to be a clerical lapse, and can only be attributed to gross ignorance of basic arithmetic. I wonder what qualifications are called for, for AirLanka counter staff jobs.
To add to the insult, one of the airport counter girls, had offered my d-i-l one seat, if she was willing to carry her daughter on her lap, Imagine the depths of idiocy of that suggestion. To carry a four year old girl on your lap for a journey from Colombo to Geneva, taking at least 7 to 8 hours.
My wife had also noticed a Swedish couple leaving Sri Lanka after a holiday, who were bumped off. They pleaded with the counter staff saying that they had exhausted all their funds and could not stay back in Colombo even for a night, but to no avail. I understand they were not even afforded hotel accommodation by AirLanka.
My wife (we have experienced this ''service'' of AirLanka innumerable times in the past) thought the crowning glory was the comment by one of the lady staff ''Very sorry Madam, this is the first time this has happened''. I doubt Sir, if you would print my son's typically Sri Lankan reply to that comment!
Anyway my d-i-l and daughter came back home and left Colombo again two days later.
A regular traveller
---
Cricket, luverly cricket
Yes - it is luverly as long as it is played by gentlemen.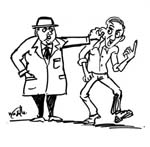 Obviously-use of foul language especially in international games should be punished by heavy fines and suspension. (If it is a cultural defect - then it must be limited to home and home games.)
Negative bowling especially at a time when the game has reached a critical stage should be dealt with by a warning and, if persisted with, an award of 4 runs to the batting side for each wide/bodyline ball. The critical stage can be determined by the match referee and announced.
Negative batting should also be discouraged - cricket is not football. LBW rules must be suitably amended.
Umpires are only human, true, but we must know that they are selected because they have special talents and are expected to be extra vigilant and also be uniform in their decisions. If in doubt they should be allowed a referral where it appears to lie.
Justice must not only be done, but must also appear to be done.
This applies to match commentators as well. Do not damn with faint praise... and do not glorify a one-run stroke after 20 or more dot balls!There should be a bar to continued groundless appeals by the fielding side.
The batsman should have a right of appeal to the third umpire when he is well aware that the ball did not touch his bat. He will not exercise this right unless he is sure - otherwise he will be shown out by an adverse decision of the third umpire.
And a word or two to our victorious champions - keep it up! Hypnotise yourselves (or go in for a professional shrink) not to hang out the bat; not to try a six/four with every ball; not to loft unless it is clearly safe to do so; certainly not before you have got your eye in and are middling the ball.
And to our specialist bowlers - learn to bat better and keep the tail up!
And if I were the Lord at Lords (at the Oval, in fact) in the one - off test recently concluded, I would have sent in a lower middle order pair to open our second innings.
Lester Fonseka,
Colombo 3.
---
Political quotes
Recently I came across a book of political quotes - considering the situation of politics in our country it is a small consolation that it has always been the same all over the world to go by the following:
Politicians are the same all over. They promise to build a bridge even when there's no river - Nikita Khrushchev.
He knows nothing and he thinks he knows everything. That points to a political career - George Bernard Shaw, Major Barbara
Shakespeare, in the familiar lines, divided great men into classes: those born great, those who achieve greatness, and those who have greatness thrust upon them. It never occurred to him to mention those who hire public relations experts and press secretaries to make themselves look great. - Daniel Boorstin, The Image.
The great mass of the people. will more easily fall victim to a big lie than to a small one.- Adolf Hitler, Mein Kampf
The problem of power is... how to get men of power to live for the public rather than off the public. - Robert F. Kennedy
And last of all, what worries one most is : The trouble with this country is that there are too many politicians who believe, with a conviction based on experience, that you can fool all the people all of the time - Franklin P. Adams, Nods & Becks,1944
All in all it make me agree with the following quote of Rudyard Kipling.
"Politics are not my concern..They impress me as a dog's life without a dog's decencies."
And Thomas Jefferson summed it all up;
"I tremble for my country when I reflect that God is just."
We people must realize the truth in what Theodore Roosevelt said;
"This country will not be a good place for any of us to live in unless we make it a good place for all of us to live in."
Dr. Mareena Thaha Reffai
Dehiwala
---
Better English a tragi-comedy?
It is almost a fashion today for everybody to speak of the need for "more and better English". But it should be admitted that standards are deteriorating daily. Road signs and Public Notices are mis-spelt. There are 'Batting Centres' for punters and 'Silensers' for your motor car. But as Oscar Wilde once said, "Please don't shoot the Pianist. After all he is trying his best".
But the situation becomes unbearable when there are grammatical mistakes even in English Newspapers. Would not you readers gape in horror when the Queen's English is brazenly slaughtered in the Government Gazette of the Democratic Socialist Republic of Sri Lanka? I refer to Govt. Gazette No: 1037 of 17th July 1998 wherein the 'Efficiency Bar Examination for the Sri Lanka Principal's Service' is notified. (Pages 625 & 626) Applicants are instructed to prepare their applications according to the appended specimen. The specimen application is titled "Efficiency Bar Examination for the officers of the Principles' Service". As any deviation from the specimen application could result in the application being rejected, I would advise all applicants to apply for the Principles' Service.
It was not merely a case of poor proof reading. Candidates who do not receive their Admission Cards in time are instructed to contact...." and "applicants 'being close by' are to contact........ through a messenger". I also noticed that in many a sentence, the article "the" is missing.
Making English mistakes in any Government Publication is indeed pathetic - but to officially gazette them turns it into a tragi-comedy.
Ranjith G. Perera
Panadura