Writer's blockade
Hmmm, I wonder. Monday June 15, 1998. 2:20PM: Writer's Block. More like writer's blockade. I don't have any ideas. The electricity just came back on. They switched it off at 9:00 this morning with absolutely no warning, and I've been glaring at the blank screen of my computer with growing frustration. Now the electricity's back, but I've only got one and a half hours to finish this column or I'm going to miss my deadline for next week. And I just don't have any ideas. Why do I always have to keep these things on the backburner until the last moment? Why am I starting to sound like my mother?
2:30PM: The barking of the neigbour's dog is getting on my nerves. But must try to concentrate. Hesh tells me that the best way to get around writer's block is to write whatever comes to my mind. It doesn't matter what crap it is — just write it down and then look at what I've written, take the good stuff and make something out of it. As hazy half-ideas for stories, and reminders of lost sleep keep floating through my head, I am getting desperate.
2:42PM: Aha! I've got an idea for a joke that I might be able to weave in somehow.
Q: Why don't parents want their children to learn about crustaceans?
A: Because they don't want them reading Prawnography.
Bad joke. Awful joke. I need help. At least I need to take a break and come back to this. I think I'll check my e-mail.
2:57PM: Fifteen new messages since I last checked yesterday. I am feeling much loved. But really, only one of the messages was from someone who actually knows me. The others were writing to "Kenny". I must say there are some very inquisitive people out there. You have so many questions. You also have some very good ideas. I'd love to steal a few, but since they're only ideas that means I've got to come up with an entire story for them. Writer's block, remember? Next time send me a whole article I can steal.
3:03PM: Still thinking about e-mail and have encountered a dilemma. Ha-fun-ti once gave me a lecture on how it is common courtesy to reply e-mail. I wonder if that lecture applies anymore.
I mean there is no way I can reply all those letters. And it's not fair to the others if I just write back to a few. Maybe if I sent them all one general e-mail? Well, even if I don't reply, as a matter of conscience and for the record, I read every single one of them.
3:11PM: The dawning of something that feels suspiciously like a story idea. About time I've only got about half an hour to make deadline. I always wonder how foreigners who travel here say that Sri Lankans are some of the friendliest people they've ever met. I've lived here all my life and outside a bus haven't noticed anyone trying to be particularly friendly. True, I haven't travelled abroad (except for one traumatic week I spent in Madras when my mother decided to drag me along on a manic shopping spree) but surely these foreigners are exaggerating.
You know? I think I've figured out what has got us this reputation. Everyone here smiles and says hi to foreigners when we come across them on the street. True that's only because they go around saying Hi to everyone. I think as a nation we are easily startled and say Hi back as a reflex. Sometimes it doesn't come as such a surprise, but even in these situations we have a good reputation for being responsive. Little do they know that we say hi back because we feel sorry for the poor guy, and don't think it's nice to keep him hanging.
As for that reputation of always smiling at foreigners. I'm not absolutely sure that is a good reputation to have anyway, but I think the truth behind why the locals keep smiling has more to do with the fact that they can't understand a word the "Suddhas" are saying.
That's a story idea I can do something with. Finally, I can get down to writing. What time is it? Three-thirty three?! Deadline!! Well, what's the use.
There's no way I can finish it in time to make deadline. Looks like I'm going to have to call my editor and tell her that I don't have any ideas this week and that my article isn't going to be coming in. I know this is getting way too regular, but what can I do if I don't have ideas?
I'd rather not send in a bad article than worry about not being in print next week. I'd rather send one in though, you understand? Anything. But what can I send? Hey, wait a minute, hmmm, I wonder.
Any feedback (comments\criticisms) on this column or cool ideas and suggestions can be e-mailed to (Short e-mails please!) at this address <kenny@somethingorother.com>.
---
Kandyan dance troupe to perform in Essex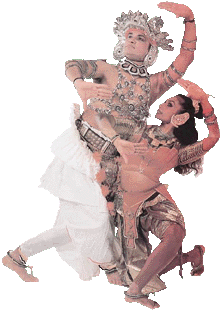 The Channa-Upuli Dance Ensemble, fresh from a successful United States tour, will travel to London to perform at the Commonwealth Institute in Kensington High Street on Saturday 11th July and at the Queen Elizabeth Hall at the South Bank Centre on Friday July 17.
Channa's manager, Eshan Goonasekera is confident of a sizeable crowd when Channa and his troupe perform in London. So far the response from the British public has been very good. The Sri Lankan Community in the UK are also set to back the event.
Channa Wijeywardene and his wife Upuli are also performing at the first ever Sri Lanka Day in Essex on Sunday July 19 in Buckhurst Hill. The event hopes to raise funds for the Board of Control for Cricket in Sri Lanka initiatives to purchase equipment for needy children in provincial areas of Sri Lanka. The Sri Lanka Day will also involve a traditional Sri Lankan meal and a photographic exhibition by Eshan Goonasekera.
The chief co-ordinator for the Sri Lanka Day in Essex is the Rev. Alan Comfort, a former star English footballer who played for Queens Park Rangers, Leyton Orient and Middlesborough. The event is being held during the visit to the UK of the Sri Lankan Cricket Team who arrive in July to play one test match and a one day triangular tournament with England and South Africa