The man behind the screen
Counting over two decades in cinema, this tall, pleasant man is very much a heart throb ......Here he reveals all to Dilrukshi Handunnetti
Ravindra Randeniya walks in slightly late for this interview, profusely apologetic. Counting over two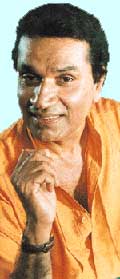 decades in cinema, this tall, pleasant man is very much a heart throb still- a fact he grudgingly admits to.
As we settle for a wide ranging interview at his tasteful home in Kelaniya, he speaks with fervour about the crisis in Sri Lankan cinema. His passion is understood, for after all here is a man who has given his life's blood to the industry.
Ravindra's image has been moulded as an aesthetic one- pursuing the artistic side of cinematography. But this definition does not rest easily on him, for he views commercials and artistic films as the two sides of a coin which collectively give the industry its value.
"There shouldn't be this petty compartmentalization. If I have got better breaks and I'm appreciated by the intellectuals and the critics, that is my fortune. But new entrants have to grab every role- mostly commercial at initial stages, as the working opportunities here are so limited. Vijaya Kumaratunge was more a commercial hero, but he had enormous appeal and acceptance."
To him, the decisive factor is a film's public acceptance. Certain commercials run to packed houses, while artistic movies fail. What's important is to do maximum justice to any given role, and let the audiences assess, he says.
And then he laughingly adds that images are perhaps make believe- like the movies which enthrall the people. But he concedes that for an artiste especially a performer, his or her image was crucial.
"If you are slovenly, ill mannered, or boorish, the negative impression created would destroy public acceptance. To me, the image and good grooming are facets of a person's professionalism. Image is another way to describe responsibility. In cinema, one's image could either make or break a person' he quips.
The award winning actor is quick to attribute his cinematic achievements to lady luck and opportunities to work with the industry's best professionals. He believes that carving a niche for oneself depends on the people one works with, for they contributed as much as oneself to any success story. In his third film 'Desa Nisa' by Lester James Peiris, he was fortunate to be cast with veterans Joe Abeywickrema and Sriyani Amarasena. He moulded his image( adding that impractical definitions were unnecessary in a creative field) and thereafter had exercised discretion, he says.
Yet the turning point in his career came after a two year theatre programme with the Lionel Wendt which gave him the opportunity to reflect upon his career. He decided to stay on, but changed from theatre to cinema which was a big step. But the decision was obviously the right one.
His careful responses cease the moment I query the abysmal depths to which the local cinema has plunged, coincidentally with the completion of its 50 years. It is Ravindra's contention that the resuscitation of the national cinema depends largely upon state patronage- the state being the only agency able to perform a rescue act.
"Our market is so small and with the changing socio-economic scenario, cinema did not evolve and some how lost its way. Today it is in the woods. The cost of production has rocketed, and due to the films' lack of marketability, they are an economic disaster- hence the dismal plight. Everything has to be done on a shoe string budget for lack of investor ability without the opportunity of recouping that money," he adds.
But what of the Senaka Bandaranayake Committee recommendations which contained some significant proposals to improve national cinema? Ravindra admits that some far reaching suggestions have been made, but these are mostly long term while the priority is to resolve the festering issues which threaten to devour this much loved art form.
His belief is that the high powered committee has paid little attention to the vital areas- local production and distribution. Local production has suffered mainly due to conditions unique to Sri Lanka such as the war and the perennial financial constraints. Breathing life back into this requires a commitment second to none.
" I propose that cinema be recognized as a national art form. Importation of film has no creative involvement by us. After all, it is only a trade. We need to protect the national industry and not the trade of importation. This is where the government through an agency like the Film Corporation can introduce easy loan schemes, investment relief and other concessions. The recommendations have no concrete proposal to improve the production of local films," he says vehemently.
The distribution process is another thorny issue. There is no guidance at all in this area, and while foreign films flood the market, even the few local productions have to pay second fiddle and remain unscreened for long periods, he says.
"The committee has recommended that either 80 % of the five circuits be released to the private sector or 100%. While either way there is no profound difference, the committee has recommended the option of an 80% hand over as most viable. Further, it is recommended that 60 % of screen time be reserved for locally made movies- a statement in stark contrast with the first suggestion.
Ravindra Randeniya believes that the NFC imposed restrictions that retarded the growth of the local cinema. Instead it was necessary to sustain and allow it to grow first and introduce proper marketing strategies- a programme that would take considerable time.
While the corporation has helped only in the distribution process, of the 10 % commission paid to the Corporation as distribution fee, over 60% went to pay wages to the massive work force. Roles were soon reversed as the Corporation did nothing to protect the cinema, it was supposed to nurture. Hence Ravindra's vehement request that either the Corporation must evolve fast or go- for the greater good of the industry itself.
Ravindra Randeniya is quick to appreciate the role played by Sanath Gunathileke in protecting the local industry from falling prey to film importers. This was when theatre owners refused to pay the Corporation its 10 % distribution fee claiming that they screened the films in their own theatres.
"It takes commitment to be a crusader, and Sanath even changed his political alliance owing to what was construed the UNP's attitude to the crisis in local cinema. The campaign continued, and finally he succeeded in getting the earlier report abrogated to which the entire industry was much obliged. Today, Sanath who wields considerable political power in the PA should come forward to save cinema from the private sector again," he says.
But the acclaimed actor says that some of the suggestions by Prof. Bandaranayake's committee unlike the previous Ambalawarnar committee contained some concrete long term proposals which could do good, and be speedily implemented. "The previous thing was a scandalous saga with the biggest theatre owners being committee members and sessions being held in secrecy. I was the President of the Actors' Guild and was serving on the Advisory Committee. Suddenly a report was produced from nowhere without anybody's knowledge. At least, we made representations to the Bandaranayake committee and continue to hold discussions."
Ravindra believes that a wrong decision would be disastrous at this crucial juncture, and pledges to put forward the Actors' Guild proposals in a bid to save the industry they all love.
Screening of Sinhala movies on television has had a disastrous effect on the industry, he says. "After all, who would wish to waste time in a theatre in an unconducive environment with bug infested chairs, inferior sound and projection quality if it could be served in the comfort of your own home. Our projection systems are those used for 'Kadawunu Poronduwa' 50 years ago. This is why I say, people won't go through so much for what we call the 'cinematic experience'.
He admits that it is a depressing situation all round. Yet there was a glimmer of hope, for when the right movie was made, it ran into packed houses, evidence that people still loved the big screen and its heroes and heroines.
Ravindra Randeniya has had the rare opportunity of being cast along with some world celebrities in his several international movies. It was rare indeed to get so far being a part of a small industry like Sri Lankan cinema.
" Here, it is a physically and mentally exacting job with minimum facilities. If a take is imperfect, the director could not go for another take as it would cost more film. It is pathetic how we have to economize, hence the low quality in production. It is not that they cannot fathom mistakes, but it's a matter of being unable to rectify them" he says with a pained smile.
Awaiting the day that local cinema comes back with a vengeance, when actors have work and film goers movies to watch, Ravindra is reluctant to speak of politics despite his involvement with the UNP.
" I think politics is somewhat hereditary" he quips with a smile, adding that his family members were supporters of former President J. R. Jayawardene. At the moment there is no involvement though some time back, President Wijetunge offered him an opportunity to break into politics on the UNP's National List.
But he defends the right of an artiste to engage in politics. "After all, they are people's people, and this is a right of any human being. Unlike in India, here artistes are regarded as nitwits which is not so. It is an individual preference and critics and academics are not the only people who should have the right to represent the people. In a way, artistes are the people who through their portrayals reflect their lives," he says with passion.
Perhaps he would have made a successful raconteur or an academic with his absolute finesse in thrust and parry- but then again, Ravindra Randeniya is meant to paint on a larger screen, the silver screen at that.