The making of God King-part 11
Continued from last week
False start
By Richard Boyle
One of the greatest privileges in being associated with foreign film production in Sri Lanka is the invaluable opportunity it provides to travel through the island, to assimilate its many diverse physical characteristics, and to explore comprehensively sites of spiritual and historical importance. This is especially so if one is involved in the initial stage of the production, when location reconnaissance is undertaken to find suitable places to film.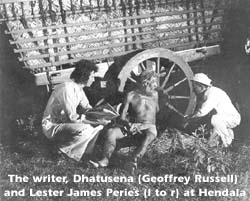 During the early and mid 1970s, it was in such a way that I grew to know and love Sri Lanka. At that time the whole island was accessible to foreign film producers. However, from the early 1980s, film locations in Sri Lanka were reduced to the now over-familiar triangle of Colombo, Kandy and Galle. It is a situation that has hampered the development of Sri Lanka as a diverse film location, despite the number of Hollywood and European productions filmed here over the last twenty years.
It is difficult to conceive of now, but in 1980 I undertook to find locations, some around Jaffna, for a project with a script by Graham Chapman of the anarchic English comedy team, Monty Python's Flying Circus. Called Yellowbeard (1983), directed by Mel Damski and starring Graham Chapman, Peter Boyle, Peter Cook and John Cleese among others, this spoof pirate movie was eventually made in Mexico because the producer clinched a co-financing arrangement there. Curiously, Mexico had once been robbed of being the location of Bizet's opera The Pearl Fishers in favour of Lanka. Now Mexico had got even.
Quite naturally for a project of this type, magnificent bays, beaches, forts and fortifications were the main requirements - with the proviso that they could pass as Caribbean. Flying to Jaffna, I started by scouting the fort there, followed by the small but picturesque Hammenhiel, situated between Karaitivu and Kayts, on an island no bigger than the fort itself. I then proceeded to Trincomalee to photograph Fort Frederick and afterwards embarked on a gruelling but exhilarating examination of virtually every beach and bay in Kalkudah and Colombo.
The demands and dictates of both producer and script naturally vary from project to project, with much depending on whether the story is set in Sri Lanka or some other comparable tropical country, fictitious or otherwise. An unusual occurrence is when the script-writer joins in the location reconnaissance before commencing the script. This happened to me once, in 1982 when I was contacted by Anthony Thomas, a television director of South African origin. A year or so earlier he had single-handedly caused a major diplomatic row between Britain and Saudi Arabia with the broadcast of his programme, Death of a Princess. Now he wished to set his maiden feature film venture, a spy thriller with plenty of black humour, in Sri Lanka. Thomas had already written a treatment and now an American script-writer, Jim Hougan, was going to take over.
Thomas, Hougan and I arrived in Sri Lanka and carried out a comprehensive reconnaissance within the location triangle described earlier. This allowed Hougan to go back home and write a remarkable script - one that displayed a high degree of authenticity as far as the locations were concerned, even though the story was not set in Sri Lanka. The project went through a long gestation period, was picked up and dropped by a number of companies, and had a number of titles, before it was eventually filmed here in 1988 as Spies Inc. This film starred Robert Loggia and David Warner and also featured an appearance by Gamini Fonseka.
Whatever the requirements, the quest for locations is perhaps the most pleasurable aspect of film production - and certainly so in Sri Lanka. Apart from the edification and sheer pleasure, the location reconnaissance in Sri Lanka invites the prospect of a delightful encounter with the serendipity principle - whereby you unexpectedly discover places you were not looking for.
My first film travels in Sri Lanka were, of course, on The God King. Most of the locations had been finalised before my arrival, but the long period and intense travel required for the preproduction of this complex film, together with the length of time spent filming in a number of intriguing places, resulted in an excellent personal introduction to Sri Lanka and an impressive demonstration of the delights it holds for the discerning film-maker.
Trincomalee, Anuradhapura, Sigiriya, Mannar, Mihintale, Aukana and Kitulgala were just some of the locations used in this epic recreation of King Kassapa's confrontation with destiny. Today, many of these places cannot be considered as film locations due to reasons of security. Little did I realise twenty-five years ago just how fortunate I was, or just how transient things really are. Then, as a recent initiate in the Sri Lanka experience, wonders were to be found everywhere. At Trincomalee, accompanied by my new-found friend, the diver and film-maker Mike Wilson, it was the Thirukoneswaram temple, where I was to marvel at the lingam he had recovered from the seabed.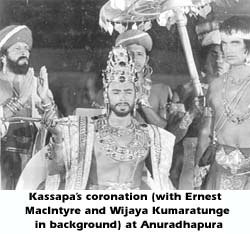 At Mihintale, in the shadow of the sacred hill, it was the haunting forest of skeletal trees on the edge of the Mahakandarawa tank - location of Kassapa's last battle. It has a surreal atmosphere that Roman Polanski would have relished for his version of Macbeth and which I am sure would have distinct appeal for many a Japanese director.
In the environs of Sigiriya it was the rock of Pidurangala, which provides a superb vantage point to film the Lion Terrace. This rock has almost as much magic, to my mind at least, as its more famous neighbour. Nevertheless, a stay of over a month at Sigiriya, entailing countless trips to the summit,was sufficient to induce a life-long interest in this strange eminence.
At this juncture of the pre-production, however, most of the travelling I did was to Anuradhapura, to check on the progress of Kassapa's palace which was being constucted on the banks of the Nuwara Wewa. This set had been designed by Ann Greville-Bell whose experience, as I mentioned earlier, was limited to commercials. She was certainly not a set designer in any accepted sense, and the palace became over ambitious and out of proportion, although the construction and finish were impressive enough, thanks to Navin Gooneratne's skill at making realities out of dreams.
Over the weeks and months I watched as a patch of grassy foreshore, normally inundated during the rainy season, was transformed into an awesome palace, replete with moat, gardens, and a convincing facade. Fortunately for posterity I had brought with me from England my 8mm cine-camera, and I recorded the various stages of construction of this set, as well as other aspects of the pre-production and production, including footage of The God King as it was being shot, and of Lester at work.
It was during his first meeting with Lester and Manik in Sri Lanka that Dimitri had announced his choice of the three British actors. Ben Kingsley, (an Anglo-Indian whose real name is Krishna Banji), would play the lead role of Kassapa. This was still nearly a decade before his appearance in Richard Attenborough's Gandhi, and apart from some notable stage performances with the Royal Shakespeare Company, his sole feature film credit was on Michael Tuckner's Fear is the Key (1972), in which he had acted alongside Suzy Kendall.
Mark Burns, who would play the part of Migara, seemed, on paper at least, to be a better film actor. He had recently appeared in such varied movies as Christopher Miles' The Virgin and the Gypsy (1970), Luchino Viscont's Death in Venice (1971) and Ludwig (1972), and Ray Austin's House of the Living Dead (1973). Along the way he had co-starred with Dirk Bogarde, Trevor Howard, and Shirley Ann Field. This was quite impressive, which was more than could be said for Stephen Murray's C.V. A seasoned but little-known stage and radio performer, Murray had been chosen to play Dhatusena.
Meanwhile the local cast had been selected. Ravindra Randeniya was to play the important role of Mogallana, Joe Abeywickrema that of the enigmatic Swami, and Iranganie Serasinghe that of the tragic Varuni, Dhatusena's sister. Other roles were to be played by Vijaya Kumaratunga (Lalith), Ann Loos (Leila) and Menik Kurukulasuriya (Sumitra). Last, but certainly not least, there were bit-parts for those versatile and talented thespians, Ernest MacIntyre and Mano Breckenridge.
During my first month in Sri Lanka in March 1973 I realised that all was not well with the script. Greville-Bell was still in the process of finishing it, and from conversations in my presence between the writer and director, and from Lester's personal comments to me, it was clear that Lester was having a hard time reconciling himself to the style and characterisation. Possibly the diverse influences of Paranavitana, Gauribala and Sandrasagara on Greville-Bell's understanding of Sigiriya had caused him temporary mental abheration.
"Dimitri made one fatal mistake in the script-writer," Lester laments. "The screenplay turned out to be a cross between a Boy's Own Paper adventure story and 'Kassapa the hippie'. Kassapa was possibly on drugs and Sigiriya was an erotic, mysterious, hallucinatory centre. What we needed for this great Shakespearean tragedy was a Robert Bolt or Peter Shaffer. Greville-Bell had been brainwashed that this interpretation would be fashionable with the hippie generation. I pleaded for the Mahavamsa story, but out it went through a Galle Face Hotel window."
"What extraordinary confidence Dimitri had in Greville-Bell is a mystery," Lester continues. "Perhaps Dimitri had no real intuition and insight into what makes a good script. Probably it was his brother Anatole who was the real creative partner, and Dimitri may have been the perfect foil, the trouble-shooter, the diplomat par excellence, and the casting agent." However, Dimitri was no fool, even though he may have lacked finerscript-judgement, and anyone with a modicum of knowledge regarding screenplays could not fail to realise how crass it was in general, how stilted the dialogue in particular.
While it is possible to make a bad film out of a good script, it is impossible to make a good film out of a bad script. There was little Lester could do but present a brave face and trust that his directorial touch would at least partly compensate for Greville-Bell's scant justice to the rich subject matter. It is probably fair to say that Greville-Bell, good as he was with his own particular brand of black humour, was out of his depth with this historical extravaganza. At the screening of the first rough cut of The God King in London, Greville-Bell is supposed to have groaned and mumbled to himself. "Did I write such appalling dialogue?" When the script-writer makes an admission like that, you know the film is in trouble.
It was not just the script that was the problem. Many aspects of the production were causing anxiety. The huge palace set at Anuradhapura was way behind schedule. Anthony Greville-Bell was becoming more and more exasperated by the delays and working conditions in general. Meanwhile Ray Torin was busy escalating the production, and therefore the budget. As Lester complains legitimately: "What the hell was happening to us? We rushed into production without the arrival of the British back-up team, financial resources were strained, the sets were not ready, logistical problems remained unsolved, and the script was a mess".
So it was that we "plunged, half-dazed, as Lester describes it, into the production of Sri Lanka's largest film, an epic of epic proportions. Ben Kingsley, Mark Burns and Stephen Murray arrived with the make-up artist, Eric Allright, and the production unit left Colombo for Sigiriya with them. This was in the days when there were no hotels in the area, so almost everyone, including the actors, were packed into the Sigiriya Rest House. Things started badly when the still night air was shattered by the bellows of the director of photography, Willie Blake, who was suffering excruciating pain from kidney stones.
Filming began with Ben Kingsley's scenes on the summit of the rock. Sri Lankan aviation history was made during this period when Manik became the first person to alight on the summit in helicopter. But although this helicopter was around some of the time, most of us had to ascend the hard way. "For eight days we clambered up there with heavy cameras and lighting equipment," Lester remembers, perhaps ruefully. With hindsight I am sure he must have realised the futility and impracticality of this exercise, especially as the scenes were eventually cheated elsewhere.
Overstretched and underprepared, the production was near collapse right from the start. Ben Kingsley went down with dysentery but bravely continued working, although a cadjan toilet had to be constructed for him on the summit. Then his wife and two children, who were accompanying him, also fell ill. The British actors, used to more ideal conditions, became tense and introverted. They also appeared mistrustful of the production, doubting whether such a big film could be pulled off by a bunch of Asians. There is little doubt that they were influenced by Greville-Bell's generally hostile and somewhat racist attitude towards Sri Lankans.
While Dimitri was around he was able to keep things together, but he had to return to London to oversee another project, and so Greville-Bell took over the running of the production. The Anuradhapura set was still proving hard to finish, and this was beginning to enrage Greville-Bell, who seemed to feel the delays were a personal insult to his wife. Having spouses or partners on location, even working ones, can often lead to unexpected difficulties. It was obvious to anyone that he was rapidly running out of faith in the production and most of the people associated with it.
At this point in time Manik, the holder of the purse strings, realised how bad the situation was and that perhaps it would be sensible to let the film crash earlier rather than later. He suddenly left Sigiriya for India, and before he jumped into the helicopter in front of the Rest House he came up to me and warned me the film was doomed. Although the circus moved on to Anuradhapura, Manik was proved right within days. Bills mounted up, the actors had the indignity of being locked in their hotel rooms, and to cap it all Ann Greville-Bell was very nearly injured when a local designer, unable to cope with her inflexible approach, tried to attack her with a sword.
"And then suddenly the storm broke," Lester reminisces. "Whispers of sabotage polluted the air. Could the Sri Lankans and British work together?" Greville-Bell certainly did not think so.
He was convinced that the Sri Lankans and British worked under two different disciplines and that a film of this scope was not possible. And so, with Manik beyond contact in India, Greville- Bell took the unilateral decision to call off the production and issue the British actors with letters of termination. The God King had been killed off prematurely.
Continued next week