15th February 1998
| | |
| --- | --- |
| The dull thud of gloves echoed and re-echoed at the Junior Boxing Championships of the Amateur Boxing Association at the Depot Police Ring. The meet also served as a trial for the New Delhi Meet to be held later this year. Gemunu Wellage was there to 'freeze' some of the action. From left: L.K.Kumara Perera of Nugegoda BC and B.A.D.Seneviratne in action. Munaweera of Nalanda and U.S.Pulleperuma slug it out. W.B.N.R.Fernando of Nugegoda BC and I.S.Senanayake of Vidyartha in their bout. P.A.Wijesinghe of Dharmaraja against N.D.S.S.Pilimatalawa in action and on extreme right G.Suranga of St. Michael's BC and C.P.Abeyratne of Vidyartha. | Contents |
---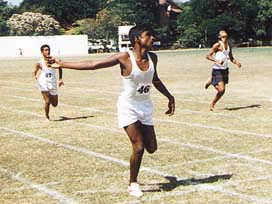 M. Seneviratne of Abenaike House brests the tape to win the Under 15, 400 metres event at the Inter-House Sports Meet of S.Thomas' Colpetty at the Police Park yesterday. Several interesting events were worked off at the meet. Mr & Mrs. Michael Tissera were the chief guests - Pic. By Sajeeva Chintaka
SCOREBOARD
Sri Lanka
(235 for 8 overnight)
N.Bandaratilaka b D. Cosker 66
(Attempted sweep, bowled around his legs)
P.Wickremasinghe not out 76
M.Bandara lbw b B.Holioake 1
(Playing forward to a well pitched up ball)
Extras (LB-4, W-2, NB-8) 14
Total (all out in 123 overs, 525 mts) 371
Fall of Wickets: 9-366, 10-371.
Bowling: B.Holioake 29-7-95-3; J.Ormond 24-5-76-4; M.Ealham 15-4-44-0; A.Giles 20-4-35-1; J.Powell 5-0-28-0; D.Cosker 27-2-80-2; D.Maddy 3-0-9-0.
England A
N.Knight lbw b de Silva 18
(Attempted glance to a ball that came in)
D.Maddy not out 94
O.Shah c Samaraweera b B.de.Silva 23
(Pushing forward, ct. at short leg)
M.Ealham not out 23
Extras (LB-2, W-1, NB-2) 5
Total (for 2 wkts, 55 overs, 206 mts) 163.
Fall of Wickets: 1-55, 2-122.
Bowling: P.Wickremasinghe 9-2-29-0; P.Hewage 3-1-10-0; N.Bandaratilaka 19-8-32-0; C.Hathurusinghe 4-0-15-0; B.de. Silva 11-1-39-2; M.Bandara 9-0-26-0.
By Marlon Fernandopulle
Opening batsman Darren Maddy struck an unbeaten 94 as England 'A' made an imposing 163 for two in reply to Sri Lanka A's 371 at the end of the second day in the third unofficial Test at the Moratuwa Stadium yesterday.
The Leceistershire opener displayed great concentration and temperament as he grafted his runs with the help of a dozen boundaries and a six. Together with his captain Nick Knight, he put on 55 runs for the first wicket before the skipper was adjudged lbw to off spinner Batheesha de Silva. Knight walked back, not too happy with the decision, which had an element of doubt.
Promising youngster and England Under-19 captain Owais Shah replaced the skipper and added 67 runs for the second wicket before offering a simple catch to Dulip Samaraweera at short leg off de Silva.
Allrounder Mark Ealham joined Maddy at the crease and put on 41 runs for the third wicket before stumps were drawn, Ealham was unbeaten on 23 which included three boundaries and one six.
Earlier in the day, SriLanka's ninth wicket pair of Niroshan Bandaratilake (61) and Pramodaya Wickremasinghe (76 n.o) added a record-breaking 134 runs as the home side frustrated the England bowlers in the morning session. Both batsmen put some of the top order Lankan batsmen to shame as they pummelled the English attack to all parts of the field.
Wickremasinghe completed a splendid half century in only 62 balls as he thumped nine boundaries and a six before running out of partners.
In contrast Bandaratilaka played the role of sheet anchor, but punished the loose ball as he completed his half century in 85 balls.
The pair put on 134 runs in only 137 minutes and treated the sparse crowd at the Stadium to an entertaining morning session.
For the visitors medium pacer Ormand was the pick of the bowlers with 4 for 76 while Holioake (3 for 95) and Cosker (2 for 80) were also among the wickets.
First Test at Johannesburg
---
JOHANNESBURG, Saturday (Reuters) - Waqar Younis responded to the demands of carrying Pakistan's pace attack by capturing three for 36 as South Africa slumped to 160 for seven at tea on the opening day of the first test today.
Waqar dispatched openers Gary Kirsten (3) and Adam Bacher (46), then Daryll Cullinan (16), to send South Africa sliding to 96 for five at one stage.
The Pakistan fast bowler is without regular new ball partner and former captain Wasim Akram on this tour, and Mohammad Akram is out injured after a mugging near the team's hotel.
That incident, in which off-spinner Saqlain Mushtaq was also injured, caused the start of the test to be put back one day because the touring team had insufficient fit players.
South Africa, put in on a true but bouncy pitch after Pakistan won the toss, endured a barrage of lifting balls as they made 75 for two before lunch.
Kirsten fended a short ball from Waqar off the shoulder of the bat to gully and Jacques Kallis (15), having been hit on the side of the head by his third ball, tried to counter-attack but succeeded only in splicing a hook shot off Shoaib Akhtar into short leg's hands.
Opener Adam Bacher, having survived adventurously in the morning, perished quickly after lunch for 46 when Waqar trapped him lbw on the back foot. His innings from 94 balls contained nine fours.
Waqar's next victim was Cullinan, who had his middle stump uprooted by a delivery that pitched a foot outside off stump and nipped back like an off-break.
Leg-spinner Mushtaq Ahmed compounded South Africa's problems by trapping Herschelle Gibbs (4) lbw with a googly and bowling Andrew Hudson for 33 off an inside edge.
---
AUCKLAND, Saturday (Reuters) - Underdogs New Zealand pulled off an unlikely victory over Australia at Auckland's Eden Park today to square their four-match one-day cricket series, but the tourists lost more than just pride.
Australian skipper Steve Waugh retired hurt when he damaged a hamstring in his left leg while batting, and the injury could cast doubt on his fitness for Australia's tour of India starting next week.
Having been sent into bat, New Zealand reached 223 for seven and then bowled Australia out for 193 in the final over.
Half centuries from man-of-the-match Chris Harris and Llorne Howell provided the substance to New Zealand's innings, while offspinner Gavin Robertson was the pick of the Australian bowling attack, taking three for 29 in his 10 overs. Opener Adam Gilchrist got Australia away to a good start, but he was the only batsman in his side to reach 40 on a pitch which became slower and took increasing turn as the match wore on.
Australia lost wickets with alarming regularity, and when Steve Waugh tripped and hurt his hamstring as he tried to avoid Dion Nash while taking a run, the writing was on the wall.
A typically gritty knock of 37 by Michael Bevin kept Australia's chances alive, and his captain returned latter in the innings, using Ricky Ponting as a runner, in an attempt to push towards a win. But New Zealand had victory in their nostrils and kept a foot firmly on Australia's throat. Swing bowler Simon Doull was the most successful of the New Zealand bowlers, taking one-day career best figures of four for 25 in eight overs.
---
PORT OF SPAIN, Saturday (Reuters) - Pace bowlers Angus Fraser and Andrew Caddick took five wickets each as England profited from a gamble by captain Michael Atherton to bowl out West Indies for 159 on the first day of the third Test on Friday. On a pitch which gave increasing encouragement to the bowlers, England were reduced to 22 for two at the close at Queens Park Oval.
West Indies grabbed a dramatic victory on the same ground four days ago after the first Test in Jamaica was called off because of a poor pitch and Atherton made a brave decision asking the home side to bat after winning the toss. West Indies negotiated the first session with few problems and reached lunch at 72 for one.
But wickets then began to fall with ever-increasing frequency and Caddick bowled with fire and movement to wipe away memories of his poor performance in the second Test.
He finished with 5-67 and Fraser 5-40, including the key wicket of West Indies captain Brian Lara for 42 when he appeared set for a big score. England's catching was also of the highest order with Atherton's dismissal of Jimmy Adams at short cover the highlight. "I think we are in a very strong position because this pitch is a good one. I am absolutely shattered, my legs are cramping up and all I want is to dive into the swimming pool back at the hotel," Fraser said. West Indies had made 72 for the loss of opener Stuart Williams at lunch and at one time they were 92 for one. Shortly after lunch it appeared Lara was about to launch an attack on the English bowling reminiscent of the great days of Caribbean cricket.
SCOREBOARD
West Indies first innings
S.Campbell c Thorpe b Fraser 28
S.Williams c Thorpe b Caddick 24
B.Lara c Russell b Fraser 42
C.Hooper c Butcher b Fraser 1
S.Chanderpaul lbw b Fraser 28
J.Adams c Atherton b Caddick 11
D.Williams b Caddick 0
C.Ambrose b Caddick 4
K.Benjamin b Caddick 0
N.McLean not out 11
C.Walsh c Headley b Fraser 5
Extras (nb-5) 5
Total 159
Fall: 1-36 2-93 3-95 4-100 5-132 6-132 7-140 8-140 9-150.
Bowling: Headley 14-0-40-0, Caddick 22-7-67-5, Fraser 20.4-8-40-5, Tufnell 9-5-11-0, Butcher 2-1-1-0.
England first innings
M.Atherton lbw B Ambrose 2
A.Stewart not out 16
J.Crawley b Ambrose 1
D.Headley not out 1
Extras (lb-1 nb-1) 2
Total (for two wickets) 22
Fall of wickets: 1-5 2-15.
To bat: N.Hussain, G.Thorpe, M.Butcher, J.Russell, A.Caddick, D.Headley, A.Fraser, P.Tufnell.
Bowling (to date): Walsh 7-1-17-0, Ambrose 6.2-3-4-2.
| HOME PAGE | EDITORIAL/OPINION | NEWS / COMMENT | BUSINESS | PLUS
Please send your comments and suggestions on this web site to
info@suntimes.is.lk or to
webmaster@infolabs.is.lk