15th February 1998
Don't label them
Autistic children need to interact with children of their own age group, says Shine Ahamed, a graduate from the US
By Dilrukshi Handunnetti
Ifthika Shine Ahamed did not plan on a career involving special children- those requiring extra help. Being education-oriented, after completing schooling at St. Paul's Milagiriya Girls' School, she went abroad for higher education. It led her to where she is now- educating autistic children with special needs and attaining tremendous heights with her talent in handling them.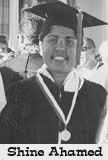 Having graduated from the University of Maryland where she specialized in early childhood education, Shine joined a pre-school as a teaching assistant. That was when her life took a new turn.
"I feel there is discrimination and compartmentalization of children in most parts of the world. What I have come to love about the United States is the equal treatment meted out to children in a practical form," says Shine.
According to her, labelling of children is not practised there at all. The U.S. which accepts the concept of giving children the "most possible normal background" abhors compartmentalizing and classification of children. Unlike in many countries where slow learners and others with psychological drawbacks are put in one class and taught separately, in the U.S. they are put together for "acclimatization".
"We believe that the healthiest environment for a child is amongst those of his/her own age. Depriving a child of his right to be in the most conducive environment actually destroys the opportunities of helping him overcome various handicaps. To prevent children from developing inferiority complexes and to give them a psychological boost , most of the descriptive words have been removed from the U.S. vocabulary- and replaced with the neutral word "atypical".
Autistic children like any other category of "handicapped" children (Shine is reluctant to use the word) are emotionally strong, with strong likes and dislikes. Befriending them takes time and patience, and an understanding of the behavioural differences, however slight they may be.
Shine's speciality is behavioural therapy in which she invested five years of extensive studies. The autistic children lead normal functional lives, but there is no cure for autism. As there are no cures, they need constant assistance from behavioural therapists and a lot of support from the society.
Shine's contention is that autistic children belong with other children, and they must have a healthy chance of interaction with others of the same age. Atypical youngsters need a consistent working process where the daily patterns in life set in.
"I have realized that autistic children need a proper socialization aspect. Some of them are shy and retiring, and some are slow learners. All of them feel better once typical and atypical children are grouped together, and their learning process is shared."
Atypical children cannot and should not be hurried, for they have their own pace of learning, she stresses. Many parents find autism difficult to understand specially if the children are functionally similar to typical children. This should not be the case, for it could affect their personal well-being and stultify their personal growth.
Shine believes that working with atypical children requires a lot of patience and a nonjudgmental attitude. Culled from her experiences with backward children for nearly ten years, Shine says that such children were reluctant to try out new things.
Child care providers and teaching assistants in the U.S. are encouraged to have proper schedules when dealing with them. According to Prof. Donna Williams who herself was autistic, atypical children live in their own little culture, and find it difficult to adapt to something new. Yet with years of supportive guidance, the sky is their limit as shown by herself.
Behaviour therapists have disclosed that such children are extremely receptive to music and handicraft. This was the reason why teachers try communicating with those with special needs using other modes than speech. Pictures, sign language and music are commonly used says Shine, who believes that a creative base was the best possible way of teaching special children.
"These children can show remarkable progress if there is parental guidance and support. If this is there, it is possible to overcome the various problems during the formative years. What Sri Lanka needs is an ambitious parental education programme on how to handle children with special needs without making them the burden of the state," says Shine.
Becoming a teaching assistant was the best thing to have happened in her life, the challenges therein she finds rewarding and stimulating.
The developmental age of these children is the crucial matter, as most of these children are not mature enough to suit their chronological age. In such instances, it is imperative to work with each individual at his or her own pace. It is equally important to realize that atypical children express their urges in different ways, and could constantly lose concentration.
Speaking about the problems encountered in Sri Lanka, Shine believes that the situation was not hopeful with one qualified speech specialist in the entire country, and few obviously paying attention to this vital area of health.
Shine who obtained her Bachelors in Child Development in 1995, is a member of the Autism Association of the U.S. Her ambition is to obtain her Doctorate and return to home soil and serve the people who have little facilities and understanding of autism.
---
Continue to Plus page 8 * Here a school, there a school-so what's the problem?
Return to the Plus contents page
| HOME PAGE | FRONT PAGE | EDITORIAL/OPINION | NEWS / COMMENT | BUSINESS
Please send your comments and suggestions on this web site to
info@suntimes.is.lk or to
webmaster@infolabs.is.lk