15th February 1998
---
All for simplicity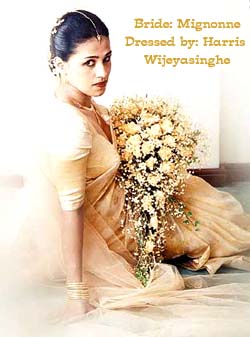 All brides, the saying goes, look beautiful. And most often they do, blessed with a kind of radiance that bestows on them that special glow. But there's a catch, there's often a catch. As any bride will tell you there's a long, long period of planning, of agonising over what to wear, choosing the correct hairstyle, jewellery and saree or dress to achieve that eye-catching beauty.
In the West, with each season, trends change. Hemlines rise and fall, silhouettes go from slinky to sweeping, and so much more. Here fashions are slower to change, but where brides are concerned, there is the question of individual taste plays a large part. So when one asks the question of what bridal trends will be for 1998, what are the answers?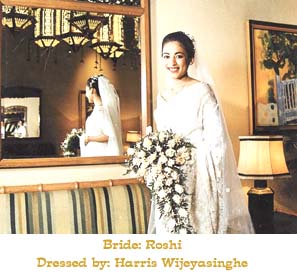 Harris Wijeyasinghe is amply qualified to comment on the matter. Having been in the business for 27 years, he has dressed brides whose mothers he dressed before them. He will put it in two words. "Tradition and simplicity," Harris goes on to explain that he is no believer in changing trends. "You can't try to look like a model on your wedding day," he says candidly. "Very often girls come to me. Often with magazines, saying they want the same look they see pictured there. I tell them that's impossible. It's far better to choose a hairstyle that suits them than one that happens to be in vogue. " I see brides nowadays wearing high upswept hairstyles with the Kandyan saree. I happen to disagree."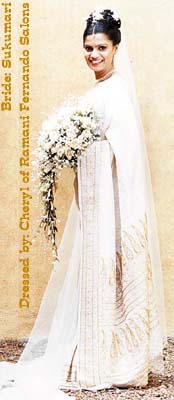 "You may call me old-fashioned, but I do believe that you can't mix up the fashion scene with a wedding. I tell brides that their wedding photographs are going to be looked at by several generations. They have to stand the test of time. So they're far better off choosing a traditional look rather than going for something that might seem wonderful now, but look silly a few months later."
Ramani Fernando, another well- known name in the beauty business too echoes the theme of simplicity and advises going for something that suits your personality.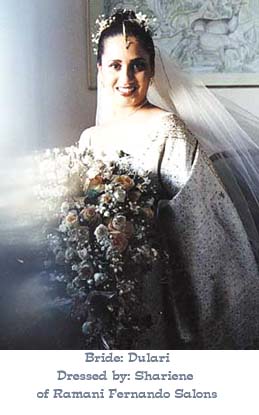 "We don't have any major changes evident, but we do see many brides going in for made-up sarees, either Indian silks or laces and varying the drapes to be different. But it all depends on the individual and whether one can carry it off." This return to the '50s era of made-up sarees, is helpful for camouflaging any figure deficiencies, but needs to be thought out carefully, Ramani points out.
Ramani is a great believer in natural beauty and advises brides to choose from the abundance of natural flowers available in our country, rather than resorting to artificial flowers and beads.
"We see brides carrying posies and bunches of flowers, rather than very extravagant bouquets, but this again is largely a matter of individual taste. Natural flowers, though, will outshine the artificial ones, any day, she stresses.
On the bridal retinue, Ramani stresses the importance of co-ordinating their ensembles with the bride's. "You can't have the bride in Indian saree and the bridesmaids in lace, but often many make the mistake of having a big retinue and having to make do. It's far better to have just one or two and have them all in perfect harmony," she says.
---
Medical Procedures for aging skin
Among the factors that contribute to the changes in the skin that occur with aging are a decline in the level of collagen and elastic skin tissue; gravity; exposure to the sun; facial movements such as frowning, squinting, and smiling; and fat loss. Most of these changes can be partially countered with advanced medical procedures.
Drooping and sagging skin due to gravity and the decrease in collagen and elasticity can be improved with plastic surgical procedures such as facelifts. Sun damage can be ameliorated via techniques such as chemical peels, dermabrasion, and application of retinoic acid.
Bleaching preparations containing hydroquinone and dermatological surgical procedures such as electrosurgery, chemo- surgery and cryosurgery can remove senile freckles, or make them less obvious. Fibril and collagen injections may help fill in expression lines and fine wrinkles.
---
Continue to Mirror Magazine page 4 - * Junior Times
Return to Mirror Magazine contents
Please send your comments and suggestions on this web site to
info@suntimes.is.lk or to
webmaster@infolabs.is.lk