18th May 1997
| HOME PAGE | EDITORIAL/OPINION | NEWS / COMMENT | BUSINESS | PLUS
Contents
---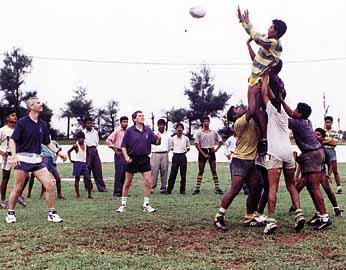 Robin Goodlife and Tony Rossal, both RFU referees from England conducted a coaching course for schoolboys of St. Aloysius, Richmond and Vidyaloka at the Galle Esplanade. The course was organised by the Ruhunu Rugby Football Association and was sponsored by the Sri Lanka Rugby Football Union (SLRFU) for players of the Southern Province. Picture shows the two RFU referees during the course. Pic by Dunstan Wickremaratne.

---
Blazing Sanath blasts India
BOMBAY, Saturday (AFP) - Chaminda Vaas and Sanath Jayasuriya set Sri Lankan records Saturday as the world champions crushed India by five wickets to stay in contention for the Independence Cup.
Vaas took two for 13 in 10 overs, the best figures by a Sri Lankan bowler in 50-over internationals, to restrict the home team to 225 for seven on an unusually bouncy Wankhede stadium wicket.
Jayasuriya then smashed a monumental 151 not out off 120 balls, Sri Lanka's highest individual one-day score, to help his team gallop past the modest target with 9.1 overs to spare.
The result left all four teams with one win each from two matches, and turned the last round of league matches — Sri Lanka v New Zealand on Tuesday and India v Pakistan on Wednesday — into semi-finals.
India's hopes of making the best-of-three finals before the potentially hazardous clash against Pakistan evaporated soon after skipper Sachin Tendulkar won the toss and decided to bat.
They were reduced to 29 for three as Vaas bowled Saurav Ganguly with the first ball of the match and Sajeewa De Silva sent back the dangerous Tendulkar and Vinod Kambli by the 12th over.
Ajay Jadeja (72) led India's revival, putting on 95 for the fourth wicket with Rahul Dravid (61) and 58 for the fifth with Robin Singh, who hit a run-a-ball 51. Left-arm seamer Vaas conceded just six runs in his first spell of six overs and seven more in his last four, removing Anil Kumble off the final ball of the innings.
Tendulkar, who made 117 against New Zealand on Wedneday, scored two when he cut a short ball from Sajeewa hard and high to Kumara Dharmasena on the third man fence.
Sri Lanka themselves began on the wrong foot losing out-of-form Kaluwitharana in the second over before he had scored. Kaluwitharana, whose last seven one-day innings had produced just 14 runs, was asked to open again even though captain Arjuna Ranatunga had indicated before the match that Roshan Mahanama would be given the job. But the move backfired when Kaluwitharana went for a duck.
SCOREBOARD
India
Sauray Ganguly b Vaas                       0
 (Trying a straight drive was yorked) 
Sachin Tendulkar c Dharmasena b S. De Silva 2
 (off a square cut) 
Vinod Kambli c Tillekeratne b S. De Silva   4
 (Off a pull shot caught at short mid wicket) 
Rahul Dravid b Muralitharan                61
 (Going for  alate cut) 
Ajay Jadeja b Jayasuriya                   72
 (Going for a late cut) 
Robin Singh b De Silva                     51
Nayan Mongia not out                       21
Anil Kumble c Muralidaran b Vaas            0
 (Going for a big hit) 
Extras -                                   10
Total:                                    225/6
Fall of Wickets: 1 (Ganguly) 0; 2 (Tendulkar) 5; 3 (Kambli) 25; 4 (Dravid) 124; 5 (Jadeja) 182; 6 (Singh) 224. 
Bowling: Chaminda Vaas 10-3-13-2; Sanjeewa de Silva 10-0-59-3; Nuttiah Muralitharan 10-0-37-1; Kumar Dharmasena 10-2-38-0; Sanath Jayasuriya  8-0-58-1; Aravinda de Silva 2-0-17-0.

Sri Lanka
Sanath Jayasuriya not out                  151
Romesh Kaluwitharna c Tendulkar b Kuruvilla  0
 (Going for a off drive - snick to first slip) 
Marvan Atapattu run out                     38
 (Going for an impossible run) 
Aravinda de Silva lbw b Kumble               0
 (Playing forward defensive) 
Arjuna Ranatunga c Sub b Kumble             17
 (Going for a cut, caught at 2nd slip) 
Hashan Tillekeratne c Mongia b Kumble       13
 (Going for a drive, caught behind) 
Roshan Mahanama not out                      4
Extras:                                     13
Total (For 5 wkts in 41.5 overs)           229
Fall of Wickets: 1 (Kaluwitharna) 8; 2 (Atapattu) 147; 3 (De Silva 151; 4 (Ranatunga) 194; 5 (Tillekeratne) 220. 
Bowling: Prasad 10-1-57-0, Kuruvilla 7-1-22-2, Kumble 10-0-55-2, Joshi 9. 5-0-56-0, Singh 2-0-20-0, Tendulkar 2-0-13-0 
Overs: 40.5 

Man of the match: Sanath Jayasuriya
---
Havelocks down Army 8-6 in thriller
By Marlon Fernandopulle
Havelocks SC overcame a stiff challenge before finally edging out Army SC by 8 points (a try and a penalty) to 6 (two penalties) in a Carlsberg A Division League game at Havelock Park yesterday.
Despite conditions underfoot not conducive to fast and open rugby the Park club did well to run the ball with their fast moving back division and held on firmly to the slender lead and notched up their first victory this season.
Army opened scoring in the 12th minute when full back Nimal Wijesiri put over an easy penalty. Trailing 03- nil the Park Club settled down to their inimitable style of play by running the ball with their back division and kept up the pressure on the soldiers .Havelocks equalised in the 30th minute when Chanaka Jayaweera bisected the uprights with a 25 metre penalty after failing with a similar penalty earlier on.
Inspired by the equaliser the Havelocks forwards led by Gideon Raka made inroads into Army territory to finally breach the stout defence when winger Kirk Williams put the finishing touches to a spectacular three quarter move.The former Peterite did well to brush past a host of defenders to touch down by the corner flag. Jayaweera failed to add the extra points as Havelocks went into lemons leading 8-3.
Army put up a better show in the second half and came close to scoring on a couple of occasions but failed due to poor ball handling by their backs at crucial moments. In addition, aimless kicking also contributed to the soldiers downfall.
Refree: Tony Rosall
---
Cricket and the rebel
By S.S. Perera
Cricket, W. Daha and Politics with different strokes, is a concoction which should taken with sugar is a prescription connected with Dr. W. Dahnayake, who in recent years became one of the staunchest supporters of cricket in Sri Lanka.
When one is young, the blood is thick, and the main idea is to get the phlegm off your chest as quickly as possible. "W" or "Daha" as he is popularly known was, in his younger days, a rebel against the establishment, be it British or Ceylonese.
He loved to castigate the affluent and the leaders of society. He was fighting what he believed were just causes, a not so bright red halo, shone in the background.
Unfortunately he picked on an anti-British subject in his forays - cricket. "Daha" a good player with words, dodged and dummied his way from a shade short of extreme left wing to extreme right wing. He improved his technique as the years rolled by. Educated at Richmond College, Galle "W" was a teacher by profession.
A master of the English language, he could quote any of them, Shakespeare, Keats, Shelley, etc. In the last two years of his unpredictable non-playing career, his words propped up the top notchers of the extreme right in the highest assembly of the land. "Daha"'s skirmishes with cricket as a subject have been many, and deserves to be recorded.
'W' made his first false stroke at the Galle Cricket Club which was holding a Special General Meeting to discuss their poor financial position. It was a meeting For Members Only, but 'W' had the temerity to be present at the meeting. The President of the Club was veteran lawyer and then President of the Ceylon Cricket Association E.M. Karunaratne who was also an old boy of Richmond College. Before the meeting commenced 'E.M.K' asked 'W' how he (W) came to be present at a meeting for Members Only. 'W' replied I represent the "Ruhunu Handa" and there were no further questions. Only those of the older generation at Galle will recollect whether a newspaper by this name was in circulation in the early 1930's. A year later in 1934 'W' made a very rash stroke - the catch was dropped. While thousands of young and old from Galle and the District were waiting to see controversial D.R. Jardine and his MCC team in action at Galle, there was one man 'W' writing a letter to the Editor of the Evening Observer - a 27" long column on "Why Galle should Not Have A Match". His argument was Galle was too weak a team. However, the match was played. E.M. Karunaratne (President of the CCA) was not going to allow his home town folk to miss an opportunity of witnessing the English Test stars. Richmond College can be proud that the First and only President (from the Provinces) of the cricket establishment in Ceylon was E.M. Karunaratne, a gentleman to the last letter, born and bred in Galle.
In 1941 at the time 'W' was the First elected Mayor of Galle 'W' addressed a Student's Association Meeting at Richmond College, the theme was that cricket should be abolished and a cheaper game substituted. Thank the Lord it was not done. There would have been no Test cricket for Ceylon. Actually 'W' appreciated cricket more than any one of us. But don't you know a politician will always be a politician!
By the 1950's the REFORMATION was taking place. Maturity was beginning to show. 'W' was showing he appreciated cricket. The first skirmish in this third stage of manhood was an attack (verbal) on C. Sittambalam the Minister of Information durng a debate in Parliament that commentaries on the All Ceylon vs Commonwealth match (1950) was not allowed owing to a dispute with the Board of Control for Cricket. The Broadcasting Corporation was prepared to pay Rs. 50/= per day for broadcasting eye witness accounts from the grounds. The Board was asking Rs. 100/= per day. Up to the day of the match there was no decision. Finally it was settled in a noval way. Payment was Rs. 50/= and two persons were detailed to witness the game and they gave their eye witness accounts from the STUDIO at 1 p.m. and 5 p.m.
The skirmish in Parliament brought forth a caricature by a well known cartoonist showing 'W' in national dress bowling from both ends at the same time. One 'W' was "Excessive Expenditure" and the other 'W' was bowling "Curtailing Expenditure." The contortions of both bowlers were amusing.
In 1959 'W' made a statement that "as long as civilisation lasted in this world this marvelous outdoor game of cricket would also last".
---
Interview with Ranjan Madugalle, Match Referee for 'Ashes' series...
Dearth of test matches has hampered Lanka
By Bandula Jayasekara
Ranjan Madugalle leaves for England this week for the Ashes Test Series.
I met Ranjan, the youngest match referee in the world, at the Bloomfield grounds while he was padding up for his firm Ceylon Tobacco.
Q. Why did you quit playing cricket when you were at the peak?
A. I quit in 1989 during the internal strife as we could play only 2 test matches over a two year period. I had to take another look at my options and decided to take a route which was not the cricket option.
Q. When were you appointed as an ICC Referee?
A. November 1993.
Q. How does it feel to be the youngest match referee?
A. In todays world, being young or old is not the criteria. I think the main criteria is the way you carry out your job and the professional manner you do it.
Q. Did your appointment as the match referee come as a surprise?
A. Not really. As a match referee I look forward to any assignment so you can say that whilst I was happy with the appointment I wasn't surprised.
Q. What has been the toughest decision you made as a match referee?
A. There have been occasions when I have had to fine teams for slow over rates or players for dissent or bringing the game into disrepute. However I do not consider these as tough decisions. I like to resolve matters through dialogue.
Q. Ashes is an age old series. It is prestigious. Is the interest the same?
A. Yes I think so. Although the 50-over game has taken over the imagination of the spectators the values of the traditional games, specially the Ashes series still hold good.
Q. Do you think that you could teach the English and Aussies how best to play the Gentleman's Game ?
A. The role of the match referee is to ensure that the game is played not according to the laws of the game but also in the spirit in which it is intended to be played. To my mind the current test cricketers of the world know exactly what that means.
Q. Australian's are used to a lot sledging. They overdo it more than any other team and to me that is not cricket. What have you to say?
A. That is your view. I have mine. Basically, my outlook is to judge what happens on the field on the day. I would not go into any assignment with pre-conceived ideas.
Q. Which team can be ranked as the number one test team?
A. Australia at this point of time.
Q. Are we playing too much cricket in this region now?
A. I haven't kept abreast with the programme of India and Pakistan and as far as Sri Lanka is concerned we have had a dearth of test cricket in the recent past and as such we need to lap up every opportunity that comes our way.
Q. Can Sri Lanka be the world's best Test Playing Nation by year 2000 or will it be only a dream?
A. It is a tough question to answer. The Cricket Board has set an objective to achieve it. Whether it will be or not is left to be seen. We have come half way by being the World Champions in the 50-over game. However, to be the best test playing nation involves much planning, a systematic approach and a better combination in the team. It is a tough objective to achieve and I hope they would do so for the sake of the country.
Q. What will happen when Arjuna, Aravinda and Roshan retire?
A. It will be very difficult to replace cricketers of such skill and talent overnight. However there are a few youngsters around who have it in them to make it to the top, but they lack international exposure. Hence giving them experience will be uppermost in the minds of the selectors.
Q. Who will lead Sri Lanka to the next century?
A. A good question. Only time can tell!
---
Looking out for sponsors
Sri Lanka is fast making a name in the motor racing scene abroad. First it was Dilantha Malagamuwa who hit the headlines as the first Sri Lankan to race in the Japanese circuit. Now comes the news that Richard de Zoysa will be taking part in the East African Rally at the end of this month.
Richard will compete as co-driver in the prestigious rally and is on the lookout for sponsors to make his dream a reality.
---
Balancing on one foot
A.S. Joachim who has entered the Guinness Book of World Records will try out to enter record books again in balancing on one foot for 76 hours.
This effort of his sponsored by Oxford Sports Club, Colombo 12 will be held from 3.00 p.m. on Thursday 22nd to Sunday May 25th at 7.00 p.m. at the Vihara Maha Devi Park Open Air Stadium.
The following will supervise this event:
ASP - Francis, Mr. Anton Jeganathan, former DIG Colombo, Wing Commander Nalin de Silva, Air Commodore, Dr. N. Gunaratne, Dr. Vimal de Alwis and Dr. Githanjan Mendis of the Sports Ministry's Medical Unit.
---
Two teams disqualified
Dehiwela-Mount Lavinia and Government Services were disqualified for failing to produce the identity cards of the players in their matches against Wattala and Nationalised Services in the Singer Super league football championships.
In the other matches played, Navy beat Police by 3 goals to 1 in a penalty tie breaker and Playgrounds beat Beruwala also in a penalty tie breaker by 5 goals to 4, Ratnapura beat Balangoda 7-2, Galle beat Army 4-1, Matara beat Hambantota 5-1.
The Matale vs Mawanella match has been re-scheduled to be played on May 18 at Gampola.
Earlier, Trincomalee beat Anuradhapura 4-3 in a penalty shoot-out, likewise Playgrounds beat Beruwala 5-4, Navy beat Police 3-1, while Wennappuwa beat Gampaha 10-nil, Galle beat Army 4-1, Matara beat Hambantota 5-1, Negombo beat Puttalam 7-1, Ratnapura beat Balangoda 7-2 and Ampara beat Batticaloa 3-1.
The draw for the second round to be played on Sunday May 17 is, Trincomalee vs Ampara in Trincomalee, City FL vs Wattala at the City League grounds, Slave Island. Wennappuwa vs Negombo at Wennappuwa. Nugegoda vs Schools at Mirihana. Kandy vs Kegalle at Kandy. All matches will be played at 4.30 p.m. (AF).
Please send your comments and suggestions on this web site to
info@suntimes.is.lk or to
webmaster@infolabs.is.lk