Year on the Web
16th March 1997
| HOME PAGE
| FRONT PAGE
| EDITORIAL/OPINION
| NEWS / COMMENT
| BUSINESS
By Manori Wijesekera
Pix by Kumara Dayawansa Nanneththi
Although debutante would usually describe a young woman entering society, it aptly fitted Michael Wijesuriya as he presented his first ever collection of clothes to the elite in Colombo's fashion circles. Michael made his debut, together with Indian designer Rita Lal, at Designer Debut, presented by the Zonta Club of Colombo II and sponsored by Access International (Pvt) Ltd. The proceeds of the show were in aid of an ongoing Zonta Club project in the village of Barandana. Fabrics for Michael Wijesuriya's collection were provided by Glamourette and Fashion Fabric, while all the costume jewellery used was designed by Michael and Scherouza Khalid.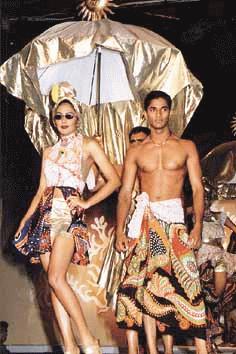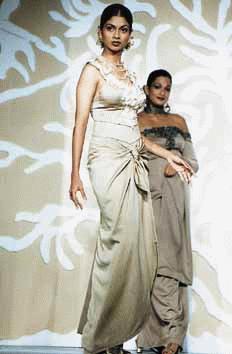 Left: Stunning beach wear with an ethnic touch.
Right: Evening wear: elegant dresses draped on graceful lines.
There probably has never been a debut quite like this. There are plenty of adjectives to describe the show, but tastefully spectacular describes it best. And spectacular it was, from beginning to end. Though the show commenced several minutes late, the first selection of stunning beach wear by Michael more than compensated for the delay. On the beach it was, with gold lame hot pants and brief tops, with soft cotton batik beach sarongs and wraps to give it an ethnic touch. Batik sarongs too, for the men, all designed by Michael.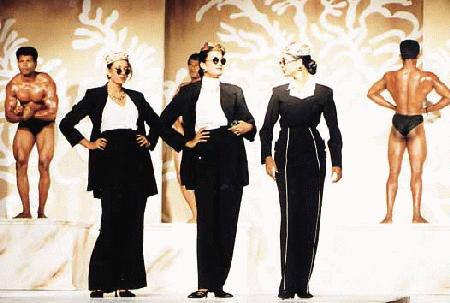 Long skirt suits cut on slim smooth lines
The next selection titled "Strip the guys - suits" was not quite what anyone expected! Turning tables on the norm, elegant models in smart suits twirled and flitted past musclemen in briefs doing their thing. Michael had succeeded in introducing a soft and feminine touch to these double breasted and single breasted suits. The coats were cut along smooth, flowing lines and the inner blouses varied from sharply masculine waistcoats to frilly blouses, both short and long inner blouses and short coats. There were also long and short skirt suits, again cut on slim, smooth lines, taking their shape from the model's figure. While suits are generally prosaic, these were for the "contemporary, emancipated woman" and therefore, they were colourful (from bottle green to brown) and elegantly feminine.
A range of casual clothes, from grunge to smart day wear in earthy colours of brown, beige and creams to a delightful selection of outfits combining printed and plain fabric followed. The accent in this section was, of course, comfortable day wear, and once again femininity was highlighted in the graceful lines of these outfits.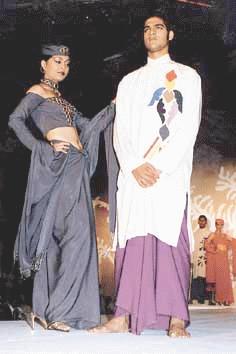 Ethnic Inspirations: the focus was on sarongs
In the selection of evening wear "the ethnic inspiration", the focus was on sarongs, both for men and women. For men it was sarongs in shades of purple, brown, blue and green with long flowing Nehru tops in cream with bright appliquŽ work. Short tops and graceful sarongs gathered in a knot at the navel were Michael's selection for the ladies. These short tops, in beautiful shades of salmon pink, blue, red, gray and yellow were elaborately embroidered and beaded. Accessorised with shawls and embroidered Nehru caps, it was ethnic wear at its stunning best.
Michael's next selection of creations were greeted with soft murmurs of pleasurable surprise by the audience. Titled "Elegance Exemplified", his selection of evening dresses were reminiscent of an era where elegance and grace went hand in hand with charm and simplicity, they included figure hugging dresses with tasteful embroidery and bead work, short dresses with trains and subtle embroidery and thread work. And the final touch of elegance, was the fresh roses interspersed in the model's hair.
Following a selection of beautiful and breathtaking Indian sarees from Glamourette, Madras-based fashion designer Rita Lal made her first ever presentation of clothes in Sri Lanka. A selection of cotton shalwars, from whites to earthy colours of brown, copper and mustard, to playful pink and blue and elegant black, the shalwars were part of Rita Lal's exclusive designer wear under the label "Mademoiselle".
The hand painted shawls and shalwars whirled in a symphony of colour, to be followed by exquisitely beaded Sheraras. Designer Shalwars and Chudidars with heavily beaded and embroidered bodices, as well as a selection of Shalwars in ruched fabric were highlights of this presentation. Layered Lehengas in bright contrasting colours gave the local audience an introduction to a different ethnic style to follow. Rita Lal's grand finale was a wonderful selection of Lachaas, Lehengas and Long tops.
What would a debut be without a selection of bridal wear? In keeping with true haute couture etiquette, Michael Wijesuriya returned to the show with three bridal creations. The first bride wore a beautiful white lace saree, with a heavily embroidered headpiece, draped in Indian style.
A Kandyan bride wore a cream saree exquisitely embroidered with gold thread and lace. The western bride added more than a touch of colour in a bright short red off-shoulder dress with a heavily embroidered bodice of gold and red thread.
And to top off an excellent debut, Michael presented his choice of exclusive designer sarees. The heavily embroidered headpieces were a work of art, from delicate threadwork to bright, bold applique. Among those which need particular mention was a striking deep violet silk saree with a headpiece and long jacket sleeves heavily embroidered in silver sequins, a daring combination of red and gray as well as a black silk saree whose headpiece, embroidered with gold and brown threadwork and cutwork can only be described as a masterpiece.
Speaking to The Sunday Times after the show, Rita Lal said that she had not known what the Sri Lankan taste in clothes was but decided to keep to her usual styles.
"I am glad it worked out well, all the styles and trends that are extremely popular right now in India have been accepted well by the Sri Lankans" she said. Having given a remarkable debut, Michael Wijesuriya was trying hard to gather his scattered thoughts as The Sunday Times spoke to him. "The show turned out to be everything I wanted it to be" was how he summed it up, and judging by the talent and creativity made evident through his debut, the fashion world can only expect more stunning collections by Michael in the future.
---
Continue to Plus page 6 -The naval rating who attacked Rajiv Gandhi speaks: 'I hit out in defiance'
Return to the Plus contents page
Go to the Plus Archive
Please send your comments and suggestions on this web site to
info@suntimes.is.lk or to
webmaster@infolabs.is.lk