Year on the Web
16th March 1997
| HOME PAGE
| FRONT PAGE
| EDITORIAL/OPINION
| NEWS / COMMENT
| BUSINESS
Naval rating who attacked Rajiv Gandhi speaks:
By Shelani de Silva.

Wijitha: trying to lead a normal life
He became a controversial figure overnight. Some regarded him as a hero, to others he was a traitor. At the age of twenty one, Wijitha Rohana Wijayamuni hit the headlines in the most shocking manner when he did the unthinkable by attacking Indian Premier Rajiv Gandhi at the guard-of-honor accorded to him during his visit here for the signing of the controversial Indo-Lanka peace accord in July 1987.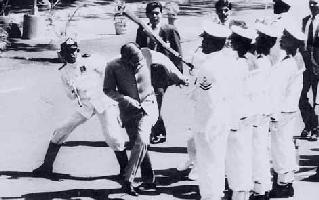 The blow: Wijitha uses his rifle butt on the Indian Premier
The blow from his rifle butt was aimed at Gandhi's head but landed on his neck and shoulders fortunately causing little injury. From that day his life was doomed, yet he maintains he has never regretted his action.
Last week The Sunday Times tracked down Wijitha to a tiny room in Rajagiriya, furnished only with a table and chair and a shelf full of audio cassettes. No one would recognise the former naval rating as the man who now owns a small recording bar. Wijitha who has managed to keep a low profile since his release from prison in 1991, at first was reluctant to talk to us.He says he lost faith in the media, because the incident was exaggerated and blown out of proportion by certain individuals which had caused him alot of mental trauma.
Wijitha Rohana joined the Sri Lanka Navy in 1984,while he was studying for his Advanced Level examination. Although joining the Navy was not his ambition he was compelled to do so due to economic reasons
'I lost my father when I was sixteen.He never had a permanent job as he was a fisherman. After his death my mother went through hell to bring up ten children. I couldn't bear to see her suffer anymore so I decided to get a permanent job, and that's how I ended up in the Navy,' he said.
He made it clear he was never a pro-Sinhala activist but confessed that he objected to the signing of the Peace Accord as he felt Sri Lanka was going to be divided.
Recalling that morning of July 27 1987, when he had to be at the guard-of-honour
Wijitha said that it was all his pent-up anger that made him lash out at Rajiv Gandhi. 'In my eyes I saw the Peace Accord as something that would destroy our country. When the entire nation was against it, the leaders went ahead with it. I felt I had to do something to disrupt it. When I decided to hit the Prime Minister, I knew I could be killed but I was prepared to make that sacrifice,' he said.Wijitha says that as he was opposed to the Accord he had refused to be at the guard of honour. 'I felt that by being there, I was supporting it. Until that evening I refused to take part. I spoke to my senior officer hoping he would release me, but that was not to be. I made up my mind that I would go that morning but I was determined to show by my actions that I was not a part of the Accord,' he said.
Wijitha who thought that he would have been killed by the Prime Minister's body guards had been surprised when he was dragged away by security officials and later grilled by the CID. 'I had nothing to hide. I did not act on anyone's orders, so I spoke my heart out. The first three months I was kept at the CID. I must say I was treated well. Later I was taken to the Welikada prison but even here I had no problems.The prison inmates treated me like a hero. The only difficult thing was sleeping handcuffed. I was kept with criminals but it did not bother me,' he said.
While Wijitha was leading a relatively 'peaceful' life in prison, his family was facing difficulties. His two brothers who were in the Air Force and Army were asked to leave the forces. No family member was able to join a Government Department. 'Upto date my mother says it is because of me that the family cannot prosper ..She is right. Even recently my younger brother applied to join the Army, got through all the tests but when they checked the police report he was rejected. It's frustrating when the family is treated like this when others can get away even with murder,' he said.
Wijitha says he was never bitter when he was given a four year prison term, "I was ready to die that morning, being in prison was like getting a new lease on life. I did not even feel the days pass. I used to read all the newspapers and anything I could lay my hands on. I also wrote a few articles to the papers but they were never published. I also did a lot of thinking which helped me .Most important I really knew who my true friends were," he said.
Wijitha also said that on hearing of Rajiv Gandhi's murder he felt sorry for the manner in which he died but could never forgive him for what he did to Lanka.
Wijitha emphasized he was never involved in politics. But he did take part in a human rights protest which was held in prison, and ended up in hospital with gun injuries, after prison guards tear gassed the protesters and fired at them.
Wijitha who received a presidential pardon was released on April 04, 1990 as part of an Avurudu amnesty. He says that he had mixed feelings when he got the news. 'I was not a person who was counting the days until I was released. I remember clearly when I was told about the release. It was around 7.00 pm. I was told that I could go home immediately, but decided to go the next morning as there was no hurry. I also made up my mind to seek assistance from Sri Lankan expatriates who had written to my mother promising to sponsor me when I was released, so I was counting on them,' he said. The next morning he had left the prison. Since his family did not know of his release,he had decided to go to his aunt's house in Akurana. 'I had to consider the security situation and also I knew my mother would be shocked to see me, so I gave her some time. I was still in the bus when I heard on the afternoon news, an item about my release, but no one knew who I was,' said Wijitha.
All his dreams of going abroad never materialized as he was unable to get in touch with all those who promised him security. "All I wanted was to lead the rest of my life peacefully with some help. Instead I was treated badly and my family too had to suffer. Although I never wanted to enter politics I was offered the chance. My mother cried and asked me to join so that the family will be looked after but I refused because I did not want to be a part of the dirty game,' he said. A year after his release Wijitha met and married his sweetheart. ' My past did not affect the relationship. She knew who I was and that was the most important thing ,' he said. Almost a decade later, it is clear that Wijitha Rohana Wijayamuni is still trying to get back to a normal life, but cannot escape the bitter memories.
---
Continue to Plus page 7 - Book Review: Talking big neighbour, small neigbour * The pleasures of music
Return to the Plus contents page
Go to the Plus Archive
Please send your comments and suggestions on this web site to
info@suntimes.is.lk or to
webmaster@infolabs.is.lk