'Getting to know children is a privilege'
By Anoushka Jayasuriya
Speech therapist Samantha Van Eyck's passion to help children with special needs gave birth to the Jellybean Foundation that reaches out in many ways
View(s):
"When you look at a pack of jelly beans collectively you see the different colours and flavours and that makes you really happy. Children inspire the same feeling as they're all different, unique and have their own abilities – Collectively they all bring joy."
For Samantha Van Eyck, her career as a Speech and Language Therapist has brought her a wealth of eye-opening experiences and many cherished memories while working with children. However, part of her responsibility as a professional is also being vigilant about the plight of the families of children with special needs and the hurdles in their path to receive treatment for their children.
While working at the Ragama Hospital she noticed that a major obstacle for these families was the cost of transportation to bring their children for consultations, a service provided for free. Realizing the magnitude of issues like these, Samantha undertook several projects to acquire resources and funds for the children to bridge these gaps. Ultimately, these projects blossomed into the Jellybean Foundation, a non-profit charitable organization.
Now in its fifth year of operation, the Foundation functions to support children with special needs and centres which don't have access to resources or therapy services. "Every child should have access to the support that they need," says Samantha.
Recalling the first official project of the Foundation, Samantha noticed that the Ragama University clinic was filled only with larger, adult sized furniture and no materials for children. She explains that the environment alone in which these children are consulted can advance their progress and comfort greatly. To remedy this, the Foundation was able to acquire child friendly, secondhand furniture and raised enough funds to have extra furniture made. Toys were also donated to the clinic to make the space more welcoming to children.
The Foundation's reach has since extended across the country as they have travelled to areas such as Trincomalee, Kantale, Batticaloa and more to work with families who wouldn't otherwise be able to access a therapist. Setting up in local Ministry of Health clinics, the Jellybean Foundation does more than just donating toys and crucial resources. By carrying out therapy programmes with other professionals they're able to spend time with the children and give the families feedback, guidance and support. Samantha underscores the importance of sharing knowledge by explaining that the Foundation also conducts workshops for local teachers, midwives and caregivers so as to fully equip them for this distinct responsibility.
"The best thing I've been privileged to see is how different and unique children are," says Samantha, or 'Aunty Sam' as she's fondly referred to. With 14 years of experience in this field she's seen countless children progress in fascinating ways. She shared one such account of two boys under her care who were diagnosed with autism. They wouldn't speak and would only hum tunes in place of words. It wasn't long until Samantha realized they were humming tunes from the radio. Using their interest as a stepping stone, they learned to request which songs they'd like to listen to and this gave way for further development. "That initial uniqueness of children and their likes and what motivates them to communicate. – I think it's an absolute privilege on my part to be privy to see how their brains work."
Familiar faces are always around Samantha at the Jellybean Foundation as she reveals that the "staff" are made up of family members, friends, fellow professionals and well-wishers. On her team, she says, the essentials are kindness, a desire to share and be there for others and respect for the Foundation, children and families they work with.
If you've had the chance of working with the Foundation, chances are you've heard the common phrase among the team, 'sharing smiles'. Samantha says this is what naturally occurs during the Foundation's work and various events which include swimming events and song and dance competitions. Creating an opportunity for everyone to be together, children, adults, parents and families get to experience something special. "I think a common attitude in Sri Lanka is that we need to help others but it's a two-way process. The immense joy I felt in understanding and knowing about kids, I could see that also happening with everyone who was a part of projects that we do. It's the sharing of smiles- it makes everyone who participates happy."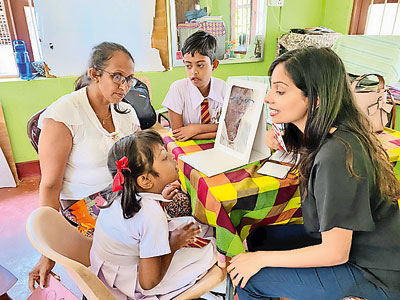 Although quieter in the wake of COVID-19, many of the Jellybean Foundation's physical projects have been postponed in line with restrictions. Despite this, Samantha's been working online by supporting families who don't have access to services in Sri Lanka and even some in England. "My whole practice went online during the initial lockdown," she revealed. The shift required her to learn how to work through different platforms with schools as well as with her private sessions. Tele-therapy is a standard practice in certain countries overseas but she made it part of her work for the first time just last year. "I've been able to access families who I couldn't access before and they, me."
She says she won't be stepping away from the screen anytime soon as she remarks how effective it has been in terms of creating a new dynamic between herself and her clients. A typical session would see the involvement of herself and the child alone, whereas through tele-therapy she's happy to add that the whole family is eager to participate in sessions to help their child or sibling. Be it physically or virtually, it's likely Samantha will continue to find ways to reach the people who need her.
Follow the Jellybean Foundation on Instagram: @the.jellybean.foundation
Or on Facebook :www.facebook.com/JellybeanFoundation/
For those interested in contributing, reach out to Samantha through Instagram.