A spicy combination
View(s):

Three students capitalise on the yearning for home-food when far from home

In 2017,  good friends, far from home, relished a food item prepared by the family of one of them. It was a tasty badhuma, prepared according to a Matara recipe passed down through the generations. Miles from home, despite the varied cuisine of the country they were studying in, the craving for home food was assuaged by this comforting food in a little jar.

"When we were students at Monash University in Malaysia, we used to love this preparation our friend always brought with him," says Rushil Pasqual. "It was a home-made food with absolutely no preservatives, that could keep for 6-8 months with no refrigeration. We shared this with other friends and family and it became clear that it was a real crowd-pleaser." Understanding the demand, the three friends decided to produce the badhuma commercially and set up operations in Matara.

They started with the classic badhuma – onions, karapincha and various spices; and then branched into other variations, including a vegetarian version. "We now produce the Classic badhuma, Sprats badhuma, Cashew badhuma, and a Maldive Fish Sambal."

One would imagine that the pandemic which started in early 2020 would have dealt a blow to a start-up; but on the contrary, Sri Lankans confined to home developed a new-found appreciation for all things home-made. "During the pandemic, a lot of home-grown businesses came up. That really helped us," says Rushil. People also took to online shopping more, which worked-out well for the tri who did not have a retail space.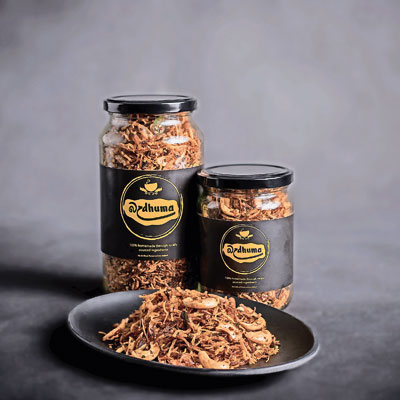 Rushil, together with his collaborators Sachindra Kalansooriya and Satheendra Wickremasurendra are now expanding their business. Production is still mainly based in Matara, but they hope to start producing in Colombo too. "We hope to set-up a shop possibly around Kirulapone; we currently operate through partners and deliveries,"Rushil explained that in addition to personal vehicles they use Pick-Me and courier services for this.
Customers are largely those who find outabout their products through word-of-mouth, as their reputation precedes them, especially in the 'Sri Lankans abroad' circles.
Showcasing their product at a BMICH exhibition also helped a lot. Now they have established a web page (https://badhuma.com/) in addition to an Instagram(instagram.com/badhuma_sl/) and Facebook (facebook.com/Badhuma.sl/) page through which customers can browse and order jars of the home-made goodness. If you prefer the brick-and-mortar shopping experience you can check out Badhuma products at Home Bargains, Malay Restaurant or Park Street Gourmet.
The young entrepreneurs are now focused on obtaining SLS certification for their products. "There's a lot of demand from Lankans living abroad, especially in Melbourne, and particularly in student circles. We do produce vacuum packs for those travelling abroad who would love to take our products with them, but to export directly we require quality certifications, which we are working on." They are also working on several new products, which they hope to introduce in the coming months.
(NA)