US$ 2.5bn currency swap deals with China and India
By Damith Wickremasekara
Move aimed at boosting foreign currency reserves, stabilising rupee
View(s):
The Government will shortly opt for currency swap arrangements with China and India for US$ 2.5 billion aimed at boosting Sri Lanka's foreign currency reserves and maintaining foreign exchange liquidity, Treasury and Central Bank officials said.
Cabinet approval will be sought shortly for the proposed currency swap with China's Central Bank  – the People's Bank of China — and the Reserve Bank of India.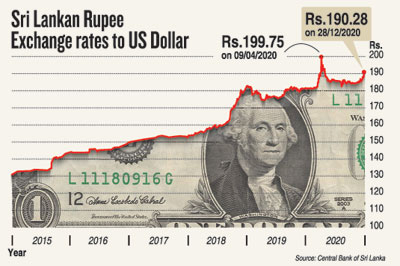 A currency swap is a transaction in which two parties exchange an equivalent amount of money with each other but in different currencies. The parties are essentially loaning each other money and will repay the amounts at a specified date and exchange rate.
Accordingly, the Central Bank hopes to enter into a currency swap of US$ 1.5 billion with the Chinese Central Bank and US$ 1 billion with the Reserve Bank India, payable in three years and one year respectively.
"The move will be economically more beneficial than obtaining commercial loans," a senior Central Bank official said.
He said the currency swap would mainly help to increase the foreign currency reserves, which had gone down to US$ 5.6 billion, while stabilizing the rupee.
A former Central Bank official said the move was also likely to help to raise the country's ratings which had been reduced by rating agencies.
He said that as Sri Lanka's imports mainly came in from India and China, the measures could also be made use as a guarantee for exports.
He said, however, the country would need to payback the dues at the conclusion of the term.
The Central Bank of Sri Lanka and the Reserve Bank of India entered into a currency swap agreement in July last year. Sri Lanka received US$ 400 million under India's swap arrangement for South Asian Association for Regional Cooperation (SAARC) countries.
The moves come in the wake of challenges faced in view of the COVID-19 pandemic.