Udayanga's Ukraine project puts tourism sector's comprehensive plan in abeyance
By Namini Wijedasa
View(s):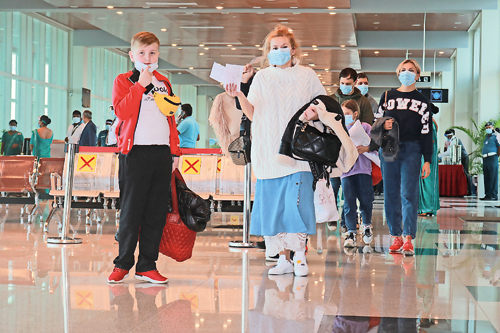 On December 9 last year, the tourism regulator was made aware that Udayanga Weeratunga– Sri Lanka's former Ambassador to Russia who now gives his official address as Temple Trees, Colombo 3–intended to bring a large number of Ukrainians to the country as a pilot project.
The Health Ministry had not even issued protocols for tourism at the time the information came. The Ukrainian project effectively overrode the plans Sri Lanka Tourism and the Sri Lanka Tourism Development Authority (SLTDA) had to open the sector in stages, while offering opportunities to a broader spectrum of service providers. They had even mapped the global COVID-19 situation to target tourists accordingly (starting with low-risk, which Ukraine is not). It was to be a methodical, transparent process.
But the rug has been pulled from under their feet. Now, there will be 12 flights in total, all from Ukrainian capital, Kiev, starting on December 28. The last one was scheduled for January 24. The first landed at the Mattala Rajapaksa International Airport (MRIA) on December 28 with 180 passengers. The second one came the following day with 204 passengers and there was one yesterday with 172 passengers. Nine more flights are due, three of them next week.
The Health Ministry's first set of protocols maintained the mandatory quarantine period at 14 days. But the Tourism Ministry issued a new set, less comprehensive, on December 27–the day before the first flight from Ukraine–slashing this period to seven days. It was also provided for tourists to undergo PCR tests at the hotel when it was earlier required to be done at the airport.
Both guidelines did have provision for the tourists to participate in excursions to Health Ministry-approved, identified locations in a bio-secure bubble. They were not to have contact with locals. All sites, including Sigiriya, would be closed to Sri Lankans during specified time slots to facilitate this.
This project was approved not because Ukraine, with its high rate of COVID-19 infections, was the best option for the country. It was because Mr Weeratunga had pulled the strings. And this was not how the tourism sector–most of whom are now afraid to express themselves openly because of the former Ambassador's ties to the President, the Prime Minister and other Rajapaksa relatives in Government–had envisioned a return to business.
Just week after the pandemic shut down Sri Lanka's travel and tourism sector, the industry regulator started working on a comprehensive plan to prepare the country to receive international visitors again.
This included drawing up a comprehensive set of tourism operational guidelines with health protocols. Sri Lanka Tourism and the Sri Lanka Tourism Development Authority (SLTDA) then rolled these out to the industry and called on service providers to be compliant. Everything was covered from entry procedure, airport processes and transfers to internal travel, accommodation, cafes, restaurants and beach vendors.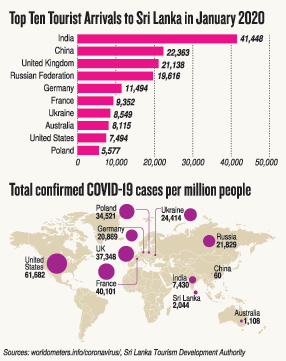 More than 14 awareness seminars were carried out. Some companies spent considerable sums upgrading or changing their facilities, adjusting their practices and introducing standards to ensure they were ready to receive tourists in the post-COVID era. SLTDA then commissioned KPMG to carry out audits.
The regulator studiously processed applications for 'Safe and Secure' certification before sending them to KPMG. If the auditor was satisfied with responses to a written questionnaire, an onsite visit was scheduled. And if more than five major shortcomings were identified, the hotel would fail. Certification would be granted after these were rectified.
Since the start of the process, 101 hotels have passed the test. The Health Ministry's original guidelines mandated that tourists shall only be accommodated at these 'Safe and Secure' certified hotels. With Mr Weeratunga's intervention, this was changed to also include other hotels approved by the Health.
In total, there are 21 hotels proposed for the pilot. They are in Ahungalla, Dambulla, Bentota, Beruwala, Habarana, Kalutara, Kandy, Kirinde, Sigiriya,Tangalle and Yala. Industry sources said they had been prevailed upon to significantly slash prices. Several of them have not been audited and certified.
SLTDA also introduced a tourism mobile app to ensure, among other things, that hotels were prepaid for the full quarantine period stipulated by the Health Ministry (14 days); that the cost of PCR tests and COVID-19 insurance premium would be recovered; and that advance information on hotel bookings would be provided to district level health officers. This app is still with Cabinet for approval.
Even till the last hour, tourism authorities did not receive written confirmation of the travel programme from travel agents or hotels. But as the regulator, SLTDA would be responsible if health and safety protocols were broken. The information was only received after considerable pressure, travel sector sources said.
Tourism Minister Prasanna Ranatunga said yesterday that every measure was being taken to prevent the tourists from coming into contact with the community. "They travel as a group wherever they go and will not be exposed to any civilians," he vowed. "They are always under supervision."

The Sri Lankans that do deal with them–including drivers, tour guides and service staff–will be quarantined for the mandatory 14 days and subject to PCRs, he said. It was not immediately clear whether Mr Weeratunga, who was seen at the airport in close contact with the first group of Ukrainians, is now in quarantine. He did not answer his phone.
Large contingents of military have been deployed to escort and monitor the tourists. There is even a separate "toilet bus" which travels with them.
The SLTDA also requested the presence of their own officers with them so that gaps can be identified and corrected (as it is, after all, "a pilot project"). They were present at the hotels in protective gear, giving on-the-spot feedback where necessary. The key is to ensure the virus, if present, does not go out into the community.
"Irrespective of who they are, as Sri Lankans who love the country, all of us want to see it's done correctly," a tourism official said, requesting anonymity.
It is doubly important to ensure there are no problems to worsen the situation in a country in the midst of a rampant second wave, as Sri Lanka now is.
But the tour organisers are actively resisting all efforts to implement the protocols strictly, even blaming the authorities for the possibility of bookings being cancelled over these requirements. That is rich, observed industry sources, considering that only minimum standards are now being applied.
UN reports damns Ukraine
authorities handling of COVID
A week before the first batch of Ukraine tourists landed in the country, a damning UN report was released by the UN Human Rights Monitoring Mission in Ukraine (HRMMU) detailing how Ukrainian authorities failed to take adequate measures to slowdown the spread of the pandemic in the country.As in many other parts of the world, the report said in Ukraine, the COVID-19 crisis exacerbated patterns of discrimination, exclusion and inequalities that existed before the pandemic, and exposed existing weaknesses in the healthcare and social protection sectors."Conflict-affected populations, older persons and persons with disabilities, in particular those living in institutions, and homeless persons have been identified as the most vulnerable to the effects of the COVID-19 crisis. The pandemic also created new vulnerabilities, affecting the lives of thousands of healthcare workers involved in COVID-19 response, the vast majority of whom are women," the report concluded.

The report also found that measures taken by Ukrainian authorities to slow the spread of COVID-19 are inadequate and failing to protect public health. It also stressed that the measures also are worsening the hardships faced by people living in the conflict-affected areas in eastern Ukraine.

As of today, Ukraine recorded 19, 281 COVID-19 related deaths with over a million cases.