Rajarata Don urges changes in COVID-19 management strategy
By Kumudini Hettiarachchi
"All indicators are that community transmission has been around in Sri Lanka"
View(s):
A strong voice of reason based on science and numbers with regard to the current COVID-19 crisis in Sri Lanka comes from a don in Rajarata.
"All indicators are that community transmission has been around in the country for some time and it would be very difficult to pinpoint whether the infection started in the Minuwnagoda factory of Brandix Apparel Limited or outside," says Rajarata University's Professor of Community Medicine, Faculty of Medicine & Allied Science, Prof. S.B. Agampodi.
He urges that Sri Lanka needs to change its strategy to keep the people safe.
Pointing out that the 'claim and blame' game about Indians visiting the factory etc may be unfounded, he explains that when looking at the numbers, there simply cannot be 1,000 positives within the factory in two weeks.
Prof. Agampodi says that the scientific explanation would be that the infection would have been there for a long period. The fact-based probable explanation is that a parallel infection would have been in the community with a slow rate of transmission. Insisting that it started in the factory is the wrong conclusion.
"Even if people other than those in the factory and their contacts who are supposed to be negative are tested, they may be positive. The plausible explanation would be that the infection was out there without being detected and got into the factory," says Prof. Agampodi who is also a Visiting Research Scientist, Department of Infectious Diseases, Yale School of Medicine, New Haven, United States of America (USA).
He underscores that it is still not too late to bring COVID-19 under control. It should be right now rather than later – today is the best day to understand and accept what needs to be done, starting with the probability that Sri Lanka has community transmission as right now many people in several areas (21 districts of the total 25) are having the 'COVID-19 condition' seemingly unrelated to the Minuwnagoda cluster.
Lamenting that he has no access to data except what the media present to the public, Prof. Agampodi argues that the close contacts of the Minuwangoda cluster have all been quarantined but not the mild contacts who are not suspected of having come into contact with the original cluster. Therefore, which way the infection has gone – whether from the Minuwangoda cluster to society or the other way round is not clear.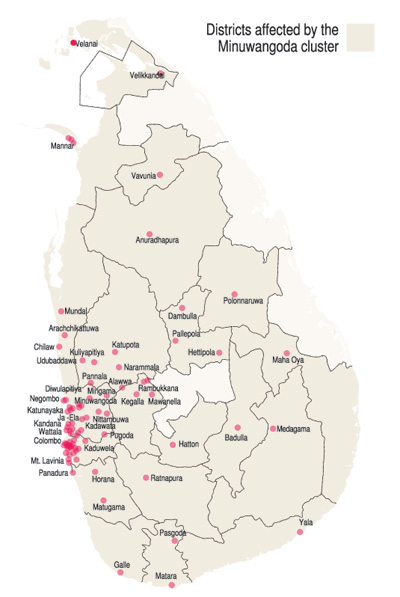 "All positives cropping up from across the country are not a single cluster but several stand-alone clusters. This is why we need to take proper measures to be safe. The elderly or those with uncontrolled diabetes, renal (kidney) disease and other non-communicable diseases (NCDs) are at most risk," he says, giving the experience in the USA where there was a death rate of up to 60-70% in some elderly care facilities on a daily basis.
Prof. Agampodi, looks back at early March and says there was a delayed response to COVID-19 in Sri Lanka but it picked up later. This was the time when he was in America. When he came back to Sri Lanka, he realized that most people, including the authorities, didn't understand the gravity of COVID-19. This may be due to Sri Lanka, unlike other countries, not experiencing a large number of deaths.
"The way risk communication was handled was completely wrong and very weak, with people not being told how to face the new normal. The simple measures required such as wearing face-masks, proper hand hygiene and physical distancing had been thrown to the winds," he says, stressing that the urgent need is to understand and accept the threat. Just by wearing a face-mask, the risk of transmission reduces by 60-70%. If two people wear masks, the risk reduces by 90%.
Commending Sri Lanka's excellent 'contact-tracing' by the ground-level health staff and the tri-forces, he points out that among the contacts, those who tested positive and who had symptoms were only 10-20%, while the majority was asymptomatic and formed 80%. This second group had a very low mortality rate.
He adds: "Unlike the USA, the United Kingdom and France, where only people who develop severe symptoms such as breathing difficulty were admitted to hospital and all others (those with mild symptoms and those asymptomatic) stayed home, Sri Lanka hospitalized all those who tested positive with or without symptoms. But this strategy cannot be contained as it would cause an overload of the systems and this would be disastrous."
Time to admit it's community spread: SLMA former president

Important to have collaborative effort between people and health experts, says Dr. Haniffa

It is time to admit that we are in community spread (Stage 4) mode and act to mitigate COVID-19 from the perspective of lives and livelihoods together, as opposed to trading off one against the other, a former President of the Sri Lanka Medical Association (SLMA) has urged.

Dr. Ruvaiz Haniffa has reiterated that the Health Ministry should get out of the practice of dealing with the crisis from a closed outlook of a "cluster" definition, as under this mentality "we will soon have Minuwangoda clusters in India!"

"A trade-off between lives and livelihoods which will lead to merely addressing the physical manifestations of COVID while ignoring the mental and social outcomes of health in individuals, families and the community should be avoided at all costs. We must endeavour to look at the heath of individuals and the nation holistically," he says.

He states that we in Sri Lanka with our solid foundation in public health should first admit that there is community spread based on evidence and move away from "clusters". Thereafter, the public should be empowered to trust the public health system and other genuine health experts.

"This is the solution towards mitigating the community spread – a collaborative effort between people and health experts," adds Dr. Haniffa.
DIG explains much - awaited regulations

The much-awaited regulations to give teeth to prevention and control measures with specific reference to COVID-19 were gazetted on October 15 by Health Minister Pavithra Wanniarachchi under Sections 2 & 3 of the Quarantine and Prevention of Diseases Ordinance of 1897.

Before giving the regulations in a nutshell, Police Spokesperson Deputy Inspector General (DIG) Ajith Rohana said the Director-General (DG) of Health Services can declare areas as 'disease localities' and on March 18, the entire country was considered a 'disease locality'.

According to the DIG, after 1897, it was in 1925 that a gazette had been published to deal with Ancylostomiasis (hookworm infection). However, all regulations made under that are valid for any quarantinable disease (whether leprosy, plague, smallpox, chickenpox, cholera or dengue), not just hookworm.

He points out certain aspects of the current gazette – one is the mention of a public place.

"We are not talking about the 'conventional' public place. You may think public place means the usual railway station, bus stand or fair, but in this gazette, public places include private spaces as well. It means any place which the public has access to, whether as of right or otherwise, whether on payment or not, whether on invitation or not," he said, stressing that as such, in all these places people have to wear face-masks, carry out hand hygiene and have social distancing.

DIG Rohana said: "There are also instructions in the gazette for factories, offices and other workplaces on limiting the capacity of the workforce, maintaining an updated record of all employees, frequently checking temperature and more.

"Those rendering services such as supermarkets, shops, sales outlets, etc also have instructions such as not exceeding the capacity of people allowed into the premises at a time, having adequate hand-washing facilities and ensuring that standard health guidelines are followed. Meanwhile, the driver, conductor and the owner of a vehicle used for public transport are liable if they do not comply with health guidelines when transporting passengers.

"In terms of Section 37 of the regulation, the DG or 'proper authority' can delegate his powers to any other person, and powers have been delegated to the Inspector General of Police."

Referring to the penalties for those who violate these regulations, the DIG said that the police can arrest and charge a person. The penalty is a fine of Rs. 10,000 and six months rigorous imprisonment (RI). Under the Penal Code anyone who disobeys a quarantine rule can also be subjected to a further six months of imprisonment leading to a year.
Infection spreads due to duration of exposure & high intensity

Corona is a propagated outbreak and comes as waves. Taking the Minuwangoda cluster as an example, Prof. Suneth Agampodi says that there cannot be 1,000 positives in one day. They would be part of different waves.

The manner in which infections occur can be due to – the duration of exposure (over a long period of time) and high intensity (when in close contact such as talking or eating together all the time, sharing accommodation etc.). These are the two factors which increase the susceptibility for the infection to spread, he says.

Being on the road or in a large marketplace with less contact (1 infected person would infect less than 1 other person) would have a minor risk of exposure but in places like garment factories where people are in close contact, the exposure (1 would be able to infect 5 to 10 others) would be much more, the Sunday Times learns.

Picking up the term 'social distancing', Prof. Agampodi says that "we in Sri Lanka are misinterpreting it to mean only physical distancing of 1 metre. Though physical distancing is very much a part of social distancing, the latter also means avoiding social gatherings such as parties, musical shows and other crowded places".
'All who test positive not patients'

The terminology used in Sri Lanka is erroneous, says Prof. Suneth Agampodi, pointing out that all those who are positive when subjected to an RT-PCR test are not 'patients'.

A person cannot be called a 'patient' unless he/she shows symptoms (fever, cough, cold and sore throat) or are 'symptomatic', whether mild or severe. If a person, even though positive in an RT-PCR test, is asymptomatic (without symptoms) then he/she is not a patient, but a person with the infection, according to him.

"A month back, though Sri Lanka said it had around 2,000 'patients' that was incorrect because we put both 'symptomatic' and 'asymptomatic' people in this group. The fact remains that we had around 2,000 with infections but only around 10% of them were patients.

Most of the others were sub-clinical infections but not patients. There were 13 deaths from among those 10%," said Prof. Agampodi.