Unlawful arrest-orders galore;from Secretary Defence, Attorney General et al
View(s):

There is an increasing phenomenon of arrest orders being passed down to the police unlawfully by the Defence Secretary and the Attorney General, and the police meekly obeying such orders.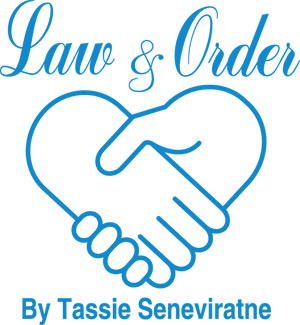 Ordering arrest and remand at will is a recent phenomenon in the criminal law in this country. Moreover, these orders amount to punishments, handcuffs included, kept-media present with cameras, long before conviction. Such practice was unheard of during the past nearly two hundred years.
The police, too, equal to the task, resort to remand than bail. Reasons for this malpractice are many sided. Briefly, as some studies make out, it is 'money talking'. So much is now for sale in a market society. This may cover all segments of society, which for the present purposes may relate also to the criminal justice system, with a price on many a head, promotions included. This problem of buying and selling — trading — has afflicted the Legislature, the Executive, the Judiciary and the Media and Civil Society.
The Criminal Procedure Code's Section 32, which confers the power to arrest, reads as, 'may arrest' and not, 'shall arrest'. This means that the law gives discretion to the Police and it is implicit that the discretion is with the investigating Police officer, and no one else — not even the Inspector General of Police. Discretion is the exercise of judgment, sagacity and prudence on whether to arrest or not to arrest, by the police officer for law and order on the field.
Orders to police for arrest and remand cannot be made by any other, be it in a court house, in the prosecuting office, or by any other further afield. But of such are the order of the day for remand orders made to the police with little inhibition. A judge or AG officer ordering remand even in the face of bailable offences is the current experience. Plainly these authorities making orders over the police are prejudging the case and are then disqualified from hearing or prosecuting the case later. Division of the functions is stated as: Judge – adjudicatory; Attorney General – Prosecutorial; Police – investigatory.
In this connection it is relevant to quote from a document circulated to authorities concerned by Dr. Frank de Silva, former Inspector General of Police: "(anticipatory) arrest is a matter of investigation which itself is figured out only by the police investigator. Often police hold back arrest, tactically, with an eye to other evidence. These circumstances cannot be anticipated by any other to make for judicial prescription. Such anticipation is failure of logic. In short, the whole judicial statement is convoluted and misconstrued. The House of Lords (UK) case of Hill [1988] 2 ALL ER 238, helps to explain, when, and how, and why an arrest is made…."
It is also observed that arrest or remand is being misused as a punitive measure, often politically motivated, whereas that provision in law is only to assist the investigation. Hence it is only the investigating police officer who can decide on it for public good.
A case in point was when I was SSP in charge of Nuwera Eliya Division during the latter part of 1994. I was new to Nuwera Eliya when a complaint was received that the manager of an estate was held hostage in his bungalow by estate workers surrounding his bungalow.
An interested party informed me by telephone that the police were not taking appropriate action to rescue the estate manager and arrest offenders, due to political influence. SP G. Meegoda was in charge of the relevant area. I remarked that I was prepared to lead the rescue operation with an armed party if SP Meegoda will not do so.
SP Meegoda pleaded with me explaining the mob instinct and the culture of those estate workers and, after an intense discussion, I accepted the bona fide reasoning of SP Meegoda. His strategy was to record evidence, identify the ring leaders, file plaint in courts for wrongful confinement and obtain summons on the ringleaders. I learnt that isolating the ring leaders and taking them to courts is a very effective deterrent against such mob action. The estate managers who were held hostage in this manner, were not subjected to personal harm, and being used to this mob instinct, bided their time, leaving it to the police to take appropriate action.
Had an armed party gone to the scene as instigated by the 'interested party', violence would have escalated and led to extreme action. Although we would have held our ground as lawful, wiser counsel prevailed. Well considered discretion exercised after intense discussion with my subordinate officer who had experience in handling such situations in these estates, leaving out outside influence, paid dividends in this tricky situation.
However complicated a situation is, police can handle it if discretion is left in the hands of investigating police officers.
(The writer is a Retired Senior Superintendent
of Police.
He can be contacted at
seneviratnetz@gmail.com)