Giving a voice and face to a vital but little known segment of society
View(s):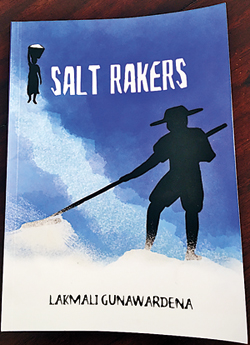 Lakmali Gunawardena's most recent novel, Salt Rakers features a neglected but vital segment of society.
In the first of three episodes making up the novel, 'Palavi', the salterns are part of the background landscape. In the second, Lunuketiya, the story centres on a family of skilled salt makers. In it are flashbacks, in addition to a visit to a salt factory. In the third, 'Kudaruppu', salt making is and has been, the occupation of some of the characters.
The first episode features two expatriate families — Chaya and Akram along with their son Danyaal from Australia, and Champi and Mith (Chaya's cousin) from the United States.  Champi's purpose in coming to Sri Lanka is to research a coastal plant 'gomara'. She has visited the island before, and we have encountered her in Lakmali's earlier novel 'Graffiti Writer'. This episode centres on their holiday in Palavi on Sri Lanka's north-western coast. Here we meet Umu, the house-keeper and her grandchildren Amjad and Zahara (Danyaal's playmates).
For me it was a rather purposeless episode enlivened by Lakmali's comments on our historical past, and society in general.
Linking the three episodes is Chaya's father Sudath Samarakoon, who has found accommodation for them in Palavi. Danyaal's anticipated lift back to Colombo with his grandfather does not materialise as Sudath's driver Siripala– another link– has received upsetting news of the recovery of the skeletal remains of his son in Lunuketiya. He had disappeared in the 2004 tsunami.
This brings us to the second episode, which climaxes with the said accidental discovery of the skeletal remains. Here we meet a typical village community, in which Simona, the grandmother, and Martin, an old relative stand out.
The final episode is set in an imaginary place like Lunuketiya in the Northern Peninsula. Kudaruppu is a community of resettled. This is the most interesting of the three stories. Mr Samarakoon and his driver Siripala are again the links. In this new settlement of the displaced, set among saltpans, Sudath Samarakoon is there in an official capacity.
Here we encounter interesting characters, a romance, and a surprising climax.
A sensitive poem enhances a satisfactory ending.
In conclusion I would like to comment on the striking cover designed by Lakmali's talented daughter Rasmi.
Salt Rakers, a Sarasavi publication priced at Rs. 375  is available at the Sarasavi Bookshop.                    Premini Amerasinghe
| | |
| --- | --- |
| Book facts | |
| 'Salt Rakers' by Lakmali Gunawardena | |