Appreciations
View(s):

Together we lived and fought

Wing Commander Eksith Peiris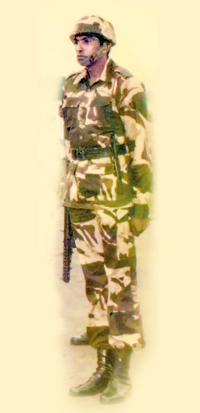 June 19, 1985, was perhaps yet another day for my brother Eksith, and he would have woken up to the plans he had for the day, at the detachment of the Sri Lankan Air Force in Batticaloa. The previous week he had faced the tragic loss of his colleague, Flight Lieutenant Viren De Mel, who had bled to death after a confrontation with the terrorists. His assessment of the incident was that there were no efficient casualty evacuation systems of troops in combat when under fire and hence was the cause of his death.
Haunting Eksith was this incident and he was devising methods and systems to evacuate casualties. That morning he was determined to train his Commando team in pursuing his plan. He had a hard morning's training, rappelling down from the helicopter at the end. Perhaps he misjudged the height, or the pilot lifted the helicopter inadvertently and Eksith came down to the end of the rope when it was around 30 to 40 feet above the ground.
He let go the rope and came crashing down. The man he was, he stood up walked up to the jeep and asked that he be taken to hospital. There was a series of misadventures that followed culminating in his death in the aircraft that was flying him back to Colombo.
The rest of what happened, I shall not dwell on.  It happened, he died, my parents, my sister and I, lost a son and a brother. Who would care beyond that?
He was the founding father of the Commando outfit of the Sri Lanka Air Force and was an officer who was a determined fighter on the ground. He was bold, daring and courageous beyond the call of duty disregarding the inherent disadvantage of his height – at six foot six inches, he often stood out like a sore thumb attracting enemy fire but that did not deter him from his drive to counter terrorists when the necessity demanded.
Throughout his career he had stood out; as a Cadet under training, carrying away all the awards including that of the Best Cadet; he excelled in his written work on courses he attended in India once again being awarded some form of a commendation as the best student. I knew that he was a trail-blazer, always looking for innovative systems to improve the ground combat role of the Air Force.
He lived and died for the job he loved.
We had wonderful times in our small family with a sister who was years younger than us. Even today, my mother at 94 years lying semi-conscious, my sister and I live in the hope of the meeting on that beautiful shore. When we lost him at that very young age, all of us were unable to understand the sorrow and the emptiness that befell us. There is no doubt that we are not the only ones in the 30-year confrontation to feel that way, but for us our sorrow and loss were too deep to comprehend.
I recall the time we decided to fly a kite. He was barely five and I seven and he wanted to join me. He crept through a barbed wire fence over a strand too high and the next I knew he was hanging there, his skin entangled in the barbs. He called out to me to disentangle him, but there wasn't a whimper. I tried my best but it did more damage to the extent that he ended up with eight stitches and yet there was no cry. That was a good start to his gutty life.
There were many such incidents I could relate. Once during school holidays, he and I were practising with a rugger ball and even at that stage he towered above me. I tackled him going too far below the knee and he broke his tibia in two. Not just fractured but the bottom part was dangling held by the skin. He hobbled on one leg till we found a car and took him to hospital. But no cry or agonising in pain.
He was tough, but gentle. He was very protective of my sister and I remember him dealing with six schoolboys who were teasing her when she was returning from school. My father had to appear on the scene and save the day – the boys by now were in a drain.
When we were young, my mother took great pride in dressing us in similar outfits and he was always made to stand a step behind me. He didn't care, never fought to get ahead of me, even in sport or academics, though I must admit he was the better at both. We grew up with great affection for each other. He was always the obedient, mild mannered younger brother.
As a family we grew up learning to obey God, love human beings and animals, relatives and friends, nature and creation. The values that our parents taught us stood us in good stead throughout our lives and these values I am sure helped us both as we served the nation in the services. It was not a job but a passion to serve the nation.
Family life was one of love and attachment, sharing and caring. We had our ups and downs; sometimes financially, at other times by misfortune but God never let us down. We were brought up in a faith that was unshakeable, never flaunted and taught to love the Lord with all our heart and with all our soul.
I remember when we were following our confirmation classes together my attention towards those of the fairer sex was distracting me. I thought it was quite natural. But my brother gave me a telling off that I never forgot.
I have so many memories that I can reflect on. I have left out our service life together which was in a sense the highlight. The times we fought together on the field, the times I defended his impetuous actions against the authorities particularly those in Parliament. There were many fools he couldn't suffer  – he had a fairly short temper.
He loved his family. He stood for what was right, with strong principles, never compromising on his honesty and integrity. He never let his men down and finally and above all, he loved his God.
This was a melody my mother would sing to the two of us:
"Why would I leave you crying
When there is room on my horse for two,
Climb up here and don't be crying
I can go just as fast with two,
When we grow up we will both be soldiers
And our horses will not be toys
And I wonder if we will remember when we were two little boys."
Rest in peace my brother,
we shall meet on that
beautiful shore.
 Sunil Peiris
---
Tribute to my guru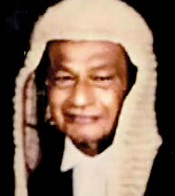 N. R. M. DALUWATTE, PC
I read with interest and sadness the appreciation by Vibhavi Ranasinghe in the Sunday Times of June 7, of my beloved guru of Property Law, the late N. R. M. Daluwatte, PC, titled "Hulftsdorp may never see the likes of this gentleman ever again".  I wholeheartedly agree with the sentiments expressed in her article about this great lawyer and visiting lecturer of property law during the 1970s.
My father, late S. P. Wijayatilake, Crown Proctor of Matale, had related to me long years ago, stories of how he had travelled to Japan with Mr. Daluwatte's father to attend the famous conference of the World Fellowship of Buddhists as delegates of the Sri Lankan contingent headed by Prof. G. P. Malalasekera in the 1950s.  Since then they had been in close contact and later his son N. R. M. Daluwatte became a close friend of my father's.
Being a leading civil lawyer in Matale, my father used to retain Mr. Daluwatte as junior counsel to Harry Jayawardene Q. C. in all his appeal cases in Colombo. I remember my father speaking very highly about my guru's honesty, integrity and conscientiousness as an efficient junior to Mr. Jayawardene who at that time was the leader in the Appeal and Supreme Court of Sri Lanka. I remember my father complimenting N. R. M. for his comprehensive study of the briefs sent to him. Often N. R. M. would send many a query requesting my father to instruct him further on the subject.
I came to know N. R. M. personally when I myself was a pupil of his when I was a law student from 1971 to 1974. N. R. M. was always fully prepared with his lectures on property law and it was very interesting as he was thorough and meticulous in his presentation. Among my batchmates who followed his lectures were late C. R. de Silva, former Attorney General, Shirani Thilakawardena, retired Supreme Court judge, Rienzie Arsecularatne P. C., Harsha Soza P. C.  and late Ranbanda Seneveiratne to mention a few. I can remember Ms Thilakawardena nee Burhan posing many an interesting question to Mr. Daluwatte after his lectures to which he responded swiftly and with humour.
I vividly remember in 1973 when I was busy getting ready to contest for the post of secretary of the Law Students Union, N. R. M. met me in the corridors of Law College and warned me that I was neglecting my studies and to get on with the main purpose for which I had entered Law College. I gratefully accepted his advice given in good faith and gave priority to my studies and ended with an Honours pass.
I would like to add to Vibhavi's view that Hulftsdorp may never see the likes of this gentleman ever again with "Law College may never see again a lecturer like N. R. M. Daluwatte PC," an outstanding guru.
I also noted Vibhavi reminding the reader that once he openly objected to an appointment of a judge to the Supreme Court and thereafter never appeared before that judge. That shows his independence and strength of character. He always followed the highest traditions of the profession and spoke on behalf of the legal fraternity when the necessity arose, a rare quality in a senior lawyer.   I hope Hulftsdorp will see many a lawyer with high principles and traditions as my late guru N. R. M. Daluwatte.
May he attain the Supreme
Bliss of Nirvana.
Indrakumar Wijayatilake
---