Call for urgent action as 22 injured in latest bus crash
By Chrishanthi Christopher
View(s):
The National Council for Road Safety has called an urgent meeting to address mounting accidents on the roads, the latest being a head-on crash on Friday between an SLTB bus and a van on the Dambulla-Habarana road.
"We are discussing with the relevant stakeholders how best to address the issue," the council's Chairman, Dr. Sisira Kodagoda said.
A total of 22 passengers were injured in Friday's accident, which occurred at 6am as the bus was heading to Trincomalee from Colombo.
On August 4, six passengers, including three women, were killed and 52 others injured when a private bus and an SLTB bus collided head-on at the Waskaduwa junction in Kalutara North on the Galle road. The SLTB bus was travelling from Elpitiya to Colombo.
On July 28, an accident late at night on the Medawachchiya-Anuradhapura road killed three passengers outright, with the fourth dying from her injuries this week.
According to police statistics the number of fatal accidents involving buses alone jumped from 194 in 2017 to 239 last year, resulting in 255 deaths. This year, 96 fatal bus accidents have been reported, with 100 deaths, as at June 30.
Despite the increasing number of road accidents in Sri Lanka , many involving heavy vehicles such as trucks, tippers, lorries and buses on long-distance routes, experts say the authorities have failed to address the problem seriously.
Professor Amal Kumarage of the Department of Transport and Logistics at Moratuwa University stressed the need for a comprehensive study on the root cause of the accidents that are taking more than 3,000 lives every year. "Every accident has to be investigated and lessons learnt so that it does not happen again," he said.
He said poor road design and visibility at junctions contribute to 60 per cent of major accidents, but all the authorities did was erect signboards at such sites to warn motorists that the spots are accident-prone.
"A shift of paradigm is needed to address the issue. 'Even a single road accident should not be tolerated," Prof. Kumarage said.
He said poor roadworthiness of vehicles and driver fatigue should be investigated. Airport trips are made in the early hours of the morning and sometimes drivers are even forced to do two trips between 3-6am, he said.
"We are not learning from our mistakes and taking steps to address them," he said. "We count only the numbers and complain."
Civil society should agitate for change, Professor Kumarage said, calling for people to use social media to exert pressure on the government and to insist that candidates in the forthcoming elections address the issue in election manifestos.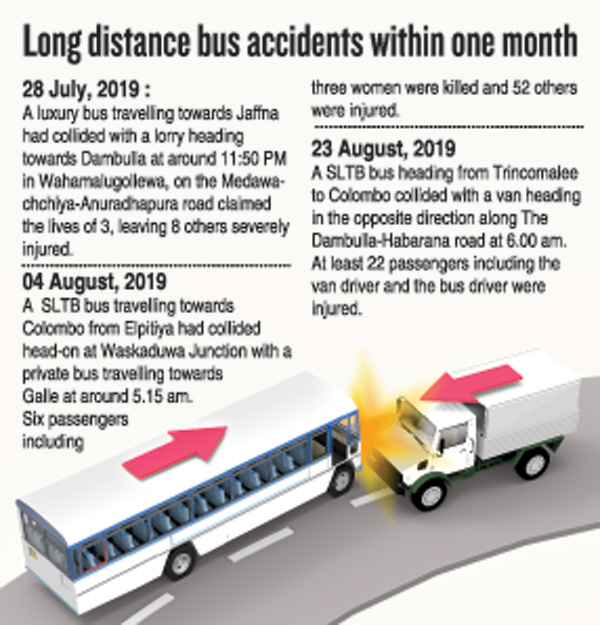 Mother dies in coma
The July 28 accident involving a party from Germany that had come to witness the Nallur festival claimed another victim this week when a young mother died without recovering from a coma.This brings to four the number of people who died in the accident at Wahamalugollewa on the Medawachchiya-Anuradhapura Road shortly before midnight on July 28. Thirteen people had been in the bus, which had picked them up from Katunayake for the journey to Jaffna.

The young woman who died this week, 32-year-old Sathiya, was the mother of the 12-year-old boy who died instantly on July 28 when the party's privately hired bus collided with a lorry carrying goods to the Dambulla market.

Others killed instantly in the crash were Sathya's 51-year-old mother and her sister aged 30 who had traveled to Colombo to pick up the party from the Katunayake Airport.

The boy's body was taken to Germany for burial, which had been scheduled for Thursday when the family heard that his mother had died. Mother and son were due to be buried in a joint ceremony last night in Germany.