Obama style Presidential campaign for Gotabaya Rajapaksa
By Our Political Editor
View(s):
Even SLPP leader Mahinda Rajapaksa unhappy about Sirisena's appeal for a Supreme Court opinion
Premadasa now pushing openly for nomination, but Ranil also stands firm; party division  deepens; no decision till next month
With contradictory responses President has woven a web and put himself in the middle
After last Tuesday's weekly Cabinet meeting ended, a handful of ministers turned up at President Maithripala Sirisena's upper floor office room in the Presidential Secretariat, once the hallowed precincts of Parliament.
"Are you going to support former Defence Secretary Gotabaya Rajapaksa as presidential candidate?" one of them asked. If the tenor of the question reflected an angry note, so was the reply. "Are you crazy?" asked Sirisena who then exhorted, "I will never do that. I have not taken such a decision."
The Minister alluded to last Sunday's political commentary where details of President Sirisena's one-on-one meeting with Sri Lanka Podujana Peramuna leader Mahinda Rajapaksa were exclusively reported. That was not only cause for concern for some United National Front (UNF) ministers but also to a known media activist now "living in self-imposed exile" in Europe. He queried in a tweet whether it was President Sirisena or Opposition leader Mahinda Rajapaksa "who"  is the actual reporter" for the "word to word confidential discussion." Unusual though, he was more worried about the source than the story. Other tweets followed, with some naming one or the other.
Separately, a senior Sri Lanka Freedom Party (SLFP) member asked President Sirisena, his party leader, whether it was true he was going to back Gotabaya Rajapaksa. "Do you expect me to back the UNP?" he retorted. No more questions were asked, nor answers given.
The two contradictory responses underscore the sticky political web President Sirisena has woven and placed himself in the middle. In embarking on strategies to extricate himself, perhaps with some restored pride and position, comes his latest uncalculated gamble. It is two pronged, with challenges directed at both the SLPP and the UNF albeit the proposed Democratic National Front (DNF). It is also a recipe for disaster for the SLFP where, like a bomb, a destruct mechanism has been triggered.
That it comes after President Sirisena had a one-on-one meeting with his predecessor Rajapaksa, on Monday (August 5) should not be surprising. Not because such moves are accompanied by well thought out cunning political strategy. Rather, such moves are borne out of what has become a new Sirisena culture — impulsive ad hocism. He did offer the SLFP's support to Gotabaya Rajapaksa's presidential candidature. This was in return for an electoral arrangement where SLFPers would be accommodated together with the SLPP list at the next parliamentary elections.  He also wanted to sign an MoU with SLPP leader Rajapaksa and another with candidate Rajapaksa. Sirisena will chair a joint committee together with Rajapaksa to put the final touches to the proposed SLFP-SLPP partnership. That will not change. Yet, these notwithstanding, President Sirisena has not given up looking for better opportunities.
Only a few matters relatively unimportant could now change. For example, a suggestion to invite Gotabaya Rajapaksa to address the SLFP convention on September 3. The reason for this was to get him to explain his policies and what is in store for the SLFP. There was opposition within. On Tuesday, President Sirisena chaired a meeting with senior SLFPers to discuss arrangements for the September 3 events. MPs have been told earlier that they should bring two busloads each to the Sugathadasa Indoor Stadium. This week, UPFA General Secretary Mahinda Amaraweera said crowds "will be small" due to "space availability." He said party anniversaries as well as May Day rallies brought crowds of 50,000 to 100,000 before. "We will invite the most active SLFP groups who are making sacrifices for the party." That remark lays a new criterion for those expected to attend or is it a way of saying the event would be for selected invitees? With the SLFP membership now dwindling, the reasons are obvious.
This also laid bare another development which had remained a secret — the reason why the SLPP did not invite the SLFP for its annual convention last Sunday. At the highest levels there were fears that President Sirisena would turn up with that invitation. Seating arrangements would have to be changed and there were fears, Sirisena would have to be given the opportunity of a speech. Many were not certain what he would say whether he would fire any broadsides at the SLPP. His presence would have also taken the focus away from the announcement that Gotabaya Rajapaksa would be the SLPP presidential candidate.
As for President Sirisena, giving Mahinda Rajapaksa a time for a one-on-one meeting became imperative for only one important reason. There was less than a week by then for the first annual convention of the SLPP. Any move had to be made before it lest the opportunity slips by. In fact, an emissary of President Sirisena had spoken to SLPP architect Basil Rajapaksa and urged that the SLPP's annual sessions be put off for another date. That is to allow him time particularly in the light of the simmering crisis within the United National Party (UNP). If Sajith Premadasa were to emerge as the candidate, there was still a chance. This did not materialise. Hence, Sirisena seized the opportunity of a one-on-one meeting before the SLPP candidate was named. That way he clinched the first part of the deal with the SLPP but unbeknownst to others was fishing for more.
Even whilst working the deal with SLPP leader Rajapaksa, President Sirisena was at the same time, toying with the idea of seeking a determination from the Supreme Court (SC) over the early conduct of Provincial Council (PC) polls. As revealed exclusively in a front-page report of the Sunday Times last week, he did so. The SC will hold public hearings from August 23 (Friday). Chief Justice Jayantha Jayasuriya has named a five-judge bench comprising himself, Justices Buwaneka Aluvihare, Sisira de Abrew, Prasanna Jayawardena and Vijith Malalgoda. The case comes in the wake of Parliament's rejection of the Delimitation Commission report and the non-adoption of a new electoral system.
The Delimitation Committee report was meant to demarcate provincial boundaries prior to conducting Provincial Councils polls. It required a two-thirds majority in Parliament to pass, but when it was taken up on August 24, 2018 it ended up being universally rejected, with 139 MPs voting against the motion and no one voting in favour. Even the Minister presenting the report voted against it.
With the report being rejected by Parliament, a five-member Committee chaired by Prime Minister Ranil Wickremesinghe was appointed by Speaker Karu Jayasuriya to review the report and submit to the House its observations and recommendations. However, the committee is yet to do this. Thus, as is clear, the issue has revolved around Parliament, one of the three pillars under the Constitution with others being the Executive and the Judiciary. Therefore, President Sirisena is asking the Supreme Court to determine whether he could lay by a decision of the legislature.
Accordingly, President Sirisena has sought the opinion of the Supreme Court whether the PC poll can be conducted under the old (Proportional Representation) system without having to gazette the Delimitation Committee's report.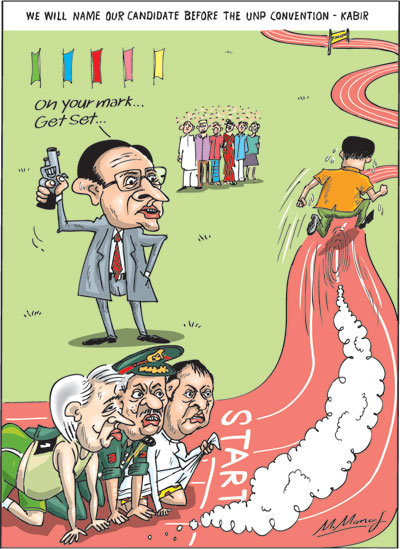 Opposition and SLPP leader Mahinda Rajapaksa told the Sunday Times, "There is a presidential election due. Let us have that first. Thereafter, we can decide on the PC polls. The Tamil National Alliance (TNA), which demanded PCs, has supported the ruling UNP to put off elections to the PCs and thus prevented elected representatives from functioning as members. That act clearly showed that they could wait without the PCs. Therefore, what is the hurry now?"
President Sirisena was badly irked that MPs from his party attended the SLPP's inaugural convention last Sunday. He has taken up the position that all should have joined in a partnership together. From Cambodia, where he was on a state visit, he telephoned former Minister Sarath Amunugama to urge him not to attend. The former Minister, however, did not pay heed to the President's appeal. There was also another controversial Buddhist monk, who was much in the news after events in Kandy. He wanted to attend. SLPP leaders persuaded him to keep away without saying that his presence was not required. Another to whom Sirisena made a telephone call from Cambodia was Kandy District parliamentarian Anuradha Jayaratne, son of onetime Prime Minister D.M. Jayaratne. He had admonished him for accompanying a group of former Central Provincial Council and Pradeshiya Sabha members who had wanted to join the SLPP. They had a meeting with Basil Rajapaksa. It came to light that President Sirisena had asked SLPP leader Mahinda Rajapaksa not to invite SLFPers (individually) to the SLPP's first convention. However, the message had not reached him, and the emissary had conveyed it to someone else.
Without speculating on how the SC will rule on the constitutional legalities, it would be worthwhile to examine the political implications of President Sirisena's move. In the event of the conduct of PC polls becoming possible, for the SLPP, which currently holds a comfortable edge over its rivals at the presidential election, it is nevertheless bothersome. The comfortable edge is for two reasons. One is the backing the party has from its support base and from its constituent parties. The other, more significantly, is the rapidly growing unpopularity of the government which has come as a recurring bonanza for the SLPP. More and more actions by the government, like for example the fuel price rise this week, are contributing to it.
The SLPP has literally begun its presidential election campaign and made elaborate plans for it. This week has been dubbed by the SLPP as Aagamika Sathiya or Religious Week where its candidate has been taking part in religious activities. Yesterday, Gotabaya Rajapaksa visited the Kande Vihare temple in Alutgama and the Ketchimale Mosque in Beruwala. After a break next week (allowing for court cases), other phases will begin with a youth conference on August 24 at Nelum Pokuna Theatre to be followed on August 31 by an all island women's conference. The Convention Centre at Colombo's D.R. Wijewardene Mawatha is to be the venue thereafter for different meetings of trade unions, farmers, three-wheeler drivers, co-operative workers, plantation sector workers, private bus operators, agriculture officials and Samurdhi officials. Both SLPP leader Mahinda Rajapaksa and candidate Gotabaya Rajapaksa will address these meetings.
If the PC polls were to come first, the SLPP would have to change gear and its campaign costs will rise. Nevertheless, the party would have to reluctantly fall in line. What is the challenge President Sirisena is posing to the SLPP which is already an ally in the making? Some senior SLPPers believe he is "still trying hard to increase his bargaining power to achieve something." Asked how, one of them replied "He knows we have, despite pressure, resisted him from being considered a joint presidential candidate. Our leader offered help on measures for his political future. It is clear he is still pushing the bar upwards. We don't know what that is. If he wants PC polls first, we are ready. Let him tell us what he has in mind."
Despite this posturing, there are also some serious apprehensions at the highest levels of the SLPP over what they call "unpredictable actions" of President Sirisena. They fear that an outbreak of violence, such as post-election violence in the case of PC elections, or an unforeseen development may be used by him as a handle to extend his term of office as President even for a shorter period. In fact, he thought of the possibility till June 2020 since he had taken his oaths before the 19th Amendment to the Constitution took effect. However, an SC determination put paid to it.  The question for them is what recourse there would be in the event of such an unlikely event.
Another factor weighing high in the SLPP is this week's directive by Attorney General Dappula de Livera to acting Police Chief, Chandana Wickremeratne that a string of high-profile cases be expedited. All these cases relate to members of the Mahinda Rajapaksa family including presidential candidate Gotabaya Rajapaksa. The same source said, "They made these accusations during presidential and parliamentary election campaign. For the past four and half years, they have been speaking from platforms. Once again, they are making it an election issue."
Nevertheless, the SLPP has chosen to go ahead with its partnership with the SLFP, a move that would eventually wean away members from Sirisena's fold. Last Thursday, UPFA General Secretary Mahinda Ameraweera told a news conference "people are asking whether we are going to join the SLPP or remain in the SLFP" He said, "There are talks held regarding candidates. People will get to know our future actions and our stance on September 3." Amaraweera added, "We are not concerned over who the presidential candidate is. What really matters is who would agree to an acceptable work plan." However, he claimed "we will not allow the SLFP to dissolve into another party."
A PC poll, before presidential elections, could spell disaster for the UNP for several reasons. In the February 2018 local council elections, the party polled a meagre 32.63 percent of the votes in 340 local bodies. The SLPP won 40.47 percent. Since then, the UNP's grassroots level organisation has remained virtually dysfunctional except in a handful of areas. Thus, how many PCs the UNP could gain control of remains to be seen. A setback would also aggravate the leadership crisis for Prime Minister Ranil Wickremesinghe. Already, he is at the eye of a storm over the presidential candidacy. In such an event, a gain by the SLPP would be a bonus for it ahead of presidential polls. President Sirisena would have ended up creating a network at the grassroots level with PC polls electing new members perceived to be more SLPPers.
More than the SLPP or the UNP, the conduct of the PC polls early could become a catastrophe for the SLFP. It is well known that a sizeable number of SLFP councilors have joined the SLPP and many others are in the queue. The party's branch level organisations are in disarray after some of the members began clandestine relationships with either the UNP or the SLPP. That also obviates a main support base should the SLFP choose to field a presidential candidate. At present such a prospect, however, is virtually nil. The SLFPers' backchannel moves were prompted by the absence of a cohesive policy by Sirisena, leaning from one side to another. They began to talk to either the UNP or the SLPP just to make sure their positions in their respective electorates remained intact and they would be re-elected.
Quite clearly, the SLFP faces a bleak future. Adding to that grim scenario is another factor — key stalwarts in the SLFP, even now, are playing a dual role. One is carrying out the writ of President Sirisena, the party leader. The other is the secret dialogue they are having either with the UNP or the SLPP. One stalwart in particular finds he would not be able to become an SLPP candidate in the North Western Province and is wooing the UNP. Another, who failed with the JVP to form an alliance, is now in backchannel talks with the SLPP.
Other than the likely scenarios for the major political parties in the event of an early PC poll, preparations for the presidential election are getting under way. SLPP leader Mahinda Rajapaksa, seems to be playing the role of political guru for brother Gotabaya. After announcing last Sunday that Gotabaya would be the SLPP candidate, he accompanied him during his trips to Anuradhapura, then to Kandy and Kataragama. Although the visit was to take the form of a motorcade, there was a last-minute decision to cancel it due to fears of traffic jams it would cause. One politician in Dambulla had even arranged for a lengthy escort by motorcycle riders.
Rajapaksa sat down with Gotabaya before members of the clergy including the Mahanayake Theras of the Malwatte and Asgiriya Chapters. In Kataragama, where there were large crowds, he stayed overnight in the precincts of the sacred area where the chief incumbent had built a large room earlier for use by Rajapaksa. Two Opposition partner groups will also hold welcome ceremonies for Gotabaya Rajapaksa. The first will be at 2.30 p.m. at the Buddhadasa Stadium in Kaduwela on Sunday September 1. Another on September 8 will be from the National Freedom Front (NFF) led by Wimal Weerawansa at the Sugathadasa Indoor Stadium. The two brothers and their supporters returned to Colombo on Friday evening and left yesterday for their ancestral abode of Medamulana. They will travel in a motorcade to Colombo.
An interesting feature of the SLPP campaign is the drawing of various parallels from US President Barrack Obama's polls campaign. At least four different video tapes of how he conducted his rallies were played to a group of party organisers. Thus, their presidential candidate Gotabaya Rajapaksa walking to the stage coming out from a room, sans bodyguards, to accept his candidature was inspired by one of the videos. The campaign slogan is "Yes, we can." Interesting enough, a brief video of the Sri Lanka-Bangladesh 50 over cricket match where crowds booed President Sirisena was also screened. The idea was to educate the organisers on how to react to a situation. There were some hiccups too. Some of those who worked till past lunchtime at the Indoor Stadium with their Identity Cards hanging from cords around their neck, took a break to make a change of clothes and return. However, Police had taken over by that time. It took a while for them to resolve identity issues.
For the UNP, the issue over the selection of a presidential candidate is exacerbating. Last Monday large crowds turned up at Badulla Wills Park grounds for what was dubbed as a 'welcome rally' for Sajith Premadasa. He did not hide his feelings about being a presidential candidate. During his speech, he said, "I am 52 years old, I am not afraid to die. Just like my father I will be with the people. With the people's support I will reach the required destination by November. Under my rule, humanity will be given priority. We will continue to rule as a strong government while ensuring national security and developing the economy." Even if he has not been named a candidate, he has said what a candidate should say.
Other speakers identified him as the UNP's presidential candidate amidst ovation from the crowd. One of the matters that drew criticism over Premadasa's attendance at the meeting was his sartorial appearance. He appeared with a faded blue denim and a black tea shirt, probably to identify himself with the youth. Field Marshal Sarath Fonseka, a backer of Premier Wickremesinghe, criticised Premadasa for the attire. It came at a time when many social media outlets were urging Premadasa to give up the dress of a government hospital attendant (white trousers and white shirt). The next such rally is being arranged in Matara by Finance Minister Mangala Samaraweera.
If Premadasa claimed he was the presidential candidate for the UNP, Premier Wickremesinghe made clear it was him when he was on a two-day visit to the Jaffna peninsula. During a Q & A at a public meeting arranged by the TNA, he assured that he stood for devolution of power and would provide a new constitution which would meet Tamil aspirations. The north in particular could easily be regarded as a strong support base for Wickremesinghe. In marked contrast, residents (who are voters) did not favour nearest rival Premadasa. One of them I spoke to on the telephone said, "We are not sure whether he is livid with us after the Tiger guerrillas assassinated his father." Another said "he has not made any public statements either in Parliament or outside to say he would look into the welfare of the Tamil people. A third added "he has been ignoring our presence all the time." On the other hand, Premadasa who focused mostly on issues like house construction and related matters has failed to touch on matters of national importance, not necessarily out of any policy or ideology. He has confined his focus to only a handful of matters.
Earlier this week, Premadasa is learnt to have had a one-one-one meeting with President Sirisena. Aides of both leaders remained tight lipped and refused comment. Others say that these meetings are a regular occurrence. According to one highly placed source, Sirisena had told the UNP deputy leader he has not yet made up his mind on whom to back during the presidential election. Those remarks are a veiled confirmation that he would not contest. This meeting, the source said, lasted more than an hour. Even if Premadasa does not realise it, any public exposure of his interactions with President Sirisena would be anathema to his campaign if he ends up as a presidential candidate. This is particularly in view of the UNP parliamentarians and supporters largely disliking Sirisena and blaming him for the government's plight.
Premadasa also had a meeting with Minister Patali Champika Ranawaka, leader of the Jathika Hela Urumaya (JHU). "I made clear to him that personally, I have no resentment towards him. My worry is about fears that the country may go bankrupt. We need a fiscal plan to avert that economic disaster," Ranwaka told the Sunday Times. He said that to be strong, "we need a broad alliance." He said he told Premadasa that an action plan was necessary besides the need to have qualified professionals to hold Cabinet portfolios and to appoint head of institutions like the Central Bank. "If these are agreeable," Minister Ranawaka said "I told him our party is willing to hold further talks." He was also sceptical about different groups seeking different MoUs with a new government. He identified the TNA, Muslim parties and the plantation sector parties among them. He said they would have to be taken into consideration bearing in mind the interests of the Sinhala electorate.
The explanation of the JHU's position means that the party is making the same request from Prime Minister Wickremesinghe. Premadasa also had talks with Minister Rajitha Senaratne. A staunch Premadasa backer said, "He has come around to our line of thinking." In fact, addressing a public meeting in Matugama to mark the opening of a bridge, Senaratne said, "Elections are coming soon. Our party does not have serious problems. Any problems will be resolved within the party. We will give you the winning candidate. We will create a winning Government. We will not contest to be defeated. We will defeat Gotabaya Rajapaksa."
With Senaratne, among the other ministers backing Premadasa are Kabir Hashim, Malik Samarawickrema, Mangala Samaraweera, Thalatha Athukorale, Ranjith Madduma Bandara, Chandrani Bandara and Harin Fernando. On the other hand, among ministers backing Wickremesinghe are Sagala Ratnayake, Akila Viraj Kariyawasam, Ravi Karunanayake, Vajira Abeywardena, and Lakshman Kiriella.
In what seemed an unusual move, MPs and Working Committee members have signed a letter urging Premier Wickremesinghe to summon a joint meeting. The letter, however, does not name a candidate but points out that the purpose is to decide on a presidential candidate. A date is yet to be fixed. Highly placed UNP sources close to Premier Wickremesinghe said it was unlikely they would meet this month. They say a decision would not come until September.
Yesterday, both backers of Premier Wickremesinghe and his deputy Sajith Premadasa met at the residence of Minister Rajitha Senaratne. Among those taking part were Ministers Ravi Karunanayake, Champika Ranawaka, Naveen Dissanayake, Arjuna Ranatunga and representatives of party that want to form the Democratic National Front (DNF). There were heated exchanges, but no decisions were reached.
This only means that the agony of a wait for both the UNP and its leader Wickremesinghe will continue. Many are not visible on the presidential campaign trail. That delay does not bode well for the grand old party with its members and the support base split in two, arguing among themselves and getting demoralised by the day. Even the would-be partners of the DNF are insisting that a presidential candidate should be decided upon before the alliance could emerge. Another grand old party, the SLFP, is also in the throes of a deep crisis when a replacement has emerged in the form of SLPP. Little wonder, President Sirisena has his plate full, no matter even if he is not a presidential candidate.