Shelton Kodikara Memorial Oration explores science-politics connection
View(s):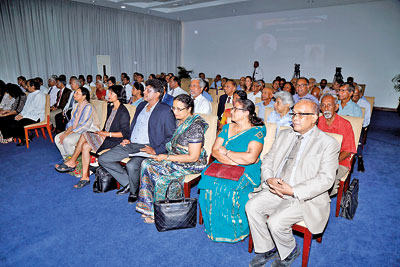 Prof. Veranja Karunaratne (fourth from right) before
he delivered his keynote speech
The 2019 Shelton Kodikara Memorial Oration organised by the Colombo-based Regional Centre for Strategic Studies was delivered by SLINTEC Academy Vice Chancellor and senior Chemistry Professor Veranja Karunaratne on Tuesday at the BMICH.
The Kodikara Memorial Oration was established by RCSS in 2015 to honour Professor Shelton Upatissa Kodikara, the founding director of RCSS.  He was the first professor of International Relations in the university system of Sri Lanka.
The focus of Prof. Karunaratne's speech was "World Affairs in Post-Modern Diplomacy: Science and Politics".  He explored key thematic areas ranging from the development of atomic weapons and information technology to science diplomacy, climate change and Disruptive Technologies. He illustrated how science influences politics and how politics makes science and technology a decisive factor in global and domestic governance.
The event was attended by Prof. Kodikara's wife Rowena Kodikara, her family, Foreign Secretary Ravinath Ariyasinha and RCSS Board of Directors.  Several academics and scholars were also present.