Samantha assumes duties as Lanka's ambassador for Thailand
View(s):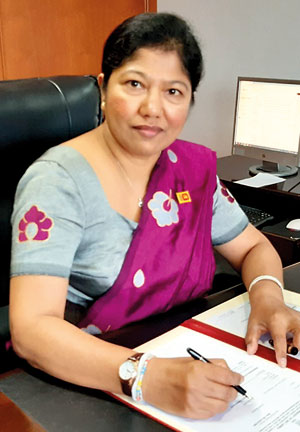 Samantha K. Jayasuriya, Ambassador-designate to Thailand, assumed duties at the Sri Lanka Embassy on Thursday. Addressing the staff members, she said she would take measures to further strengthen the cordial relations between Sri Lanka and Thailand through cultural and religious ties, trade, investment, tourism and partnerships in technical cooperation.
Ms. Jayasuriya is a career diplomatic officer with 21 years of experience.
Immediately prior to been appointed as the Ambassador-Designate to Thailand, she served as the Deputy Permanent  Representative at Sri Lanka's United Nations Office in Geneva.
She holds a Masters of Arts Degree from University of Japan (IUJ). Prior to joining the Foreign Service, Mrs. Jaysuriya served in the Economic Affairs Department of the Faculty of Agriculture, University of Peradeniya, as an Assistant Lecturer. Having obtained a Diploma in Journalism, Ms. Jayasuriya also practised briefly as a freelance journalist.
She is a past pupil of Devi Balika Vidyalaya, Colombo and Kottawa Dharmapala Vidyalaya.