Reckless drivers at wheel drive buses to death
By Asiri Fernando and Shaadya Ismail
Fatalities rise as profit outweighs safety in bus wars
View(s):
Concern is growing over multiplying deaths caused by private buses charging up and down the country, many allegedly driven by inexperienced men hired cheaply, with drivers forced to meet ruthless profit-driven timetables that ignore basic needs.

"When there aren't two drivers for long-haul runs, sometimes the bus drivers urinate into bottles in their seats because they don't want to lose time stopping to use public facilities," one driver interviewed by The Sunday Times said.
"Some drivers take pills to stay awake or chew mixture of leaves and cannabis to reduce the aches and pains of being at the wheel for long," the driver, Wasantha Weerasinghe, said.
In a surprising admission, the head of a bus owners' association told The Sunday Times that one in 10 drivers on Colombo and suburban routes took drugs.
Last year, the number of fatal accidents involving buses jumped from 194 in 2017 to 239, resulting in 255 deaths, police said. This year, up to June, there were 96 fatal accidents involving buses, causing more than 100 deaths.
"The main reason is that bus owners are pushing the drivers to deliver increased profits on a daily basis," Deputy Inspector-General of Police Ajith Rohana told The Sunday Times.
The National Transport Commission (NTC) also says unhealthy competition between individual bus operators contributed to reckless driving, with the commission's Director of Quality Assurance, Sherin Athukorale, saying public complaints on the issue had risen sharply.
Fatal bus accidents have occurred at the rate of one a week recently, according to an unofficial tally based on media reports. Police figures are published every quarter.
Particular concerns have been raised about the nexus between long-distance bus driving – mostly involving private buses – and fatal accidents.
"There's a subculture of expediency and lack of regard for the law among some long-distance bus drivers," DIG Rohana said.
These drivers are prone to fatigue as they drive across the country with little rest and quick turnaround times.
"Many are seen using their mobile phones while driving and attempt to outrun other buses on the same route to get to would-be passengers waiting by the roadside," he said. They stop in unexpected places to pick up and put down passengers, causing confusion to other road users, he added.
Loud music booms through the buses, distracting the driver and being a nuisance to passengers. Illegal modification of buses is widespread, causing danger.
According to police records, in 2017 and 2018 the number of private buses involved in fatal road accidents were markedly higher than their government-run SLTB counterparts.
A source at the Police Narcotics Bureau (PNB) said police knew full well some long-distance bus and lorry drivers used drugs to keep going but lacked portable test kits to check for drugs at the roadside.
At present a suspect has to be produced before a Judicial Medical Officer (JMO) and a report obtained to find out if there is any intoxicant in the driver's system (see box).
The rapid promotion of inexperienced drivers who were employed as conductors is said to be a major factor in reckless driving.
"Some of the young men agree to work for a lower daily wage or smaller amount of commission," one driver, Gamini Jayatissa, disclosed.
"The bus owners replace experienced drivers with inexperienced ones simply to increase their profit margins," said Mr. Jayatissa, 52, who has been in the trade for 17 years and has run long-distance routes for the last six of them.
"There is always someone desperate enough to work for lower pay or commission, which results in drivers fixated on rupees rather than safety of lives," he commented.
Mr. Jayatissa said most long-distance drivers lacked adequate rest. He wants it to be a mandatory requirement that two drivers be appointed to long-distance routes.
"There should be a break of at least two hours before there is a turnaround. The road network isn't well planned and there are too many vehicles on the road so we have to navigate congested roads while trying to stick to a schedule. A long drive makes us tired but we have no facilities to rest when we get to our destination," he lamented.
Mr. Weerasinghe, 36, who has witnessed these conditions in his 12 years of driving buses, agrees.
"There is a high turnover of bus drivers. Many who gain experience are quickly replaced by inexperienced ones by the bus owners," said Mr. Weerasinghe, an intercity bus driver who plies the Colombo-Matara highway.
Mr. Weerasinghe argues that there is no recognition for their profession and says it lacks professionalism.
"There is nothing to aspire to: all we get is blame from the public and abuse from the owners and intimidation by the police," he said.
He pointed out many city bus stations lacked adequate facilities for the bus drivers to rest during a turnaround and described how drivers resorted to drugs and desperate measures to stay awake and on schedule.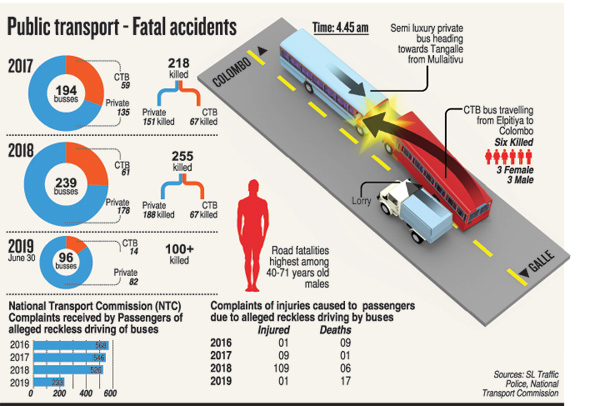 Both he and Mr. Jayatissa questioned why the government and other state stakeholders only engaged in dialogue with bus owners. "Why are we excluded from these discussions? No-one consults us or asks for us feedback. This industry needs so much change," Mr. Weerasinghe argued.
Nihal Gamini, a resident of Kekirawa who has driven buses for the past 18 years, said drivers operating without rest breaks caused accidents.
Many drivers take alcohol and drugs to keep awake on long-distance journeys, he said, echoing Mr. Weerasinghe.
"We are pressured by our owners to earn a daily income of at least Rs. 10,000 on top of our daily wage and expenses for diesel," he said.
Chathura Sandamal, who has driven the Kataragama-Colombo route for three years, said when the demanded amount is not handed to the owner, drivers are blamed for being inefficient.
"Chewing betel and smoking cigarettes helps us to focus on the road. The drives are tiring and it's a difficult stretch for a single driver to complete a long-distance journey," he said.
Private bus owners concede that buses racing on the road and driver fatigue are the main causes for accidents but cast blame on the government and Sri Lanka Transport Board (SLTB) unions.
Lanka Private Bus Owners' Association Chairman Gemunu Wijeratne claimed that due to the highly politicised nature of SLTB trade unions the board and private bus companies had been unable to implement a common timetable for all buses.
He said the Supreme Court had ruled in 2009 that joint timetables be implemented.
"It's been 10 years since the judgement and nothing has been done about amending the system of overlapping timetables," Mr. Wijeratne said.
"The government ought to develop public transportation. The number of people dying due to accidents is higher than the number of those who were killed during the civil war."
Mr. Wijeratne acknowledged the use of drugs among bus drivers and commented on the unavailability of means to detect drug-taking on the spot.
"Around 10 per cent of the drivers on the Colombo and the suburb routes consume drugs and we have raised concerns over the issue on several occasions and no action has been taken," he said.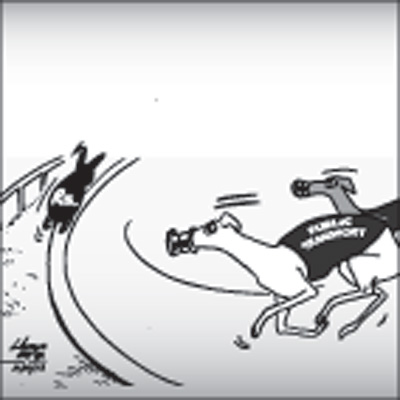 The owners complained about a lack of facilities for bus drivers on long-distance journeys.
"Drivers have no facilities of resting rooms. Many don't have places to stay overnight or even washrooms, that is how pathetic the situation is," the Chairman of the All-Island Private Bus Owners' Association, Stanley Fernando, said.
He said that while driver fatigue led to a large number of accidents, the current state of infrastructure contributed to such incidents.
"Roads must be broadened to allow two vehicles to simultaneously travel on either side," Mr. Fernando said.
Police are planning to fully implement a proposed demerit point system for driver licences by the end of next year with the aim of reducing accidents, reckless driving and improving driver discipline.
"There are eight million vehicles registered in Sri Lanka and the infrastructure, road network and attitudes need to improve," DIG Rohana said. He said a new regime of fines had been put in place.
"There are 9,000 especially trained traffic police officers who patrol the streets and every police officer in uniform can also implement the traffic laws," he said. Police are trialling traffic police bikes with CCTV cameras to collect video evidence needed for prosecution, he added.
Don't blame us, say smaller vehicles
Three-wheelers and motorcyclists accuse police of blackguarding them unfairly over road accidents, claiming they have the highest casualties because they have the most vehicles.By July, 4.5 million motorcycles, 1.1 million three-wheelers and 111,100 buses were on the road, statistics from the Department of Motor Traffic show.

The head of the All-Island Three-Wheeler Drivers Union, Lalith Dharmasekara, claims a cosy relationship exists between bus drivers, bus owners and police, enabling buses to be exempted from traffic offences.

"It's like organised crime," he said.

Mr. Dharmasekera said laws must be strictly applied to public transport because carrying a large number of passengers brought a bigger responsibility for ensuring safety.

Ceylon Motorcyclists' Association President Chirantha Amerasinghe said motorcyclists fell victim to bus drivers speeding to keep to timetables.

"Authorities must start differentiating between the causation and the correlation of an accident. Causation is in every accident is objective whilst the correlation factors in an accident may be many and are subjective," he said.
No roadside drug testing yet
Police lack the portable drug-testing capability used by police in other countries to check drivers, the Police Narcotics Bureau said.

In many parts of the world such as the European Union, Australia, Canada and even in The Philippines any driver, include those in charge of public transport vehicles, have to undergo random drug tests at the roadside by police mobile units.

Saliva swab testing kits are used to check if a person has used a narcotic substance. In some countries, such testing is carried out at random at work sites by compliance inspectors. Private organisations involved in high-risk work also carry out these checks.

Deputy Inspector-General of Police Ajith Rohana said the Police Department has begun a procurement process to select and acquire a suitable testing kit that would enable traffic police to check drivers for intoxication from up to a dozen types of narcotics.

A narcotics detective speaking on condition of anonymity contradicted this, saying progress was slow and that procurement and training were yet to begin.