Sirisena now agrees to support Gotabaya as presidential candidate
By Our Political Editor
View(s):
 Mahinda Rajapaksa to announce former Defence Secretary's name at SLPP convention today
Says talks with President Maithripala Sirisena "very successful"
Sirisena to sign MoUs with SLPP and its presidential candidate
Ranil or Sajith – the tussle continues as both insist on contesting
Mahinda promises Tamil parties 13 Plus
This year's presidential race has assumed an unusually unique feature, the steady escalation of inter-party wars within the ruling coalition.
It is ironic for it is mired by issues over the political future of the potential candidates, not their parties or other national issues. It is tragic, for these very personal factors prevented them from delivering on public pledges. An example is booking those responsible for high profile cases of bribery and corruption. These were pillars of a highly charged presidential and parliamentary polls campaign in 2015 together with promises of good governance. It swept them to power.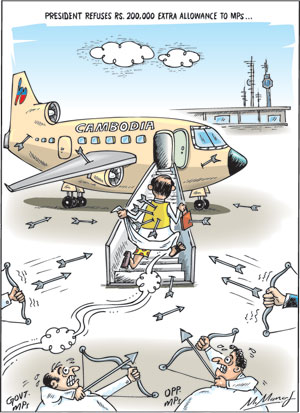 Four and half years have gone by. That both bribery and corruption have continued to humongous proportions is not a secret. There are more billionaires and millionaires in politics now compared to a few during the previous administration.  Lack of good governance, it has now been publicly conceded, was the cause for the deaths of 268 men, women and children on Easter Sunday, April 21 carnage. None other than Premier Ranil Wickremesinghe made that damning confession amidst conflicting accounts transpiring before the Parliamentary Select Committee as well as the Criminal Investigation Department (CID) probing the carnage. Cardinal Malcolm Ranjith, who speaks fearlessly for those who died and injured, said he was unhappy with the investigations. Opposition Leader Rajapaksa has declared he would ensure an independent Commission of Inquiry, if voted to power, to determine the truth behind the events. Those who admit to responsibility appear to have botched up inquiries, too.
IS connection
Those reactions are not surprising. Ravi Seneviratne, the senior Deputy Inspector General (DIG) in charge of the CID, declared publicly that there was no evidence to link the Islamic State (IS) to the Muslim miscreants who carried out the Easter Sunday carnage. It is the same senior DIG, once an Intelligence Officer in the Sri Lanka Embassy in Thailand, who told President Sirisena that an Indian intelligence agency may be involved in a plot to assassinate him. In turn, President Sirisena accused the agency, Research and Analysis Wing (RAW), at a Cabinet meeting in October last year. The charge put Indo-Sri Lanka relations on edge.
This was after the arrest of Namal Kumara, self-proclaimed anti-corruption activist, who had reportedly laid bare the plot. From May 14, Kumara is detained under the Prevention of Terrorism Act (PTA) for alleged involvement in attacks on Muslims.  Even an Indian national, known to be of unsound mind, was arrested, detained under the PTA and released on grounds that there was not a shred of evidence. So much for his knowledge about foreign involvement from an officer now on a year's extension of service after retirement.
The Sunday Times learnt from authoritative sources that the Directorate of Military Intelligence (DMI), which reached a high level of sophistication during the near three decades of separatist war, acquired substantial intelligence. It found strong evidence of IS links to local Muslim extremists and even profiled some of them. They had links with IS fighters in foreign theatres of conflict.  However, since the yahapalana  (good governance) government was voted to power, the role of MI was downplayed or even ignored by powerful sections of the political leadership ostensibly on the grounds that it was "not healthy for a democracy." However, the truth is different. It was for personal reasons. Thus, valuable intelligence information remained only in their computers. That the National Security Council did not meet to regularly review the security situation did not help either. This is in addition to a robust military machine, built at a cost of billions of rupees to make the country safer for the people, being left helpless until after the massacres occurred.
The law and order situation deteriorated, and the Police were reacting only after major incidents occurred. Murders are on the rise and deaths from mounting road accidents rose to newer levels. The drugs menace proliferated. The Police were politicised. They have become a tool of the politicians. The key civilian intelligence service has been used to pry on the perceived enemies of political leaders than uncover threats to national security.
The inevitability of security disasters is compounded by the stunning reality that some at the higher levels do not have the intelligence, or common sense, to analyse and appreciate intelligence information. Political sycophancy has won them promotions and perks. The lapses have surfaced. Now, a presidential election is due within weeks. A turbo charged Attorney General's Department is filing indictments on long investigated cases. More are to follow.  Those who complained of a worsening economy after the "constitutional coup" last year, are talking of pay rises. Jobs are being dished out in their thousands not necessarily to the most eligible but to political cronies in return for their votes.
President Maithripala Sirisena, declared confidently last year that an SLFPer would be the next President.  Since then, like night following day, he has said "Yes" and "No" countless times to his own candidature in a tenure studded with contradictions. This week seemed a crucial one, for he may not have to make such contradictory remarks anymore. This is if he does not change his mind again. He will not contest the presidential election. He has reached "an accord" with his predecessor and Opposition Leader Mahinda Rajapaksa that will ensure what he perceives is his "political future and safety." It is the same person against whom Sirisena and Prime Minister Ranil Wickremesinghe made a plethora of accusations during the election campaign and vowed to take to task. There is also more in store for Sirisena.
However, for the United National Party (UNP) led UNF, the in-fighting is far from over. As reported in these columns last week, Prime Minister Wickremesinghe steered an explosive meeting of the UNP Executive Committee on Thursday (August 1), to an inconclusive session. That saved the day for him.  Of course, he did suffer setbacks. This was after persistent calls that his deputy, Sajith Premadasa, be made the party's presidential candidate. The matter surfaced again, this time at the Parliamentary Group meeting of the UNF last Monday.  Wickremesinghe managed to sidestep the issue though the atmosphere was not volatile like the Working Committee meeting. Yet, Premadasa is not giving up. More on these developments in later paragraphs.
President on seesaw
First to the mercurial President Sirisena. The one who leads the Sri Lanka Freedom Party (SLFP), literally sat on a seesaw. He projected himself sometimes as the presidential candidate of his party. He tried to lure the UNF.  At other times, he encouraged his party's seniors to talk to the Sri Lanka Podujana Peramuna (SLPP) to form a joint alliance. He privately encouraged UNP deputy leader Sajith Premadasa to become Prime Minister many a time. He thought that could win him a reprieve from Premier Wickremesinghe with whom had had furious feuds and a hostile relationship.
Last week, the SLFP's senior Deputy Chairman Nimal Siripala de Silva conveyed to Opposition Leader Rajapaksa that Sirisena now proposed to contest the presidential election. So, the SLPP sought to clarify. Concerns were because SLFP-SLPP talks were nearing a conclusive stage. Does this mean the talks would be off? Has Sirisena worked a deal with the Premadasa faction of the UNP? These were among the questions raised. Reporting on this last week in these columns, I asked, "Is Sirisena serious or is he using it as a ruse to raise his demands from the SLPP before the joint alliance?" It did not take weeks for an answer. It sure was explicitly for bargaining purposes. Close aides of Sirisena were not happy it was not working. The SLPPers were not biting his bait over being presidential candidate and were trying to veer away from him. Reports last Sunday caused more concern.
Hours after the Sunday Times hit the streets, President Sirisena spoke to a group of SLFPers. The idea was to buy more time for leverage. He said he had not made up his mind over the candidacy. Not even when the SLFP General Secretary Dayasiri Jayasekera had declared at a news conference that the party candidate would be named at the SLFP's annual convention. In a bid to give more muscle to his bargaining power, the group decided that the party should put forward its own candidate. They also resolved that the SLFP should not join any alliance. These developments notwithstanding, President Sirisena changed his mind again or was forced to do so.
Sirisena-Rajapaksa meeting
The next morning (Monday) President Sirisena telephoned Opposition Leader and SLPP leader-designate Mahinda Rajapaksa. He said he would give him an appointment for later that night for a one-on-one meeting. The news came when SLPP leaders were pondering over whether the joint alliance with the SLFP would materialise. Rajapaksa said that he would be having a meeting with a group of Tamil politicians and would come over thereafter. The time was fixed for 9.30 p.m. at the Mahagamsekera Mawatha official residence where the President stays.
Earlier on Monday evening, Rajapaksa met Tamil groups which were opposed both to the Tamil National Alliance (TNA) and the United National Party (UNP). The meeting had been arranged by Vasudeva Nanayakkara, leader of the Democratic Left Front (DLF). Those present were Douglas Devananda (Eelam People's Democratic Party), Prabha Ganeshan (Democratic People's Congress), Varatharaja Perumal and S. Sridharan (Eelam People's Revolutionary Liberation Front) and A. Udaya Kumara (Tamil Eelam Liberation Organisation).
Rajapaksa was asked by a participant on his position regarding the 13th Amendment which dealt with devolution of power. He replied that he was for 13 plus, a position which he took even during his previous administration. It was in effect to improve on the existing 13A by ceding more devolution. He also said that a set of policies to alleviate the problems of the Tamils in the North and East had also been evolved by the SLPP.
Mahinda Rajapaksa arrived a few minutes earlier than 9.30 p.m. last Monday at President Sirisena's residence. He sat on a sofa in the small lounge area and waited for the President to turn up. He was kept waiting for ten minutes. President Sirisena then walked in, greeted Rajapaksa and sat in the vacant end of the same sofa. The duo were in smiles as the conversation began over cups of black coffee. The topics were wide ranging. There was talk on the untimely death of Kurunegala District parliamentarian Salinda Dissanayake due to a heart ailment. Both heaped praise on him. There was a somewhat lengthy discussion on the troubles in the UNP, particularly about the ongoing tussle between leader Wickremesinghe and his deputy Premadasa. Sirisena did not hide his feelings about Wickremesinghe and made some sharp comments. In the process, he outlined the numerous obstacles Wickremesinghe placed in his way during governance and how it made it difficult to exercise his duties. As time went by it became worse, he complained.
It was President Sirisena who then came to the real issues by asking Rajapaksa, "So you have decided on Gotabaya to be your presidential candidate?" His predecessor nodded and replied, "Yes." The conversation turned to the proposed joint alliance between the SLFP and the SLPP. President Sirisena who agreed to work out an arrangement had a few issues. If they appeared to be pre-conditions, it turned out to be easy. One was that the SLFP will not be a signatory to a joint alliance. Instead, he would sign two Memoranda of Understanding (MoU), one with the SLPP and another with its presidential candidate (Gotabaya Rajapaksa).
Those two documents would signify SLFP support for the SLPP candidate and cover the parameters of a working arrangement the two parties would have. In addition, President Sirisena said, the SLFP members would have to be given nominations to pre-identified districts from which they propose to contest the parliamentary elections next year. Rajapaksa agreed to Sirisena's requests and asked that such a list be forwarded to SLPP convenor Basil Rajapaksa. It could then be incorporated into the Opposition's final list after discussion, he said. In return, President Sirisena said the SLFPers, including himself, would extend their support for the SLPP presidential candidate.
The two leaders agreed that the final round of talks would be carried out by Committees headed by the two of them. Until then, they concurred, the ongoing round of talks should be continued. On Thursday, SLFP senior deputy Chairman Nimal Siripala de Silva headed an SLFP team which had discussions with an SLPP side led by SLPP architect Basil Rajapaksa. Just when talks were under way, the mobile telephone of SLFPer (and General Secretary of the UPFA) Mahinda Amaraweera rang. It was President Sirisena calling from Cambodia to find out the progress of the talks.  He had set in motion a newer phase after meeting Mahinda Rajapaksa. These talks will continue. Both leaders will meet for the next round of talks after the SLPP's first convention today.
As the Sirisena-Rajapaksa talks were ending, the former President asked his successor, "What about you? Your future should not be ignored." A laughing Sirisena replied, "I have nothing to say." Rajapaksa guffawed and then remarked "if there is anything, we will happily do that for you." Asked for his comments on the outcome of the meeting, Mahinda Rajapaksa declined to give details. He told the Sunday Times, "I can only say that the talks were very successful. You will know the results very soon."
Split within the SLFP
The next day (Tuesday), President Sirisena briefed the SLFP parliamentary group.  He described it as "positive" and said he had discussed matters relating to the party and about nominations for SLFP MPs. He said the finer points would be worked out by him and Rajapaksa. He told the SLFP MPs that they should go with an SLPP partnership. However, the MPs decided that they would not attend today's first convention of the SLPP at the Sugathadasa Indoor Stadium as SLFPers since they were still not in partnership. Nor has the SLPP extended an invitation to the SLFP.
"I did not talk (with Rajapaksa) about anything for myself," Sirisena declared and added that he was trying to get a good deal for the SLFP. However, SLFPers familiar with the talks said he was in favour of a post of Deputy Prime Minister. "He could then serve in that capacity in a future Cabinet of Ministers (with a new President) with the Mahaweli and Environment portfolios," they said. The subject appears to be still at its formative stage but the prospects of it becoming a reality are not ruled out.
Despite Sirisena's successful dialogue with Rajapaksa, one of the main dangers he faces is the split within the party. It is now clear that the delay by Sirisena in reaching understanding with the SLPP was because of advice from a senior party stalwart to wait till the UNP settled its issues. The stalwart, who has been maintaining a secret dialogue, had even told UNPers (supporters of Sajith Premadasa) that their delay in finalising a candidate may force Sirisena to turn to the SLPP. This is said to be one of the main reasons why this stalwart has been striking different notes from that of President Sirisena at news conferences. The SLPP has also expressed scepticism over his presence at talks where he has been making hostile and contradictory remarks. Already, at least four other SLFP members are tipped to join the UNP ranks. The same stalwart, together with another, had also made approaches to the Janatha Vimukthi Peramuna (JVP) for an alliance with little or no success. JVPers scoffed at the idea.
Voicing the SLFP and President Sirisena's thinking this time at a news conference was Nimal Siripala de Silva. He told a news conference on Wednesday, "With the political revolution that is about to take place in the upcoming days, our party has considered matters in a balanced manner and will work as an anti-UNP group even in the future. We will never support UNP candidates."
Other than the SLFPers for whom President Sirisena wants nominations and backing by the SLPP, there are at least three who want to join the SLPP. Already known are Dilan Perera and S.B. Dissanayake. The third is Dr Sarath Amunugama who has already had a meeting with Mahinda Rajapaksa. It was only weeks earlier that Sirisena named Amunugama as the head of the National Security Advisory Committee. The SLFP convention, scheduled for September 2 has been put off for next day (September 3), according to Minister Amaraweera due to logistical reasons.
At this event, President Sirisena will brief the SLFPers on the need to support the SLPP presidential candidate. In November 2014, Maithripala Sirisena, a onetime General Secretary of the SLFP, had turned to the UNP for an alliance to defeat Mahinda Rajapaksa as President in January 2015. He came out with the woes of the Rajapaksa family from public platforms. He won and took over the SLFP leadership which is now weaker than before. He now wants that party to support the SLPP, a new party that emerged largely as a result of his actions or inactions and grown stronger. The chronology of events since 2015 shows that President Sirisena's indecisiveness, if not the lack of political vision, has literally brought him back to where he began. That is to the fold of former SLFPers who are now SLPP. Of course, he blames it mostly on Premier Wickremesinghe.
Now, to the United National Party and its allies who want to form the Democratic National Front (DNF). As reported last week, Wickremesinghe successfully manoeuvred a meeting of the UNP Working Committee from taking a decision on Premadasa as the presidential candidate. Yet, the Premadasa faction made a gain to its credit. Their protests, widely publicised, led to the postponement of the formation of the DNF through an event last Monday (August 5) at the Sugathadasa Indoor Stadium. The proposed DNF's partner leaders urged Wickremesinghe to first decide on his party candidate for the presidential election.
Last Sunday, Wickremesinghe issued a "special statement" in which he said "some new views were expressed during the last meeting held to form the DNF. We felt it is correct to consider those views. As such we decided to take more time to complete the document (the DNF Constitution) as well as finalising the formation of the DNF…….. We have decided to establish the DNF before the end of August….. Anyone who understands our recent political trends would accept that it is difficult to win the presidential election as a single party. I devoted my time and energy towards establishing a broad political alliance that will lead us to victory……. Our sole aim is to win the next presidential election through an alliance spearheaded by the UNP. After that, we are planning on winning the parliamentary elections and establishing a strong government….."
Though Wickremesinghe declared the DNF would be established before the end of August, questions do arise. If he is correct, that would mean that the UNP would have to decide on a presidential candidate within the next twenty days — i.e. before August 31. Otherwise, the deadline would have to be extended. Interesting enough, there are those who favour a postponement. Senior UNPer and Minister Gamini Jayawickrema Perera told the media that August was not good. There were no auspicious times in August for the signing of the DNF MoU as well as the adoption of the Constitution. Hence, a decision would have to be made in September, he said. That is a way of saying more time is needed. This again means only a few weeks before the nominations for presidential election.
The Sajith Premadasa issue surfaced again, this time at the UNF parliamentary group meeting last Monday. This was when they discussed the formation of the DNF. It was Mujibur Rahman, a Wickremesinghe loyalist, who suggested that the leader should talk to Premadasa and resolve issues amicably. It was endorsed by at least two others. Wickremesinghe urged that MPs should not make public remarks either about the party's candidate or about the formation of the DNF until matters were finalised. Different statements, he noted, created varied impressions.
Minister Patali Champika Ranawaka castigated two UNP MPs for alluding to the Jathika Hela Urumaya in unfriendly terms. They were parliamentarians Hesha Vithanage and Chaminda Wijesiri who had told a news conference that the JHU was a "three-wheeler" political party. The term is used to show that they had less than a handful of members, like the three-wheelers that could carry only three passengers. Ranawaka said the two became MPs only in 2015 and did not know history. He declared that the UNP won the elections because of parties like the JHU and that the two should refrain from making such ugly references. "We are not an undisciplined party like your party," he exhorted. Both the UNP Chairman Kabir Hashim and Premier Wickremesinghe asserted that such remarks should not be made and declared they would apologise on behalf of the two. Also criticising the two MPs was Chatura Senaratne who objected to some references made to him and his father Minister Rajitha Senaratne.
Minister Navin Dissanayake, who was earlier in the Mahinda Rajapaksa cabinet, was piqued by meetings his colleagues Sagala Ratnayake and Kabir Hashim had with former Defence Secretary Gotabaya Rajapaksa. He queried why such meetings had taken place. Ratnayake explained that he had visited the former Defence Secretary to see how he was keeping after undergoing treatment in Singapore for a heart ailment. In fact, Premier Wickremesinghe, who was in Singapore last month, also paid a visit to Gotabaya Rajapaksa.
Minister Ratnayake has been in touch with the former Defence Secretary for years now and addresses him as "Sir." Sometime earlier, his relationship was raised at a Cabinet meeting by Minister Rajitha Senaratne, who alleged that investigations into complaints against the former Defence Secretary had been slowed down by him as Law and Order Minister. However, Ratnayake denied the accusations and said he only respected Gotabaya Rajapaksa for winning the separatist war.  He was leaving Gotabaya Rajapaksa's residence in Mirihana when UNP Chairman Hashim had entered. Hashim explained that Gotabaya Rajapaksa had visited him when he was ill. During this visit, Gotabaya Rajapaksa was accompanied by the owner of a media group. Hence, he had only reciprocated the visit, explained Hashim. Wickremesinghe declared that Ratnayake had informed him before the visit and said it was no longer necessary to visit those in Opposition parties in the light of the impending elections.
Ranil-Sajith meeting
Premier Wickremesinghe also had a one-on-one meeting with Premadasa this week in a bid to persuade him to stand down as presidential candidate and permit him to contest. It was on the grounds that Premadasa, who was young and had more time. According to a UNP source, "Premadasa was equally adamant that he should contest, and the talks ended inconclusively." Premadasa loyalists have now launched a signature campaign among members, particularly those in the Working Committee and the parliamentary group, urging that a meeting be summoned immediately. That is to decide on a presidential candidate. Then, Premadasa went public and said in a statement on Friday that he too was in favour of a Democratic National Front (DNF) like Premier Wickremesinghe. However, he declared that such a DNF should be formed only after a decision on a presidential candidate. The statement was a message that he was still in the fray.
That failed meeting is also a firm indicator that Wickremesinghe wants to be the UNF albeit the DNF presidential candidate and is adamant about it. Just days earlier, Wickremesinghe declared that he would have a ten-year plan to develop Sri Lanka. The inconclusiveness between Wickremesinghe and Premadasa threatens to divide the UNP. Not only has the Premadasa faction embarked on a signature campaign to win support, but the UNP's Badulla District stalwart and Minister Harin Fernando is busy making plans to organise a public rally in Badulla for Premadasa on Tuesday, August 12.
UNP General Secretary and Minister Akila Viraj Kariyawasam asked Minister Fernando to cancel the event. However, Fernando said in a letter to Kariyawasam that, "The Minister of Housing, Construction and Cultural Affairs, Sajith Premadasa is due to visit the Atampitiya Gawalegama village at Haliela Electorate on August 12, 2019 to declare open a housing complex and provide housing loans. He will also help war heroes under "Virusumithuru" programme.
"Therefore, I announce that we have organised a welcome rally at Wills Park grounds at 4 p.m., since this is the first time Minister Premadasa is visiting the Badulla area after he obtained the Ministry portfolio."  The letter has also been copied to Premier Wickremesinghe. Fernando has made a string of public appeals that Premadasa should be the UNP presidential candidate. Kariyawasam, a staunch Wickremesinghe backer, taking up that aggressive position, it is clear, will still not be able to stop a "welcome" rally for Premadasa. To that extent, it appears that he may have burnt his fingers with a provocative request.
Opposition campaign begins
The name of the Opposition presidential candidate will be officially known today. After assuming office as the Leader of the SLPP, Mahinda Rajapaksa will announce the name of Gotabaya Rajapaksa. Thus, even before the date for nominations for this year's presidential polls is announced, the Opposition will launch its campaign. It begins with a long motorcade in which Gotabaya Rajapaksa will travel to Anuradhapura, then to Kandy, Hambantota and Kataragama. He is due to visit the Kelaniya Raja Maha Vihare today. Last night, partner leaders met at the official residence of Mahinda Rajapaksa. He announced that brother Gotabaya will be the candidate.
With so many guesses, one of President Sirisena's forecasts is coming right. The major battle will be between two candidates, the SLPP and the UNF albeit DNF.  The question is who would be Gotabaya Rajapaksa's main rival? Will it be Ranil Wickremesinghe or Sajith Premadasa? Whoever makes it, the ruling party appears to have lost some of the lustre and an edge in the campaign. So far, it has been wrested by the SLPP and it will blow to new proportions in the coming days and weeks. That itself is not a healthy sign for the UNP with more ahead between now and the polls. That is a big dilemma for them.