It's almost a life in poems
By Yomal Senerath-Yapa
View(s):
Premini Amerasinghe's A Tapestry of Verse is something of a flying carpet– a collection of poetry which has imbibed colours from China, the Seine, the Niagara Falls, the Swiss Alps and- indeed- England, which is more home to her than her native Kandy; the place that fostered her soul; her spiritual Mecca.
For it must be remembered that Premini grew up in the colonial dusk– though sometimes she blithely rebels against the staid morals of that period.
Premini is grateful for the rich blend of East and West she inherited. Not for her the cultural disorientation of which a perplexed Gabriel Okara muses in Piano and Drums. In her poem A Paradox, she points out to the more nationalist: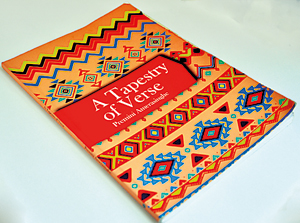 You agonize over "de-racination"
I am pleased to be multi-cultural
Language, like the snake's skin
Can be moulted,
And re-generated at will.
Her own rendezvous with drums is different:
'…I/ Remain an onlooker/ An alien in this town,/ Where half my life has unravelled/ Its tight fists clenched/ On eternal mysteries/ The distant throb of drums/ Bears no message for me'. 
Nature flourishes in a lot of these verses. And Premini is conscious that happiness is often gleaned off little ephemeral things. During a train ride, punctuated by tunnels, where she rather sadly sees herself evolve from "pig-tailed schoolgirl/ To sareed professional/ And finally to aged pensioner" all melancholia vanishes with a chance sighting of some 'statuesque black headed Ibises' who "save (her) day".
So she halts to repent those myriads of beautiful moments which "slip by un-noticed/ Like drops of elusive mercury/ Achingly bright/ Always out of reach", while our sights are on bigger things we may never attain.  These poems are personal vignettes, unlike the work of her friend Jean Arasanayagam who chooses to trek into more jungled and dense realms, but the two poets share a lot. Themes like miscegenation of ancestry, for example- though Premini unlike Jean revels happily in the glorious farrago of bloodlines- the pastiche of portraits that adorn the corridors of her inheritance: "the German from Weimar", "the shadowy Hollanders" and "the little boy from the deep south".
Premini, despite an innate sanguine nature, constantly comes up against the fact that beneath natural and man-made beauty lies deadliness that can erupt suddenly- in many forms. For example the suicide of an impoverished father who chose to hang his children as well:
Loud wails
Shatter the morning silence
Their limp bodies
Hang from a low beam
A fitful breeze
Rustles the coconut fronds
 Wafts in
The fragrance of jasmine.
Much of the poetry has the patina of old photographs, whether of London when she was a young mother ('My first born lay/ Gurgling at the interlace of light and shade/ Of apple bough and dazzling sky") or dipping into an old diary ("Kitchen odours waft across/ Space and time/ Bubbling cheese toast/ Fragrances of curry, coffee, after dinner liqueurs).
The collection celebrates a romantic colonial past as in Horton Plains where the pioneer Englishman on horseback to name the 'World's End' is conjured amidst misty mystique ("a dot in a vast blue green space/ punctuated by gnarled Rhododendrons/ Sporting crimson rosettes/ For a giant button hole") – pitted against today when ".. A multitude of vans/ (spews) out holiday makers/ And infinity is reduced/ To a littered picnic park." Throughout in the collection, you see the rosy, well-contoured cheer of a good life- give or take the odd bereavement. Premini is all too conscious of this fact, and apology seeps out in Mea Culpa, as she addresses a mother bereft during the dark period of youth uprisings:
Where was I
When you lay crouched in the dark
Your eyes burning holes
In the fabric of night…..
The usual sequence of events
A shirt around your son's eyes
A rough jeep-ride
The final rifle burst
The range of her poetry is wide, from the Christmassy cheerfulness of Santa Claus to Barrabas, where the biblical insurrectionary staggers under guilt and remorse seeing Jesus being led to be crucified.
It is almost a life in poems, and towards the end you see a preoccupation with autumn creep in, just as her youth in London is blue-skied summer.
In her personal ode to Dylan Thomas, Premini addresses this other bard who also warbled in the 'conqueror's tongue':
"You imbued those/ Unfamiliar vowels and consonants/ With the lilting beauty/ Of a Celtic harp/ Whilst I battle in frustration/ To coax them/ Into basic patterns."
She is being modest, for as this collection proves, Premini has the gift to think almost exclusively in images- and insight that makes her poetry sparkle like champagne.
The book, priced Rs. 300 is available at Sarasavi Bookshop.