Appreciations
View(s):

Our beautiful Rose will blossom  no more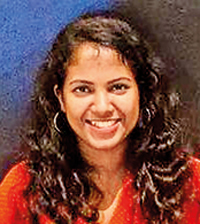 Leeshani Wijesinghe
Like any ordinary girl in her early 20's, Leeshani was filled with so much spirit and aspirations, but all those came to an end with her untimely demise on April 21 due to extremists' bombing at Shangri- La. She was kind- hearted, smart and caring, adored by many people, for her charisma and her unflagging optimism was noticed wherever she went.
Leeshani was an alumna of Visakha Vidyalaya. After leaving school she enrolled in the Sri Lanka Institute of Tourism and Hotel Management to pursue her ambition of becoming a hotelier. After working at the Hilton Colombo for some time, she went on to work at Shangri- La Colombo which she soon grew to love. Almost everyone who knew her would speak about the smile she always wore and the genuineness of such a smile, a rare thing today.
We remember all the fond memories we shared growing up together, going on vacations, engaging in various mischief. We were smart enough not to get caught all thanks to our puppy faces. Those were the days we will always treasure. They say that memories are golden; well maybe that is true, but we never wanted memories – we only wanted you.
Leeshani's death was an even greater loss to her family, her parents Uncle Vijaya and  Aunty Ramani, her two beautiful sisters Tharindi and Sandi and also not forgetting our darling Aunty Taseeli who loved her so dearly. They were forced to bid her farewell. However the love they have for Leeshani will grow each day as absence makes the heart grow fonder.
We will hold you close within our hearts and there you will remain, to walk with us throughout our lives. Until we meet again in Sansara our dear sister.
Your ever loving cousins.
Yeshara, Chulangi  and Rashmi Devendra
---
Another  medical giant is no more
Prof Ralph Panabokke
It is with a feeling of great sadness we hear of the passing away of another medical giant, Professor Ralph Panabokke. He came from  the Medical School in Colombo to Peradeniya in 1963, volunteering to get the new medical school off the ground. We were his first students. What he has inculcated in us, both in human pathology and in the work ethic has stood the test of time. Never a person to seek praise, always seeking 'how to do it better' , he strove together with Prof Senaka Bibile, to establish the Peradeniya Medical School, to what it is now, a prime medical educational institution in the island.
We, his students,  were so accustomed to seeing him carrying a bunch of files, striding down the corridors,  intent on his next assignment, but ever ready to pause to give full attention to anyone who might accost him with a problem. His attitudes, on reflection probably inspired us, in like vein.
A personification of integrity, honest to the core, an able administrator he could be both firm and considerate. In later years, once I joined as a staff member, I noticed how we in the Faculty trusted him to make the correct decision when issues came up.
As an academic, teacher, trainer and  administrator, he was greatly respected. A glance at the many citations in the medical bibliographies of this country will vouch for his standing as a researcher especially on disorders inherent to this country.
He became the Dean of the Medical Faculty and went on to become the Vice Chancellor of the University of Peradeniya and   the Director of the Post-Graduate Institute of Medicine, University of Colombo. His contribution and commitment to the many pathologists he trained and the medical fabric in general of this country is immense.
Prof. Panabokke spent his last days  in England where his son Krishantha had taken him, after the demise of his wife, spending his time   seeking insights into Buddhist philosophy. We will miss him.
 Dr. Channa Ratnatunga
---
A life of love, compassion and dedication
Keerthimathie Fonseka Mendis
A rainbow
Is a spiritual arch;
The symbol of renewal
Woven of light;
And you were the rainbow
Of your family.
Keerthi akka, my namesake, was the rainbow in her family. Though she was my first cousin, I considered her as an aunt who inspired our whole family circle. I would correlate each hue of the rainbow to her endearing qualities.
Violet for the elegance and
regality
Of her dress sense,
 Indigo for wisdom, self mastery
     And realization of spirituality,
 Blue for sincerity and inspiration
      And calmness amidst the travails of life,
 Green for harmony with nature's bounty
Of beautiful flowers and trees,
 Yellow for the reverence to the saffron
And to the teachings of the Enlightened One,
 In reaching life's pinnacles,
And Red, for passionate love
Shared with her life's partner.
She tied the knot and migrated to Singapore the year I was born. My mother being very close to her, was very saddened by the void and so named me also Keerthi. Thus we became Loku Keerthi and Podi Keerthi. A distinguished alumna of Sri Sumangala Girls' School, Panadura and the University of Colombo, she  pursued the noble profession of teaching. I wish Sri Lankan students had the good fortune to have studied under her, but as fate would be, the Singaporeans were luckier to have such a dedicated teacher. Methodist Girls' School, Singapore, was the  beneficiary of her passion and knowledge in teaching.Keerthi akka was a devout Buddhist. All her Sundays were dedicated to the Dhamma School at the Lankaramaya where she brought the teachings of the Buddha to scores of children, until she was well into her 80s. Her beautiful house was home to the many relations and friends who visited Singapore. After retirement she developed a passion for quilting.  Her many creations adorned the walls of her home bringing colour and vibrancy.
She was a pillar of strength to her parents, Sudhu Amma and Winnie Mahappa as I called them. Her siblings Mahinda Fonseka, Manukula Fonseka, the late Ramsiri Fonseka, the late Indira Perera, Chandramal Wickramasuriya and Damsiri Fonseka were so blessed to have a "Loku akka" who looked after the family like a mother.
Her marriage to Tilak Mendis was a fairytale. They were such a matching couple, and 'lived happily ever after' was a fitting tagline to their wedding. Tilak aiyah predeceased her 25 years ago. She dedicated her life more to the activities of the temple after his demise.
To her children, Nimi Amarasuriya, Sharmini Premawardhana, Rohan Mendis and their partners who joined the family, it is a vacuum that cannot be filled. The immeasurable love and the knowledge she imparted will be etched in their memories for years. Keerthi akka celebrated her 90th birthday on February 19, this year  amidst family and friends and passed away after a brief illness on April 12.A life of love, compassion and dedication, she left a legacy for all of us.
Keerthi akka, may we meet again in this journey of Sansara and may you attain the Supreme Bliss of Nirvana.
Keerthi Wijekulasuriya
---
He taught us the value of simplicity and love for life
LAKSHMAN PANDITARATNE
Lakshman Panditaratne, known affectionately to his friends as "Pathi", to his relatives as "Lyn" and adoringly to us as "Saar", passed away almost three months ago, after a brief illness. He was a man who enjoyed the simple things in life; family, friends, playing cards, get-togethers, travelling, a drink, rugby and cricket. Throughout his life, he lived by the simple principle that honesty, truth and empathy toward fellow human beings were significantly more important and more enriching than material wealth. He truly enjoyed and revelled in the successes of close family, friends and their children.
To the four of us – he was extra special. He lived with us before he got married. He was the apple of our mother's eye. Her "Malli" was impossible, but adored by her and her two sisters Irangani and Sunila. When we lost our father and our elder brother, he was a tower of strength to our mother. Although our father was no more, "Saar" made sure that all the little things our father did for us were not left undone. He took us to the movies, the children's parks, for ice creams and hot dogs at the Fountain Café, to see the Vesak celebrations and to the Galle Face Green. He introduced us to rugby and to the Royal-Thomian.
He was a lifelong rugby fan. He looked forward to the Bradby Shield game with the same gusto that he looked forward to the Royal-Thomian match, and joined his many classmates to enjoy both encounters. Later in his life, even after many of his friends had passed away, he never failed to watch the game,when his health permitted him. He was the wing three-quarter in the Royal College team in one year, when the newspapers announced that two Lakshmans faced each other at the Bradby Shield game, the other being the former foreign minister Lakshman Kadirgamar, who happened to be the wing three-quarter for Trinity.
"Saar"was born in Baddegama to Dr. Johann and Cecelia Panditaratne. Being the only boy among four siblings, he was the special one. After graduating from Royal, he attended Law College and became an Attorney-at-Law. His first job was as private secretary to the late Sir Alan Rose Q.C., the last British Chief Justice of the then Ceylon. A close bond existed between Sir Alan and "Saar". He would take great delight in narrating to us, an incident where the Governor General of Ceylon, Lord Soulbury, had requested Sir Alan to stand in for him at the rehearsal for the National Day celebrations as he himself was very busy. Sir Alan had been annoyed, saying that he too was very busy and turning to "Saar" had gruffly said "Lakshman, you go and stand in for the Governor General." And so it was that "Saar" stood in for the Governor General at the rehearsal and had the privilege of receiving the salute of the armed forces.
After the departure of Sir Alan Rose, he opted to be in private practice, rather than work for someone else. He worked for the satisfaction of helping his clients and faithful to ethics of the profession, never demanded fees. Our mother, his eldest sister, would often berate him for working gratis for some people who could well afford to pay fees.
Our mother used to always nag him to get married and he for a long time countered it with "don't be silly, these children are far too small". One day, after she had given up, he announced at the dinner table "I'm getting married to Nandani in three months time; any objections?" To say my mother was flummoxed is an understatement; of course, within three minutes she called her sisters and announced the great news.
His wife, Nandani Siriwardene, was a director of the Ceylon Tourist Board. She enjoyed travelling to places as much as him, and together, and often with us, would travel to the far corners of the country. They worked on the maxim "the more, the merrier". On one occasion returning from a trip his car stalled, in the middle of nowhere. Seeing our grumpy faces he merely told us that incidents such as these make the trip more memorable. On another occasion, watching him walk along the beach with around eight kids, a tourist passing by asked him if we all belonged to his brood. With his signature twinkle in his eye he said "Yes. And I got some more back home." "Saar" and Nandini nanda were happily married for over 45 years. Their pride and joy was their only child Sharmila, whose love and devotion "Saar" enjoyed to the very end. Sharmila followed in her dad's footsteps, and following a Masters degree in the US, joined the Securities and Exchange Commission as a legal secretary.
"Saar" did not care to dwell too much on the rituals of Buddhism, but was a true practitioner of the essentials of the Dhamma. Having led a simple and exemplary life, he is well equipped for the sojourn through Samsara.
May he attain the supreme state of Nibbana.
Priyanee, Gemunu, Amal and Ayanthi
---
You are my reality, the rest an illusion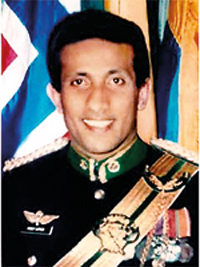 Colonel FAZLY LAPHIR
My dearest darling Fazly,
The world said you had gone
forever
I knew you wouldn't do that
Never
Our promise was always to be
Together
throughout this life, and beyond
forever
Going up mountains
Slipping down in valleys
Crossing rough waters
Trailing tough alleys
Sometimes the way was fair
although it was so rare
Searching for you everywhere
my heart kept saying, you were
anyway there
The Sun had left
Moon, not arrived as yet
The ocean was calm
There were no waves left
Seated on a bench
Turning the back to thorns
It was 'my love'
around were wild lilac blooms
I felt safe – and fell asleep
in your arms
When I woke up in the morn
Next to me
The bed was not warm
Then I realized
your being-
was the reality
and the rest –
an illusion
Your ever-loving Ano
(Col Laphir, Commanding Officer, 1st Regiment Special Forces was killed in action on July 19, 1996 while on rescue mission in Mullaitivu)
---