New Zealand shows us how it's done, again
View(s):
My dear Kane and the New Zealand cricket team,
It is not often that we talk about you and it is even less often that we write to you but this week we feel we must, after the stunning World Cup final which you supposedly lost last week. History was made in many ways that day and many felt that there will be no other final like that, ever.
From our own point of view, although we were champions in 1996 and runners-up twice in 2007 and 2011, we have now been reduced to spectators who make up the numbers. In fact, I think we even got in to the top 10 with difficulty, but the less said about that, the better it is for all of us who love the game.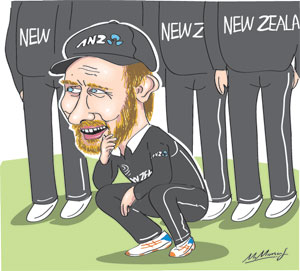 Now, we take pride in little things, such as the match referee and one of the umpires being one of us, though the latter didn't have the best of days. They are, indeed, achievements but referring to that and the glory of 1996 is like referring to our 2500-year history and doing nothing about the here and now.
However, what I wanted to write to you about was not us but how you and your team conducted yourself that day. The records will say that you lost the World Cup – although even the statistics won't say that – but for the millions who watched the game, you were the real winners.
Also, you were not playing against just England, you were playing against the entire Commonwealth. Their team was led not by an Englishman, but by an Irishman. Their opening batsman was from South Africa. Their leading spinner – and their twelfth man – were Muslims of Pakistani heritage.
Then, they had recently changed their rules which allowed a chap from Barbados who had earlier played for the West Indies to be their opening bowler. The final nail in the coffin came in the form of Stokes, the Man of the Match. Ironically, he was a gift from your own land, New Zealand!
Before the tournament, few thought you had a chance. Even when it looked like you would be in the semi-finals, other teams were hoping that they would be playing you because they thought they could win easily. That is when you humbled India, who were behaving like they had won the cup already.
Still, it was the behaviour of your team after you were declared as having 'lost' the finals on some silly technical rule, that won the hearts and minds of millions of cricket fans around the world. You were magnanimous in 'defeat'. You merely said that 'uncontrollable' moments cost you the game.
Not a word was uttered about the umpiring decisions that could have gone your way. There were no complaints about six runs, instead of five, being added to England when the ball went to the boundary after accidentally hitting the bat. Nor did you say that deciding the winner on boundaries was silly.
Had you and your team been in Paradise and learnt from our leaders, you would have tried many tricks to win the World Cup. You could have canvassed the highest court in the land, claiming the laws were not applied correctly, and asked for a ruling to say that the law did not apply to you.
Or else, you could have taken a helicopter and flown away down south to your own home turf in New Zealand where you could have appeared, clinging on to the ledge of a windowsill, and addressed your adoring fans, claiming that although you lost the World Cup, you are still the real winners.
Worse still, because the World Cup was being played in England, you could have even created a great conspiracy theory, claiming that people were being held hostage until they gave decisions in England's favour and all those third umpire decisions that went against you were a computer 'jilmart'.
Yet, you did nothing of that sort, Kane. You played by the rules, and never complained when everyone else except the Englishmen thought the rules were silly. Why, had you been declared the winner under the same rules, you might have even offered to share the World Cup with England!
That is why, Kane, many who do not know who the captain of the winning team was, now know your name and hail you as a hero. Though you have led them once, I am sure your people will want you to lead them again. That is not something we in Paradise want – and I'm not talking about Dimuth either!
Yours truly,
Punchi Putha
PS: Though you didn't win the World Cup, many consider you worthy of such an honour. In Paradise, however, if you care to ask Shammi or Thilanga, they will tell you that we are the real World Cup champions because England won the World Cup and we beat them on their home soil, didn't we?