Royal continue Bradby dominance
By Aubrey Kuruppu
View(s):
A superb, committed performance by a well drilled Royal team spelled curtains for Trinity's ambition of regaining the Bradby. Yesterday at Pallekele, Royal made light of early assault and advances by the foraging Lions to hammer out a fairly sizable 34 points (3 goals 2 tries and a penalty) to 17 (2 goals and a try) win over their opponents.
In both halves it was Trinity who scored first and set up the platform. Further there were phases in which Trinity played some superb rugby but they could not keep up the momentum. Also they had to content with a side that had lot of self belief and confidence in their abilities.
Royal skipper Thulib Hassan led from the front and performed well to go over for two tries. He was all over the place exhorting his mates and willing them to a victory they must have felt would be their's. Lehan Gunaratne also went over twice while flanker Hasith Radeeshan scored the other. But center Harsha Samarasinghe deserves the accolades for a try of the match. This came off a brilliant side stepping, defence- evading run which ended when he went over with the tackle in the far corner.
Trinity were on the ball from the outset. Subasinghe could not convert a penalty awarded against Royal for not releasing the ball. A slightly loose kick from Nandila saw the ball being transferred from skipper Bandaranayake to center Tevin Karunanayake who scored (5-0). Royal revenge was swift, the skipper touching down after a mistake committed by winger Geeshapa Kulatunga. The winners took the lead six minutes later when Hasitha Radeeshan received a pass near the line and had the formality of going over. Dulan Gunawardena converted successfully for a 15-5 lead. Royal were trying to make inroads but Trinity were putting up a great defence at this stage. Flanker Ratwatte was able to cut the deficit by powering his way over a short distant. Subasinghe was on target and lemons were taken at 15-12 in favour of the winners.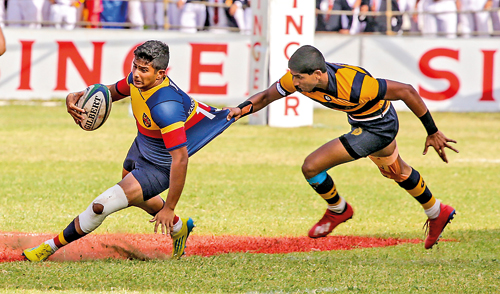 Samarasinghe's brilliant solo heralded the start of the second half. It was 17-15 to Trinity, but their was no room for complacency. Lewke's team had not use their main weapon-the Rolling Mauls-much in the first half. But they did so now and the results were immediate. The ball emerged from one of those mauls and passed down the line. Trinity was a man short in defence and Gunaratne went over for an unconverted try (Royal 20-Trinity 17).
Nipuna Yasojana, who otherwise had a fine game, missed an easy try when a neat off-load popped out of his hand near the goal-line.
There were many hands involved in Royal next try scored by Gunaratne. Mihishanka started it off, Yasojana continued it and Gunaratne delivered. Malisha Perera converted well and, at this point, the Royalists were surely on their way to victory.
Royal's chief stock-in-trade (Rolling Maul) produced their final try which was added to by Malisha Perera.
It could be said that Trinity had their say but Royal finally had their way.
Royal will enter the second leg exuding confidence as a result of their 17 point cushion. However Trinity can take confident from the fact that the deference between the team didn't amount to all that much. Referee Aaqil Jamaldeen .