12-try Tuskers thrash Chinese Taipei
Asia Division I Rugby Championship
View(s):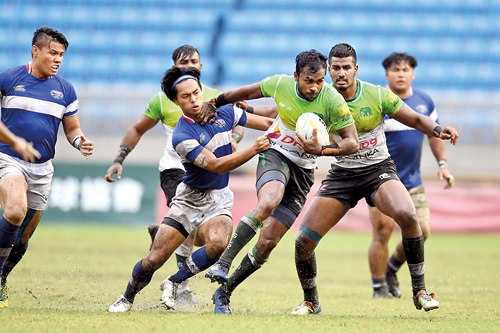 A 12-try spree by the Sri Lanka Tuskers enabled them to secure the third place playoff of the Asia Division I Rugby Championship, after handing hosts Chinese Taipei a smashing 72-17 defeat yesterday. Both sides – Sri Lanka and Chinese Taipei — were complete contrasts to how they played in their respective semi-final clashes against the Philippines and Singapore, who qualified to play in the final of the competition.
On Wednesday Sri Lanka suffered a 22-39 defeat against Philippines and Chinese Taipei narrowly beat Singapore 18-13 in a pulsating game, but yesterday's outcome in the third place playoff, where the two losers met, was totally unexpected.
The Tuskers stepped up on the gas from the first whistle and went on a rampage to complete a smashing win, with a tally of 12 tries and six conversions, while leading 31-7 at halftime. Sri Lanka, who were unstoppable against the host, may have had their place secured in the final, had they unleashed the same clout against the Philippines.
But for a side that fielded 18 debutants in their 26-member squad, the comeback win by a margin of 55 points, surely indicate of a brighter future, though Sri Lanka may have to wait another year to focus on a possible return to the Asia Top Division.
Hosts Chinese Taipei, who almost had Singapore on the defensive last Wednesday, looked merely helpless against the rampaging Tuskers, on muddy and wet conditions. However they managed to score three tries and convert one of them by sneaking through the Sri Lanka defence on three successful occasions, while other attempts were neatly thwarted by the winners.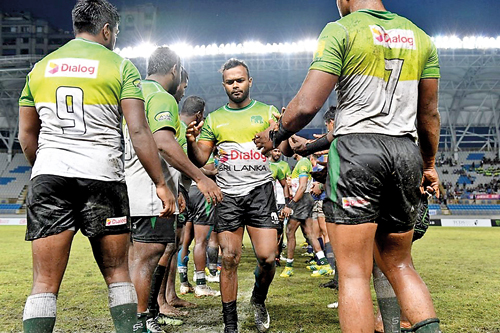 Tries for Sri Lanka came in mostly as individual brilliance and occasionally as team work for the winners. Centres Dinuk Amarasinghe, Kavindu Perera and Sudaraka Dikkumbura braced two tries each as Thilina Wijesinghe, Buddhima Piyaratne, Mithun Hapugoda, Riza Raffaideen, Yaqoob Ali and skipper Omalka Gunaratne scored a try each. Wijesinghe slotted in four successful kicks at the goal while Dinuk Amarasinghe and hooker Prasad Madushanka put over a conversion each.
For Chinese Taipei, Chung-Yu Lee scored their first try in the first half, while making the conversion, as Wei-Chiang Sun and Wei-Ming Lin managed to breach the Sri Lankan defence to score two beautiful tries.
What awaits the Omalka Gunaratne led Sri Lanka Tuskers in the coming months and years should be a positive pathway. The ended Asia Division I Rugby Championship also created history as Sri Lanka fielded their youngest-ever skipper. Coaching staff member Fazil Marija, a star player himself at national and international level, rated the team's performance as overwhelming.
"We would have loved the win against Philippines but considering it was a very young side there was a lot of heart, resilience and commitment to be proud of. I was happy with the back play and the set pieces in the forwards, especially as we were against a very physical and more experienced side in the Philippines pack, and the win against Chinese Taipei was beyond expectation. There is a lot of enthusiasm and spirit and we need to keep building morale with this," Marija told reporters.
Sri Lanka will switch back their focus into Sevens Rugby, while aiming to play a role in Rugby World Cup 2023 qualification. With the Asia Rugby Sevens Series and an Olympic Games Qualification Tournament later this year, Sri Lanka will bank heavily on more youth and the way the Tuskers signed off, with a huge win, elevate those aims more higher.
Philippines overcame Singapore 29-21 to clinch the Asia Division I Rugby Championship to join the Top Division alongside Hong Kong, South Korea and Malaysia. The ground condition was appalling for a final encounter as both teams played cautiously, yet with control. Philippines scored from five tries and two conversions and kept Singapore at bay, to maintain the lead they gained. Singapore scored from two tries, a conversion and three penalties.