The hottest on the beach – Sugar Talpe in Conde Nast
By Joshua Surendraraj
View(s):
Just last week Sugar Beach, Talpe got the glad news that leading travel magazine 'Condé Nast Traveller' had picked them as one of the Hottest New Beach Clubs in the world. Amidst the gloom that has engulfed the Sri Lankan tourism industry, this was a welcome boost. The renowned travel and lifestyle magazine, which only prints eight issues every year, is read across the world. Sugar Beach, Talpe is among the only two beach clubs mentioned from Asia.
Dinesh Wijesinghe and Gehan Fernando, the Directors of MSD Productions, the company which owns and operates 'Sugar' say being recognized by a media giant like 'Condé Nast Traveller' during a time like this is a huge honour.  The current situation in the country had caught them completely off guard as a company they say, but, this just goes to show that Sri Lanka does have the kind of attractions that draw people's interests and the country can compete at the highest level internationally, Dinesh adds.
Condé Nast Traveller's reviews are done after unsolicited and uninformed visits, we are told. They visit and observe the property independently and base their recommendations on that. Only the very best make it on to their lists.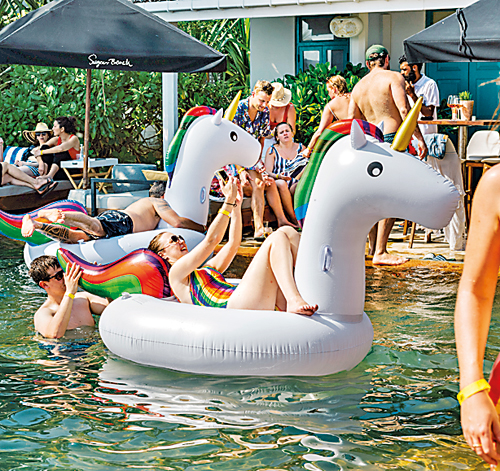 Sugar, Gehan explains, is a lifestyle brand and their venues cater to different moods. "It's all about the experience when you walk through our doors." He feels they have been successful, mainly because of their consistent quality – both of product and service. "We take great pride in our staff and our team members with whom we work very closely.
A beach venue had been in their plans for a few years, since Sri Lanka is a tropical island with sunshine and warmth right throughout the year, essentially what most European travellers look for. The first Sugar Beach outlet – Mount Lavinia Beach Club opened its doors nearly one and a half years ago and Sugar Beach Talpe on December 27 last year. Talpe has the added bonus of a swimming pool and a whole beach to yourself.
With the Mount Club, Dinesh and Gehan had wanted to give Colombo the beach vibe and experience that people in the city usually go down south for. That idea worked well for them. "You don't often have the time or resources to spend a weekend down south on the beach, but here's a great alternative where you get the same experience," Gehan explains.
The idea behind both these beach clubs is for people to spend the day. Typically, guests come in the morning, find themselves a nice sun lounger, relax, go for a dip in the ocean and have their lunch. In the evening as the sun goes down the club comes alive. The music plays till about 9 or 10 p.m. "That's a typical kind of experience that we promote at our venues," Dinesh says.
"I think people find it very refreshing when they enter the premises, it's very family-oriented, it caters to a wide spectrum of people," Gehan tells us. He adds this might be the reason why it was picked.  Talpe attracts several young people as well as families, who come to spend the day.  "Some of them also visit from Dickwella in trishaws and we're very happy about that," Gehan says.
"We've always had a very high standard of service. One of our strengths is the staff that works for us and the service that they offer to people," Dinesh explains, adding that their staff actually complement their product. They've also brought in external expertise to the table  and feel their staff improve immensely by working with an outside influence.
Both Dinesh and Gehan are grateful to the authorities for the efforts they are taking to have countries lift their travel bans on Sri Lanka and the Ministry of Tourism and Ministry of Finance for the initiatives taken to eliminate the difficulties faced by the tourism industry. They hope the promised measures will materialise soon.
At the end of the day MSD Productions is proudly and completely homegrown and has a strong Sri Lankan identity. "We have shown that Sri Lankans can achieve recognition like this," Dinesh says.
More to come
Sugar has two exciting new concepts scheduled to open in June at Maitland Crescent, Gehan reveals – an island themed roof-top Resto Bar called Kava and a night club called Native.In these difficult times for the industry, both Gehan and Dinesh feel that unique concepts will encourage people to travel and go out more often.Kava will be a celebration of island cultures.The look and feel of it, along with the food offered will have an Asian and Polynesian influence given a Sri Lankan twist  as well.

"This is the first outlet that we're doing where we want to create a local identity," Gehan says. He adds that typically you'd find local products right at the back of the menu at a local pub. "We're changing that, and we're actually going to celebrate it."

Most of their signature cocktails will be made out of local liquors and their bartenders have also come up with drinks based on local ingredients. "We want to really highlight that, because it's time now that we all celebrate what it means to be Sri Lankan," he says.