Appreciations
View(s):

You were our home, our hero

Ray De Silva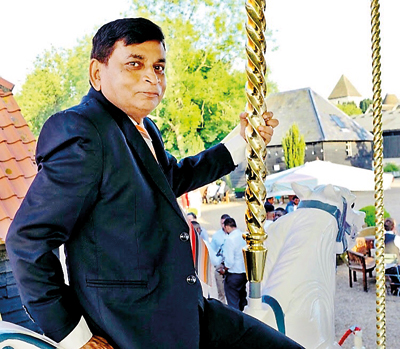 Thathi, all the sporting achievements pale in comparison to what your real achievements in life were. The great father and human being that you were.
You loved and cared for your family unconditionally, selflessly and totally. Despite losing both parents by 23, you excelled at your career, raised two girls, took care of your in-laws, extended family and friends in your 'all in' manner. You never failed to make time for the people you cared for.
You taught us that education, hard work and sacrifice would enable us to stand on our own two feet. That as women we were equals and could achieve anything we desired. You were our personal cheerleader and making you proud was our motivation.
Through life's many curveballs and harsh lessons – you stood by us and were the quiet background strength and protector who enabled us to move forward, stronger and wiser.
When life handed you the toughest hurdles (and it handed you many) you faced them all with absolute resilience, determination and zero complaints. You would find the humour to crack a joke even in the darkest of moments.
You were the most selfless, gentle and generous of men, the people you went out of your way to help and whose lives you enriched are numerous.
We hope everything we have both achieved, the way we care and love, the inner strength and tenacity we both hold is a testament to what a great father and role-model you were.
You were the person we looked up to and needed the most, you were our home and our hero.
Though your absence makes us feel like shattering, we will remember you, your strength and love of life and be strong.
Thank you for having been ours.
Himali & Rekha
---
Benediction to humanity
Mervyn (MPS) Wijesinghe
It is with profound sadness that I heard of the demise of my good friend Mervyn.
In fact on this day  (May 7)we had a lunch date. Mervyn, Doris and I had planned to go to Uswetakeiawa for a drive and have lunch there. I had booked lunch and waited for Doris to ring me. She rang only to say that Mervyn had passed away.
I first met Mervyn in 1966 whilst he was the branch engineer of Browns at Lindula and I was appointed his assistant. He was never the boss as such, never threw his weight around, but did his job conscientiously and in a very responsible manner, working tirelessly right through the day. His technical ability and managerial acumen were manifested in abundance and he commanded respect from all of us.
Mervyn had his initial training at Ruston Hornsby in England before he took up this assignment at Lindula He was so good that he got rapid promotions that culminated in his appointment as Chief Engineer of Browns overtaking several engineers much senior to him. Usually in situations such as this many associates become envious and jealous but everyone respected Mervyn and extended their full cooperation to him. He rose to that position on sheer merit and was never after promotions or glory. He was also not interested in making money and was only content in doing a good job. That was his reward.
I left Browns and we parted company. After about 30 years, I met Mervyn again when I was offered a job as Engineering Manager for a subsidiary of  Free Lanka, managing Pussellawa and Maturata plantations where Mervyn was the Director Engineering. Mervyn became my boss again, but this time we were more like friends. We had a rollicking time meeting practically every day in his office, travelling to distant estates together, exchanging anecdotes on our way in the car, with meals on the way and the occasional drink.
I left the job and we parted company again. We met again in retirement, Mervyn at his ancestral bungalow at Wellawaya and I at a house in Diyatalawa. We were less than one hour away and visited each other often.
Whilst working, Mervyn was so dedicated to his job, he neglected his ancestral land at Wellawaya. This caused many problems that required litigation to resolve. So he was involved in protracted litigation for most of his retired life. We have had many conversations about the progress of this litigation — he had to travel back and forth from various courts of law driving long distances at his age. This went on for many years.
Anyway we found time to travel around locally, have meals and indulge in small talk. In the evenings we had a drink and talked politics and world affairs, listened to music as Mervyn had a repertoire of golden oldies.
We also visited each other on our birthdays, and the last party we had was on his 80th. We also went on a cruise to Europe and had a wonderful time despite our inability to walk on some rough terrain. I am very glad that we did it as that was not something that Mervyn had experienced despite many sojourns overseas.
Mervyn was always very jovial and his good moods were infectious. He was such good company. But about a year ago everything changed, with the demise of his only daughter Shamalee. After Shamalee's funeral Mervyn said to me that he at the age of 82 had to watch his young daughter being lowered to her grave. He never recovered from this tragedy and all his jovial personality vanished. He started to lose interest in all worldly things.
Mervyn was lucky to have had Doris as his wife, for behind the success of Mervyn there was Doris. She was there for him all the way for nearly 55 years of married life, supporting him in all his endeavours. His children too rallied round him at all times. As they say the legend a man leaves behind is his children. They have done him proud. So Mervyn not only had a successful professional life, he also had a happy family life.
At the latter stages Doris saw to his comfort, made sure that he had his medicine and took him to hospital kicking and screaming as he did not like to go to hospitals. She was by his side till the last minute and when he died she kept her composure and did what she had to do. Mervyn would be very pleased with her.
With Mervyn's death, one whole chapter of our life ended. Life will never be the same again. We are going to miss you so terribly. Wherever you are I know it is a good place as you lived such a good life and expended your talents for the benefit of others.
Ananda M. N. Perera
---
The legacy he leaves behind holds much meaning today
Nissanka Wijewardane
"If there is to be peace on earth and goodwill toward men, we must finally believe in the ultimate morality of  the universe,and believe that all reality hinges on moral foundations"- Martin Luther King, Jnr.
The recent demise of Nissanka Wijewardane took away one of a fast diminishing group – men of high ethics, decorum and morality. Finding men of their calibre today is like looking for gold on a barren lonely beach.
Nissanka Wijewardane w as a role model whom we tried to emulate in word and deed. The legacy he left behind holds much more meaning today especially at a time in our history when parents should take stock of which direction our children are headed in.
From 1948 when he annexed second place in the Ceylon Civil Service Exam, Wijewardane set his sights high in accomplishing his goals in life. Hailing from a well known family he knew that education, family and religion were the foremost principles to adhere to.  In 1949 he joined Import Export Control as a Cadet under  N. U. Jayawardena who was Controller.
Later he worked in other locations such as Trincomalee, Galle and Kandy as an administrative cadet. He served in different capacities in Local Govt, the Public Service Commission, as Asst. Director of Immigration , Govt. Agent Badulla and Kandy.  Whilst at the Import Export Board he was picked by Governor General William Gopallawa as Secretary to the Governor General which post he  held from 1967 to 1970. Buddhism was his main focus at the Governor's office in Queen's House' and "bana" was introduced once a month.
Nissanka Wijewardane was also Chairman of the "Ran Veta" project at the Sri Maha Bodhi in Anuradhapura.  He retired from the then Civil Service in 1972 and was recruited by WHO. He was also GM at Walkers Ltd. Later in 1977 to 1984 he was Chairman of the Bank of Ceylon
In April 1984 to December 1987 President J R Jayewardene appointed him as  Ambassador and Permanent Representative  to the United Nations in New York USA and also Ambassador Extraordinary and  Plenipotentiary  to Brazil.
Ambassador Wijewardane and his wife Iranganee (nee Madanayake) who also hailed from an influential family were mindful of the Sri Lankan community's activities in New York . He and his wife attended most events organised by the Sri Lanka Association of New York and were later awarded honorary life membership of the SLANY.
The fact they were both to be invited by Rotary International as Chief Guests when the writer was installed as the first Sri Lankan President of a Rotary Club in the US, brought him closer to the discipline of Rotary itself and in his own inimitable way he worked into the district hierarchy of Rotary's "Gift of Life" movement.
At a highly attended conference the then District Governor and  Chairman of "Gift of Life"  paid tribute to his efforts, stating that "using his gentle persuasive diplomacy, Sri Lankan Ambassador Wijewardane was able to convince the GOL Board that we bring to the US Sri Lanka's first 'Gift of Life' child for open heart surgery here".
This child was sent by the Matale Rotary Club and was the beginning of hundreds of Sri Lanken children later benefiting from this programme. "Gift of Life" has now taken root in Sri Lanka itself since such surgery is done in SL today.
From 1989 to 1991 he served as Director General GCEC (Greater Colombo Economic Commission) in Colombo. He was honoured with the title of 'Deshamanya' by the government of Sri Lanka. In Feb. 1995 he was appointed Chairman Janashakthi Insurance, a position he held for ten years till 2005 .
His illustrious career was attained not only by accomplishment and achievement , but religious fortitude as well.
May he attain Nibbana.
Jay Liyanage
---
Mother to six children and many more
Ratnawali Attygalle
 My mother- Ratnawali Attygalle had the greatest sense of child bearing, education and personal development. Amma had a solid education-she was a recipient of both Sinhala and English education at Eheliyagoda Vidyalaya and at Ferguson's High School Ratnapura and later at Polgolla Teacher Training College. She started her career as a teacher of home science and rose to the post of Principal.
She married my father Gamini Attygalle from Veraluppa, Ratnapura and they had five girls- Lakshmi, Subadra, Malathi, Jayanthi, Champika and one son- Asoka. I am still amazed and cannot comprehend how she managed the education of five girls in three different schools and that of her only son in another institute! Myself at Mahamaya Girls' School Kandy, Malathi at Girls' High School, Kandy and the other three sisters at Ferguson's Ratnapura. My brother was at Dharmaraja College, Kandy. A peculiar advocate of discipline in the school hostel, amma made sure that all of us spent at least a few years in the school hostel away from the comfort of home.
Going by the principle she believed in, my mother never accepted to be on the staff of any school her children studied at. She served several schools as a teacher in many parts of the country accompanying my father who was a government officer whose job took him island-wide. When amma was appointed the Principal of Ellwala PahalagamaVidyalaya, she took over a thatched roofed, wattle and daub structure- almost a shack with no motorable road, lying across a paddy field.
With her reputation of being connected through marriage to the famous philanthropists of Ratnapura- the Attygalle family who had donated their family properties to build the Ratnapura Hospital and Seevali Central College, Amma could have requested for a more 'comfortable school'. Yet with her iron will she converted the mud hut to a two-storeyed building followed with teachers' quarters and other much needed sanitation facilities.
She would seek no transfer and uplifted the lives of the community. Not even nature's elements such as floods to which the area was prone could keep her back. It wasn't uncommon for her to seek a ferry to brave the waters to reach her school and children!
Amma was so large hearted and knew no boundaries when it came to generosity. She would walk an extra mile to help the underprivileged, being a part of their everyday lives- helping in sickness and in any other misfortune. No village acquaintance who was hospitalized either in Eheliyagoda or Ratnapura hospitals left for their homes without a home-cooked meal sent by her. She set an example of how to make the best out of minimum facilities. She instilled in us a sense of charity.
A gifted seamstress, she dressed up all her girls in dresses stitched by her at home. Amma sat at her sewing machine until her ankles were swollen! She showed us that simplicity is the best form of sophistication.
My mother believed in enabling her children new vistas. She encouraged me to charter the unknown across the seas. The scholarship I won to the USA in the early 70s spoke to the fact. When I returned to the country, my mother, the far-sighted educationist she was, wanted me to serve her own school when I had the opportunity of serving my own school- Ferguson's High School, Ratnapura. I learnt the alphabet of school administration from my mother. It was this very foundation which gave me confidence to occupy the high seat of school administration at Royal College, Colombo many years later as the Head of the Primary School there.
She was devoted to my father whose demise created a vacuum in her life which could not be filled. A marriage of more than half a century cemented by unconditional love, brought them grandchildren and my mother was the luckier one who could see her great grandchildren in her life time.
Amma, we are poorer today without you- our best friend. We miss you dearly.
Lakshmi Attygalle
---