Vesak lures nervous shoppers out after violence
By Kasun Warakapitiya
View(s):
Business suffered with goods in short supply and customers too scared to leave their homes and go shopping but the prospect of the Vesak holiday began to restore life to commercial activity by Friday.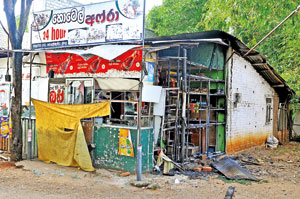 Transport of goods from Colombo to outside areas had all but stalled with lorry operators nervous about further suicide bomb attacks following the Easter Sunday bomb blasts, or outbreaks of rioting.
Nalani Pathirage, owner of a grocery in Kuliyapitiya, said lorries that normally carry goods from Colombo were not arriving at her shop. "We are not experiencing a shortage of goods at the moment as we buy goods from Kuliyapitiya town," she added.
"Normalcy is returning but still the situation is not as it used to be, and business is down," she said.
A vegetable seller at Chilaw, S.M. Haris, said only a few lorries of produce had arrived at the markets there, so vegetable prices had increased.
In Gampaha district, most shops remained closed. There were ample goods in the shops and there were even deliveries of goods following the lifting of curfew but the people of the area stayed put in their homes until Thursday before venturing out to start stocking up before Vesak holidays.
Gampaha Additional District Secretary A.K.R. Alawatta said normalcy had returned to the Minuwangoda area by the end of the week, with people getting on with their daily activities, including shopping.
"During May 14-15 the situation at Minuwangoda was quite different: even when curfew was lifted, few shops were open as people stopped their day-to-day activities and stayed away from shops," he said.
He said 61 shops had been damaged in Minuwangoda during rioting, and the shops were owned by people of different communities. Six houses and a place of worship also suffered damage, as were several vehicles.
Kurunegala District Secretary Gamini Ilangaratne said he was unaware of any food shortages there. "I have not been informed of any food shortage due to curfew. There are a lot of rumours being spread around the area. That is very damaging and leads people to violence," he warned.
Government supermarkets are on standby to provide goods to people while other shops remained closed. Sathosa outlets are to remain open until one and half hours prior to curfew and would be opened immediately after the lifting of curfew, the Chief Executive Officer of Lanka Sathosa, Dushmantha Thotawatta said.
Staff at outlets were instructed to leave the outlet only half an hour prior to the start of curfew. "We have devised ways to deliver goods to the outlets even during curfew times by using curfew passes," he said.
"We are taking special security measures at our outlets. We have installed CCTV cameras and also informed our regional outlet managers to look into safety measures," Mr. Thotawatta said.
The sky is falling for chicken farmers
The poultry industry has been hit hard by the consequences of the Easter Sunday terror attacks and the subsequent riots of May 13-15, with demand for products falling by 40 per cent.

"We have enough supply but there is no demand, the hotels are closed due to the slim arrival of foreigners, night shops are closed due to curfew," the President of the All Island Poultry Association Ajith Gunasekara said.

He said most of the country's egg supply comes from farms in Kuliyapitiya, Hettipola and Bingiriya, and the violence following the Easter Sunday bomb blasts had brought demand almost to a standstill.

Poultry farmers were finding it difficult to maintain farms with demand for chicken falling sharply. Birds raised for meat are not being slaughtered and farmers are facing losses not only from fallen sales but also from having to pay for extra feed for the unsold birds.
"Farmers are avoiding buying chicks and as a result one-day-old chicks are being destroyed. We are concerned by this. If the chicks are not bred there will be a shortage of chicken products in July," Mr. Gunasekera said.

Mr. Gunasekara said he has requested a meeting with government to discuss assistance for the sector including temporary subsidies for animal food imports.