Commission ends hearings amidst revelations of unprecedented fraud, mismanagement
By Abdullah Shahnawaz
View(s):
The Commission of Inquiry (CoI) appointed to investigate SriLankan Airlines (SriLankan), SriLankan Catering (SLC) and Mihin Lanka (Mihin) has officially ended its year-long session of public hearings, and will occupy the remainder of its term finalising its report to be handed over to the President.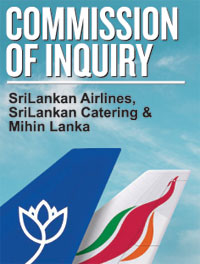 CoI Chairman, retired Supreme Court Justice Anil Gooneratne, declared this on Thursday (16), after the CoI heard its final evidence on malpractices by Mihin, when it chartered flights since 2007.
"However, under exceptional circumstances, if the team from the Attorney General's (AG) Department is able to summon an important witness, a public hearing would be scheduled, after informing all relevant parties, including the media," the Chairman said.
Additionally, the AG's team will be able to submit affidavits of witnesses and supporting documents to the CoI.
The CoI, which was pushed for time, received a directive from the President's office last month, that no more extensions would be issued, and that it would have to wrap up proceedings by May 31, 2019. This announcement means, key players facing multiple allegations will not be appearing before the CoI in the open sittings, and the CoI will have to compile its report based on the affidavits and supporting documents they submitted (the Sunday Times report on April 21, 2019).
Chairman Gooneratne also directed retired Additional Solicitor General (ASG) Neil Unamboowe, PC (AG's team leader) to summon SriLankan's former CEO Suren Ratwatte, over the cancellation of lease agreements for aircraft, under his tenure, but Mr Ratwatte didn't show up.
The lease agreements for aircraft and the subsequent cancellations of some of them constituted the main area of focus for the CoI, as these resulted in the loss of billions of rupees to the airline. Owing to this, and other large-scale frauds, the national carrier incurred losses totalling Rs148.7 billion up to 2017, from the time Emirates withdrew from SriLankan's management in 2008.
SriLankan had fallen into the habit of getting individuals or consultancy firms to draft a Business Plan (BP), then paying another firm to "re-evaluate" the BP, which always ended with them formulating a new plan, only to have the airline's Directors and CEO ignore it. The only BP they followed did not have Board approval.
A similar haphazard modus operandi was employed in the signing of lease agreements, as agreements were signed, while one BP was in effect, only to have these cancelled when they changed the BP.
Also reviewed at the CoI were cases of abuse of power by the Human Resources (HR) Department and its controversial head Pradeepa Kekulawala. It was revealed last week that the HR chief did as he pleased, under the guise of 'Company interests', in the absence of a Board-approved HR manual. Employees were hired, promoted and fired as the HR chiefs saw fit.
Mr Kekulawala, who was HR chief from 2011-2019, has multiple allegations against him, including his interpretation of a clause in the Company policy, which allegedly forced some air hostesses to undergo abortions to hold their job. Mr Kekulawala, who appeared before the CoI last week, denied all allegations.
Multiple testimonies on large-scale fraud at Mihin and its colossal losses surfaced during the CoI's sittings. Two years after the airline (the brainchild of former President Mahinda Rajapaksa and his family) was set up, it incurred a staggering net loss of Rs17.2 billion. The airline had assets valued at Rs544 million to meet liabilities of Rs6.1 billion. Funds were extracted from the Treasury at the whims of its shareholders (the Treasury being one too) and pumped into the bankrupt airline.
ASG Unamboowe was supported by Deputy Solicitors General Shanaka Wijesinghe and Milinda Pathirana, Senior State Counsels Disna Warnakula and Fazly Razik, and State Counsel (SC) Chathura Gunatilake. SC Sajith Bandara assisted the CoI for the first 9 months of its tenure, and SC Leshan Rathnayake replaced him for the remaining period.
The CoI comprises retired Supreme Court Justice Anil Gooneratne (Chairman), Supreme Court Justice Gamini Rohan Amarasekara, retired High Court Judge Piyasena Ranasinghe, retired Deputy Auditor General Don Anthony Harold and Sri Lanka Accounting and Auditing Standards Monitoring Board Director General Wasantha Jayaseeli Kapugama.