The tale of a bond between kids and a tamarind tree
By Susitha Fernando
'Thattu Deke Iskole'
View(s):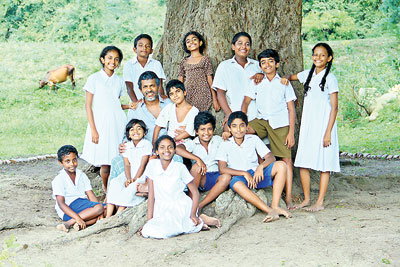 Journalist, writer and teleplay script writer Lalith Rohitha Edirisinghe's maiden film direction "Thattu Deke Iskole" has completed production and will be released soon in cinemas.
Produced by Dr. Nishantha Rodrigo, a medical officer attached to the Ragama Teaching hospital, the film highlights the importance of being close to nature and the close relationship between children and trees.
Revolving around a bond between a tamarind tree and a group of children, the film features how a tree could be a close companion of human beings.
"At a time we talk about climate change and the importance of reforestation, what I wanted to do in this film was to give back nature what I have learnt and I was given by nature as a child," says Lalith Rohitha Edirisinghe speaking about his debut effort in cinema.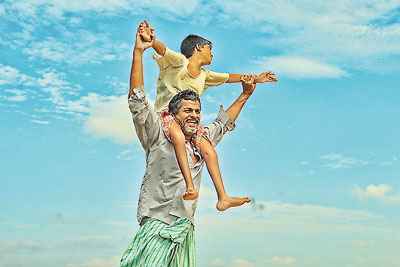 "I have travelled around the world and discovered so many new experiences. I also have enjoyed a reasonably comfortable life but I have nothing that could be compared to the childhood joys I have experienced back in my home in a remote village called Unagolla off Nikaweratiya.
Director Edirisinghe has attempted to combine many of his childhood  experiences related to trees, nature and lakes in  "Thattu Deke Iskole", a semi-biopic film.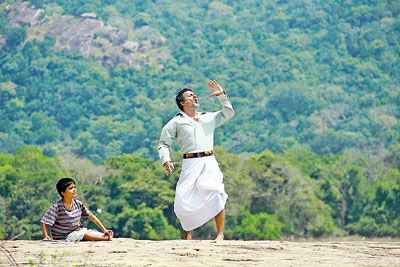 "The story of the film is woven around a tamarind trees and at the location we had two tamarind trees. All the children who played in the film became so close to these two trees parting from them was so emotional and they worshiped the two tree in tears when they were leaving the location," Lalith said stressing the bond that nature could have with people.
"I honestly wanted to share some of my childhood experiences in this film.  I know if I am genuine with what I show to my audience, there will be real cinema," he added.
Set in a remote village 'Suriyapaluwa', which was devastated by a malaria epidemic,  there is a school that is on the verge of closing down. The school watcher, an elderly Pala tries his hardest to preven the school being closed and thereby get the children in the village be educated. Pala loves children and he has become a major part of their lives.
The favourite place of the children is the tamarind tree where they meet Uncle Pala.
The film is played by Jagath Chamila, Damitha Abeyratne, Manjula Kumari, Janak Premalal, Tharushi Suramya, Volga Kalpani, Sooriya Dayaruwan, Anuradha Edirisinghe, Priyantha Sirikumara, Nayana Hettiarachchi, Anjali Liyanage, Shelton Kekunawela, Firny Roshani, Nethali Nanayakkara, Ayodhya Dakshika, Jayantha Wasala. Mauli Dushmantha, Chamira Liyanage and Jeewanthi.
The child cast includes Sudam Katukithule, Laknath Randeepa, Ravisha Divyanjali, Pahanya Tharudisi, Keshani Dewmini Nakandala, Maheesha Nethara, Gaveesha Diwyanjalee Perera, Akash Krishan, Dulansa Saundhi, Pansilu Pavan, Imash Lakshan, Sahen Gunatillake, Niklesh Samarasekara, Nadeesha Malshani and Kaveesha Nethmini.
Cinematography is by Mayura Kariyawasam, art direction by Suneth Nandalal, edited by Praveen Jayaratne, make up by Uhan Ovitige and assistant directors of 'Thattu Deke Iskole' are Jayantha Abeyratne and Amila Premaratne. Music direction of the film is by Jagath Basnayake.
Director Lalith started his career as a journalist writing to youth and women's newspapers and later joined the government owned Salacine TV production unit. Later he started writing scripts for teledramas. He wrote scripts for 'Brahakma Muhurthaya', 'Binaramali', 'Adhuru sevaneli', 'Bodhi', 'Sidanganawo', 'Adarai Ahasa Tharam' and 'Pata Pihatu' and about a hundred episode of 'Neela Pabalu'. Lalith says he found it hard to work with some of the teledrama directors and producers who wanted him to write scripts according to their whims and fancies. "Due to unnecessary interference by the directors and producers, I got fed up with writing scripts," Lalith said.
This situation forced Lalith to work on his childhood dream- making a film.  However the newcomer to the giant industry admitted that he didn't know much about cinema and everything was trial and error.
Lalith was grateful to his producer Dr. Nishantha Rodrigo who trusted him and had total faith in his filmmaking. "I am greatly indebted to Dr. Nishantha who agreed to be the producer having seen my script. He loved cinema and this story and he took the challenge to spend his hard earned money on this film," the filmmaker said with gratitude. He also was thankful to Nilantha Kannangara and Tharaka Kariyawasam, the film coordinators who stood by him and were a great strength to him.