Meditation; the best time to start is when you're young
View(s):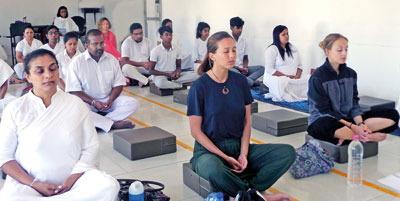 As Buddhists across the country mark the Birth, Enlightenment and Passing Away of Lord Buddha with religious observances, Vesak kudus still brighten every home, but the magnificent pandals and long queues at roadside Dansal, eager crowds on the streets sightseeing are less evident.
In the aftermath of the horror of the Easter Sunday attacks and the tensions that have erupted many Lankans find their peace of mind has been disrupted. This Vesak, the Sunday Times Magazine looks at places where anyone can learn and practise Buddhist meditation as part of their daily routine to achieve tranquility of mind.
Gothama Thapowanaya located in Kalapaluwawa, Rajagiriya, is a serene setting to engage in meditation. Here Chief Incumbent, Most Venerable Dodampahala Chandrasiri Maha Nayake Thera took the time to explain the principles of Buddhist meditation.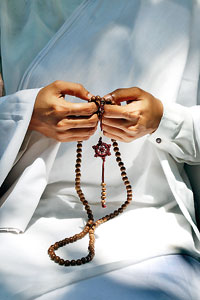 "In order to fulfil the initial requirements of meditation, a layman should observe either the Five Precepts or the Eight Precepts. From the two basic meditation methods of Samatha bhavana and Vidarshana bhavana, the first establishes tranquility and calmness of mind while the latter is used for insightful meditation," explained the Maha Nayake Thera.
Meditation signifies the action of detaching one's mind from the outside world in the absence of disturbances. The wisdom gained through Vipassana bhavana helps to establish the right mindfulness which can be developed by four means of  Kayanupassana – mindfulness of the body, Vedananupassana – mindfulness of the feelings, Cittanupassana – mindfulness of thoughts and Dhammanupassana – mindfulness of the reality of life.
The Maha Nayaka Thera said the techniques of meditation should be taught by a teacher who has a thorough  knowledge of mediation. A beginner should always be under the guidance of a teacher who can understand the personality of the disciple. "If a youth can meditate at least a few minutes, as soon as he/she wakes up, he can complete the daily chores successfully with mindfulness, contrary to what we see in society most of the time," says the Maha Nayaka Thera.
Gothama Thapowanaya Meditation Centre welcomes people from any religion or race. The centre conducts Dhamma programmes on Poya days for all age groups and special residential meditation programmes upon request. Gothama Thapowanaya Meditation Centre, Kalapaluwawa, Mulleriyawa New Town can be contacted on tel: 011 2792826.
Colombo Dhamma Friends of Mahamevnawa situated in Beddagana, Kotte is affiliated to the Mahamevnawa Buddhist Monasteries founded by Ven. Kiribathgoda Gnanananda Thera. Colombo Dhamma Friends of Mahamevnawa conducts Dhamma and meditation programmes in English for children, youth and older adults.
Ven. Kurunegala Rohanakiththi Thera, incumbent of the Colombo Dhamma Friends of Mahamevnawa explained the good qualities that are developed by a youth who follows Buddhist meditation.
"Teenagers and youth, by nature, prefer to take independent decisions and think they are mature enough to plan their lives. Meditation guides them through the path of Dhamma, supporting them to lead a mindful life," says Ven. Rohanakiththi Thera adding, "persons of any religion or race need good qualities to live in the world such as respecting others, having patience and especially to see good in others. "
According to the Buddha's teachings, if a person observes the Five Precepts and abstains from bad deeds, he will not suffer from fear or hatred. Meditation focuses on growing as an individual with wholesome deeds, detaching from worldly pleasures.
"One should understand the things around us are not under our control, they are impermanent and hence subjected to suffering. Youth assume that pleasures in life give eternal happiness and they get attached to impermanent things. When the things they love start to perish and decay, they get worried," says Ven. Rohanakiththi Thera adding "that's why the Lord Buddha preached, when one realises the impermanent nature of things, he neither gets attached nor suffers."
Spreading loving kindness (Maitri bhavana) is possible even while you are travelling or at work. By wishing, 'May all beings be well and happy, free from- anger, ill-will, jealousy, physical suffering and mental suffering' one could spread loving kindness while achieving purified mindfulness.
The Dhamma says, 'Human life is like a drop of dew on a grass tip in the morning-when the sun comes up it evaporates.Thus, human life is brief and fleeting.' Meditation guides the mind to realise that when birth happens, death is inevitable. A person with mindfulness will have no fear for death and he will be protected by the Dhamma. Meditation prepares the mind to face the reality in life especially in this time of restlessness and uncertainty, Ven. Rohanakiththi Thera said.
"True peace could be achieved only by developing good qualities among all races equally," says Ven. Rohanakiththi Thera while quoting a stanza from the Dhammapada – na hi  verena verani, sammantidha kudachanam, averena ca sammanti, esa dhammo sanantano (Hatred never ceases through hatred; by non- hatred alone does it end. This is an eternal law in this world)
Colombo Dhamma Friends of Mahamevnawa offers children's Dhamma school and Buddhist teaching programmes on weekends, Buddhist retreats, children's Poya day English programmes and adult Buddhist meditation programmes all free of charge. More details to be obtained on www.serenecolombo.org
Gothama Rajapakse, known as Gothama Guruthuma conducts spiritual development programmes  at the Middle Path Happiness Center, Wattegama, Kandy. He teaches Buddhist meditation and conducts programmes for corporates and schools. "Youth is indeed the best time to start practising meditation as old age is prone to illnesses and physical discomforts," says Gothama Guruthuma.
He states that to meditate is to explore one's inner self with mindfulness. The Vidarshana bhavana develops wisdom in the human mind while expanding knowledge boundaries. "One of the simple exercises I recommend to beginners is to observe a flower with intellect. To generate thousands of ideas by looking at a simple flower," he says.
People can establish mindfulness by the simple act of climbing stairs or walking to office. "One can set a target as soon as you wake up in the morning, to spend the day with loving kindness or to abstain from anger and hatred. These good thoughts could become meditation," he says.
Meditation offers mental and physical relaxation. A person who meditates can lead a successful life by mitigating problems and reducing mistakes. Also it will eradicate the three unwholesome roots of Raga (attachment), Dvesha (aversion), Moha (ignorance), thus helping create a purified, enlightened mind.
The Middle Path Happiness Centre conducts Poya and weekend Dhamma discussions and meditation programmes. Call 0711116810 or email gothama.guru@gmail.com for more details. Follow Explore your intellect on facebook. - Pic by M.A.Pushpa Kumara, Pic by Amila Gamage
More places to follow up on Buddhist meditation:

Sri Jayawardenepura Silumini Viharaya located at No.50, New Hospital Road, Thalapathpitiya conducts meditation sessions for beginners on the first Sunday of every month. The beginners' programme is followed by a residential meditation programme based on Maha Sathipattana Sutta at Sri Samadhi Dhamma Chetiya Meditation Centre at Hindagala, Mahakanda, Peradeniya. Silence meditation is conducted every Sunday at Silumina Viharaya. All meditation programmes are guided by Ven. Mahamevnawe Mangala Thera.

Damrivi Foundation at No.51/A, Isipathana Mawatha, Havelock Town, Colombo 05 offers weekly meditation programmes every Sunday and Wednesday conducted by meditation instructor, Gamini Priyantha as well as meditation retreats.

For more details call 0112504431.

International Vipassana Meditation Centre conducts daily and residential meditation programmes under the guidance of the Chief Incumbent Ven. Ududumbara Kashyapa Nayake Thera. For more information visit the centre at No.108, Wijerama Mawatha, Colombo 08 or call 0112694100.

Kanduboda Siyane International Insight Meditation Centre located in  Kanduboda, Delgoda provides meditation programmes for adults on every Saturday. Anyone interested can participate in daily residential meditation programmes through pre-registration. Call 0112402306 or visit www.insight-meditation.org for more details.