Launch of Nihal Seneviratne's memoirs in Sinhala
By Oshani Alwis
View(s):
'Galumuwadorin Diyawannawata', former Secretary General of Parliament Nihal Seneviratne's memoirs in Sinhala was launched on Monday, May 6 at the Mahaweli Centre, Colombo.
The book is a translation of 'A Clerk Reminisces'which was  launched in 2017. The book recounts Mr.Seneviratne's experiences in his 33 years of service at the Sri Lankan Parliament, 13 of which he served as the Secretary General.
The Chief Guest at the event was Speaker Karu Jayasuriya while Communist Party leader D.E.W.Gunasekara and Dr. P.G. Punchihewa, former senior civil servant were Guests of Honour.
Having served with seven Speakers of the Parliament, six Prime Ministers and around 3,000 MPs' throughout his 33 years of service in Parliament, Mr. Seneviratne stated some fundamental prerequisites that should be fulfilled by every member of the Parliament if a country is to journey towards democracy and good governance. "A firm, definite, resolute leadership is absolutely necessary for a country to prosper and all the members of the Parliament should observe absolute strict discipline and vigilance along with integrity and honesty," he said.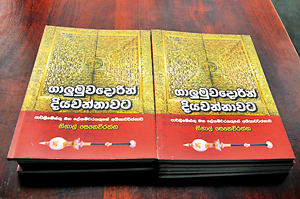 "Mr. Seneviratne was appointed to Parliament at a time when the country was going through social, political turmoil and challenges. The 1962 Conspiracy, 1972 JVP insurrection, 1983 Black July, 1988/99's second JVP insurrection and the 30 years of civil war," noted Mr. Gunasekera.
Dr. Punchihewa recalled his 65 year friendship with Mr.Seneviratne which goes back to the days when they were undergraduates at the University of Peradeniya. "Nihal's expertise on political matters, honesty, sensitivity and political unbiasedness are reflected in his memoirs," he said.
"Even though Sri Lanka Parliament has achieved more in terms of technology compared to the old days, the level of discipline of MPs' has drastically deteriorated," stated Speaker Karu Jayasuriya adding that the leaders of the political parties have a responsibility in instilling discipline in party members. He also proposed that the book should be read by every member of the Parliament.
 'Galumouwadorin Diyaw-annawata,'a Minas Publication, is available at Sarasavi and Vijitha Yapa book stores priced Rs. 550.