Teachers must give equal attention to every student & should offer their students the same dedication they offer their own children!
View(s):
Witnessing the diversity of growth in young people as well as their joy in learning geared by what is called the passion for teaching being a life- long process not only for him but for many others whose lives he has touched by devising and engaging in many integrated activities thereby bringing fourth what is called dedicated teaching.
Teaching may be a daunting task in today's world yet nevertheless for Gateway College Dehiwela Deputy Principal and History teacher Mr Anthony Chelliah teaching has been a calling from early as his mere childhood where other professions did not meet his eye!
Initiating upon a teaching career as a tutorial teacher in India in 1995,Mr Chelliah believes that education is something that makes a huge impact on young minds hence teachers must be knowledgeable in providing the correct sources and methods in teaching what is right and further believes that the role of a dedicated teacher is somewhat being incorporated with many other challenging aspects as well where teachers should be strong enough to face.
Mr.Chelliah was recently placed among the 06 finalists in the Dedicated Teacher Awards presented by the Cambridge University Press where students or any individual with an inspiring teacher story had been invited to share it with the publishing company between the time period of October to December in 2018. A panel of educational experts selected the six finalists who had been given a host of prizes along with a promotion from Cambridge University Press for themselves as well as their respective schools. This was a competition where teachers from the public, private and the semi public sectors were given eligibility in taking part.
"The Cambridge University Press made announcements pertaining to the competition via social media channels in October 2018 where students nominated the dedicated teachers for this award whom have been able to make a difference in their lives.  Around 4000 contestants from around the world took-part in the event and 50 teachers were selected to contend for the top six and the other five finalists were from Malaysia, Pakistan, India, Australia and the Phillipines.  The selection was in respect of their dedication for their students as well as having made a profound impact in their lives.  This was the first time a competition of such nature was held" Mr.Chelliah noted.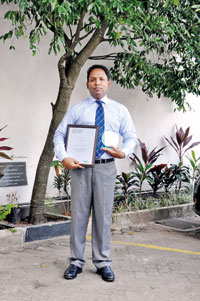 With almost 25 years of experience in calling his own Mr.Chelliah notes that the biggest 'difference' he has made is through his ability in identifying the talents of each student at an early age of his or her academic years thereby working towards that extra mile in motivating them and moulding them towards developing their in born talents and skills acquired through constant upgrading of knowledge.
"With the new methodologies in teaching combined with the art of digital learning making byways and inroads into the field of education today the role of a teacher has greatly evolved thus being faced with the arduous task in keeping him or herself abreast with the latest inventions and innovative aspects as well as juggling between key elements such as time management, teaching schedules, understanding different learning approaches, forming a bond with their students and paving the way towards correct  learning methods where a teacher's task has become no walk in the park !" MrChelliah further exclaimed.
"I believe teachers should offer equal levels of dedication to each and every student they teach and in similarity to what they offer to their own children as well as be able to identify unique strengths in all of their students thereby focusing towards motivating and supporting them in developing their skills" he further enlightened.
The author of the book 'On the Path to Teaching' written on his own experiences Mr.Chelliah embarked on  his career in Sri-Lanka at an International school in 2001 as the teacher for History, Social Studies and Geography subjects.  He later joined Gateway College as a History teacher and currently teaching the subject for both Dehiwela and Rajagiriya branches of the school. He mooted the idea of a 'History Museum' and equipped it with murals and other artifacts which he entrusted in the care of schools History Society for its upgrading and maintenance. He is also the teacher in charge of the school's debating team thereby fostering towards nationally ranked champions in the sector.
"Competitions such as these would undoubtedly be a boost to teachers who are truly devouted,  some professions are being recognised by such competitions and I believe Sri Lankan teachers are unique and hardworking thus deserving international recognition such as these competitions in motivating them further  and I want to share this achievement with every teacher in Sri-Lanka", he further elaborated.
Last but not least his appreciation and heartfelt thanks and gratitude in achieving this award goes to his students, Art teacher Mr Raj Natarajan for his constant support as well all his teachers who taught him during his academic and university years, late Mr R.I.T Alles  former Principal of Gateway College, Dr.Harsha Alles the Chairman of Gateway Group, M's Nirmalie Wickremesinghe the Consultant of Gateway Group and all the teachers  and school principalswho have made a difference in his life.
-Nilanthi Wickramasinghe