Appreciations
View(s):

Everything about her personified beauty

 Lily Pushpam Edward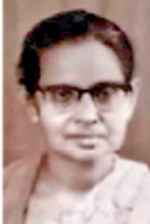 On March 26, Lily Pushpam Aiyathurai Edward moved on to glory.  She was a simple yet amazing lady who pursued God's purposes for her life and those around her.
In her own way, Lily Pushpam was a great champion of faith and prayer.  By example, she taught us how to pray and believe in God's promises. When I think of her, I am reminded of so many beautiful things about her.  She was a great homemaker, a gentle teacher. She taught Physics, Chemistry and Maths in some of the leading schools in Colombo both government and private for nearly 40 years.  A silent leader who led from behind the scenes, she never drew attention to herself.  But, she held a very key position as Secretary of the Bagatalle Baptist Church for a long period of time.
So many things about her were so refreshingly beautiful and gentle.  She had a lovely voice, sang like a nightingale, had beautiful handwriting and played the violin skilfully.  She was such a gentle lady, and as her children we have so many grateful memories about our Mum, which will remain with us until we meet her again in heaven.  She loved her parents, husband, children, siblings, cousins, in-laws, nieces and nephews and lived a full life.
She had the most beautiful pair of eyes, full of compassion and love.  Yet, I have also seen her eyes filled with fear, disappointment, sadness and pain but through them all I saw in her eyes a beauty and resolution that was so difficult to describe.  It must have been her unshakable trust in God her Maker.
Mum portrayed the kind of woman that the Bible talks about – 'she shall be called a woman'- there was no pretence about her.  She was indeed a beautiful woman to the core, who reflected the love of God to all those near and dear to her.  She treated people with utmost respect and dignity.
If I am to sum-up her earthly journey from heaven's perspective, I would have to say, she was indeed a saint. Her mandate -to follow Christ with her life, which she began as a teenager – will continue through her children, grandchildren, great grandchildren and all those whom she touched during this earthly journey.
Timothy A. Edward
---
 Truly a gracious lady
 Srima Dissanayake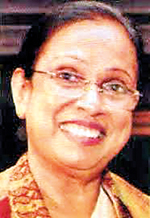 I came to know Srima Dissanayake when I began working for her late and great husband Gamini Dissanayake, as his personal assistant at his residence at Alfred House Gardens, Colpetty. I took an immediate liking towards her and that sentiment has held thereafter.
After the tragic assassination of Mr. Dissanayake, Mrs. Dissanayake requested me to continue working for her as her personal assistant as well as the Administrative Assistant of the Gamini Dissanayake Foundation which was formed. I found it a great and honourable opportunity to work for them. Mrs. Dissanayake was always very kind and gentle to me and all the other members of the staff at the Foundation.
She launched the Gamini Dissanayake Institute of Technology and Vocational Studies firstly in Kandy and at Nuwara Eliya thereafter, and she worked tirelessly for its progress. The staff and students were very fond of her.
It was very sad news for me to hear about the passing away of Mrs. Dissanayake and I have no doubt that her three children, Navin, Varuni and Mayantha and all her other loved ones would miss her very dearly, and so would all her dear friends.
She was a truly gracious lady and it was a great pleasure to come to know her. May her soul rest in peace!
Sunil Fernando
---
To my Aachchi: I miss her so
 Chitra Tillakaratne
The words I want to say
Fill my heart with an ache I can't express
Her love for me to be replaced by none
Her awe of me although I could never reach the stars
I can't believe she's gone
From holding my hand while I walked to my first classes
She had to deal with my tears while I sobbed about being not so punctual
Rubbing my cold feet to warm them from fever
Potato and leek soup that I'll never taste again
Comfort she gave second to none
She'll always be the face I search for in a crowded room
Her gaze as I wore new outfits to work
No one will ever see me as beautiful as she did I'm sure
She would never have known how much love I hold for her
As my heart lets out the deepest sigh
It will never be whole
There's a piece missing inside                                                                                                                 Ruvi
---